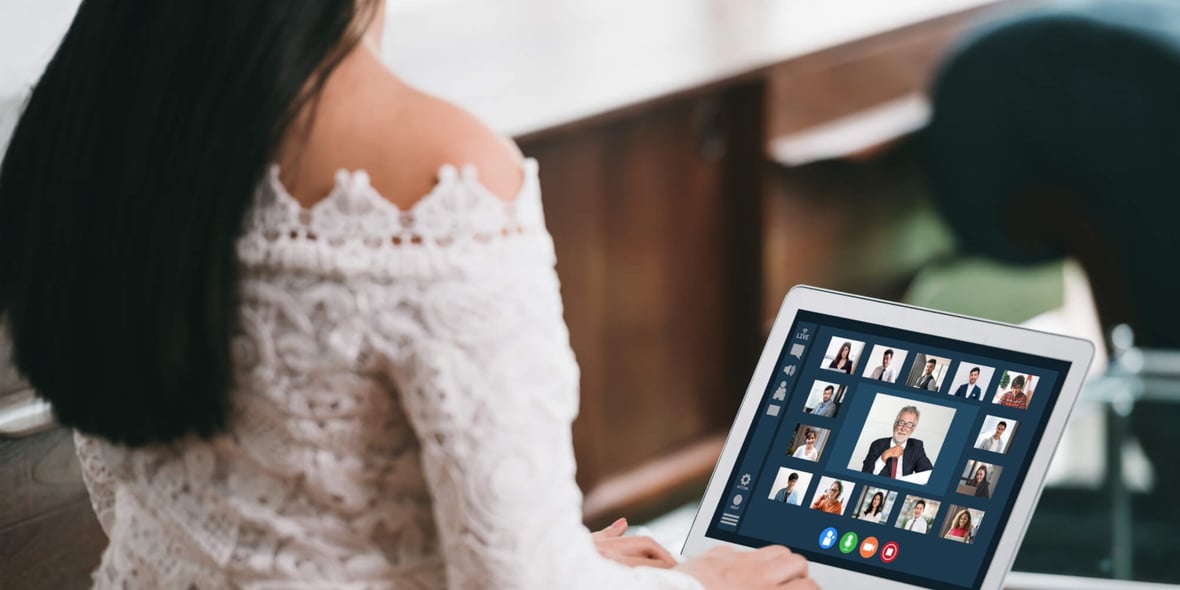 4 Virtual Event Strategies to Boost Turnout
October 30, 2020
---
By Jenna Ott
A lot of things have changed when it comes to how we do business and connect with prospects and customers. As we all become more accustomed to a predominantly remote and online model, it is becoming increasingly necessary to embrace new approaches to traditional things.
Within the SaaS industry, trade shows and conferences have consistently been an integral part of business development and networking. These events help to gain valuable customers and establish strong industry partnerships. With such events on hold, organizations and the industry are pivoting to virtual events instead.
While a virtual event is very different from the large industry gatherings that have been such a part of our business lives for so long, they have the potential to be just as successful. Whether you are just thinking about hosting your first virtual event, or you're in the thick of planning one, the following four key strategies will help to ensure a great turnout and positive overall experience.


1. Internal Implementation Strategy
The first thing you will want to have a plan for is the internal implementation of your event. You won't be able to keep or even gain attendees if your event doesn't isn't implemented properly. Consider the threeP's ... platform, pre-record, and practice.


Platform
Obviously, you will need a place to host your virtual event. Choosing the right platform will have a big impact on your event. There are a few things to think about when it comes to making sure you've made the right decision.
How many attendees can the platform accommodate?
This could mean the difference between a 50 person event versus a 1,000+ person event. You should always consider a platform that can accommodate beyond your expectations for interest in your event. A higher-capacity platform will work just the same if attendance is lower than you planned for, but a lower-capacity platform risks not being able to provide a positive experience if your attendance exceeds expectations.
Does the platform allow for presentations to be pre-recorded and controlled by the presenter, live?
We will dive into this a bit more shortly, but having the ability to share pre-record presentations impacts the attendee experience and engagement opportunities.
What engagement capabilities exist?
Look for a platform that has integrated engagement features such as live polls, quizzes, chat functionality, and so on. Keeping attendees engaged during segments creates a more enjoyable and positive attendee experience.
Pre-Record
As mentioned above, the ability to utilize a pre-recorded presentation is a feature to look for when choosing a platform. Having your presenters pre-record their presentations is recommended for a handful of reasons. The obvious reason is that it often allows for a more polished presentation. The less obvious is that it frees up the presenter to engage with their audience in real-time during the event. With a pre-recorded presentation, the presenter can pause to insert a live audience poll or quiz. It also allows the presenter to accommodate conversations around the content being presented.


Practice
Whether sessions are pre-recorded or happening live, practice makes perfect (or close to it). It probably goes without saying that presenters should practice their presentation ahead of time. But, you also want to practice using the platform that will be running your event. Make sure everyone involved knows the ins and outs of the platform and all features being used so that you can quickly address any technical issues or challenges that may arise during your virtual event.


2. Multi-Faceted Marketing and Promo Strategy
The overall goal of a virtual event is to have a great turnout. In order to achieve this goal, you need to develop a marketing and promotional strategy that has multiple layers in order to maximize your reach to prospective attendees.


Website
Your website should be the source of information for your event. Whether you decide to build a designated micro-site for your event or everything will be integrated into your main site, you will need to provide event information before, during, and after.
Make sure that your messaging clearly highlights the value of the event through speaker and presenter spotlight sections. Provide a schedule of sessions and networking opportunities, and make sure to promote the event on your homepage and any relevant places on your website.


Email Promotion
Promoting your event through email is a great way to get the word out, generate excitement and buzz, and drive turnout. Start by sending teaser emails leading up to big announcements like the event date, the opening of registration, and speaker reveals. These emails are highly shareable and get people's attention.
Use email promotions to build a sense of urgency immediately leading up to the close of registration and the start of the event. Remind people that they haven't registered yet and time is running out. Tell them that they haven't registered yet to learn from <insert exciting speaker name here>. Use email marketing to let them know how much you'd like to have them attend and how much value they will get out of attending.


Social Media Promotion
Promoting your virtual event on social media allows you to reach a wider audience and do so in a very engaging way. Share big announcements such as speakers, partners, networking opportunities, and so forth via your company social channels. Create a Facebook event, LinkedIn group, and hashtags to engage potential attendees and create buzz.
Also, be sure to ask your internal team, speakers, partners, and such to use their social channels to promote the event as well. In doing so, you will increase your potential attendee reach.


Paid Social Media
Paid social is a great way to get the word out about your virtual event. Google, LinkedIn, and Facebook ads allow you to reach a large audience with targeted interest in your industry. If you are already utilizing paid media in your marketing, integrate event promotion into your virtual event strategy. If you are not, you can easily set up paid social media promotion on the social channel or channels that industry members spend their time on.


Partnerships
Developing event partnerships can be beneficial to your organization, the organization you are partnering with, and your audience. An event partnership increases your event offerings making your event more appealing to a wide industry audience. Partnerships also open up additional channels for promotion of your event.


3. Event Engagement Strategy
A great virtual event turnout isn't solely measured by the number of registrants or attendees. It is also measured by the level of engagement during the event. You can have a huge number of attendees on the day of your event, but if they aren't engaged, you risk them leaving the event early or walking away feeling that the value of the event was lacking.


Interactive Sessions
Encourage presenters and event managers to offer interactive opportunities to attendees. Live polls, quizzes, and Q&A sessions will keep attendees engaged and actively participating throughout the event. This can also create instances of attendees sharing their experience in real-time and potentially enticing others in their network to join in.


Social Engagement
Create opportunities for attendees and the industry community to connect with each other via social media. Conversation starters like key takeaways from sessions or quotes from presenters creates a sense of community around your event and draws people in. Be sure to dedicate resources during your event to monitoring social engagement and responding as needed to answer questions or offer virtual high fives to attendees for being so engaged!
Create a Facebook group for attendees to gather and share their thoughts, ask for advice from other industry experts, and connect with someone who may be able to help them grow their business. A Facebook group has the additional benefit of keeping attendees connected and engaged long after your event ends.


4. A Strategy for Maintaining Momentum Post-Event
While your immediate goal is to ensure a great turnout for your actual event, your efforts shouldn't end when the event does. A successful event will impact turnout of prospects, both customer and partner prospects, for your business. And if you are thinking about hosting another virtual event in the future, your post-event activities can have an impact on future attendees. Be sure to have a strategy in place that maintains or builds on the momentum of your event.


Survey Attendees
Take the opportunity to get feedback from attendees on what they liked about the event as well as areas of improvement. This feedback will be helpful when it comes to evaluating your success. Asking attendees for their feedback also lets them know that you appreciated their attendance and shows them how much you value them.


Offer Sessions On-Demand
Provide on-demand versions of your presenter sessions. Attendees will appreciate the opportunity to revisit sessions they found impactful or provided the most value. This also creates an opportunity for people who were unable to attend or became aware of the event too late to register to benefit from the event, adding to event turnout after the fact.


Post-Event Content
Be sure to utilize content to remind attendees of some of the highlights from the event, as well as to create a sense of missed opportunity for those who did not attend. Share session highlights on social media and publish blogs recapping some of the biggest takeaways from your event.


Ongoing Community Engagement
Your event will likely create a community of attendees. Keep that community engaged by offering conversation starters and reminders of things they would have learned during the event. Use this community to spread the word about upcoming events or services you have available to them. Be sure to encourage those community members to invite their network to join the community as well.
As you take the first step into the virtual event space, keep in mind that great turnout goes beyond your attendees. With the right virtual event strategies in place to ensure a successful event that brings value to industry members, you will find new opportunities for business growth in a changing environment.
About the author
Jenna Ott was formerly an Inbound Marketing Strategist at SmartBug Media with 8 years of experience working with startups, enterprise organizations, and everything in between. She also has a background in video production and loves finding ways to put her video knowledge and marketing strategies to work for her clients. Read more articles by Jenna Ott.
Subscribe to get our new blogs delivered right to your inbox
Other insights you might like