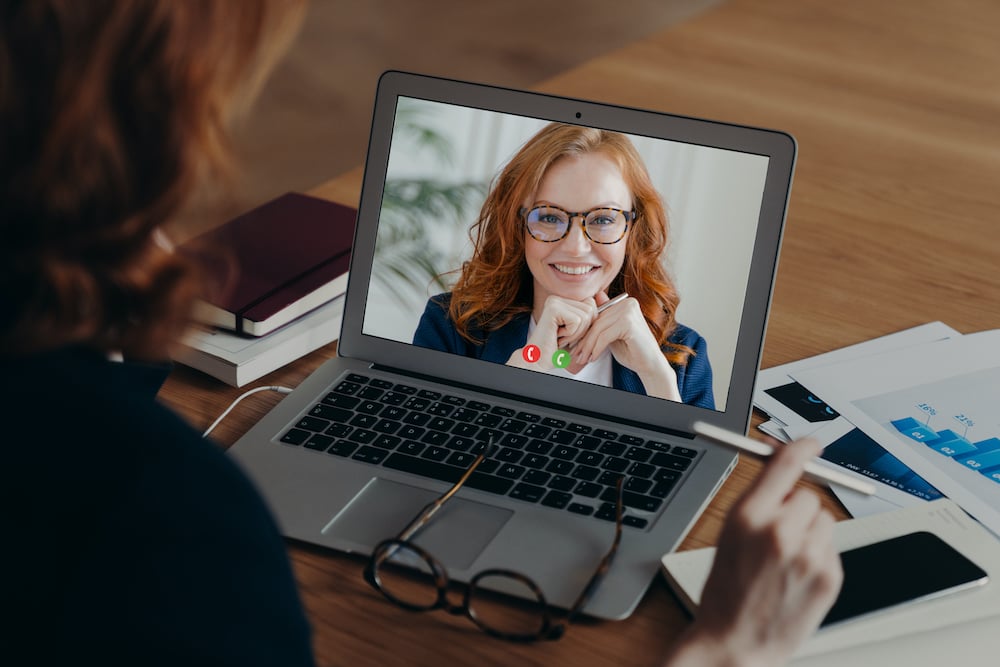 Creating an Inbound Strategy to Support Virtual Events and Conferences
June 30, 2020
---
There is no doubt, attending a conference in your industry can be thrilling and intense, energizing and exhausting, and without a doubt, chalk-full of learning opportunities and chances to connect with peers in your field. As in-person events and conferences take a back seat thanks to the current state of our world, thought leaders are quickly adapting to provide that same energizing transfer of industry knowledge and invaluable networking through our home computers.
How do you get the word out that, this year, your conference is going virtual? Let inbound strategy lead the way in successfully supporting your move to virtual events and conferences.


The Rise of Virtual Events
Even before a global pandemic rendered in-person collaboration temporarily impossible, virtual conferences and events were becoming increasingly popular ways to bring industries together at larger volumes. Not bound by travel plans, busy calendars, and other accommodations necessary for physical events, virtual events are a great way to reach a wider attending audience at a lower expense. And when inbound marketing is applied, they enable your business to gain increased brand awareness, lead generation, and thought leadership authority and development in your industry.
The infrastructure of a virtual event may seem to have a lot of moving parts. There's the messaging platform that hosts attendee networking, the landing pages that act as session rooms for talks and lectures, the hosting of both live stream Q&As and recorded video talks.
To help companies manage the potential headache of moving an event to digital, companies like Hopin have stepped into the spotlight. If you're looking for a tool that will manage your next event so you can focus on engaging with your attendees, take a look at how Hopin can help.
However, if your team has decided to internally tackle creating your virtual event, we have you covered in terms of what to expect. And don't worry—when done right, virtual event prep can be done quickly, with a relatively small budget and a small team of inbound marketers executing it.


Creating an Inbound Strategy for Virtual Events

1. Establish Goals
As with any inbound marketing campaign, establishing your goals for the virtual event will be key to mapping your strategy. Outlining what you want this virtual event to achieve will help you establish the foundation of your digital marketing efforts—from what long-tail keywords you'll target, to the content you'll need to generate, to the influencers and industry professionals you'll flag for outreach. Whether your goal is to increase organic traffic, generate more leads for your business, or grow your presence as a trusted thought leader in your industry, it is important to start mapping where you want to end up before you start building the road to get there.


2. Set a Timeline
Creating a timeline for how and when you want to execute your virtual event or conference will help your team better set hard deadlines and priority levels for action items of your event. Whether you want to launch your virtual conference in three months or six, a timeline will help you weed the nice-to-haves from the must-haves in your inbound strategy.


3. Create Phase One Assets
Generating buzz around the topic or topics you'll cover in your virtual event is a great way to organically lead into promoting it. Start a hashtag early on and have experts from within your company reference it when they author blog articles, hold webinars, or host a Q&A or video interview with other leaders in the industry. Some other content pieces to start building right out of the gate would be promotional templates for social and email sharing. These are all great ways to generate what I like to call phase one assets.
These promotional assets will be helpful supporting material to use when you move into the next phase of preparation for your event: reaching out to experts you'd like to have speak.

4. Conduct Speaker Outreach
Gathering a network of experts to speak about certain topics is great not only for demonstrating your event's industry clout in promotion, but also for tapping into the experts' individual networks where their influence is already established.
Have fun with this step and feel free to get creative. You're reaching out to your peers, so use informal, yet respectful, and engaging ways to grab their attention. Video can go a long way in gaining speaker interest and buy-in. Send initial emails with short Vidyard recordings that are personalized to them and their experience. Try to get them on a video call where you can adequately relay your excitement about the idea of having them involved in this conference or event.
Some of the phase one assets you've already prepared will come in handy here. Have talking points and potential lecture titles ready to pitch to each of your prospects. Be prepared with a speaker promotion packet where they can retrieve outlined copy for blogs, emails, and social posts to share with their respective audiences. Make getting involved a no-brainer for them, and then make it easy for them to take action.
A bonus tip from our friends at HubSpot: Give each speaker a link to their own tracking URL to use in the content they share so you can track how much each speaker contributed to attendance.


5. Create Phase Two Assets
Phase two assets are the framework for your conference. Think of these as the digital replacements for the physical elements of an in-person event: your event center, your conference rooms, even down to your stage and PA system. What does it look like to replace these physical features with digital assets?
Landing pages that stem from your main event page will be important for creating space for every breakout session talk and virtual Q&A. A YouTube account will be useful for embedding pre-recorded lecture videos on landing pages, while also serving as the host for live-streamed Q&As.
Think about proctoring questions for live Q&As. Will you allow questions to be submitted via a Slack channel as the event is taking place, or do you want to field the questions through submission forms on event landing pages prior to the stream? Perhaps a mix of both?
What about vendor and sponsor booths? How will you allow their advertising and giveaways to be shared with attendees? Getting together with a team to brainstorm on alternatives for all the things you love about a conference will help you capture a complete experience online.


6. Promote the Virtual Event
If you conducted step four correctly, your event speakers will help with a lot of the heavy lifting in this step! Here is where your company's regular editorial calendar comes into play for promoting your virtual event. You'll need to evaluate the cadence of the social and blog posts that you map into this editorial calendar because there is a fine line between periodic, organic promotion of an event and over-promoting to the point of overwhelm or exhaustion in your followers.
Start by brainstorming topics that align with the theme of your event and the topics your speakers will be covering, and create supporting blog content to publish in the months leading up to your event. Social posts will follow this same strategy and should be published at a rate that your marketing team believes makes sense for your company's respective social channels and following.
Both your team and your speakers should be sending out promotional emails at this point, but don't forget to utilize another important tool in your digital toolbox: your website. Pop-up forms and site banners are great ways to advertise your event and grab registrants from highly trafficked pages on your site.
Additionally, make sure to get investment from the rest of your company. Have employees company-wide share the news on their social channels. Get your sales team to include links to the event in their email signatures. Post and share to social groups that you're a part of on LinkedIn, Slack, and Quora. Inbound marketing best practices are a great rule of thumb for generating interest and converting leads for a virtual event as much as a more standard campaign that you'd run on a regular basis.


7. Launch the Event
You've set up your event to deliver virtually. You've promoted it through your speakers, your company's internal network, and content marketing. Now, it's time for the big event. Make sure that there is a chat available, as well as an email that attendees have access to, in case glitches or complaints arise during the event. It's better to tackle these issues head-on and quickly than to hear about them through your event's hashtag. No event is executed flawlessly or without hiccups, so try to prepare yourself as best as possible for every scenario—but also remember to take a deep breath and take everything in stride. Your team can handle this!
During the event, give attendees easy ways to offer real-time feedback, such as through live chat and NPS surveys scheduled to pop up throughout the day. This will help you gauge attendee experience and pivot if you need to.
Make sure to also have some follow-up campaigns for when the event has finished. Break up your list of registrants between those that attended and those that did not so that your follow-up correspondence can match their experience. Don't be afraid to ask for feedback. Even feedback from your no-show list on why they were unable to attend is helpful feedback.


8. Post-Event Analysis
As every good marketer knows, a campaign is only as successful as the data collected and the KPIs and benchmarks set to track it. Make sure to take some time to digest the numbers that came in from your event's campaign. Find out what deliverables of the campaign worked and which weren't as successful so you can analyze why that might be. Sift through the user feedback that came in with your team and reflect on how that feedback, coupled with the situations that arose during the day, could be applied to a future event.
Share your findings with your team and make sure to take a moment to pat yourself on the back. You did it! Time to start planning the next one.
About the author
Danielle Best was formerly an Inbound Marketing Strategist based in a mountain town outside of Denver. Danielle brings nearly 10 years of in-house and agency experience in marketing. Dedicated to making clients look like super heroes, Dani enjoys diving into the industries and organizations she works with to offer strategy that drives results. You can usually find Dani at hot yoga, running or stopped in elk/deer "traffic". Read more articles by Danielle Best.
Subscribe to get our new blogs delivered right to your inbox
Other insights you might like