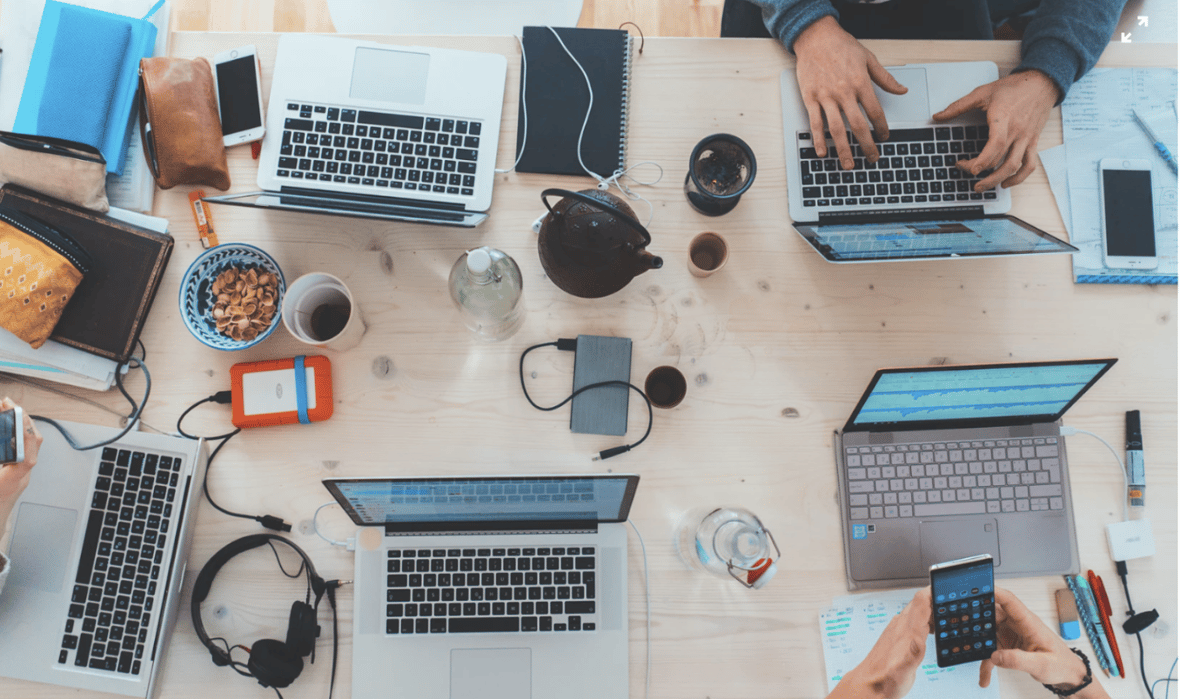 HubSpot's content management system (CMS Hub) is not your average CMS.
The CMS Hub is the next generation of website platforms because it allows companies to integrate their external-facing brand with their internal sales and marketing engine. HubSpot's fully integrated, user-friendly solution aligns marketers and salespeople while lowering the need for technical expertise and giving leadership a clearer picture of the efforts powering their company.
Top Features and Benefits of HubSpot's CMS Hub
All right, I'll admit that as a HubSpot Partner of the Year winner, SmartBug® might be biased. So, let's take an objective look at a few of the features that make it a top choice for many organizations.
1. All-in-One Platform
I alluded to this before, but the bottom line is that with CMS Hub, everything is in one place.
Depending on your current process, you might find yourself with a substantial tech stack. Many organizations are bouncing from different tools to manage social media, their websites, customer data, sales analytics, consumer emails, blog posts, landing pages, live chat, and a myriad of other digital efforts. Talk about a juggling act!
The worst part is when there are more tools to juggle, there are more risks of dropping a ball. Companies are catching on to this risk—one study found that the average tech stack size shrunk around 10 percent in 2023 compared to the year before.
The HubSpot CMS Hub brings everything you should be doing to grow your online presence into one easy-to-use control panel. We're talking about every blog article and social post as well as forms, landing pages, and customer data details. That means users can manage their website, carry out A/B tests to see what is working, and receive clear and concise feedback from a single login.
2. Developer and IT Friendliness
The moment a company begins to think about transitioning from one software platform to another, the IT department starts to sweat.
There is no way to guarantee a perfectly smooth transition, but HubSpot prides itself on being a platform that considers the challenges your developers and IT team face on a daily basis. Moreover, HubSpot understands that not all organizations have access to in-house technical experts. It built CMS Hub with all technical levels in mind, referring to CMS as "a developer's dream without being a marketer's nightmare."
Technical users can customize the theme, templates, and overall structure of the site while marketers have the ability to own small or last-minute changes in addition to page development with drag-and-drop modules. For IT teams, HubSpot CMS Hub boasts security and performance monitoring, threat detection, and the ability to control which teams and individuals can access or edit each part of the portal.
3. Smart Content
Traditional content management systems gain popularity for allowing users to easily manage and update the content on their sites. The HubSpot CMS Hub takes it one step further by delivering targeted content to specific groups of people.
Smart content is configured based on either the buyer's journey lifecycle stage or list membership. Instead of creating generic content directed at a broad audience, you can put out a tailored and specific message or call to action for new visitors, qualified leads, and repeat customers based on their needs. Marketing teams considering strategies like account-based marketing will find this revolutionary approach opens a new door to their content strategy.
4. Custom Design
For those without any design background, HubSpot CMS Hub allows users to create their website with a custom template builder. Users are given complete freedom to manipulate the template's structure, design, and layout however they'd like.
The template builder includes drag-and-drop functionality to completely customize the layout of the page, while the style manager allows font, color, style changes, and more without ever touching the CSS style sheet. For those with coding experience, the CMS gives you total freedom to tweak templates as you'd like. This same structure is available for email templates, where technical users can develop modules that allow non-technical users to easily customize the look and feel of emails sent.
5. Responsive Design
If you've been keeping up with the latest web trends, you've probably heard of responsive design. Studies show 56 percent of internet users are accessing websites from their tablets, smartphones, or other mobile devices. As web users are increasingly moving to these methods, it's crucial for your digital strategy to have a website that will respond and adapt to fit various screen sizes.
The HubSpot CMS Hub is completely responsive—instead of requiring you to manually code the site to enable responsiveness, it automatically does it for you. With a little CSS and HTML knowledge, you can create a completely custom mobile version of your website. This applies to techniques such as pop-ups which can be built within CMS Hub and adjusted to only appear on the pages you want, when you want, and at the size that makes sense.
6. Lightning Speed
So many things affect the speed of your site, and because Google now includes website speed in their search algorithm, faster page loads will weigh heavily in your SEO efforts and traffic. No CMS can boast of being the fastest out there because there are simply too many factors that impact a site's speed, many of which are reliant on those who manage the site.
However, HubSpot's CMS Hub helps manage those variables with built-in performance optimization measures to save your IT team some headaches. You can read more about some of those tools and how they compare to other market-leading options, but in short, built-in optimization CMS Hub offers one-stop control for site performance without the worry of overlooking a speed-killing variable in the process.
8. SEO Benefits
Most SEO tools require users to conduct outside research and prioritize keywords throughout their website and blog. HubSpot's all-in-one platform gives users SEO recommendations alongside their content tools, allowing them to quickly use high-ranking keywords and even ensuring long-tail keyword content supports the overall SEO strategy. HubSpot helps you optimize your site for the right keywords, improve your search ranking, and keep an eye on competitors.
8. Analytics Tracking
The HubSpot CMS Hub provides analytics to help you find out what is and isn't working, and it lets you know when there's room for improvement with underperforming keywords. Users will receive suggestions for internal links, CTAs, landing pages, and other opportunities to grow marketing efforts.
At a higher level, the HubSpot CMS Hub features reports that track organic traffic, page performance, potential leads, and even revenue. If your organization is looking for more unique metrics, the custom reports tool provides a window into hidden parts of your data.
Of course, all of these can be saved and added to customizable dashboards for the future—or for those leaders who don't have time to dive as deep into a marketing team's data points. In fact, teams can create multiple dashboards in CMS Hub to guarantee the most pertinent information makes it to the right digital desks.
9. Generative AI
Earlier, I mentioned shrinking tech stacks. Many are attributing this trend to the recent release (and embrace) of generative AI as a tool that can replace a lot of traditional approaches to anything from ideation to content creation. Many tool developers might be hesitant to explore AI, but HubSpot dove right into the deep end with its content assistant and ChatSpot.
The content assistant tool helps users brainstorm blog article topics, write emails and social posts, and craft long- or short-form copy. ChatSpot provides sales and marketers with deep insights into their data. Both are powered by OpenAI and are in public beta, so those using HubSpot now are getting a ground-level view and a paced opportunity to learn the basics!
Is Hubspot CMS Hub Right for You?
There are endless CMS options out there, so if you're here, chances are you have already explored a few. Whether this is your organization's first website, a rebrand, or it's just time for a new solution, request a CMS Hub website consultation to see what HubSpot could do to help you meet your goals.
If you need a marketing partner to help you get all your ducks in a row, we at SmartBug would love to hear all about your company and its customers!
This post was originally published in 2015 and has since been updated since.
About the author
Marissa Litty-McGill is a Senior Marketing Specialist with 8+ years of marketing experience spans both B2B and B2C industries. Though she received her Communications degree in Journalism & PR/Advertising, she fell for marketing before even walking across the University of Nebraska at Omaha's graduation stage. When she isn't geeking out over inbound, she's exploring the world with her husband and dog. Read more articles by Marissa Litty-McGill.
Subscribe to get our new blogs delivered right to your inbox
Other insights you might like