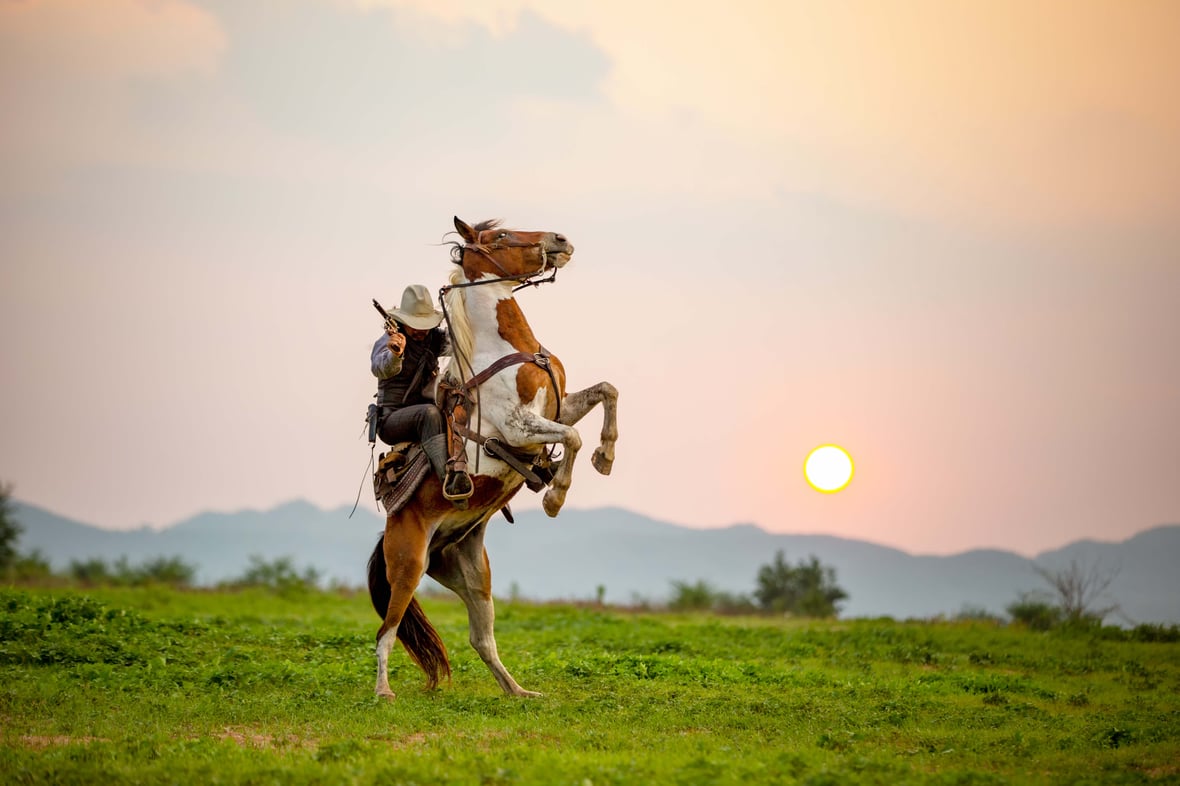 How to Align Sales and Service and Perfect the Handoff
June 13, 2022
---
Here it is: The scoop, the 411, the low down, the 101, the "all you need to know" how-to guide to show off your professional tailfeathers and keep green on your sales and marketing team's promises during handoff.
So much work goes into generating a qualified lead. When that deal closes and you gain a customer, you better grab on, because like John Wayne and his favorite horse, Dollor, you should be committed to this ride! Internal misalignment leads to customer churn and is the last thing any company's leadership should allow. Needless to say, don't fall off the horse—it's embarrassing and avoidable.
Not to buck you off the subject with statistics, but acquiring a new customer can cost five times more than retaining an existing customer. This isn't an article about retention or churn or any other buzzwords in that topic cluster, but it is important to keep that pony in the stable.
Retaining your customers starts with your marketing, sales, and service teams. Let's chat through common misalignments and the "get back up on your horse" steps to take for perfecting your sales handoff.
Get Back Up on the Horse: Steps to Sales and Service Alignment
Goals and KPIs
Ensure your leadership is setting quantifiable goals that are realistic in your market. If your team is selling to any and everyone willing to book a demo, discontent is not far from the lasso. Plus, goals met with unqualified leads or misled customers carry the cost over to customer service.
Quick perspective: If a sales team is surpassing their revenue goal by 20 percent, but all of that money is being refunded by the customer service team, a net loss is still at play. Not only is this a waste of time for everyone involved, but this can create tension between the teams as customer service blames sales for bad deals and sales blames customer service for failed customer relations.
Ensure everyone has a chance to succeed by making sure your goals are realistic and your leads are well-qualified.
Communication
Your sales and service teams should speak the same language. By closing the loop, maintaining communication, and setting up a process teams can follow, everyone will win. The customers and the truth that fuel your ongoing relationship will prevail, like John Wayne riding off into the sunset.
Agree on your offers, service catalogs, and services before the sales pitch! Rope in a customer service representative, technician, or qualified project manager to advise on the deal before it's made.
Time
Putting the effort in to create a workflow, project management template, or automated task will pay off time and time again for your teams and clients. By enabling core processes, your leadership team will gain profitable control and invaluable insight while eliminating blind spots, busywork, and roadblocks for trickling teams.
Perfect the Sales and Service Handoff: The CRM Use Case for Sales and Service Alignment
A customer relationship management (CRM) tool like Hubspot or Salesforce can eliminate misalignment subtly. We don't need to sound the alarm that change is imminent—we all know how much stubborn teams hate change—but you can solve a lot of problems at once and package the offer with a perfect bow.
A CRM tool can optimize and compress time by acting as the single source of truth for all teams. The customer can clearly follow a journey (determined by your team) and generate the next steps, actions, and tasks based on each individual lead and customer. Your CRM can fire off emails, update timelines and renewal requests, review opportunities, and more!
These automated processes ensure the teams are aligned by establishing dependencies for leads and ensuring no one falls through the cracks at any point of the process.
Ride or Die: SmartBug Is Here for Your Sales and Service Teams
From customized sales sequences and templates to workflows and more, you don't need to feel lost in the herd when it comes to perfecting your internal handoffs. This is your time to burst through the saloon doors, impact your company culture, and create a safe space for everyone involved in your business.
Check out our awesome webinar (on-demand for your schedule), HubSpot Sequences: How and When to Use Them to Connect with Sales Prospects.
"Hi-ho, Silver! Away!"

About the author
Delanie Nelson was formerly an Inbound Marketing Strategist at SmartBug Media near Orlando, FL. From branded storytelling, graphic design, videography, photography, content writing, sales and trade-show operations, Delanie has no fear of the unknown should there be a worthy ROI. In her extra time you might be able to find her playing hide-n-seek with her family, emphasis on might...she is an expert hider. Read more articles by Delanie Nelson.
Subscribe to get our new blogs delivered right to your inbox
Other insights you might like