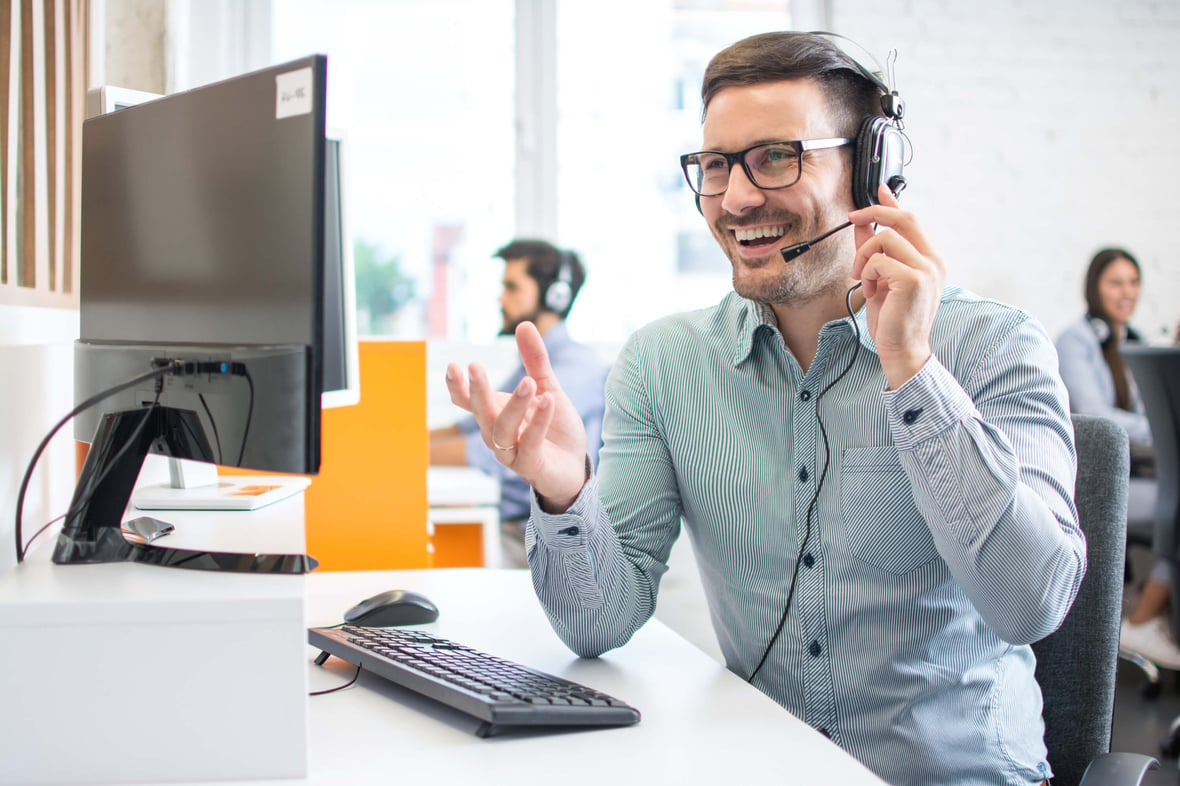 By Sarah Mead
No pressure, but your customer relationship management (CRM) platform has the power to make or break how well your organization functions as a whole. Knowing that, due diligence is essential when selecting the best CRM for your business.

There are a number of excellent CRM platforms on the market today, but HubSpot and Salesforce are the perennial standouts. Both platforms have outstanding—and long-standing—reputations and both have truly helped move the needle for businesses of all sizes.

In this article, we'll break down the most important features and benefits to consider when comparing HubSpot versus Salesforce, so you can make an informed business case for the best-fit platform within your organization.
HubSpot vs. Salesforce at a Glance
Before we dive into the details, it's important to understand the fundamentals of how each of these CRMs works.
HubSpot CRM
HubSpot is a cloud-based customer relationship management (CRM) platform that centralizes sales, service, marketing, and content management functions. HubSpot's CRM tools bring marketing, sales, and operations into alignment by allowing the entire organization to work seamlessly from the same system of record.

HubSpot-based sales teams use Sales Hub as an extension of the CRM to take advantage of custom objects, sales engagement software, conversation tracking, and sales analytics.
Salesforce
Salesforce is also a cloud-based CRM platform that connects customers and companies with its robust sales, service, and marketing applications. The Salesforce CRM platform is a collection of products that allow users to customize their experience and connection.

In addition to Salesforce CRM tools, Salesforce-based sales teams use Sales Cloud to manage leads, track progress, automate sales processes, and access sales reporting.
Considerations When Selecting a CRM Platform
As you're working through the process of choosing the right CRM platform for your organization, think about the following factors:
Use Case
Will this system be used solely by sales or a mix of sales and marketing? Or will this be the "system of choice" for many facets of your organization, including customer service? Consider this as you review the feature breadth of a given CRM.
Opportunities for Process Improvements
Selecting a CRM provides a good opportunity to reflect on what may be "breaking down" within your organization. Use this time to consider how handoffs between given departments are handled and where there are disconnects, so you can find a system that will streamline and mitigate your friction points.
Capability for Integration
Companies are always better off when they can utilize one system as a single source of truth. That said, depending on your business needs, you will likely need to pull (or push) data from one system into another. Be sure to look out for the types of integrations available with a given system and how easily you can develop custom integrations if need be.
Tech-Savviness of Your Team Members
Many times, CRM implementations and new systems "flop" because they are not set up or maintained properly. Think about who on your team will be using a given system and what their technical capabilities are. Does anyone have experience with another CRM platform?

If you have a less tech-savvy team with a steeper learning curve, you may want to opt for a system that ranks higher on ease of use, plus solid support and training.
Cost
When you consider how many team members will be leveraging the system, you'll also want to think about present and future costs associated with the software. If you plan to scale your business over the coming years, think about the cost implications of the CRM you choose as you add more users, contacts, and features.
Your Company's Needs
Above all, think about what matters most to your organization. For example, some organizations insist on having one comprehensive system to eliminate data silos, even if it means settling for a few "sub-par" features. Other companies have very specific needs and one feature or benefit will override the rest. Be sure to have multiple conversations with key stakeholders in your organization as you dive into the process of finding a CRM that will work best for you.


HubSpot vs. Salesforce: CRM Overview
Now that you know how to think about purchasing a CRM platform, let's take a deeper dive specifically into HubSpot and Salesforce so you can compare the two systems side by side.

First, we'll begin with a high-level overview of the two systems—including reviews, pros, and cons:
HubSpot CRM

Salesforce CRM

Overall

Rankings

4.23 out of 5

*based on average of below rankings

4.5 out of 5 stars (Capterra)

4.5 out 5 stars (Software Advice)

3.5 out of 5 stars (PC Mag)

8.5 out of 10 stars (TrustRadius)

4.4 out of 5 stars (G2)

4.24 out of 5

*based on average of below rankings

4.4 out of 5 stars (Capterra)

4.4 out of 5 stars (Software Advice)

4 out of 5 stars (PC Mag)

8.2 out of 10 stars (TrustRadius)

4.3 out of 5 stars (G2)

Pros

Easy "out-of-the-box" solution
Free trial option
User-friendly interface
One seamless platform with an integrated user experience
Excellent for small to enterprise-level organizations

Robust reporting and complex data capabilities
Breadth of products and tools
AppExchange offers 3,400+ apps and integrations, and open API
Excellent for enterprise-level organizations

Cons

Cost can add up as more features and tiers are introduced
Fewer native integrations compared with Salesforce (500+ and open API)
Comparatively less advanced features with customization, reporting, and analytics

Expensive solution
Complexity to set up and use can be tougher to adopt (most teams benefit from having a dedicated Salesforce admin)
Connectors and additional costs needed for multi-cloud integrations
HubSpot vs. Salesforce: Side-by-Side Comparison
Knowing that each organization values certain features or benefits over others, let's take a deeper dive into how HubSpot and Salesforce match up within a few key categories.
Ease of Use and Setup
In this category, we'll look at how easy each platform is to set up and to use on an ongoing basis.


HubSpot

Salesforce

Rankings

Ease of use: 8.7 out of 10 (G2)

Ease of setup: 8.4 out of 10 (G2)

Ease of use: 7.8 out of 10 (G2)




Ease of setup: 7.1 out of 10 (G2)

Pros

Simple interface designed to be intuitive for users
Free version of limited HubSpot instance available to test out system
Easy to set up lead reporting and key features

Easy-to-track opportunities and leads
14-day trial allows time to get to know tools before

Cons

Customization can be a little clunky
Lead import and data structure can be initially time-consuming

Bigger learning curve associated with Salesforce, depending on complexity of usage
Some features appear outdated and are less intuitive
Implementing Salesforce can take between six months to one year and may require third-party partner support to deploy. HubSpot can often be set up without partner or developer support, which may help you get up and running faster.
Quality of Support
In this category, we'll look at how beneficial the support system is within each platform. Both Salesforce and HubSpot have a number of options for ongoing support to help your team continue to scale and grow.


HubSpot

Salesforce

Rankings

3.5 out of 5 (The Blueprint)

8.6 out of 10 (G2)

4 out of 5 (The Blueprint)

8 out of 10 (G2)

Pros

24/7 access to HubSpot support and tickets with email responses

Standard support package included with contract

Cons

No dedicated support after onboarding is complete

Additional cost for Premier support plan
May need to hire in-house Salesforce expert
Both systems have excellent, long-standing support systems. The biggest consideration here is the additional cost needed for ongoing support. Salesforce is a more complex system that may require an in-house expert or a higher tier of support to optimize the platform.
Features and Customization
In this category, we'll look at the breadth of features and how they rank against one another. For a full list of features and a truly comprehensive comparison, have a look at the HubSpot and Salesforce websites.


HubSpot

Salesforce

Rankings

4.5 out of 5 (The Blueprint)

5 out of 5 (The Blueprint)

Pros

Comprehensive business CRM
Features designed for usability and user experience
Easy imports from other software platforms
Custom fields

Comprehensive business CRM
Outnumbers HubSpot in features and customization
Easy imports from other software platforms

Cons

Less customization available than Salesforce
Fewer features

Less modern design and user experience within some features

Integrations with Other Tools
In this category, we'll look at how well each tool can be integrated with other systems.
While Salesforce has more native integrations, HubSpot is continuing to make strides in the integration space.

For example, integrating Salesforce Marketing Cloud with Sales Cloud requires a connector that can take as long as three months to set up. Salesforce Marketing Cloud may also require calling in costly contractors or partners to maintain and update integrations. Marketing Hub and Sales Hub integrate "out of the box," with no connectors or third-party resources required, and integrating Marketing Hub to Salesforce is fast, easy, and seamless.


HubSpot

Salesforce

Rankings

7.9 out of 10 (TrustRadius)

7.6 out of 10 (TrustRadius)

Pros

500+ options for native integrations
Open API for custom integrations

3,700+ options for native integrations
Open API for custom integrations

Cons

Additional cost for added API access and integrations

Scripting environment
Additional cost for added API access and integrations
To make an informed decision for your organization, we recommend first determining which integrations your team will need and doing individual research into compatibility with both of these systems.

Cost
Cost is obviously a major consideration when selecting the right CRM for your business. According to third-party sources and our own experience, HubSpot and Salesforce are neck and neck with their pricing options, and the cost of both systems can start to add up, depending on how many features and contacts you are looking to use.

Salesforce tends to be more expensive than HubSpot. This might not be an issue for enterprise companies with large technology budgets, but it could be a deciding factor for smaller organizations. Additionally, Salesforce has ongoing options for support that can be very costly, in which case you may want to consider hiring in-house support.

HubSpot approaches its cost structure through various "Hubs." Adding another hub to your system unlocks a number of new features. The benefit here is the product breadth increases with each new hub, but it does incur an additional monthly cost. Additionally, it's important to consider the number of contacts you're adding to the system because this pricing will scale up with volume.

HubSpot offers transparent pricing and packaging that includes everything you need to run your business. Salesforce, on the other hand, offers transparent pricing on some applications, but there is a lack of visibility around the different tiers and their capabilities, add-ons, and advanced functionality.

With HubSpot, you pay only for the seats you need, and you get unlimited view-only seats that have access to view information such as deals, tickets, and reporting. HubSpot paid core seats get all-in-one access to the HubSpot CRM and powerful shared platform features. Salesforce licenses only provide access to a single product, so you have to purchase additional licenses to unite all of your applications across the platform.

Full details can be found on the HubSpot and Salesforce pricing pages.

Which CRM is Right for You?
The most crucial considerations in selecting a CRM are choosing one that will work for your team and taking your time to make a plan for your tech stack.
Every company's needs are different, so be sure to use the information above to weigh the pros and cons of each solution. Have ongoing conversations with key stakeholders to determine which features will allow your organization to achieve optimal adoption of a given system.
Most importantly, take each platform for a test drive. Both Salesforce and HubSpot offer demos and free trials. Putting your hands on the product is one of the best ways to determine whether it will work for your organization.
Both HubSpot and Salesforce are excellent systems that bring unique strengths to the table. It's up to you to do your due diligence and decide which one will help your organization get the most ROI from its CRM.
This blog was originally published in 2021 and has been updated since.

About the author
Sarah Mead is the Associate VP of Client Services at SmartBug and plays a key role in building and maintaining excellent client experiences that result in happy customers. She is tirelessly passionate about leading her team members to achieve personal growth and success. Outside of work, you'll find Sarah teaching yoga, enjoying the outdoors, taking care of her plant collection, traveling far and wide, and grooving to the latest independent radio hits. Read more articles by Sarah Mead.
Subscribe to get our new blogs delivered right to your inbox
Other insights you might like