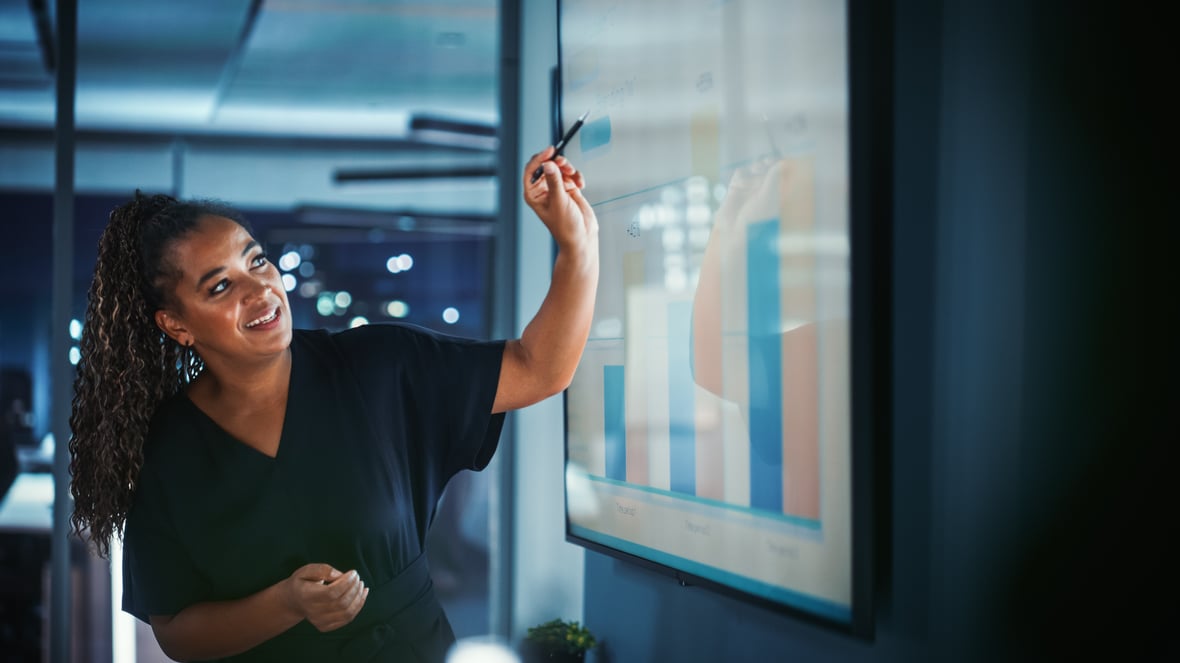 3 Priorities Revenue Leaders Should Focus On for the Second Half of 2022
September 2, 2022
---
By Jen Spencer
After the COVID-19 pandemic hit in the spring of 2020, some revenue leaders found themselves playing Monday-morning quarterback with their responses. While plenty of organizations experienced payoff from calculated investments, others missed opportunities with more conservative efforts. Some companies that filled in gaps caused by the sudden shift to a digital-only world overestimated their potential growth and are now right-sizing.
And now it seems we're having a bit of déjà vu as we face a potential recession.
Plenty of executives have similar questions to those asked during the spring of 2020: Where are there opportunities to invest? Should cuts be made? There's certainly a collective feeling of what should I be doing?
Though it'd be super helpful, the reality is that there's no crystal ball for the future. Luckily, marketers have opportunities—such as internal audits, focusing on customer retention, leaning into the processes that are working, and others—to champion growth during the second half of 2022.
Growth Is Not Off the Table In 2022
It's true: Revenue growth isn't off the table for the remainder of the year. This isn't about seeing the glass as half full. Growth is possible through a change in perspective and strategy.
Revenue leaders and executives need to turn their focus inward by performing a full audit of their entire customer lifecycle. Even if this already happened closer to the beginning of the year, before increases in the cost of living and a looming global recession impacted forecasts, it's time to do it again.
You should be looking at two categories:
Every point your customer interacts with you
Every point your teams interact with each other
In other words, you're mapping out your flywheel to identify both the forces at work in your business as well as the ways you operate that might be creating friction. What can you control to maintain what's working and what needs to be changed?
Here are three necessary revenue leader priorities:
1. Stick with what works.
According to a report from Gartner, marketing executives are embracing a "return to the basics" approach to marketing that prioritizes retention and engagement.
During a down market, businesses want to protect the things that are working really well for them. For example, a customer that uses a platform such as HubSpot for attracting leads and processing deals will want to lean further into those systems that work.
2. Provide the work that was promised.
Especially during a down market, businesses want to work with partners who are trustworthy, transparent, and authentic. People need to trust that their partners are doing what they say they can and will do.
This spans beyond your contracted client relationships. Brands speak to one another within their industries, and a positive or negative experience holds more value during a tumultuous market. Auditing your flywheel helps ensure you are providing the experience you've already promised to your customers.
3. Keep pricing aligned with value.
It never makes sense to increase prices just because of fears around an unstable market. If you do raise your prices, this increase in cost to your customer needs to align with the value that you're providing your customer. Now is a good time to revisit your pricing to determine if the product or service is in line with the value your customer is receiving.
This pricing exercise will likely impact your product or service roadmap. If your market has expanded and more companies are offering the same product, can you still say that you're the premium product on the market? After researching competitors, if you determine that you're no longer offering the best product, where are your missed opportunities? What resources do you need to fill in those gaps?
Industries That Are Currently Thriving
Let's look at a few industries that are not only managing current market uncertainties but also thriving because they've adapted digitally.
Senior Care and Senior Living
This industry was hit hard by COVID-19. While most businesses were busy keeping their doors open, senior care organizations were busy keeping their residents healthy and their families and loved ones informed. At the same time, this sector is providing a much-needed service to a growing baby boomer population. The need for senior care services is not going away.
These two factors forced the senior care industry to be innovative and many leaned into their digital transformation. When traditional sales and marketing tactics—many of which were in person—were taken away from them, they had to pivot toward a digital strategy to ensure families could stay in contact with residents and to spread awareness about health and safety.
Tech Companies
It goes without saying that the tech industry has served a key role during the shift to remote workspaces.
Now, as companies consider a full-time remote or a hybrid approach, the question becomes how tech services can make companies more efficient, keep teams connected, and workers productive. And it's not just about adding one or two platforms to the stack—if a tech company can solve major problems for a customer, they're the type of company that's going to thrive.
Professional Services
Professional services are providing fractional expertise and bandwidth for teams that need to operate with a leaner team than they had prior to the current moment.
In addition to the services, such as consultation, training, technical support, or strategy refresh, organizations are benefiting from the flexible contracts provided by fully-trained professional services teams.
Commerce
Certain industries continue to be resilient in an economic downturn because they're supplying products that customers consider necessities. What do we see time and time again? People continue to buy beauty products, alcohol, pharmaceuticals, and anything related to healthcare.
Although their habits might change, customers shift investments to other products and industries. A perfect example is the e-commerce boom that hit during the pandemic and continues to thrive today.
Advice to Marketers with Lower Marketing Budgets
During an economic downturn, some companies tend to make the knee-jerk decision to cut marketing budgets, yet this makes it harder to retain customers and drive more marketing once the economy settles. As marketers gear up for potential budget cuts, here's how to prepare.
1. Know where revenue comes from.
Hopefully, this conversation happens before budgets are cut. If it happens after, marketers are playing without a winning hand. Use your analytics tools to justify your marketing activities so that you have direct attribution to revenue.
Remember, marketing isn't just about getting your brand name out there. It's a key component in your revenue operations.
2. Be prepared to delete some aspects of your strategy and stay consistent with others.
Marketing is a blend of art and science, which means you're constantly experimenting and solidifying the methods that work. That being said, if your marketing budgets are compressed and you're running a lean team, you want to make sure that you're getting value from everything you're working on.
Document your efforts to show data on higher- and lower-generating activities. It's probably time to go back to basics and understand what you're getting from your efforts. The fun experiments might have to wait a quarter or two. Put those in your "parking lot" and be sure to revisit them at a later date.
3. Be transparent with your executive team.
You have the data. You know what efforts need to continue to drive and which can take the backseat for a while. When you approach your executive team with a budget, don't try to sell the same strategies with less money. This will only take away from the areas that are working.
Stay Diligent with Internal Operations
Just like most executives, you're probably feeling the weight of the current economic uncertainties. Now isn't the time for outward-facing efforts; it's time for a look inward at your organization to figure out what's working and what's not.
To keep sane and steady, revenue leader priorities should include:
Mapping the flywheel: Know what your customer journey looks like.
Investing in customer retention: It costs far more to invest in new customers.
Focusing on channels driving the most revenue: Fuel what's working and search out areas for modest improvements versus experimenting with a whole new channel.
Still itching for more insight into optimizing your RevOps?
Read Where RevOps and Inbound Collide, a report that discusses the state of RevOps and the newest approaches and tactics revenue leaders need to take to create successful organizational alignment.

About the author
Jen Spencer oversees all operations, executing on SmartBug's growth and market expansion strategy, which is focused on delivering superior, cutting-edge service to the company's customers and partners while continuing to invest in the people and culture that make SmartBug® a great place for employees to work and develop their careers. Read more articles by Jen Spencer.
Subscribe to get our new blogs delivered right to your inbox
Other insights you might like