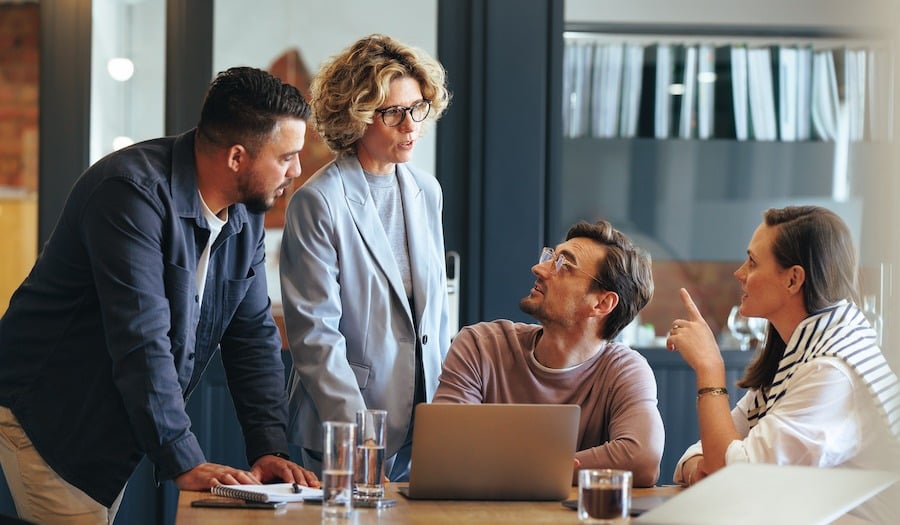 How to Develop a Solid Lead Generation Strategy
June 22, 2023
---
The digital era has changed the way we do business, and marketers must keep up with their prospects' demands. A key way to do this is by building a well-oiled lead generation machine.


How to Generate Leads with Your Digital Marketing
Lead generation is broken down into sets of marketing activities that correspond with stages of the buyer's journey. This starts with generating traffic, then converting visitors into leads, eventually converting those leads into customers, and finally creating brand advocates for your business.
Lead generation has long been a topic for discussion among marketers around the world, and the emerging marketing trends for 2023 continue to evolve. According to HubSpot's 2023 State of Marketing report, consumers expect businesses and brands to optimize their buyer experience by keeping up with technology.
According to the HubSpot report, the top trends marketers are leveraging in their marketing strategies are as follows:
Lead generation remains a real challenge for many marketers, even with the plethora of lead generation software available. According to a 2013 study, more than 80 percent of consumers research their buys online before making a purchase; in our increasingly digital age, that number can only have grown in the years since the study. As marketers, we need to build a digital marketing strategy that provides value to the buyer through that research process, generating not just traffic but qualified leads.
Below, we offer four tips that will help you become a lead generation strategy genius.
Need more leads? Download The Busy Marketer's Guide to Generating More Leads Online
1. Leverage Content Marketing with AI- and User-Generated Content
If you haven't started producing content already, doing so should be one of the first steps in your lead generation strategy. You can up your content generation game by including AI where practical and seeking reviews and testimonials from past customers.
You can garner leads by becoming a subject matter expert on topics or pain points that your product or service solves. Regularly post blog articles, news, and tips regarding your industry. Also, produce in-depth guides that visitors can download on your website. This allows you to collect data from people who download your guides so you can enroll them into lead nurture programs and keep them engaged by sharing more about your product or service; you may even turn them into customers.
Artificial intelligence and automation are playing a role in modern content creation, offering help with things such as creating social posts and generating outlines. That said, it's critical to leverage creative content pieces that AI-generated content can't replace.
Finally, include customer reviews and user-generated content (UGC) in your content mix. According to a report by PR Daily, UGC and word of mouth (WOM) are becoming more and more relevant for potential customers.
Don't forget to promote the content you create using online marketing methods such as SEO, social media, and email marketing. Great content won't make a difference if people can't find it. An article by Search Engine Journal states that 51 percent of all website traffic comes from organic search and over 40 percent of revenue is captured by organic traffic. Be sure to spend some time optimizing your content and including a custom domain for search engines.
2. Leverage Paid Social
Social media can be a powerful channel for lead generation. To successfully acquire leads via social media, you must invest time and effort in building an engaged audience so you can convert those individuals into leads. The first challenge is figuring out which tool is right for your business. You can run paid social ads on Facebook, Twitter, LinkedIn, Instagram, and even Pinterest.
The 2023 State of Marketing report mentions that Facebook was still the most leveraged social media platform in 2022, used by 64 percent of marketers. Facebook was followed by Instagram (58 percent), YouTube (57 percent), Twitter (43 percent), TikTok (42% percent), and LinkedIn (33 percent).
It's no wonder many marketers choose to use Facebook to drive traffic and acquire leads. One of my favorite tools for lead generation is Facebook Lead Ads. This ad format lets contacts submit their information without ever leaving Facebook. Strategies for campaigns might include "Subscribe to Our Newsletter" or "Limited Time Offer: 20% Off Your First Purchase." Lead Ads is also a great outlet for remarketing campaigns because often, your website visitors will see the ad, and you can use this opportunity to provide an incentive to send them back to your sales funnel.
Facebook removes friction and lowers acquisition costs, providing a great user experience and hopefully driving more leads for your business.
3. Optimize Your Site for Local SEO
Organic search is arguably one of the most valuable long-term lead generation strategies. Yet with more than 200 factors influencing how Google will rank your website within search engine results pages (SERPs), it's difficult to know where to start. I believe a heavy-hitting strategy for lead generation is spending time optimizing local SEO. According to WordStream, 72 percent of consumers who did a local search visited a store within five miles of the location from which they searched.
Local SEO will allow your business to tap into the surrounding community and help users find you when they most need you. As mobile continues to dominate, local SEO can make a big difference in driving more customers to your front door. Start by ensuring your name, address, and phone number are consistent on your website and across listings such as Yelp, Facebook, and Google Business Profile.
Another good idea is to make it easy for customers to review your business—or even directly ask satisfied customers to leave a review. Reviews on third-party platforms increase your chances of being found by qualified prospects, and you don't have to pay a dime!
Also, ensure your website title tag includes a main key phrase that you want to rank for in addition to your city, state, or neighborhood (e.g., "overnight fly fishing Colorado"). Give it some time, and then test your business by searching your keywords and seeing where you rank.
4. Conduct Segmented Email Marketing
Although it may be an old tactic, email marketing can be a very powerful tool when trying to reach prospects or upsell existing customers.
It's important to adapt your email marketing strategy by targeting specific segments of your customer database with tailored messaging. Right now, marketing automation is a popular method of helping marketers automatically send highly targeted emails to leads. Synced with your CRM, leads can be placed into a workflow so that once they fill out a website form, they are nurtured with content that matches their specific interests. This could include follow-up emails with great content and a CTA (call to action) to subscribe to your blog.
As you learn more about each lead, you can tailor your messaging to move them down the funnel. Just as artificial intelligence can serve as a catapult to your lead generation strategies, personalization is also key. A platform such as HubSpot can improve your personalization efforts with smart content, which can personalize content based on a viewer's location, demographic information, and more.
We've only named a handful of lead generation strategies—there's much more to explore! Whatever you choose to experiment with next, be sure you keep testing. The results will help you gain an in-depth understanding of how to effectively strategize and implement digital marketing campaigns to improve the bottom line.

This blog was originally published in June 2015 and been updated since.
About the author
Viole Morales Viole Morales is a passionate marketer from El Salvador. With over 9 years of experience in digital marketing, customer success, and account management, she enjoys learning new marketing trends, managing and cultivating good relationships with her clients, and enabling them to achieve their goals through digital marketing strategies. Read more articles by Viole Morales.
Subscribe to get our new blogs delivered right to your inbox
Other insights you might like