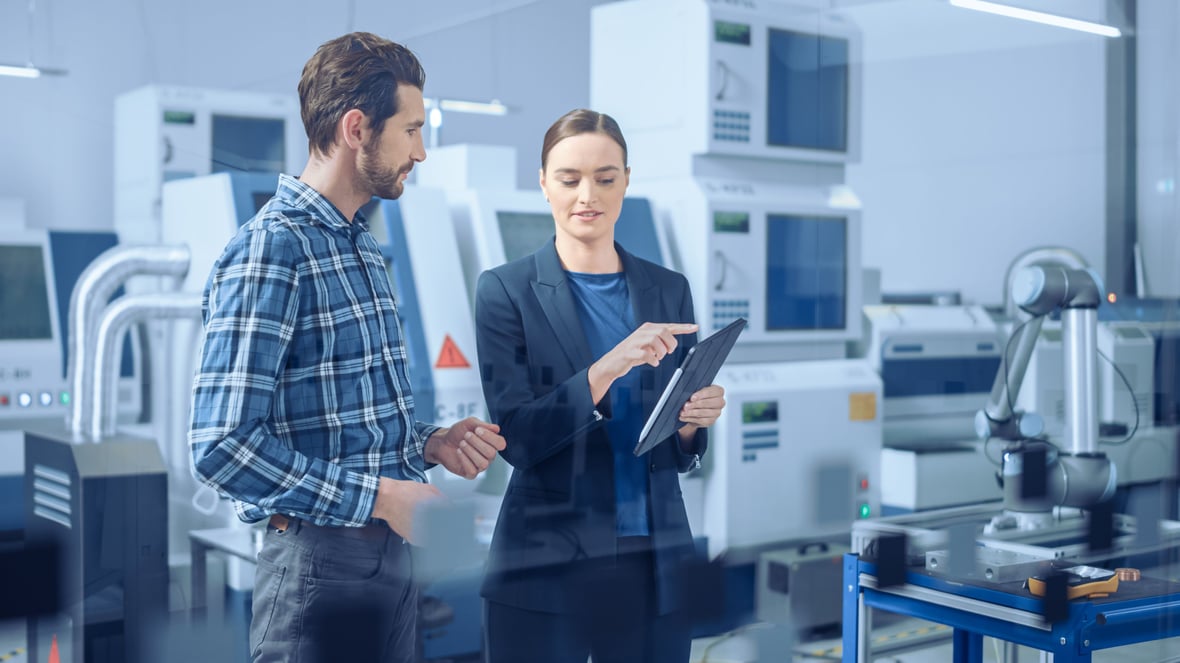 Marketing a Manufacturing Company to Reach the Right Buyers
November 10, 2021
---
Michael Dillon is the VP of Marketing and Business Development at NovaLink
Making a strategic marketing plan for a manufacturing company is a unique challenge.
Unlike marketing for companies that sell a product that you can purchase, manufacturing companies sell a service—the "product" of a service-oriented company is trust, experience, and expertise. Marketing a specific widget is simpler because the scope of what you must cover is narrow. Services, especially in a segment like manufacturing, have hundreds of different types; the scope is wide.
A sound manufacturing marketing plan will narrow the scope by emphasizing a niche to target, communicating effectively with your potential client base, and staying nimble and rolling with the all-too-inevitable changes.


Starting Out: Make a Solid Plan
As with all marketing plans, it's about planning, planning, planning. Jumping into the fray of trying to market a manufacturing company without a solid roadmap and a direction is a prelude to failure. All the time you spend planning will pay rich dividends in the future.
It doesn't matter if you plan to do traditional print campaigns, direct mail, or digital, basic marketing principles still must apply. You aren't reinventing the wheel when it comes to marketing tactics, so don't even try. Stick with the basics first: SMART goals.
SMART goals are used in marketing as a framework for goal setting. It is an acronym for "specific, measurable, attainable, realistic, and timely."
Specific: Set specific goals for your marketing, for example, "increase traffic to the website by 10 percent" or "see a 15 percent increase in sales leads to our CRM over the previous year." When setting goals regarding conversion rates, do your research and find out what the industry benchmarks are for setting conversion rates.
Measurable: This is where you would set your key performance indicators (KPIs). Some KPIs might include "decrease in bounce rate" or "increase in form submissions."
Attainable: Make sure your goals are realistic. Saying you want to increase revenue by 50 percent might sound like a great goal, but achieving something this lofty is another story.
Relevant: Ensure the goals you set are relevant to the overall goals of the business. Do not conflict with goals that might be set by another organization in the company.
Timely: Don't set goals without an end date or let them go on too long. You want to establish shorter-term goals so you may effectively measure the success or failure of your initiatives. As a rule of thumb, marketing goals shouldn't be any longer than 3-6 months.
Be ready to revise and update your marketing efforts. Some ideas will work great and you will want to increase your efforts. Others ... not so much, and you will not want to waste time on ideas that are not converting. Have backup plans and ideas ready to implement based on the data you receive.


Emphasize Your Niche
There is an old fisherman's saying that goes, "Cast a wide net and you might catch the fish you want, but you're also going to get a lot of fish you don't want." Commercial enterprises are very diverse, especially manufacturing. Making a one-size-fits-all approach to your manufacturing marketing plan does not drive the business you want.
A niche is focused on a specific area of a larger market. There are hundreds of manufacturing niches and verticals depending on the type of manufacturing they do and the markets they serve (e.g., clothing and textiles, petroleum, chemicals and plastics, electronics, metal, food production, woodworking, and so on). A generic manufacturing marketing plan for these diverse industries would be impossible.
To find your niche, ask the following questions to help define your marketing:


What type of manufacturing does your company do?
Taking a cue from the industries listed above, do you have something specific you are manufacturing? For instance, if your company makes dog beds, focus part of your plan on the ability to cut and sew operations with a specialty in dog bedding.


Where are you located?
Are you in the United States? If so, what states and where is your factory? Are you on the border with Mexico or Canada? If so, you can emphasize the trade agreements like the United States Mexico Canada Agreement (USMCA) in your marketing mix.
Is your manufacturing located outside the United States? If you have manufacturing operations in Mexico or China, emphasize this to lure in potential clients who want to save costs with a shelter operation.


Does your manufacturing company offer any other additional services?
If your manufacturing company also offers consulting, supply chain management, and warehousing, make sure to include reaching out to potential clients looking for these services.


Inbound/B2B Marketing Is the Key
Buying advertising online with Google or Bing is never a terrible idea. However, inbound marketing is more effective in the long term than purchased advertising. Sustained online engagement is the most effective strategy for getting potential manufacturing clients to come back to your website for more information.


Understand the buyer's journey.
As mentioned previously, potential clients for manufacturing are not impulsive buyers. There is a long period of researching options (and niches) before any client will begin to engage with a manufacturing partner. Inbound marketing will intercept the buyer's journey at the research stage with relevant information, bringing them to the manufacturer's website.
Your marketing plan must include providing useful, relevant content at the stage the company may currently be. Ask the following questions:
What does the market for your manufacturing business need?
What problem does your company or service solve?
Research your competitors.
As you are researching the content you will need to provide for your B2B marketing, remember to extensively research potential competitors also. You should at least understand the following:
Who are your main competitors?
What are they doing well or not well?
Answering these questions will give you direction on content and information to provide, but it will also give you insight into the potential weaknesses your competitors may have that you can exploit to attract the interest of potential manufacturing clients.


Nail down your keywords.
Extensively research keywords, terms used in searches to identify relevant content that your competitors are using and identify how potential clients are finding your competition and what terms your competition believes are important. Researching keywords will also identify "keyword gaps," terms your competition is using that your website or collateral is not. Use these gap terms to produce new content potentially "stealing" traffic from your competition.
Keyword research doesn't have to be difficult. There are many tools available, like Semrush, which will automate the process of finding keywords for your manufacturing marketing plan and provide intelligence on the terms your competition may be utilizing.

Strive to Be an Expert in Your Niche
If you perform your search engine optimization (SEO) efforts correctly, you will see a rise in your appearances on the search engine result pages and the traffic by interested clients to your website. Now is the time to present your manufacturing company as an expert in the niche you have chosen. You should have plenty of content ready to distribute (via email sign-up lists) that will showcase your proficiency.


Create stellar content.
When creating your collateral, strive to provide insight into your business. Educate your potential customers by answering questions they may have and providing them with data for the research they are performing. Here are some examples of collateral you should have ready for the traffic coming to your website:
Case studies
How-to presentations
E-books
White papers
Optimize your website.
Make sure your website is in top shape. Google holds in high regard a website that provides a positive experience for its users. At the very minimum, your website should:
Load fast
Answer the questions they are looking for
Be relevant and updated regularly
Focus on the value you can provide for them
Build trust through customer testimonials
Post updates regularly.
Additionally, be blogging regularly on your site. Write articles consistent with your niche and provide the same educational goals as your other produced collateral. You will also want to be up to speed on your current events in manufacturing, such as supply chain and shipping problems from China, and the USMCA treaty.


Maximize social media.
When you have produced a good backlog of content, go on the offensive! Utilize social media (particularly LinkedIn and Twitter) and email marketing to get the word out about your company and its expertise in manufacturing. To encourage communication, provide forms on your site for potential clients to sign up for your email list and then send the newest information to them regularly.
Some ideas for email marketing include:
Let them know your victories
Share relevant news about your company
Promote your newest collateral
Demonstrate how you are adjusting to the challenges in your industry
Encourage feedback and conversation—as mentioned before, most potential manufacturing clients are researching, and email conversations help them make decisions more confidently
A good manufacturing marketing plan is a difficult, but not unachievable challenge. By narrowing your scope and focusing on value for your potential clients, you can build a roadmap for marketing success that your company can carry forward.

Subscribe to get our new blogs delivered right to your inbox
Other insights you might like