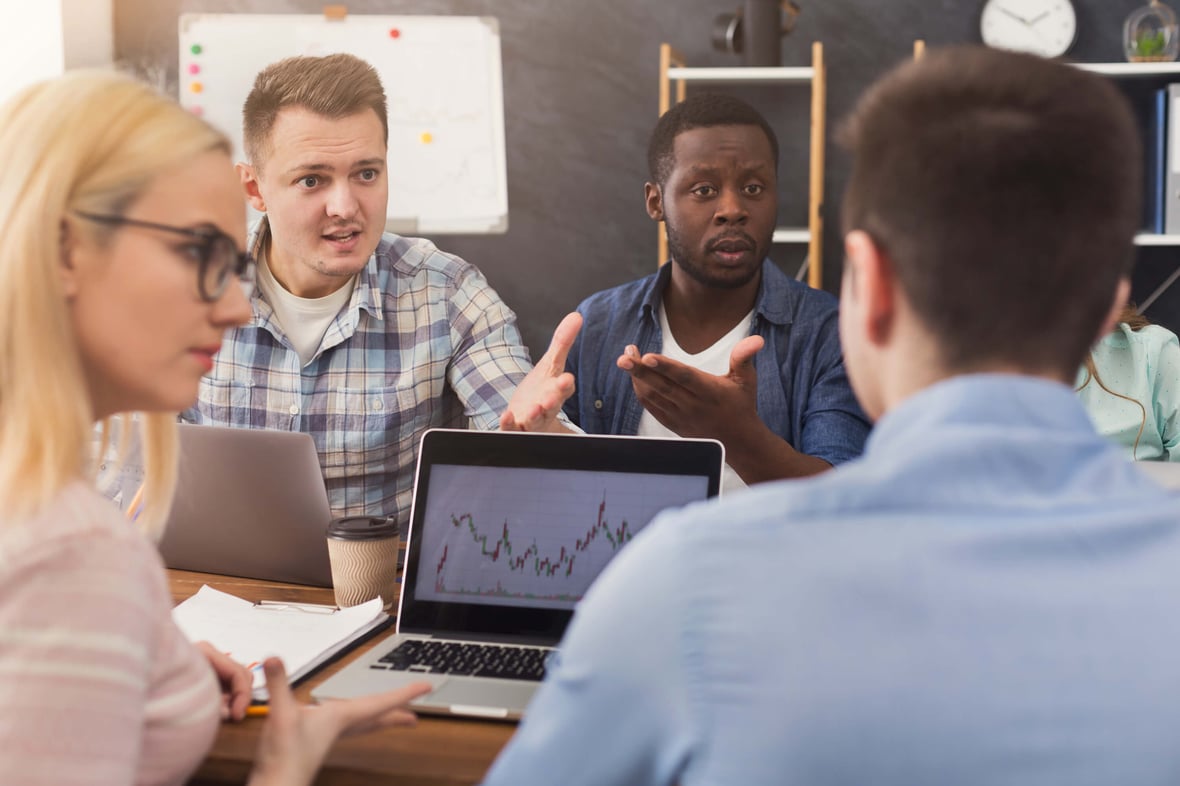 3 Actionable Tips to Track Leads in Google Analytics
July 30, 2021
---
You've spent a lot of time and money creating your website, launching content, and even investing in paid advertising to generate leads—but how do you know if it's working?
If you aren't tracking your leads, how do you know your efforts are fruitful?Tracking your leads is important because it can be a valuable indicator of the success of your business's marketing efforts. Essentially, by tracking leads you can make informed decisions about what your website is doing well and where there is room for improvement.


The Value of Lead Tracking in Google Analytics
The flexibility of Google Analytics (GA) can be both a blessing and a curse. If you aren't comfortable with website analytics services, it can be overwhelming just trying to figure out where to start. Thankfully, there are a few actionable tips (some easier than others) to take in order to set up lead tracking in Google Analytics. And soon you'll be on your way to monitoring leads in GA!
1. Setting Up Goals and Conversions
Setting up goals and conversions in your Google Analytics account might be, arguably, the most important step for tracking leads in the platform. Plus, you can pretty easily track goals and conversions in Google Analytics with only a bit of setup.
You are able to set up goals in Google Analytics in order to measure how often a user completes a specific action on your website. Goals can fall into four categories:
Destination (URL): Did the visitor make it to a specific page, such as a thank you page? There are certain pages on your website that indicate someone converting into a lead, such as those thank you pages they are directed to after completing a form!
Event: Define actions that people take on your website into goals. When using events to track leads, it is ideal to track actions that someone takes on your website that are likely driving them into your sales funnel. This can include video views, button clicks, form completions, or even viewing a certain URL on your website.
Duration (or time on site): Maybe history tells you that a website visitor who spends more than 5.5 minutes on your website is more likely to convert into a customer. With a duration goal, you are able to create a measurable lead count with duration information.
Pages per session: Do you want users who have viewed more than five pages to be counted as a lead? You can do that by setting a "pages per session" goal.
To set up your goals in Google Analytics, navigate to Admin > View (choose the view you want to place your goals) > Goals.
Once in the goal window, you click on the red +New Goal button in the top left corner, and proceed to create a new goal.
You can view your goal conversion rates in your Google Analytics reporting tools by going to Conversions > Goals. For more detailed steps on creating, sharing, or editing goals in Google Analytics, navigate to Google's help center.
2. Utilize Tracking URLs in Your Marketing Campaigns
So what is a tracking URL? Think of a tracking URL as a label that you can stick onto your original URL. It is just like a regular URL, but with a string of text added to the end that acts as our label. This string of text is called UTM (urchin tracking module) code or UTM parameters, and when added to the end of a URL, it can help break down your website traffic source when your originating URL is clicked.
There are free tools you can use to build custom campaign URLs, such as Google's URL Builder.
💡 Pro Tip: If you are a HubSpot user, there is a builder in Marketing Hub.
Campaign tracking codes, or tracking URLs, can help you gain powerful insights into your marketing efforts because you are able to track the effectiveness of your entire campaign at a granular level.
For example, you are using a tracking URL in your ChatBot campaign that is running across several social media platforms. You'll be able to find out which of those platforms (Facebook, Twitter, TikTok, and so forth) is generating the most visitors to your website along with other actions and insights, such as average time on page or pages per visit.
You can find your tracked campaigns in Google Analytics by navigating to Acquisition > Campaigns.

3. Integrating Your CRM into Google Analytics
The unfortunate part of tracking leads through Google Analytics is that you will not have access to tracking on a person-by-person level because storing any user's IP address isn't allowed. In order to get a better view of how each visitor is navigating and interacting with your website, consider integrating your customer relationship management tool (CRM) into Google Analytics.
Tracking your leads will also help you with providing management or investors with closed-loop reporting. Closed-loop reporting allows you to gain a view into the data you've collected through Google Analytics and compare it to the data collected in your CRM, thus enabling you to track a lead through their journey to becoming a customer. With this data, you are able to make informed decisions on your sales and marketing effectiveness.
However, you need to make sure your data is clean in order to ensure your reporting is accurate.
How you integrate the two will be dependent on your CRM platform. If you use the HubSpot CRM (it's free!), it's easy to get this set up with very little coding knowledge. However, other CRM platforms may require help from a developer.


The Benefits of Tracking Your Leads in Google Analytics
The benefits of setting up lead tracking in Google Analytics far outweigh the time and energy involved. Lead tracking allows you to understand consumer behaviors, identify successful marketing efforts, and even provide closed-loop reporting.
The bottom line is we should all be using data to monitor and grow our inbound marketing efforts. Three actionable tips to track leads in Google Analytics were outlined above, but that shouldn't be where your efforts stop. As your database grows, you need to ensure that you are keeping your growing database up-to-date. For more tips on database organization, watch our webinar How to Organize and Revive Leads in Your Growing Database.
About the author
Tabitha Young Tabitha is a Director of Client Strategy at SmartBug Media. She is well-versed in implementing marketing strategies for many industries including SaaS, healthcare, consumer services, automotive, and more. Outside of work, you'll find Tabitha traveling with her husband, taking her 2 corgis on adventures, and researching a Costa Rican retirement plan. Read more articles by Tabitha Young.
Subscribe to get our new blogs delivered right to your inbox
Other insights you might like