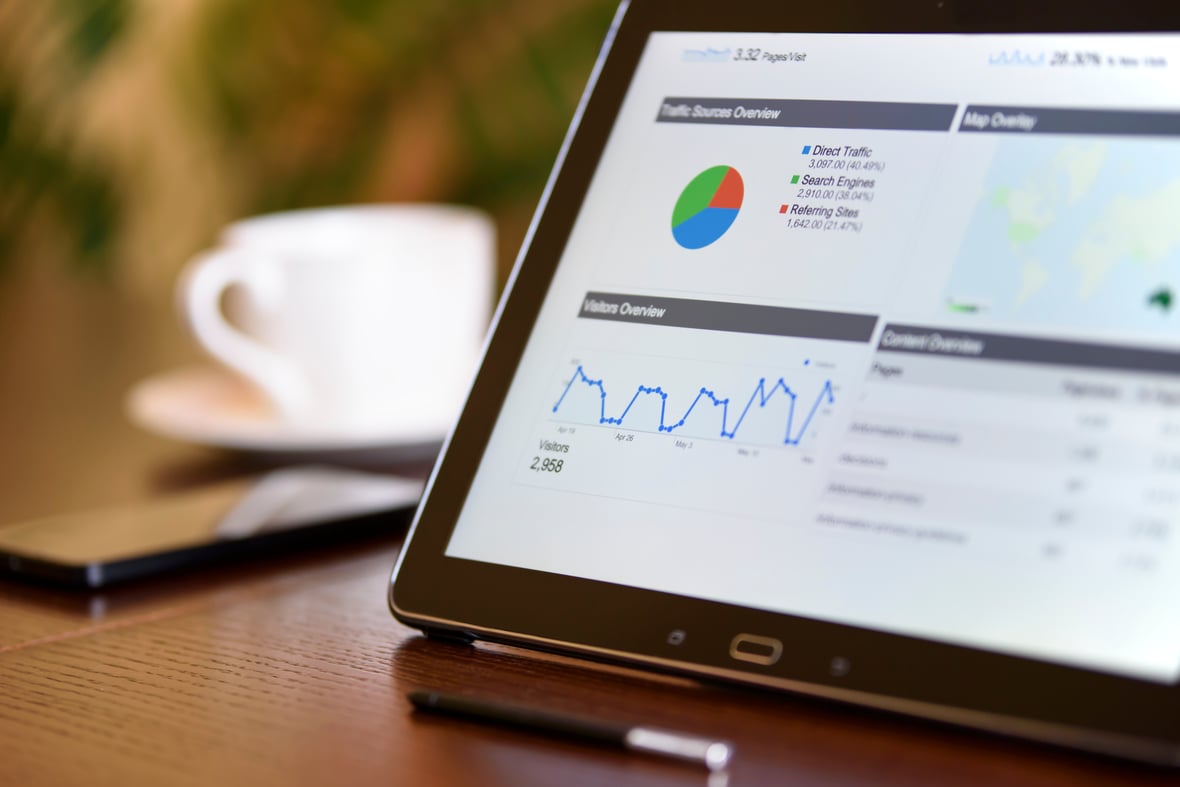 By Ale Melara
Reporting on website traffic, leads, and conversions is an essential part of any digital marketer's job. And when it comes to reporting for inbound marketing in particular, HubSpot Web Analytics and Google Analytics top the list.

Want to dig deep into conversions? Opting for Google Analytics and partnering with a developer to set up proper tracking codes can make a world of difference. Need to understand metrics at a glance? HubSpot provides easy-to-read reports—showing traffic month over month or year over year or comparing custom date ranges.

The two platforms might be in the same category, but with Google Analytics sunsetting Universal Analytics in July 2023, it's that much more important to understand where they differ and how Google Analytics 4 changes the game for reporting.

When you compare HubSpot versus Google Analytics, consider the time and effort you want to spend setting up tracking and how you will use the data for decision-making.
A Quick Look at Each Platform
For most companies, HubSpot Web Analytics offers an easy-to-use interface for both marketers and non-marketers to understand. Picture this: graphs, charts, and month-over-month percentages all incorporated into a dashboard that shows how your website is performing. The challenge is that it doesn't offer robust analytical data, such as new and returning visits, the types of devices your website is accessed on, and page load speed.

HubSpot Web Analytics may be easier to use—with a UI that simplifies building and manipulating custom data—but it does have limitations that make Google Analytics more valuable in some situations. Google Analytics (and GA4 in particular) offers more comprehensive information. So do you prioritize user experience or intel? Take a glance at what this amounts to.
Key Differences Between HubSpot vs. Google Analytics
Google Analytics lets you track the type of device visitors are using to access your site; HubSpot does not.
Google Analytics lets you see how your website is performing in different regions and markets.
Google Analytics provides site performance metrics such as page load speed.
Google Analytics offers flow maps and charts of how visitors entered your website and where they left.
HubSpot only shows this information on individual contact records or new customer journey reports.
Google Analytics allows you to track every interaction a visitor has during a session with custom
tracking elements. HubSpot can measure things such as clicks and form fills, but not micro-conversions (e.g., how many times a video was played).
Google Analytics lets you track multiple websites from a single account. HubSpot Web Analytics requires an enterprise-level account to track multiple domains.
Google Analytics 4 introduces predictive metrics via machine learning to identify and forecast customer trends ranging from purchase probability to predicted revenue. HubSpot does not yet have this ability.
Think about it in terms of what you want to accomplish. Big into data? Try Google Analytics. Want to generate inbound leads? HubSpot for the win. Your goals should guide you.
Why You Might See Discrepancies (and What to Do About Them)
Data in Google Analytics is tracked differently than it is in HubSpot Web Analytics, so if you find yourself asking, "Why don't these numbers line up?" there are likely good reasons. For instance, each platform defines things like "sessions" differently and handles cookie tracking in its own way, among several other nuances.

So what should you do if numbers aren't matching up and you aren't sure which platform to trust? Follow these guidelines:
Don't compare apples and oranges—or Google Analytics visits to HubSpot Web Analytics visits, for that matter. Instead, focus on the trends between the two systems.
Choose one source of truth. Hopping between two platforms for reporting on the same metrics is tiring, whereas picking one ensures your tracking is consistent.
Set up tracking correctly. Check for duplicate tags that could skew your data, and be consistent with how you implement tracking—whether that means using Google Tag Manager or having a developer add code to your website.
Of course, reporting extends beyond website analytics, such as to your social media channels. The good news is that similar rules apply. Just choose between HubSpot Web Analytics and native reporting within the social channel.
So, Which Should Your Company Use?
Here's the rub: We say "HubSpot versus Google Analytics" like it's a head-to-head matchup, but the best bet isn't actually one or the other. Inbound marketers usually use a combination of the two.

If you're looking for granular data about each visitor on your website—such as where they're visiting from, their device, or where they left your website—Google Analytics is the only platform that offers this breadth of knowledge and data.

However, if you're looking to increase leads and don't need super-granular data (or know you won't use it), you can't beat HubSpot's interface. It's easy to read and gives marketers the raw numbers they need to provide monthly reports to upper-level managers or internal departments.

To determine the best platform for you, keep your goals and marketing initiatives in mind. Want to build traffic through content marketing and inbound? HubSpot lets you search by campaign to see how blog articles, social posts, landing pages, and other deliverables performed for a single campaign or marketing initiative.


Bring Both Sides Together to Tell Your Data-Driven Marketing Story
Whether you're trying to perfect your attribution reporting to understand the journey your leads take or you want a better picture of your content's ROI and your communication channels, Google Analytics and HubSpot Web Analytics can work together to fill the canvas.

But remember: Be consistent with the data you pull from each source. Pulling website traffic data from Google one month and switching to HubSpot the next will only make it harder for you to tell the story accurately.

What platform or website tools does your organization lean on? We'd love to hear from you!
This blog was previously published on May 18, 2017 and has since been updated.

About the author
Ale Melara is a Sr. Content Marketing Manager based out of El Salvador, Central America. Ale is our very first LATAM employee. She's worked remotely for the past 5 years and she's had different roles in sales and marketing. In her free time, she works on creating educational videos around digital marketing for her "Inbound Nomad" social accounts where she promotes traveling the world while being a full-time marketer. Read more articles by Ale Melara.
Subscribe to get our new blogs delivered right to your inbox
Other insights you might like