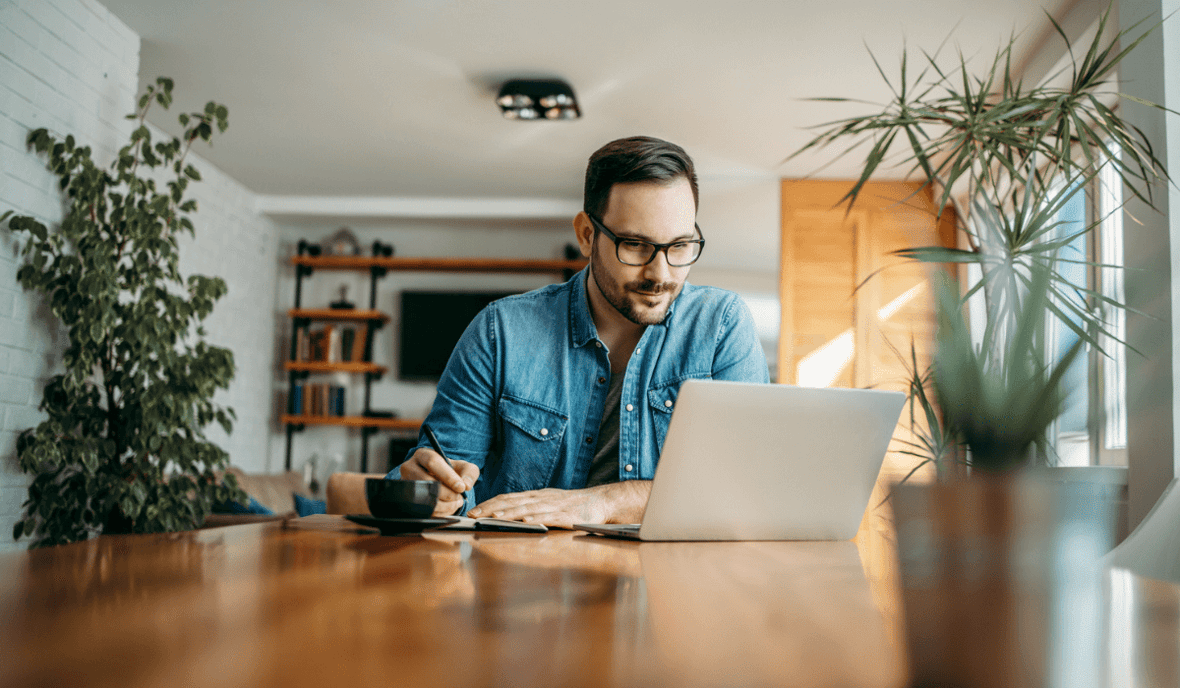 By Sarah Maher
Running a campaign often involves multiple touchpoints from various departments, from marketing and sales to customer service. Often, these touchpoints can become chaotic and unorganized as each department handles their process and tasks differently. Luckily, HubSpot users with Marketing Pro or Enterprise can use HubSpot campaigns to seamlessly create, execute, and track campaign efforts all in one place.
The HubSpot Campaigns tool creates a single dashboard where you can associate every asset and customer interaction. Built-in collaboration tools—including tasks, comments, and calendars—allow all team members to easily stay aligned and contribute toward the same campaign goal.
In this blog post, we break down all the details you need to know to set up, create opportunities with, and analyze a HubSpot campaign.


Setting Up HubSpot Campaigns

Create
Once logged into your HubSpot account, hover over the Marketing tab, and select "Campaigns."
Select the orange "Create Campaign" button in the upper right corner.
Enter a campaign name that your entire team will be able to identify.
You can add a campaign goal, audience, and budget. These fields can also be left blank or added in at a later time.

Associate Your Assets
You can either add an asset directly to your HubSpot campaign during the campaign creation, or you can add assets to the campaign as you create the asset itself.
Here's how to add them at campaign creation:
On your campaign, select the orange button "Add assets."
Select any of the assets associated with your campaign. You will have these options:
Ad campaigns
Blog posts
Call to action
Emails
Landing Pages
Social posts
Static lists
Website pages
Workflows
Select "Save."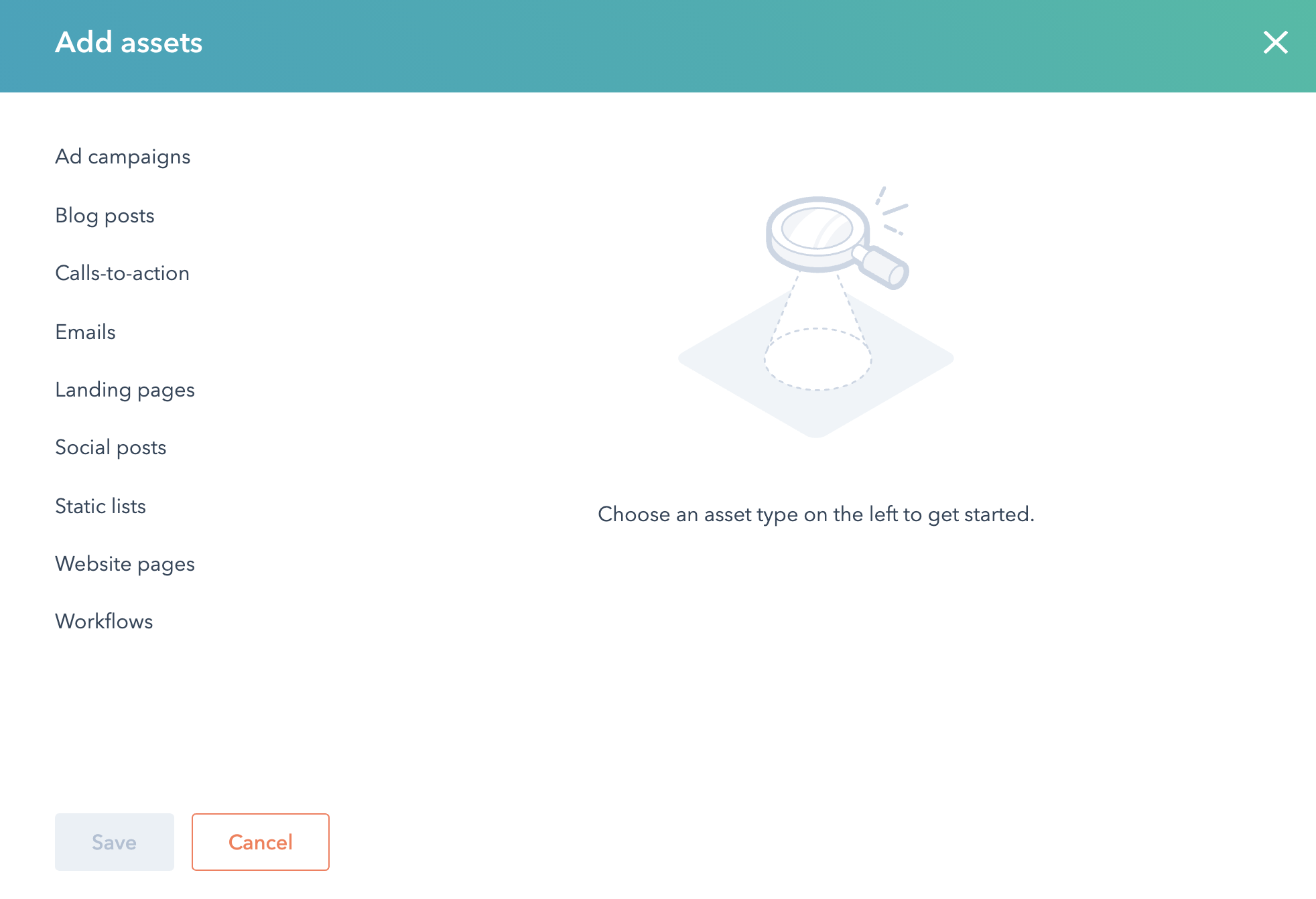 Alternatively, once your campaign is already set up and you're ready to add new opportunities to the campaign, you can also associate your asset when creating. For example, you can associate a landing page by:
Creating a new landing page
Selecting the Settings tab
Selecting your already existing campaign


Identify Campaign Opportunities
With HubSpot campaigns, users can easily organize their efforts to attract and convert leads. If lead generation is one of your goals for a campaign, you can build ads directly in HubSpot to target your audience on Facebook, LinkedIn, and Google. Personalized landing pages, calls to action (CTAs), and forms can empower your campaign and improve its performance, all the while tracking your targeted audience's actions.
Each time a contact fills out your form during your lead generation efforts, HubSpot creates a contact profile, offering you the chance to nurture and convert this contact. With these new contact profiles you could create lists, enroll them in workflows, perform lead scoring, or report on specific touchpoints.


Reporting on Your HubSpot Campaigns
From forms and landing pages to paid ads and social media posts, HubSpot reporting compiles all of your contact's interactions with your campaign in one place so you can easily analyze performance.
Follow these steps to review the performance of your HubSpot campaign:
Log into your HubSpot account, hover over the Marketing tab, and select "Campaigns."
Select the name of the campaign you want to review.
Decide on your contact attribution: Will contacts be attributed to the campaign via first touch or last touch?
Decide on your date range. You can view all data or set a specific time frame.

Overview Report
The first report offers an overview glimpse of the campaign performance, including sessions, new contacts, influence contacts, closed deals, and attributed revenue.
Sessions: The number of times a contact visits a website page, landing page, or blog post with a HubSpot tracking code
New contacts: Contacts that were brought to your website for the first time and attributed to the campaign
Influence contacts: The number of contacts that engaged with an asset of the campaign
Closed deals: The number of deals created by new or influenced contacts
Attributed revenue: Based on the interactions of contacts when deals are closed


Contacts or Sessions Report
This chart provides a visual of the contacts or sessions tied to the campaign. With the contacts filter, you can view new or influenced contacts by session date. With the sessions filter, you can view by source such as direct traffic, organic search, paid search, referrals, and more.


Traffic by Asset Report
The remaining report breaks down the traffic of each of your assets associated with the campaign.
Blog posts: Monitor views, submissions, and contacts
Calls to action: Monitor views and clicks
Emails: Monitor sends, unique opens, and unique clicks
Landing pages: Monitor views, submissions, and contacts
Workflows: Monitor how many contacts have started the workflow, how many contacts have joined your goal list, and the workflow conversion rate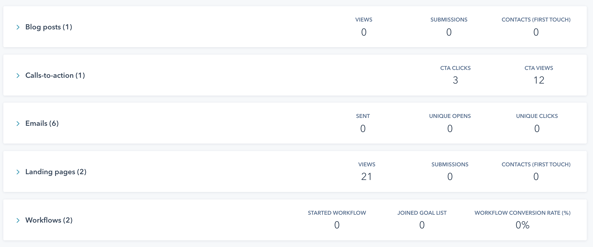 Now that you're ready to effectively create and report on your HubSpot campaign, are you curious what else HubSpot is capable of? HubSpot's all-on-one platform can help you seamlessly execute tasks across your whole organization. I encourage you to check out our blog on implementing HubSpot workflows and our webinar series, SmartTake: What's New with HubSpot, to learn more about the latest tips and processes.
About the author
Sarah Maher was formerly a Marketing Specialist at SmartBug Media. Prior to SmartBug, she worked on an in-house marketing team in the vacation rental industry specializing in email marketing and content creation. In her spare time, she enjoys spending time at the beach and hiking with her dog. Read more articles by Sarah Maher.
Subscribe to get our new blogs delivered right to your inbox
Other insights you might like