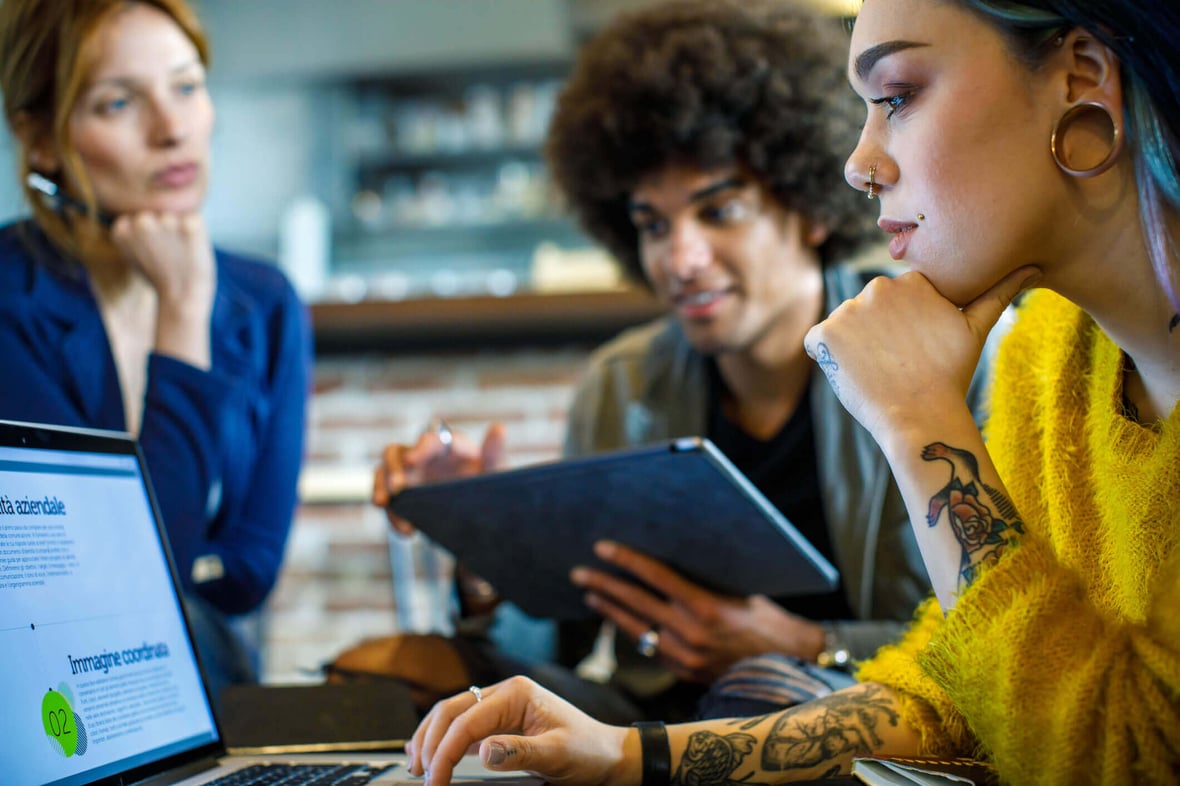 How Can Paid Media Boost Your Inbound Marketing Efforts?
August 27, 2021
---
There are three distinct types of media that make up any digital marketing mix: earned, owned, and paid media. Inbound marketing traditionally couples the latter two; it's a method to draw in your audience with stellar website content, blog articles, premium content, and social media engagement. As a digital marketer, rather than trying to separate your inbound efforts from paid efforts, try treating those paid media campaigns as an inbound amplifier.One of the biggest advantages of adding paid media to your inbound marketing strategy is that it's often faster to set up and can garner results in as little as 2-4 weeks. Inbound marketing is more of a long game that takes a bit more time and effort to get rolling.
It takes a lot of planning and strategy to successfully combine them, and I spoke with four digital marketing professionals who have experienced success layering paid media tactics onto their organic inbound efforts.
Use paid media to drive inbound efforts.
"Our entire business revolves around using paid media to help drive inbound marketing. Our current paid structure is to use video as our top-of-funnel channel to try and be the first touch for our brand," Brad Reifschneider, assistant director of digital marketing at Grand Canyon University, said. "Then we use display as our mid-funnel channel, trying to push people further down the funnel. Towards the end, we have paid social acting as both a promoter and also a closer. Finally, at the end sits paid search and all of our SEO efforts."
Inbound marketing and paid media strategies can be scaled to any business size and an infinite variety of goals. It's important to remember that strategy is essential and that no two businesses are alike. While Reifschnieder uses video for top-of-funnel, display ads as mid-funnel, and paid social as a bottom-of-funnel tactic, you could just as easily do the opposite or any other combination. It all comes down to your buyer personas and your business's unique goals.
For example, you could use search ads as a top-of-funnel tactic or layer a remarketing audience onto a video strategy, and then it becomes bottom-of-funnel.


Use Google Analytics to gain insights.
"I try to view and treat paid media as a part of the whole, rather than an independent effort," Charlotte Price, paid search analyst at Venture Automotive, said. "Setting Google Ads campaigns to use the time decay model and looking in Google Analytics can offer a more holistic view of how users interact with your content and convert."
Using the time decay attribution model in Google Analytics will give you better insight into the channels leading your conversion rate. Time decay gives more credit to the action that happens closest to the conversion time than it gives to the initial ad interaction. This gives you more insight into which channels are driving conversions and which are more top-of-funnel leaders.


Use HubSpot Ads Software to make reporting easy.
With HubSpot Ads Software there's no reason to not create an inbound-informed paid media strategy. Connecting your Google Ads, LinkedIn, and Facebook business accounts is easy and makes reporting a dream.
"With such a wide variety of targeting technologies across social advertising platforms, it's more critical than ever to dial in and present the right message to the right audience at the right time," Jared Rowe, former director of digital/interactive at Stratasys Direct, said. "At Stratasys Direct, we saw a significant return with our video marketing. Any savvy digital marketer is going to make use of pay to play when there is a three to one return, but video advertising blows those numbers away and has the potential to offer evergreen organic value long after the budget has expired."


Use updated content to add value to your customers.
Paid media can help you reach your buyer personas and gain inbound marketing momentum faster. Inbound content tends to be evergreen, though it can at times benefit from a refresh, and paid media can bring new, highly targeted traffic to existing campaigns.
It's also important to have well-designed and well-written landing pages and content offers to present something of value to your paid media audience. Anyone can click on an ad, but it's good inbound content that ensures people stay, explore, and hopefully take the next step in the buyer's journey.
"Using Google Ads to accelerate inbound marketing is an extremely effective way to target keywords that our products don't organically rank in the top placement of SERPs for," Sara Breeding, director of marketing at Axosoft, said. "Paying to appear above organic listings increases our inbound traffic by getting in front of visitors who would not have otherwise been exposed to our organic listings."


Use SEO and SEM strategies to compete for rankings.
Search engine optimization (SEO) and search engine marketing (SEM) strategies need to align between paid media and inbound efforts. Ranking for the same or similar keywords in both SEO and SEM is ideal, but it's also possible to use paid media to rank for keywords that don't necessarily fit the long-tail strategy of inbound marketing. Paid media can help you compete for keywords that are valuable to large top-of-funnel audiences. An example would be bidding on non-branded competitor keywords as part of your paid efforts.
At the very least, experimenting with paid media, especially paid search, can be the perfect testing ground for landing pages, messaging strategies, workflows, and more as it gives you fast, real-world data that can inform your more robust content strategies.
When paid media is informed by inbound marketing strategy—and vice versa—you have a marketing powerhouse that can keep your flywheel going strong.

About the author
Sara Wolfe Vaughan is a marketing strategist from Arizona. As a former non-profit professional with an MFA in creative writing, she has worn many hats from full digital strategy development to game-changing capital campaigns. Her focus is on helping clients build lasting relationships with their customers. Read more articles by Sara Wolfe Vaughan.
Subscribe to get our new blogs delivered right to your inbox
Other insights you might like