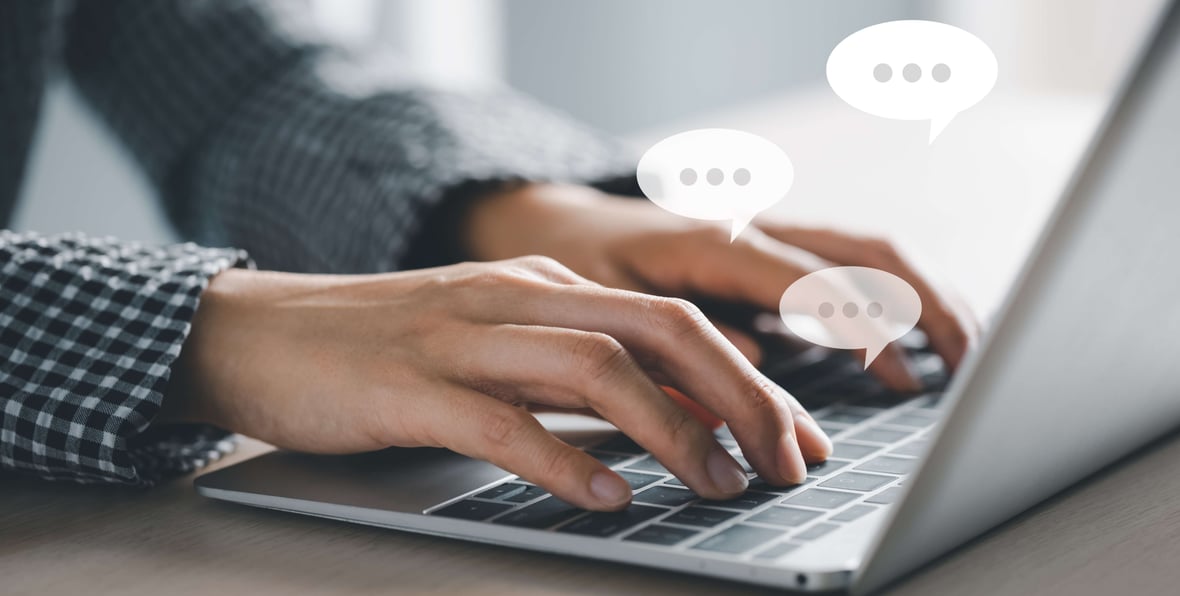 How to Use HubSpot's Conversations Tool to Better Align Sales & Marketing
September 26, 2022
---
A few well-known benefits of using conversational marketing tools such as live chat and chatbots include improving user experience and personally engaging with prospects and customers. The (free!) HubSpot conversations tool not only allows you to do just that, but it also provides valuable insight into interactions to help inform future sales and marketing communications.
How?
The conversations tool's universal inbox gives sales, marketing, and customer service teams one place to view, manage, and reply to all conversations to help ensure everyone within the organization is on the same page.
The Fundamentals: Aligning Sales and Marketing with Data
Whether you're initially engaging website visitors with live chat, chatbots, email, or even Facebook Messenger, you can use the information gathered from those conversations to not only craft a personalized response in the short term, but the information stored on the contact record will also give you the context you need to target contacts in any stage of the buyer's journey. Because this information is visible and easily utilized by both sales and marketing teams, you can help ensure that everyone is aligned on the messaging of future communications.
What Is HubSpot's Conversations Tool?
When fully rolled out in 2018, HubSpot Conversations was an addition to HubSpot CRM Free that would "help teams manage, scale, and leverage one-to-one communication across their site pages, Facebook, Slack, and other messaging channels." Since then, the tool has gone through several updates including new email functionalities, file attachments, and more.
According to Dharmesh Shah, co-founder and CTO of HubSpot, "With Conversations, [HubSpot is] going beyond a single solution, like site chat, to build something that centralizes all of a business's communications with customers and prospects into one collaborative environment."
Ready to dive in? Here are some initial steps you can take to get set up:
Set up your conversations inbox.
Connect channels such as, team email, chat, Facebook Messenger, and forms to the inbox.
Create a chatflow for your website with live chat or a bot.
Use the inbox for responding and managing incoming messages.
Analyze your conversations.
Check out this deep dive for step-by-step instructions.
4 Ways HubSpot's Conversations Tool Aligns Marketing and Sales
Here are a few ways that your sales and marketing teams can use the information gathered from the HubSpot conversations tool to tailor future communications for prospects and customers.
1. Sales Sequences
After a prospect makes that first engagement via live chat or chatbot, you can use the contact information in the sidebar of your inbox to queue up a series of automated sales emails and follow-up tasks for each prospect so that you never lose touch. Increase the response rates of your sales emails by using personalization tokens, smart content, compelling copy, and even video within your messages. By using sales sequences, you can free up more time to close warm leads.
2. Workflow Automation
Another effective way to use automation during the sales process is by setting up routing rules so that you're connecting the right contacts with the right people within your organization. Then you can use workflows to rotate leads, create deals, automate tasks, update properties, and more. By using workflow automation to trigger these internal actions, you can better ensure that all teams are aligned and that your customer relationship management (CRM) database is as updated and accurate as possible.
3. Lead Nurturing
Besides internal notifications, you can also use the workflow tool to build an automated lead nurture and send external marketing emails to those you enroll. For example, what if a seemingly qualified contact goes cold? Once enough information is gathered about a contact via the HubSpot conversations tool and/or sales sequences, you can use that qualifying information to re-engage the contact with helpful and educational content.
Here are some examples of types of engaging content you could include in your lead nurture:
White papers
E-books
Infographics
Checklists
Videos
Don't forget to add an applicable call to action (CTA) such as "Schedule a Demo" to your lead nurture emails that will ideally get the prospect back in conversation with sales. Within the workflow tool, you can set a goal of converting a contact from a Lead or MQL to an SQL or Opportunity, and track the goal conversion rate over time.
4. FAQ Pages
Once you've had the HubSpot conversation tool active for an extended period of time, you may notice a theme or pattern with the inquiries coming in from prospects and/or customers. This creates an opportunity for sales and marketing to work together and craft or refresh a FAQ page to help empower a prospect or customer to find the information they need before directly reaching out.
Pro tip: By implementing FAQ schema, you can boost SEO and organic traffic to your FAQ page.
Meet Your Prospects Where They Are with HubSpot's Conversations Tool
At one point, all of us have been on the receiving end of impersonal or irrelevant marketing communication, and it can be frustrating. Prevent yourself from seeming out of touch by using HubSpot's free conversations tool to align your sales and marketing teams, seamlessly connect with prospects, and build a better customer experience.

Want to stay up to date on all of HubSpot's new features and tools? Learn more by exploring our SmartTake Webinar Series: What's New in HubSpot.

About the author
Bailey Thomas is a Marketing Strategist based out of Lexington, Kentucky. She has a strong background in inbound marketing and is an advocate for HubSpot. When she isn't working on digital marketing campaigns, she loves to travel, attend concerts, and cheer on the Kentucky Wildcats. Read more articles by Bailey Thomas.
Subscribe to get our new blogs delivered right to your inbox
Other insights you might like