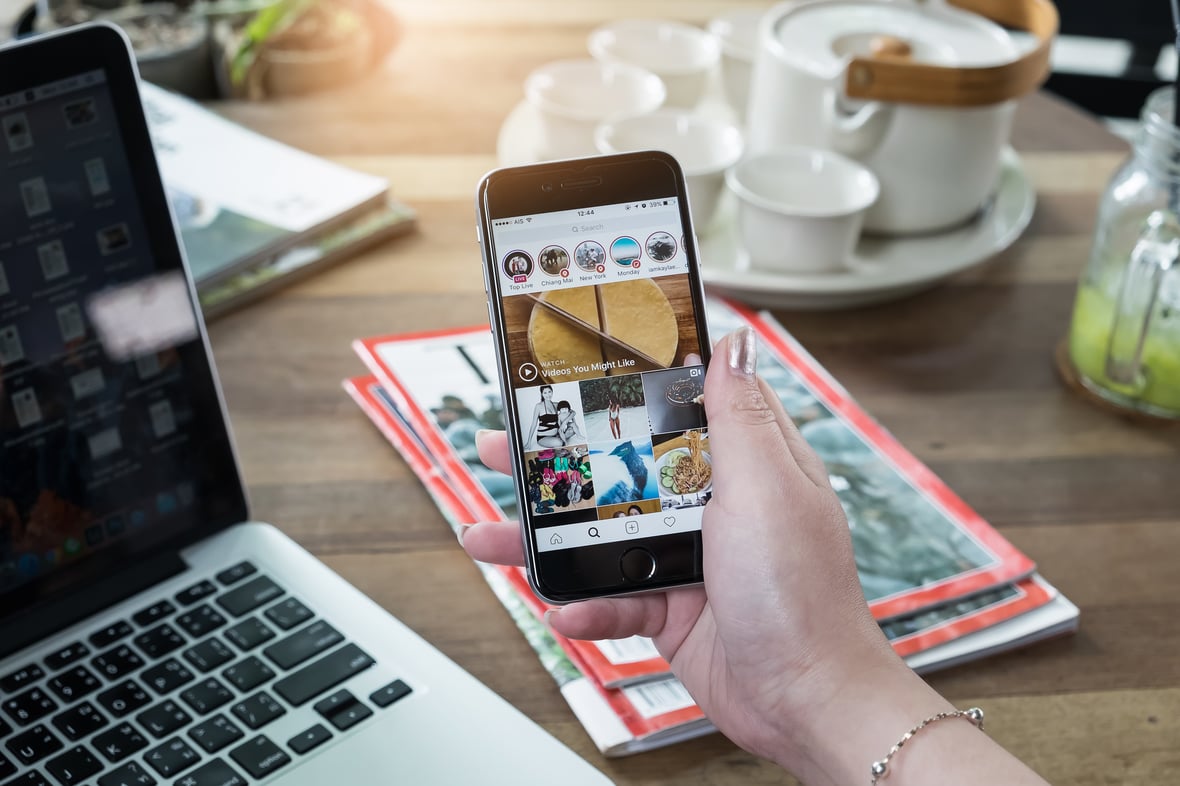 By Maia Milas
Product promotions often thrive on subtlety. Ideally, e-commerce brands strategically market their products or services without advertising them outright. Sometimes, the right time to reach your audience is when they're not shopping.

A Shopify-Instagram integration gives your brand access to your customers (and potential customers) while they browse content, not necessarily while they shop. The aim is seamless product presentation paired with a frictionless customer journey.

How can your e-commerce brand leverage this integration to achieve such a goal? Allow SmartBug Media's marketing experts to break it down.
Shopify: Key Features
Aside from easy integrations with popular software such as HubSpot, Shopify boasts several valuable features for any e-commerce business, including:
Optimization for B2C and E-Commerce Brands
Shopify users can sell manufactured goods at a larger scale without extensive knowledge of design, coding, or e-commerce.
User-Friendly Tools and Interface
From inventory management to customer communication, Shopify's interface allows business owners to effortlessly configure a digital storefront.


Secure and Simple Checkout
One crucial aspect of an effective e-commerce strategy is a seamless checkout experience. This interaction is one of Shopify's top priorities because it can be a significant friction point in e-commerce transactions.



Instagram: Key Features
Instagram's original intention to share photos with friends has evolved significantly since its debut in 2010. The introduction of video posts, multi-image carousels, Stories, and now shopping capabilities has significantly expanded Instagram's value, particularly for content marketers. More specifically, the following key features make it an ideal platform for e-commerce brands:
Diverse Tagging Options
Business accounts on Instagram have the opportunity to reach a wider audience by using one or more of the following hashtags:
Category or industry hashtags
Location hashtags
Event or campaign hashtags
Custom brand hashtags
Using the right hashtags and implementing shopping or product tags will extend your posts' reach, getting more eyes on your products.
Live Video
Instagram's relatively new video feature allows users to stream and post live videos in real time. Such features offer instant access to your audience, plus an added level of exclusivity because the time frame to view the content is limited.
For You Page
Instagram gives shoppers easy access to search for and explore products with the For You feature. The For You page contains content that caters to a user's specific topics and areas of interest based on the feed's algorithm.
Reasons to Integrate Shopify and Instagram
This unification combines the accessibility of Shopify with the discoverability of Instagram to create unlimited shopping potential. A Shopify-Instagram integration effectively:
1. Removes Friction
Features such as Instagram checkout allow users to purchase directly from the platform. Making the buying process easier effectively reduces customer friction, improving your chances of closing a sale. Direct messages within the app can also streamline client communication and customer service.
2. Reaches New Audiences
Integration with Instagram increases the likelihood that a new shopper will discover your products. If you use Instagram and Shopify separately, they may cater to two different audiences. Granted, some of these buyers may overlap, but combining their capabilities undoubtedly grows your audience size, increasing the likelihood of conversions.
Provides Access to Influencers
If influencers live anywhere, it's on Instagram. Recent data suggests that nearly 2 million users boast more than 100,000 followers, and that loyalty is invaluable. With Instagram, e-commerce brands can easily connect with influencers and micro-influencers to help promote their Shopify products.
Integrating Shopify & Instagram in 4 Steps
Luckily, establishing your Shopify-Instagram integration doesn't require significant legwork. In fact, brands can introduce this platform integration in just a few steps:
Step 1: Verify Account Eligibility & Status
Instagram Sales Channel users must be located in a supported country and comply with associated Meta merchant policies.
An account must exist as a Business Profile (account type can be accessed and managed in Settings) and possess a Facebook Shop.
Step 2: Connect Your Instagram Account with Your Facebook Business Page
Ensure your Instagram account is synced with your Facebook Business Page and you have the required permissions to "manage" the page.
Your Business Account must own the Instagram business account that it's connected to.
Step 3: Sync the Partner Platform (Shopify)
Provide Shopify with permission to manage your Facebook Business Page.
Import and sync your product catalog.
Step 4: Activate the Instagram Sales Channel in Shopify
Use the "+" option in your Shopify sales channels to add Instagram.
Log in to your Meta account and authorize the request.
Additional Advice for Successful Integration
Need more tips for increasing the effectiveness of your new integration? Look no further:
Tip 1: Use Product Tags & Proper Hashtags
Promoting your products to existing customers is helpful, but reaching new audiences and growing your customer base is crucial to your brand's success online. Strategic use of hashtags and product tags can make posts more accessible, increasing your chances of finding new buyers.
Tip 2: Collect User-Generated Content (UGC)
Unlock new post potential for your business by gathering and curating content created by your clientele. No one knows what your audience likes better than your audience, so their insight is invaluable. UGC provides e-commerce brands with custom content at little to no marketing expense. Try any of these basic examples on your Instagram profile:
Repurpose positive feedback in post comments as customer reviews
Share client answers to thoughtful or common questions
Provide an anonymous platform for brand-related inquiries
Create a branded hashtag and ask users to post to it
Tip 3: Leverage Video Content to Publish Reels
Algorithms on social media platforms, Instagram included, notoriously favor video posts (referred to as "Reels" on Instagram). Furthermore, Meta CEO Mark Zuckerberg remarked that viewing Reels accounts for 20 percent of the time users spend on Instagram. Increase your reach and boost engagement by using video content in your posts and ads.
Tip 4: Respond to All Messages
Direct access to customer service is convenient for your followers but often challenging for businesses to manage. However, responsiveness is necessary for maintaining a high standard of service. Try designating a member of your team to monitor your message inbox and ensure inquiries receive timely responses.
The Bottom Line
Determine in what areas your business can reduce friction and deliver value throughout the customer experience. Perhaps a Shopify-Instagram integration can help to alleviate pain points for your audience, such as:
Unsecure data capture
Slow or complicated checkout process
Complex or unclear navigation
Mobile incompatibility
Inaccessible features
In what other ways can integrating these platforms maximize the user experience? Develop content for every step of the e-commerce customer journey to ensure you reach the right customers at the right time.
Subscribe to get our new blogs delivered right to your inbox
Other insights you might like