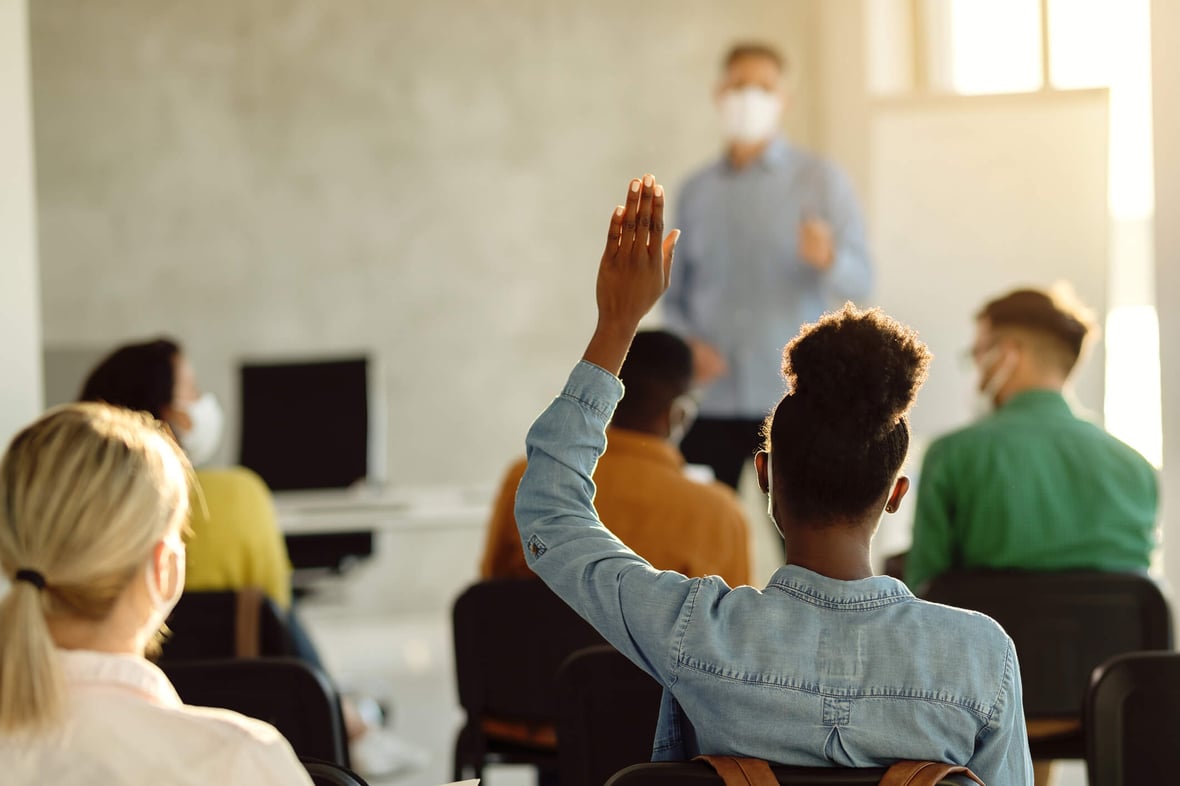 4 Higher Ed Digital Marketing Strategies To Increase Online Applications
August 11, 2021
---
In today's digital world, applying for universities is a vastly different experience than it was ten years ago. Brochures, television advertisements, and college fairs have their place in the world of college recruitment, but they no longer attract students the way they used to. Add in the instant gratification that people have become used to when searching for answers (we're talking about you, Google), and an inbound digital marketing strategy becomes crucial to higher education institutions.
In 2010, universities enrolled an all-time record of 21 million students. Since then, there's been a steady decline in enrollments, averaging a year-over-year decrease of 1.67 percent. Although this may be troubling to universities that need steadily growing student enrollment numbers to continue to grow and fund their programs, there are steps that schools can take to attract students.
Marketing Strategies for Higher Ed in a Digital World

1. Video Is (Still) King
If a picture is worth a thousand words, a video is worth a million. Studies show that 122 million people actively watch at least one video on YouTube every day, and more than 2 billion people consume content from the platform at least once a month.

Combine that with the fact that, post-COVID-19, 36 percent of campuses are experiencing a decline in campus visits and tours, and you have a perfect opportunity to showcase your university with a variety of short-form content. Mini tours, campus tours, and interviews with current students are all easily digestible, engaging pieces of content that will make a prospective student look twice.



2. Life on a 6.5" Screen
Current stats suggest that on average, individuals spend 300 minutes on their phones every day. The generation that higher ed institutions are most often trying to reach are accessing content primarily from those mobile devices, so ensuring that websites and advertisements are optimized for mobile can increase click rates.

Additionally, ensuring that pay-per-click ads are optimized in this way, universities can micro-target audiences and generate many high-quality leads very quickly.



3. Engage, Engage, Engage
Social media reigns supreme in today's day and age, and with the generations applying to college, it's no different.

One of the biggest draws of social media is that it allows universities, prospective and current students, and faculty to communicate and engage with each other. Institutions need to remember that as the world becomes increasingly digital and more transparent, everyone is a marketer—for better or worse.

Tying in social media monitoring tools (like this one from HubSpot) can help eliminate missed opportunities to join in on conversations that are relevant. Tools like this allow you to see every interaction with your messages, create keyword monitoring streams, and reply and engage to comments directly within the tool.



4. Live Chat (or a Well-Written Bot!)
Let's be real: Gen Z doesn't want to talk to a person on the phone, and they certainly don't want to wait for a slow reply to an email.

Chatbots and live chat provide a huge upside in digital marketing for higher ed. The availability of answers to prospective students in real-time is invaluable because when people can't find an answer in one place, they'll go to another.

If you don't have the capacity to have a live person manning a live chat, a chatbot strategy covering a list of frequently asked questions can gather leads and provide answers at the same time.



Inbound + Digital Marketing = A Strategy for Higher Ed Success
These strategies, along with a well-planned inbound marketing strategy, can transform the way that digital marketing for higher ed provides results. With strategies that allow for comprehensive reporting, you're able to track ROI from your efforts and trace a student's journey from their first contact with your institution to the moment they submit an application to enroll.

If these strategies struck inspiration, download a copy of The Ultimate Guide for Higher Education to Achieve Inbound Success, and find more ways your digital marketing for higher ed can generate leads, increase applications, and provide lasting success.

About the author
Chelsey Clayton is an Inbound Marketing Strategist based in Bozeman, Montana. She brings over 7 years of marketing experience to the company with an emphasis on strategy and content creation. Outside of work, Chelsey spends her time reading, at the gym, searching for a body of water to enjoy, or spending time with her husband and their 2 dogs. Read more articles by Chelsey Clayton.
Subscribe to get our new blogs delivered right to your inbox
Other insights you might like