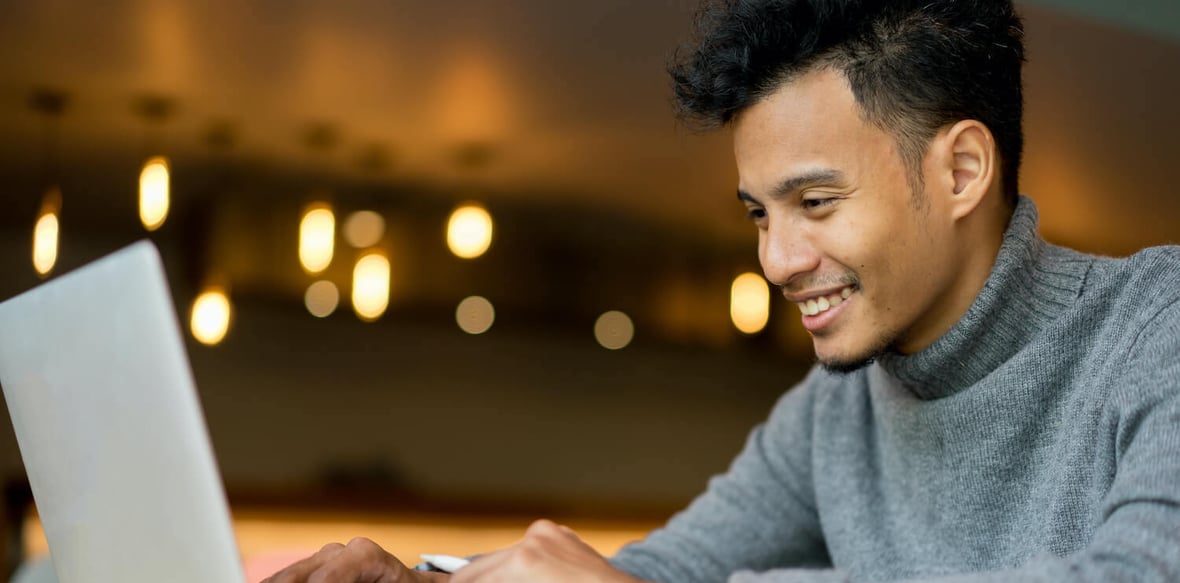 5 Things You Need To Know About Search & SEO Strategy
March 11, 2020
---
With the seemingly never-ending Google algorithm updates, you may catch yourself wondering, "How does Google Search work?" Although it may be frustrating to keep track of Google's changes, optimizations you need to make on your website, and your unpredictable traffic from organic search, there are ways you can improve your SEO strategy to make Google and your audience happy.
Here are five core realities you should keep in mind:
Google cares about the meaning of users' queries.
Google uses contextual information about search behavior.
Google prioritizes content based on relevance.
Google penalizes spammy content.
Google values the quality of your code.


Here's what you need to know about Google Search and your SEO strategy:

1. Google cares about the meaning of users' queries.
When looking at how Google Search works for your SEO strategy, intent is the first principle you should have a firm grasp of.
As marketers, it is our job to understand what language our audience uses to find information or talk about their problems. Intent, plain and simple, is the goal of search engine users. Sometimes referred to as "search intent" or "keyword intent," this is the reason that users go to search engines in the first place: They are looking for specific information.
How does Google use intent? Well, as Google is becoming more and more dexterous in understanding language, it can detect the true meaning or goal of users' searches. Google has created language models to recognize patterns, overlook misspellings and grammatical errors, and uncover your audience's true intentions for searches.
There are three main principles you should keep in mind when creating, analyzing, and optimizing content for your personas:
Natural language
Specificity
Freshness
OK, I know those feel like marketing buzzwords, but they are meaningful to SEO strategies and understanding how Google Search works. Here's how:
Using natural language helps Google serve content that most closely matches search intent by considering things like synonyms or common misspellings.
Using specificity enables Google to assess queries and content based on words and phrases like "near me," "images," and "how to" in order to return results in different formats (e.g., featured snippets).
Using freshness helps Google show your content to users searching for recently updated information or timely event details.
2. Google uses contextual information about search behavior.
Before your website ever comes into question, there is another factor to consider for setting a strong SEO strategy: the information stored by Google about your audience's search behavior.
Google uses contextual information such as user's location data, past search history, and search settings to provide a better search experience.
For example, Google says:
"In some instances, we may also personalize your results using information about your recent Search activity. For instance, if you search for "Barcelona" and recently searched for "Barcelona vs Arsenal," that could be an important clue that you want information about the football club, not the city."
Although you can't control your audience's search settings and past search history, you should research what your personas are searching. Understanding how and what your personas search on Google can help you better plan your content.
Consider asking your customers what alternative solutions they searched for during the consideration stage of their Buyer's Journey and using that information to plan content that helps aid them in that journey.

3. Google prioritizes content based on relevance.
Relevancy is the principle that makes sure top results are aligned with people's searches. After deciphering a user's search intent and contextual data, Google looks to prioritize results in SERPs that closely match what the user is looking for.
To do this, Google looks at the content on your pages, specifically:
Use of keywords that match search queries
(e.g., in the title, headings, and body copy)
Use of supporting topics and media types
(e.g., images, videos, and lists)
Engagement with results
(e.g., clicks)
For your SEO strategy, here are a few resources to keep in mind when creating relevant content:
4. Google penalizes spammy content.
Once Google has assessed what a user is looking for and what available relevant content exists, it whittles down results for content that shows expertise. After all, it's Google's credibility that's on the line if it serves users ineffectual results.
Here are some factors Google uses to assess your website's authority:
Consistent click-throughs for similar searches
In addition to these positive attributes, Google has strict guidelines for what is considered "spammy". Here's a list of negative attributes from Google's Webmaster Guidelines:
Automatically generated content
Participating in link schemes
Creating pages with little or no original content
Cloaking
Sneaky redirects
Hidden text or links
Doorway pages
Scraped content
Participating in affiliate programs without adding sufficient value
Loading pages with irrelevant keywords
Creating pages with malicious behavior, such as phishing or installing viruses, trojans, or other badware
Abusing structured data markup
Sending automated queries to Google
5. Google values the quality of your code.
Once you're confident your content is relevant and reliable, you need to look at how easy it is for users to access, i.e., usability.
Usability is incredibly important, and really the first factor that you have complete control over as a marketer.
Google continues to adapt to how usability and accessibility are defined as users' needs and preferences change. This means you also need to be conscious of your users' evolving usability demands.
Although specific parameters change, Google aims to provide updated actionable insights to website owners here. Overall, there are a few principles that haven't changed:
Responsive design for different devices (especially mobile-friendly design)
Cross-browser performance
Text size
Broken code/plugins
Spacing of clickable elements
This is where technical SEO comes into play. Doing an audit of your website's usability can make a huge impact on your overall SEO strategy. You may find that your content is relevant and reliable, but isn't formatted in a way that people and bots can easily digest. Here's a great Technical SEO Checklist to make sure your website is meeting Google's high standards for usability.

About the author
Molly Rigatti was formerly an Inbound Marketing Strategist in Charlotte, NC. With the help of her mini Aussie, Remington, she is dedicated to helping businesses reach their goals through inbound marketing and sales enablement campaigns. She's helped businesses in many different industries around the country and enjoys the challenge of staying up-to-date on all things HubSpot. Read more articles by Molly Rigatti.
Subscribe to get our new blogs delivered right to your inbox
Other insights you might like