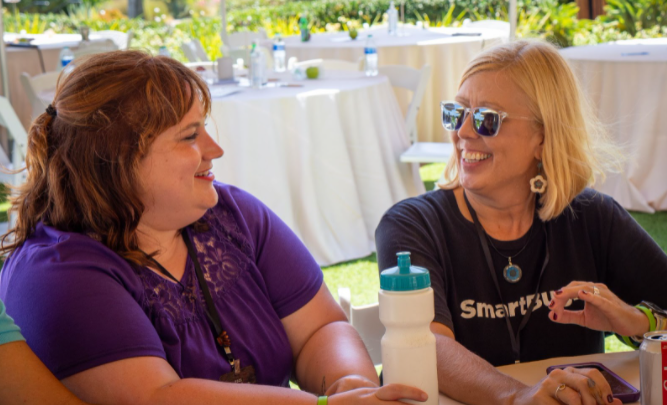 The Creative World Needs More Female Leaders Like These Exceptional Women
March 31, 2022
---
By Hannah Shain
I've been fantasizing about working at a creative ad agency ever since I graduated college. The allure of the fun multi-level office, with a spiraling indoor office slide and open concept seating was so appealing - not to mention the chance to surround myself with talented artists and creatives. I would imagine there to be storyboards and concepts pinned up throughout the halls, and countless creative brainstorm meetings in glass-walled meeting rooms. While I could go on and on about the reality of what this looks like in a remote environment, why we're really here today is to talk about the persona we have been so accustomed to assume leads the creative team.
I blame Hollywood. Hollywood and all its glamorous depictions of what a creative agency-life looks like. Shows like Mad Men, where every single creative is a male cast member and the women are all in supporting roles as receptionists. And sure, that was the provocative point of that show. But even more subtly, we're seeing men leading the creative team in movies like How to Lose a Guy in 10 Days. And this is not a dated issue - in a very recent production, Emily in Paris, the creatives on the team were still cast as men. Why, Hollywood, why?!
While there is a seemingly equal range of men and women in the design roles in the US (48.0% of all graphic designers are women, while 47.6% are men), only 11% of women in creative roles (graphic design, UI/UX, copy editing) have found a career path leading to a leadership position.
In this male-dominated space, the creative world needs more female leaders to look up to. We also need a fundamental shift in culture on how agencies operate – the benefits and opportunities offered to all team members– regardless of gender. As we even the playing field, we create a non-binary approach to elevating leaders.
Couple concepts to consider:
Create flexible, remote work environment that supports real life
Life happens, so finding that happy balance between focus time for creative work, client conversations & meetings, and time to be a human, go for a walk, meditate, pick up the kids from work, squeeze in a pilates class, are all part of the norm. Making all these real life moments "normal" at work, can have a huge impact on culture.
Advocate for new parents coming back into work
One of the biggest burdens for new parents is the looming pressure to return to work promptly after a specific maternity/paternity leave. For creatives, this is particularly stifling to getting back into the regular rhythm and creative flow. In a flexible work environment, built around communication and trust, parents can come back to hours and a flow that works for them and their team.
Help women on the creative team become mentors
Mentorship can start before you earn a leadership title. You don't need to be at a certain level in the organization, or with a particular seniority rank, in order to help with mentoring others. By creating this type of program, you can dip your toes into leadership skills and coaching.
At SmartBug, we're lucky to have exceptional female leaders on our creative team to look up to. These women live up to our core values as an agency and are shaping the future for aspiring female creatives in our space.


Creative Director: Kelly Smith
Houston, TX
Tell us a little about your personal background:
I grew up in Pennsylvania in a small town, after high school I decided to go to Texas where I received my Bachelor's degree. The intent was to stay two years and move back home — then I met my husband and became a boy mom and the rest is history.
Tell us a little about your professional background:
I am an award-winning creative director with more than a decade of overall design and direction experience. I have overseen the concept, development and execution of a multitude of projects involving print, broadcast, digital, social media, video, web design and event and conference signage; and also, campaign concept development. I have also directed successful and long-running creative executions for clients while managing short-notice, fast-approaching deadline requests from clients.
What are some unique things about you:
I like a good challenge, it's what allows me to continue to learn. I am both creative and analytical by nature. I have a big heart and appreciate the uniqueness that people and cultures bring to the table.
Advice for aspiring female creative leaders:

​​My advice for aspiring female leaders is to not take "no" for an answer, know your worth and advocate for yourself. Believe in yourself and your potential. Be honest with yourself about what you are looking for in your career and challenge yourself. Don't assume others will know what you are looking for. Then lastly, once you are in that leadership role, have empathy for others on the same journey as you once took.
Favorite Design: Venio Systems is one of my favorite pieces, we built a new brand identity, and flushed out the brand strategy into the visual language.
Director, Copy: Erin Hardy
Gulfport, FL
Tell us a little about your personal background:
I grew up in West Virginia, in the northern panhandle surrounded by Pennsylvania and Ohio. After graduating from WVU (Go Mountaineers!) with a BA in English, I eventually wound up in the St. Petersburg, Florida area, where I've lived now for more than 20 years. I spend a lot of time outdoors and on the water, paddle boarding, biking, and taking lots of dog walks. My favorite thing to do is travel, and thankfully one of my favorite places to travel is close by—the beautiful Florida Keys.
Tell us a little about your professional background:
I joke that I've written everything, but it's mostly true. I started out in corporate communications and PR, then eComm, print advertising, broadcast video scripts, direct response, and even RFPs at one point. I found my love for inbound content about a decade ago and I've been writing for B2B clients ever since. When I lost my husband to cancer in 2017, I threw my career ambitions out the window and freelanced for years. When I wanted to get back into the game, SmartBug was hiring, and the rest is history. Since then, I've really enjoyed working at a place where there's an even playing field. This is such a great place for women to not just work, but grow and flourish. I've never felt so creatively free, because the barriers I'm used to running into just don't exist here.
What are some unique things about you:
I'm a coal miner's daughter (l had no idea this was unique until I moved out of West Virginia...), and was once a champion sheep groomer. I'm also a literature geek, and I hate socks and snow, yet I want to move to Iceland one day.
Advice for aspiring female creative leaders:

​​My advice for aspiring women creative leaders is to not settle for a work environment where you're not heard or respected. It's a great time for marketing writers and designers. If you feel undervalued, or you feel you're being passed unfairly, find something new. Also—be fearless. You have great ideas. Bring them to life!
Favorite Design: SmartBug's "My Favorite Recipes for Inbound Marketing - Cookbook for Senior Living Marketers"
Manager, Editing: Catey Miller
Garner, NC
Tell us a little about your personal background:
I grew up in north Texas and have since lived all over North Carolina, most recently moving to the Raleigh/Durham area. I live with my high school sweetheart (now husband), Kyle, and our two rescue dogs, Lily and Pax. I love TV, baseball, and a well-crafted thriller/suspense novel.
Tell us a little about your professional background:
I received my BFA and MFA in creative writing at UNC Wilmington, where I primarily studied fiction writing but also discovered a love for editing. I started freelance editing about five hours a week with SmartBug in November 2017, and in March 2019 I became SmartBug's first full-time copy editor. Since then I've been proud to oversee the editing team as it has grown to include three fantastic freelancers and four fabulous full-time editors (including me). Correcting commas from home is my idea of living the dream.
What are some unique things about you:
I'm a three-time fantasy baseball champion. I own an extraordinary amount of Funko Pops, including four Iron Man/Tony Starks. I play bass guitar and sing; my background vocals are on Spotify on the "Songs from the Root Cellar" EP by Blue Turnip!
Advice for aspiring female creative leaders:

Trust your instincts! If you have an idea for a new project or a process change but you aren't in a position to make it happen, speak up to a trusted supervisor. You know your stuff and you're worth listening to! Then, when you're the one in a leadership position, pay it forward by being that trustworthy higher-up for someone else.
Favorite Published Work:
This is a recent favorite article I edited. Writing and editing this blog article was a highly collaborative process between me and one of our excellent in-house writers, Tracey B. We asked each other questions and checked in with each other during the drafting stages, and later, when her schedule was full, I revised a section based on client feedback and sent it to Tracey for review—so sort of a role reversal. That kind of give and take among creative women is what it's all about for me.
Feeling Inspired by These Amazing Women?
SmartBug is hiring and looking for creative women to join our team—especially women who are ready to empower each other and help each other grow, personally and professionally. Check out our open positions.

About the author
Hannah Shain was formerly the Vice President, Marketing at SmartBug Media. She leads demand generation, brand, marketing technology and more, and she is an energetic, ambitious, witty, and data-driven leader with over 14 years of hands-on marketing experience. Hannah brings a unique balance of seeing the bigger picture - assisting with market strategy and the launch of new lines of business - while also rolling up her sleeves to build from the ground up. She thrives in a fast-paced, collaborative environment, where she can lead a team, set goals and hunker down and get to work generating results. She leads all marketing initiatives that drive pipeline, increase lead velocity, and build a lovable brand. Read more articles by Hannah Shain.
Subscribe to get our new blogs delivered right to your inbox
Other insights you might like