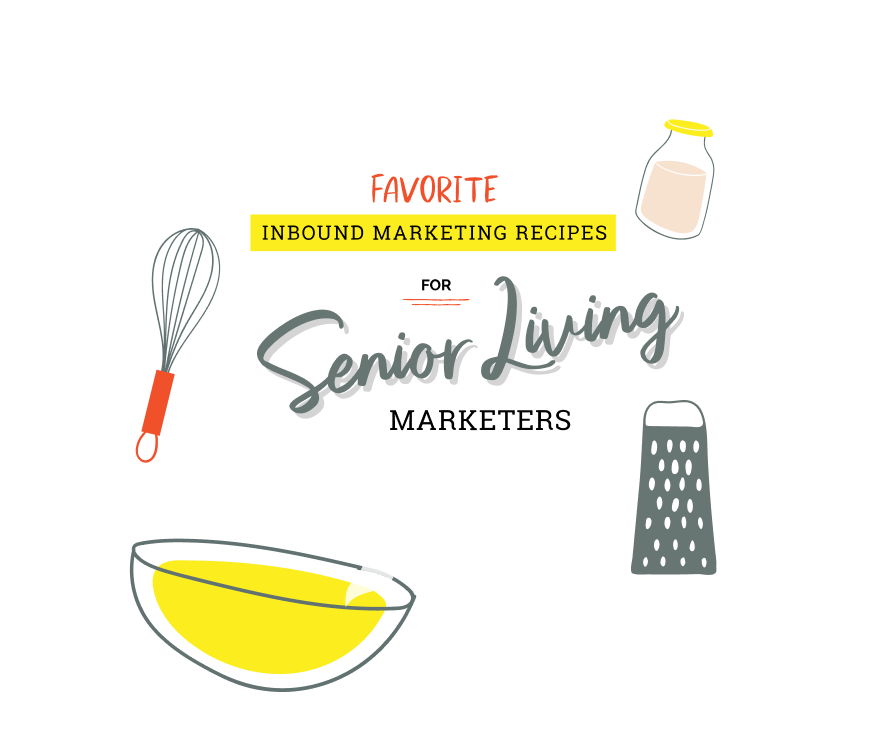 Using inbound marketing to engage senior living customers isn't exactly a piece of cake.
But with a few key inbound recipes, you can entice customers into your flywheel, ready to have a plate of whatever you're cooking. Because your customers may first reach out to you in any of the different stages of their buying journey, we've created some senior living recipes to help you attract, engage, and delight.
Get the Right Tools Ready
Before you begin to build delectable content for your customers' journeys, you need to start with the right foundational tools.
Get a PDF version of the recipe book for you to read at your own time.
Here are just a few recipes you'll find in the book:
Webinar-Worthy Pancakes
Persona-Loving Lasagna
Sales-Boosting Spring Rolls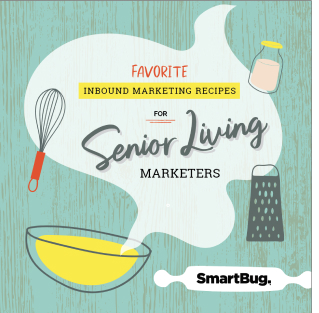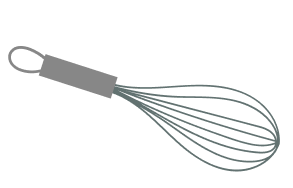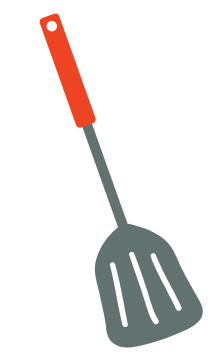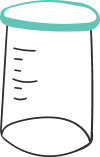 View Recipes...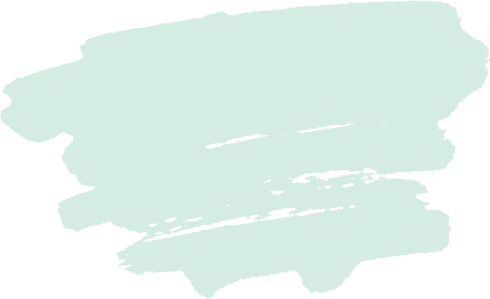 Start with a Clean Kitchen
Once you have the tools, it's time to get organized. Jen Spencer, SmartBug's Chief Revenue Officer, approaches CRM the same way she does her kitchen:
"When your CRM is a mess and data is unorganized or logged in many different places, running successful ABM and inbound campaigns can be very difficult to do. It's always easier to cook a meal in my kitchen, especially if I'm trying out a new recipe I've never done before, if my kitchen is very clean and everything is where it's supposed to be. The cleaner the better. That being said, I encourage you not to overcomplicate it. It's OK to have an MVP version [of your CRM] and build from there."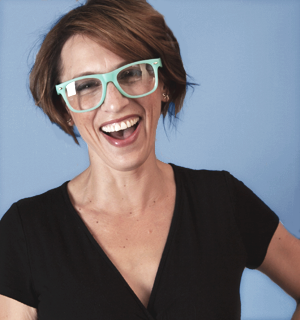 High-Grade Utensils
Think of the spatulas, spoons, and strainers as the collectors of all of the consumer research you need to create on-point buyer personas.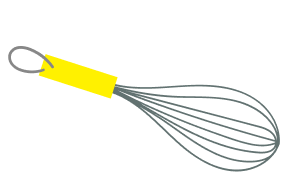 Accurate Measuring Cups
Make sure you have proper measuring cups so you can track performance and make a plan. Proper measuring is key to defining KPIs and creating sales goals.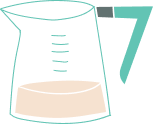 Chef-Quality Pots and Pans
None of the other tools matter without quality pans to create your irresistible dishes in. When it comes to the inbound world, pots and pans are things like your systems configuration, website, and marketing automation tools. They ensure everything is created at the right temperature, at the right time.

Recipes for Attraction
In the attract stage, you're attracting customers into your marketing automation platform so you can nurture them to a sale. At this point, your customers have lots of questions, from "Where do I start?" to "How do I get the right information?
This is where you warm them up by providing valuable information they need to get deeper into your sales funnel. Attract your customers with relevant—but easy to digest—basic information
Because your customers are at the beginning of their engagement with you, here are some attractive beginner recipes.
Scroll down
↓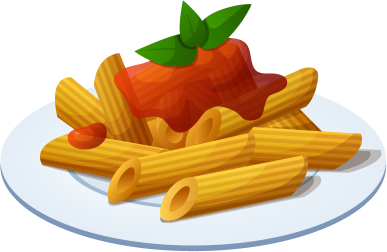 Automated
Marketing Marinara
Think of your customers' top-of-the-funnel questions as pasta noodles: good old-fashioned spaghetti, and lots of it. We all know pasta is nothing without sauce. Cover everything your prospects need to know, when they need to know it, with automated marketing marinara sauce.
Ingredients
A selection of fresh, relevant blog posts
Premium content like e-books and white papers, picked in their prime season (Note: Make sure you choose premium content that goes well with recipes meant to attract prospects—think pros and cons, dos and don'ts, and FAQ.)
Local SEO to infuse throughout your content
Appetite-catching calls to action (CTAs)
Lead generation automation and email strategy that pulls everything together and makes it work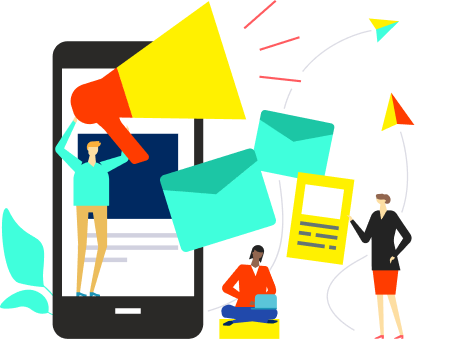 Instructions
Creating classic marinara sauce for pasta is the same as developing a hearty lead generation plan. Like an irresistible marinara, lead generation has a few basic must-use ingredients, but the precise flavor should be catered to whoever is eating.
Remember, you already have that magic pan—the one that is configured with automation to ensure everything executes the right way, at the right time.
The base of your sauce is the content itself: blog posts, e-books, white papers, infographics, or any other pieces of juicy content. Optimizing local SEO is the olive oil that helps everything blend together, and your garlic and spices are your lead gen emails, appealing to taste buds and getting lots of bites.
While you can sprinkle on some parmesan cheese to create an enticing CTA, you might want to take your CTA to the next level and add a meatball. (Who can resist a meatball?)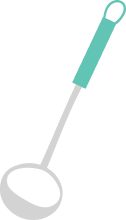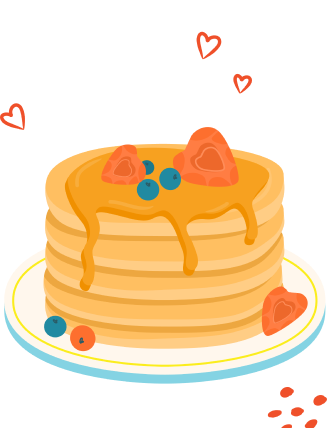 Webinar-worthy
Pancakes
Creating a senior living webinar is a layered process. When you start planning one, there are quite a few things you need to bring together to success.
Think of each element as a delicious buttermilk pancake.
Ingredients
A solid plan that revolves around content and answers your prospects' questions
Relevant topics, like "Frequently Asked Questions About Senior Living" and "What Is Assisted Living?"
Must-know speakers like your senior living staff, senior care specialists, and other experts in the field who can answer questions
Thoughtful, strategic paid and social media campaigns
Landing pages with easy registration and lots of explanation
Confirmation emails with login information
A sweet and sticky CTA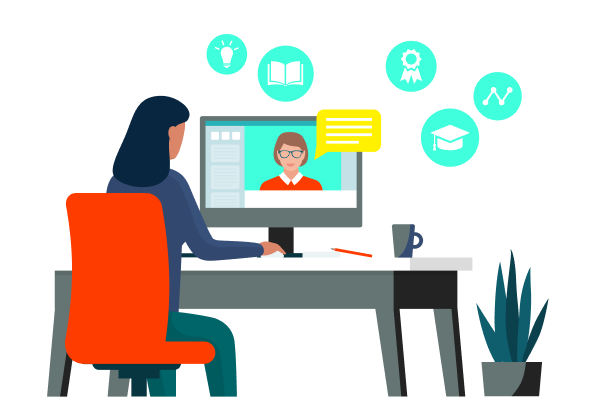 Instructions
Creating a senior living webinar is a layered process.
When you start planning, you need to bring together quite a few ingredients to succeed. Think of each element as a delicious buttermilk pancake, all layered together. Your topic, speakers, postcard invites, and paid and social media promotions will create a tall, fluffy stack of mouth-watering pancakes.
You can cut that stack however you need to. For example, maybe you don't want to have multiple senior living experts speak, or you think you only need to send out an invite but not promotional emails. If you remove these individual cakes from the stack, it'll still be a delicious meal—but not as filling as it could have been. (Don't put your senior living prospects on a diet!)
Make sure your pancake stack would win a blue ribbon at the county fair. Include a registration landing page that explains the benefits your webinar will bring to those who are just starting their search for a senior living community. Don't forget a sign-up form, confirmation emails that provide login information, and substantial social and paid media promotion. Your prospects are hungry.
As far as your CTA goes, it needs to be as simple and sweet as maple syrup.
Do not forget
A sign-up form, confirmation emails that provide login information, and substantial social and paid media promotion. Your prospects are hungry.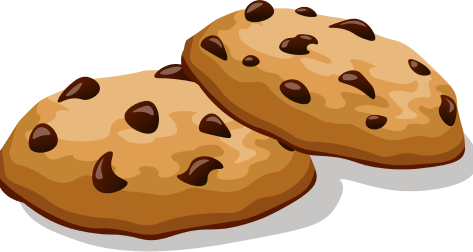 Video Star
Chocolate Chip Cookies
Chocolate chip cookies are a classic. Big or small, crunchy or chewy—there's a chocolate chip cookie for every taste.
Perfecting your chocolate chip cookie recipe to meet different appetites means testing your batches and offering the right cookies to the right people at the right time—much like video used in lead gen.
Ingredients
Community tour, testimonial, and staff interview videos
A website video gallery
Metrics that ensure success using video in your lead/nurture campaigns, Facebook, YouTube advertising, and web pages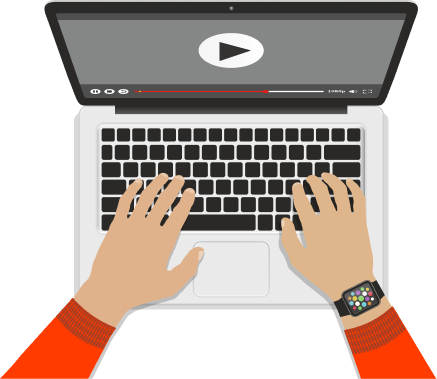 Instructions
The best thing about chocolate chip cookies is that after a few mandatory basic ingredients, everyone can add their own spin. For beginner bakers, perfecting a recipe means testing batches and adjusting based on what works—the same way marketers should approach using video.
Like flour, sugar, butter, and chocolate chips, the videos you use for senior living lead generation also have key basics for top-of-the-funnel leads:
Community tours
Testimonials
Staff interviews
Customers looking for senior living communities are going to want to see the community, hear about it from the residents, and "meet" the staff. Take away one of these ingredients, and your recipe won't hold up. Once they watch your three foundational videos, customers are going to want more, and a video gallery on your website is like chocolate chips.
But don't stop there. Even beginner bakers can add more ingredients like nuts and cinnamon. Getting the recipe exactly right is like using metrics to determine the success of marketing efforts, so you can provide the right balance of video in:
Lead/nurture campaigns
Facebook
YouTube advertising
Website pages
Remember
Chocolate chip cookies are like videos, in that you have to serve them when they're fresh to get the most out of them.
Recipes for Engaging
You've been to a few meals with your prospects, maybe had some desserts, and now they know you a little better. They've made it clear that you've earned the right to engage. This is where they want more specific information—they're not yet experts, but they're not beginners anymore, either. They're looking for relevant insights, useful content assets, and a nurturing hand to get them further along in their buying journey. Now it's time to think deeper into your customers' needs and open their minds to different information.
Scroll down
↓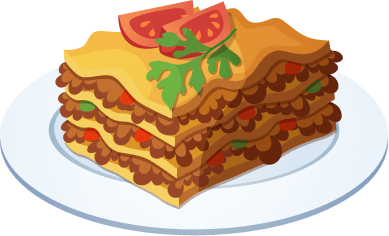 Persona-Loving
Lasagna
While almost everyone loves eating lasagna, most people don't love making it. It takes time, an expert hand, and the right balance of all ingredients. Like lasagna, if your customer messaging isn't layered, even, and full of hearty goodness, nobody will clean their plate.
Ingredients
Persona-targeted content
Subject matter that focuses on customer interests, worries, and common questions
Resident and family testimonials
Marketing automation software

Instructions
Whether it's the old-fashioned meat recipe or the veggie variety filled with spinach, lasagna has long been a family favorite. It's familiar, but lasagna can still bring you something fresh and different every time. That's how your persona-targeted content will get your prospects to take a big bite.
Think of the long, wavy noodles as your personas, and all of the special ingredients between them as your content—blog posts, e-books, infographics, white papers, social media video, and more. Your prospects are looking for an expert to guide them with more information. Don't let them down by sending them general canned messages. Think of their specific needs.
Now that you know your prospects a little better, you can build them a better content lasagna that isn't just filled with their favorite ingredients, but that also contains new ingredients you think they'll love, helping move them from a sales-qualified lead (SQL) to opportunity.
Think of the long wavy noodles as your personas..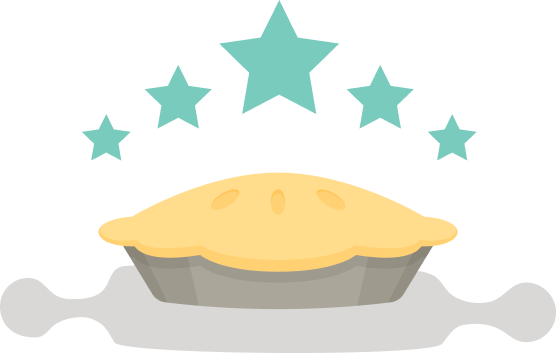 5-Star
Apple Pie
People read reviews before making simple $10 purchases on Amazon—they're certainly going to want to read customer reviews about senior living. You should encourage them.
Like old-fashioned apple pie, positive reviews help your customers feel comfortable with taking additional steps after they tour your community.
Ingredients
Credibility-building customer testimonials and reviews—make sure you're using fresh, not canned
A well-designed website strong enough to hold all of your testimonials and reviews
Instructions
Customer reviews bring credibility to your brand, and they help customers feel good about moving forward with the next steps after they've taken a tour.
Your resident and family testimonials can be like an old-fashioned apple pie. The reviews themselves are delicious apples, creating the most delectable part of the pie. But you first have to have a website or a link to an outside source that contains your reviews—like the pie crust.
Although they don't quite melt like ice cream on top of warm pie, testimonials and reviews should be fresh. Testimonials from three years ago are about as tempting as hot ice cream atop a soggy pie.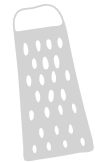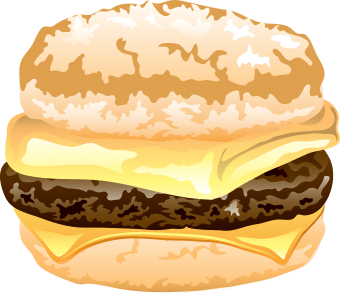 Social Strategy
Breakfast Sandwich
What can make someone sit down in the morning and take a moment? A good breakfast sandwich.
Like a breakfast sandwich, your social media marketing should get your customers to stop and take a moment. When reaching out to customers who have just taken a tour, make sure you're giving them something hearty to consume.
Ingredients
Relevant video for your social media channels
Solid branding so customers easily recognize that it's your content
Using "go live" features of social media channels
Interacting with customers on social media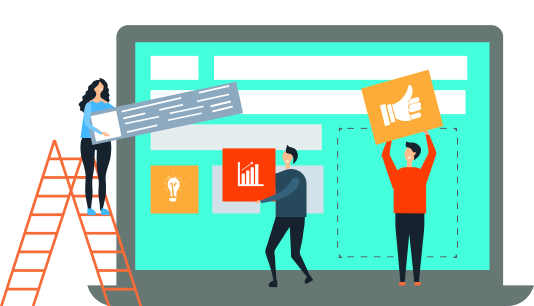 Instructions
Like a perfectly built breakfast sandwich, your social media marketing should get your customers to stop whatever else they're doing and savor the experience of engaging with your brand.
The first step in getting customers to interact with you on social media: You have to lead them there. Add social media icons to your virtual tour pages. It's like the smell of coffee in the morning, lighting the way to the breakfast table.
What goes inside a breakfast sandwich is important, but so is the bread. It had better be toasted so it's even and consistent, just like your brand. The egg, bacon, and cheese that go into the sandwich are like your videos, tempting customers to engage.
The most important thing about a good breakfast sandwich? It doesn't need to be gourmet; it just has to taste good. That's how you should think if you're hesitant to "go live" on social media platforms like Facebook or Instagram. Show those mini-clips of resident rooms or common areas. Casually interview staff members to discuss community activities or answer common questions. Aim for authenticity and relatability, not perfection.
And don't forget to interact. When your customers ask questions, answer them—at the delight stage, customers expect you to be friendly and relatable. You don't need to win an Academy Award—you just have to be authentic and engaging. Don't let the fear of perfection keep you from connecting with your audiences on social media.
At the delight stage, customers expect you to be friendly and relatable.
Recipes for Delight
Focusing on bringing in new customers to meet occupancy rates is crucial—but so is keeping your currently delighted residents happy.
Customer acquisition is far more expensive than retention, so keep delighting your residents long after move-in day. Because your residents and their families are now senior living experts, the recipes for success get a little more complex.
Now it's time to truly understand your residents' tastes.
Scroll down
↓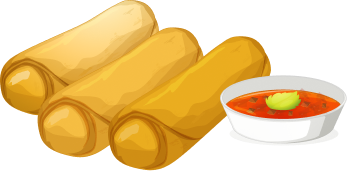 Sales-Boosting
Spring Rolls
Increasing sales and meeting occupancy rates is where all of your marketing efforts get close to the finish line. Close doesn't mean anyone wins—it means there's still some very skilled, delicate work to do.
It's like making fresh spring rolls. You need a few key ingredients that your motivated sales team can carefully and skillfully wrap up.
Ingredients
Super-targeted, hearty content
Carefully and thoughtfully placed social media videos
Marketing automation technology
A rallied, motivated sales team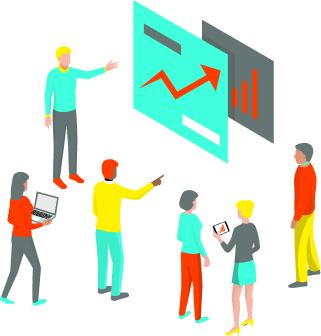 Instructions
Creating fresh spring rolls is a lot more difficult than it may seem, which is kind of like taking an already delighted lead and converting them into a sale. It's understandable why it may seem easy.
Your customers love the super-targeted content they're getting as much as they love shrimp. We're talking video content that goes beyond virtual tours of living spaces and amenities—the in-depth kind your prospects can't get enough of. And like rice noodles, your social media videos are thoughtfully placed to make them easy to consume.
Then there's the cilantro! That's the marketing automation technology that weaves through everything, tracking customer relationship management.
The most important part—what keeps everything together—is a rallied sales team that prioritizes sales enablement and training. Your sales team is the rice paper that expertly and neatly rolls everything up and brings it all together.
It's a delicate job that takes expertise and a sales team that's truly motivated.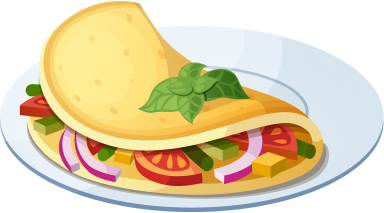 Well-Reviewed
Omelet
You did it! Your sales team took a prospect from marketing-qualified lead (MQL) to move in. You attracted, you engaged, and now you're delighting them. Bravo!
Now get the word out. Get reviews and testimonials that will help attract, engage, and delight new prospects.
Ingredients
Review requests delivered shortly after the resident moves in
Resident interviews
Family follow-up emails that include a review CTA
Resident and family testimonials shared on social media, inspiring others to leave their own reviews
Clear and frequent communication with residents' families
A top-shelf experience provided to all residents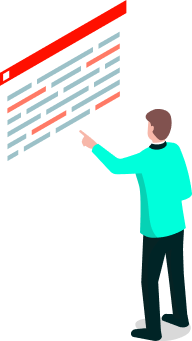 Instructions
Omelets are delicious and can look easy to make—deceptively easy. Even experienced cooks will tell you that perfecting the art of making omelets isn't simple. It takes practice, testing, and a lot of expertise.
The same can be said about getting lots of customer reviews and testimonials. Sure, in a perfect world, every happy resident and their family would shout your community's many attributes from mountaintops for all to hear. But that's just not how it works.
The best way to get customer reviews? Just ask. Right away.
As soon as the resident moves in, don't be shy. Ask them to review their move-in experience, and don't stop there. Send follow-up emails to their family members or other loved ones who experienced their senior living move with them. Be sure to include an email CTA that makes it super easy for them to leave their reviews.
One of the coolest things about reviews is that they not only inspire prospects to engage, they also inspire other reviews. If your resident or their family member really wanted to leave a review when you followed up, but they forgot, seeing a rave review on social media can remind and inspire them to create their own review or testimonial.
All of these reviews and testimonials are like the ingredients of an omelet, enticing more people to stop and see if you have their favorite ingredients.
Pro-tip
Go the extra mile and ask some of your more outgoing residents to participate in day-in-the-life videos, where prospective residents can see for themselves what it's really like inside the senior living community.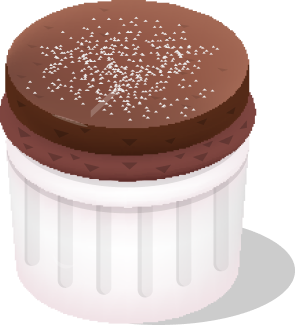 Post-Move-In
Chocolate Souffle
Taking a lead from an MQL to move in is a huge victory.
Way to go! They're a resident now so the story's over, right? Not exactly. Although getting the resident to move-in day is a victory, lowering the cost of move in and turnover should also be a priority—and it can feel as delicate as a chocolate souffle.
Ingredients
Review requests delivered shortly after the resident moves in
Resident interviews
Family follow-up emails that include a review CTA
Resident and family testimonials shared on social media, inspiring others to leave their own reviews
Clear and frequent communication with residents' families
A top-shelf experience provided to all residents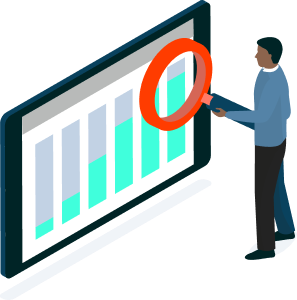 Instructions
You can do everything right, but one misstep could mean your chocolate souffle falls before you ever get to serve it, wasting all of the time, money, and effort that went into creating it.
Some turnover is inevitable, but communities may get too many move-outs if things aren't done correctly.
Like understanding the methods for maintaining a souffle, you need to understand what it takes to get someone from an MQL to a resident.
First, track the following:
MQL to SQL
SQL to opportunity
Opportunity to move in
That way you'll know how well your prospects are converting from one stage to another. Then it's all about understanding the cost of each acquisition and benchmarking your own metrics, including retention.
If you're doing a great job of converting them to residents, but they're moving out after a short time, your community just spent a lot of money for nothing.
Some of the top factors that can improve overall satisfaction include:
Transparent communication with residents and family
Truly enriching programs for the mind, body, and spirit
Virtual family programs so everyone stays connected
Responsiveness to feedback and concerns
To ensure that your residents and their families are well connected to your community, create frequent two-way communication. Provide regular newsletters and solicit feedback through surveys and interviews. Then, you can gauge if you're meeting residents' needs and make appropriate adjustments.
Keeping residents and their families happy can seem as delicate as creating a chocolate souffle, but if you stay connected and prepared, you'll get crowd-winning results.
Do not forget
A sign-up form, confirmation emails that provide login information, and substantial social and paid media promotion. Your prospects are hungry.