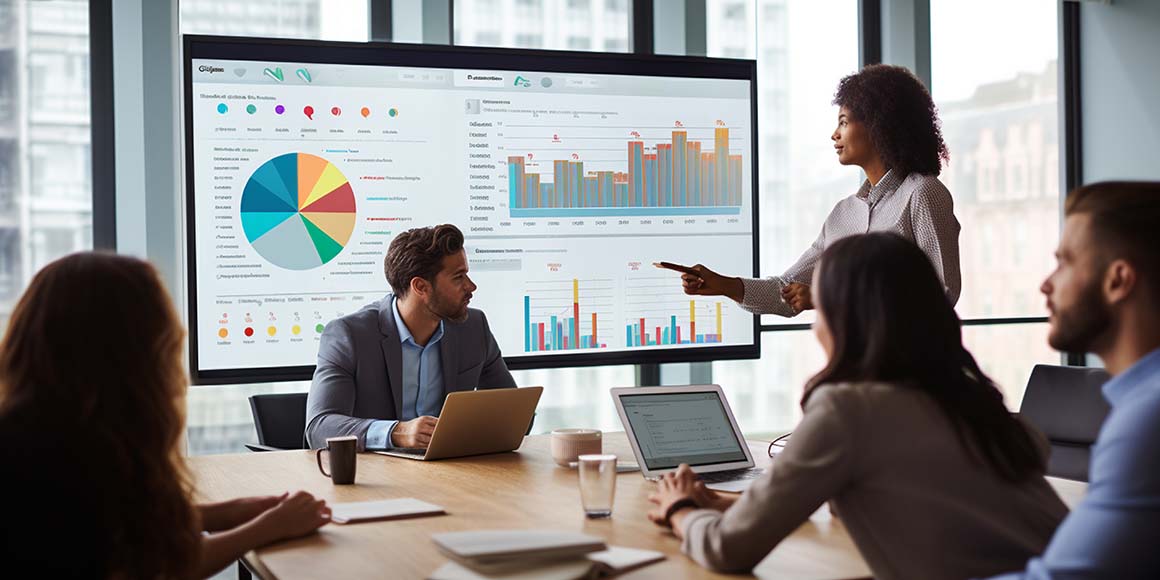 By Maddy Wiehe
Data is essential to making smart business decisions, but not all data is equally valuable. Enhance your data-driven decision-making by understanding what KPI dashboards can do for you and which reports you should consistently review.
What Is a KPI Dashboard?
Simply put, a KPI dashboard is a group of related reports that visually display data for clear data-driven decision-making. A good KPI dashboard allows a CMO to quickly uncover actionable insights from the data and use those insights to make data-driven decisions that will move the company closer to set goals.
Top 4 Most Common KPI Dashboards
There are many, many different ways to set up a KPI dashboard. Ultimately, as with most things in marketing, the "right" dashboard is the one that helps you reach your goals. That's why it's essential to identify your goals up front, so you can use them as a guide as you are creating your reports and dashboards. Once you have defined your goals, you can create reports that show progress toward those and display them on one page—your dashboard—for easy visibility.
If you get stuck at goal setting, don't worry; we've all been there! Check out this webinar on goal-setting and reporting for long-term success to help you narrow in on the dashboards you need.
Most reporting dashboards fall into one of four categories based on business need and user role:
Long-Term Business Goals KPI Dashboard
This category of dashboard is helpful for senior-level management to track progress toward long-term business goals. Within this dashboard, you'll find associated reports around critical success factors such as year-over-year revenue growth, customer retention rates, and other high-level KPIs.


Current Condition KPI Dashboard
This is another common dashboard type used to monitor the current condition of internal teams or another dataset. This dashboard is used not specifically to track progress toward goals but more as a snapshot of how things are currently performing. It also can help identify places to focus on improving when setting business goals.
Day-to-Day Tactical KPI Dashboard
The CMO's daily dashboard will likely fall into this category because it focuses on more specific, short-term goals and data that connects to those goals. These dashboards provide immediate and actionable insights into a specific campaign to identify if it is performing as expected. This will include effectiveness metrics such as website traffic, engagement, and conversion rates connected to specific campaigns.
Trends and Growth KPI Dashboard
Finally, this type of dashboard is helpful for middle management to drive strategic decisions based on where the market or industry is heading. It provides insights into comprehensive business data such as marketing KPIs, business and market share growth, trends, financial health in different departments, and more.
Top Reports for CMOs to Use Daily
Marketers shouldn't get too tied up in—and certainly shouldn't make big decisions based on—day-to-day fluctuations in data. However, there are a few reports that can be helpful to monitor daily to ensure activities are going to plan and to catch any abnormalities early on.
Here are some valuable reports to add to your daily dashboard:
Engagement Pulse Check
There are two main sources of engagement that you should be checking on daily. The first is website traffic. Because web traffic is the foundation of your inbound success, it's essential to monitor so you can catch any significant spikes or drops in traffic and take appropriate action.
The second crucial source of engagement is social media. All marketers know that social media is fast-paced—the lifespan of a Facebook post is thought to be only about six hours! Because of this, you need to review your social media engagement data and make adjustments quickly in order to maximize your effectiveness on these platforms.
Influenced Revenue by Campaign
This report is hugely valuable to a CMO because it offers direct visibility into what campaigns are impacting the business's bottom line. With this data, you can enhance your personas based on what campaigns are performing well and identify what is ultimately resonating with your audience. Typically, the best visualization for this type of report is a stacked ranked chart—and you must have accurate attribution reporting set up because this will strongly impact your data.
To take this report further, you can include deal velocity, average deal size, customer segment, and more by campaign to pinpoint which marketing efforts are contributing to the growth strategy your business wants.
Top Sources by MQL
While it's important to track where leads are coming in from, it can be even more valuable to track which sources brought in leads who converted to MQLs. This can help you stay on track and identify which marketing channels to invest your time and efforts into. If you are using HubSpot for your inbound efforts, take a look at this blog post to find out how to do this in HubSpot.
Top Campaigns and Content by MQL
Once you've identified the top sources that are driving your MQLs to convert, you'll want to identify which campaigns and content pieces are helping move your leads through your marketing funnel. This report can help you identify drop-offs or opportunities, and can give you insight into what kind of content is worth spending the time and resources on creating.
Once you know what content is interesting and motivating to your MQLs, you can make a data-driven decision on which content you'll create and promote using the top engagement sources you identified above. Take a look at this blog article to find out how to create this report in HubSpot.
Funnel Overview and Average Conversion Metrics
A funnel overview can provide a great snapshot of where you are in hitting your marketing goals. This often includes the number of website visitors, leads, MQLS, opportunities, and customers.
Having average conversion metrics allows you to take this report a step further and determine if you are on pace compared to previous years and if you are on track to hit goals set by your team or leadership. These funnel metrics include visitor to lead, lead to MQL, MQL to SQL, SQL to opportunity, and opportunity to customer conversion rates. With this data, you can work backward from a revenue-specific goal and identify gaps where you should focus marketing efforts to hit those goals.
Enhance Your Revenue Reporting
The right data is essential to making smart business decisions around everything from the content you create to the resources you use. As marketers, we are consistently under pressure to prove effectiveness from our efforts and ultimately bring in more revenue. Tracking and reporting are essential to a predictable and scalable funnel—but they can be challenging to implement.
Check out our Marketing Spend Report & Metrics Calculator to start reporting on revenue and clearly seeing how your efforts are driving growth and revenue for your business.

About the author
Maddy Wiehe is a marketing specialist who has worked in event promotion for 6 years and has been in the digital marketing world for 3 years. She loves coming up with creative ways to communicate how her clients can benefit the people they work with. After work, you can find her creating digital art, trying new and interesting cocktails, and trying to get her kitties to stop digging up one of her 54 house plants. Read more articles by Maddy Wiehe.
Subscribe to get our new blogs delivered right to your inbox
Other insights you might like