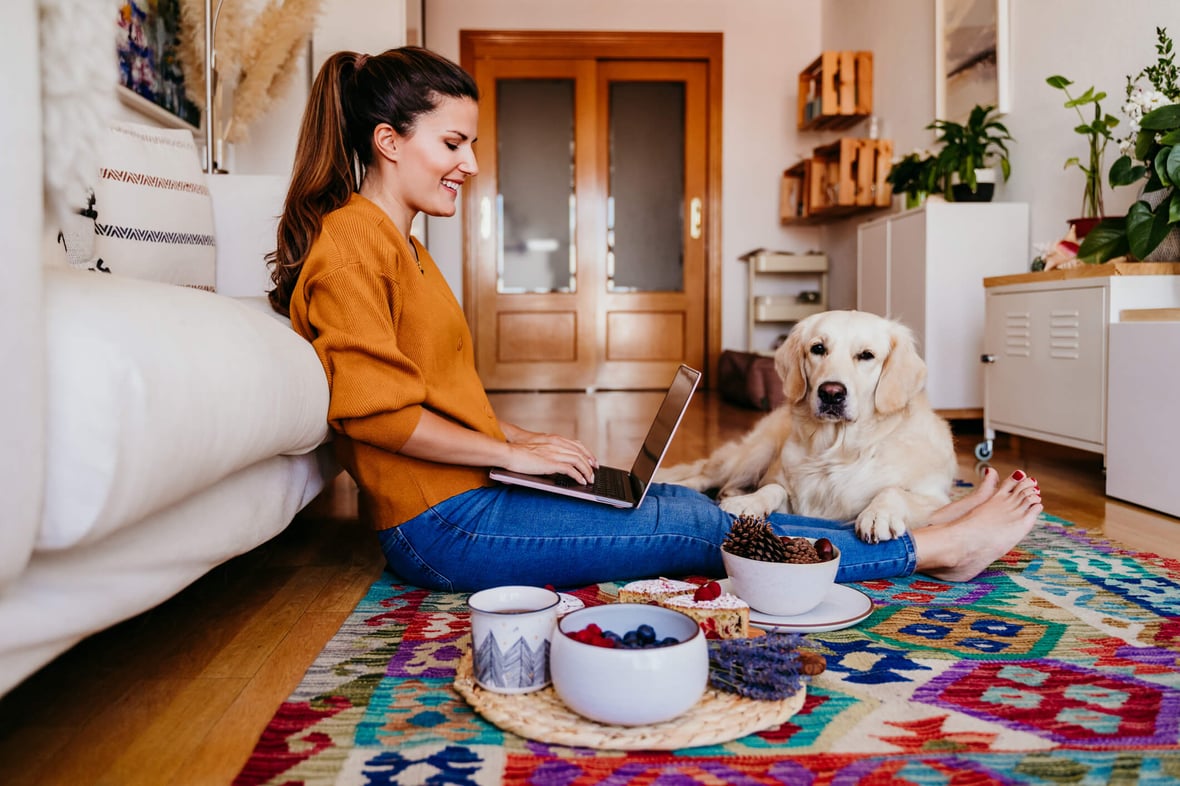 By Kristen Deyo
Turning your blog into a lead generation engine is no easy feat, but it is worthwhile and—better yet—completely achievable. In fact, marketers who consistently blog see 67 percent more leads than those who don't. And 57 percent of marketers say they have "gained customers specifically through blogging." So, how do you turn your blog into a lead generation engine? We'll dig in below.


The Benefits of Business Blogging
For marketers looking to build a scalable content marketing strategy, one of the most impactful places to start is blogging. In fact, according to HubSpot, marketers who prioritize blogging see 13x more ROI than those who do not.
Here are just a few of the benefits of blogging for your company:
Helps drive additional traffic to your website
Establishes authority and thought leadership
Builds trust and helps guide personas through the Buyer's Journey
Can get you discovered via social media
By creating blog content designed to educate your personas and answer their pain points, you position yourself as a thought leader when your personas need you most. But driving traffic to your website from your blog is really only step one. Next, you need to successfully convert that traffic into leads to be nurtured and added to your sales pipeline.
Six Ways to Turn Your Blog into a Lead Generation Engine
We know why it's important to have a blog, but creating content for the sake of creating it and having a "set it and forget it" mindset is not going to result in a free flow of leads. Instead, we need to be data-driven and get ourselves into a habit of routinely optimizing our efforts to ensure we're getting the most value. Here are six ways you can help bridge the gap between your blog traffic and lead generation:


1. Understand Your Buyer Personas
Everything starts with understanding our buyer personas and ensuring we're developing a content calendar that speaks to their specific needs and pain points. In fact, according to Salesforce, 51 percent of consumers expect that companies will anticipate their needs and make relevant suggestions before they make contact.
Mapping blog content to our personas helps ensure we're not falling trap to creating content for the sake of content, but instead ensuring that it meets the needs of our personas.


2. Give Visitors the Opportunity to Subscribe to Your Content
Even if our blog content is useful for our personas, they might not be ready to convert just yet. If that's the case, it's important to give them the opportunity to subscribe to our content so that they can conveniently have new content delivered to their inbox and convert when they are ready to do so. Adding a subscription mechanism helps get more people into our database to be nurtured until they are ready to take the next step.


3. Use a Call to Action (CTA) at the End of Your Blog Post
Part of providing a compelling experience is ensuring we're eliminating digital dead ends wherever possible. This includes our blog posts. Because blogs often help during the awareness stage of the Buyer's Journey, it's important to give readers a call to action (CTA) of what we want or expect them to do next.
As a best practice, we recommend incorporating a CTA at the end of your blog post that drives to a gated, consideration stage piece of content. This not only helps provide a conversion opportunity on every post, but it gives people the opportunity to dig deeper into a particular topic that builds on the blog post that brought them there in the first place. If you explore our blog here at SmartBug, you'll see this is something we do on all of our posts.


4. Focus on Writing Quality Content
This feels obvious, but writing quality content is the single most important thing we can do when it comes to content marketing. Focusing on content that is useful, relevant and helps guide our personas through the Buyer's Journey is critical. So, how do you actually do this? Here are some quick tips to writing quality blog content that I love from Yoast:
Write for your personas, not yourself.
Ensure your content is readable, engaging and built with

SEO best practices

in mind.
Think about search intent and conduct keyword research based on what your audience is searching for.
Build trust and offer value. Remember: Is your content helping your personas solve their pain points?
Keep your content fresh and up-to-date.
5. Group Like Posts Together into Topic Clusters

This year at HubSpot's INBOUND, I was excited to sit on a session about bridging the gap between blog traffic and lead generation. One of the tips they outlined that helped HubSpot's blog convert more traffic into qualified leads was grouping like posts together based on topic clusters.
What is a Topic Cluster?

HubSpot defines topic clusters as "groups of related web pages that all link to one core pillar page. Organizing your site content into clusters helps search engines distinguish your area of expertise and better understand the relationship between these pages."
To start building topic clusters:
Determine what topic clusters you want to focus on and which ones you've already started.
Evaluate which of your topic clusters are converting well (highest traffic and conversions), and see if there is potential white space.
Use data to map out a content calendar.
Cluster content can help both readers and search engines alike. When people are searching for a particular topic and see that you've written a variety of quality, timely content around it, you will rank higher and build more credibility.


6. Test Pop-Up Forms on Your Blog
I recommend pop-up forms with caution. While many pop-up forms can be unobtrusive to visitors, some can be downright annoying (*thinks about every cooking website and the million pop-ups you have to go through to simply view the recipe*). The important thing to consider is whether or not you're using a pop-up form to add value or to sneak in another lead generation opportunity.
The truth is, pop-up forms can be a powerful way to promote additional content, grow your database or create a lead generation opportunity across your website and blog. When aligned with behaviour intent signals (like someone reaching the end of your blog post, or leaving your website), they can entice visitors to take action.
Pro Tip: Because pop-up forms come in all shapes, sizes, layouts, and formats, we recommend testing pop-up forms on a few select blogs to see how they perform.
It simply isn't enough to create blog content for the sake of it. Driving more traffic to our blog is great, but the true measurement of bottom-line success is our blog's ability to fill our marketing and sales funnel. If you're using blogging as a key part of your content marketing strategy but want to drive more leads, use the above tips. And if you're in the market for more helpful lead generation tips, be sure to download our Inbound Marketing Quick Wins for Lead Generation below.
About the author
Kristen Deyo was formerly a Director of Marketing Strategy at SmartBug based in Kingston, Ontario, Canada. She has 8+ years experience developing strategies for primarily B2B SaaS/technology companies and hyper-growth startups. She holds degrees from Queen's University (Cha'Gheill!) and the St. Lawrence School of Business. When not digitally plugged in, you can find her enjoying a good happy hour or planning her next adventure. Read more articles by Kristen Deyo.
Subscribe to get our new blogs delivered right to your inbox
Other insights you might like