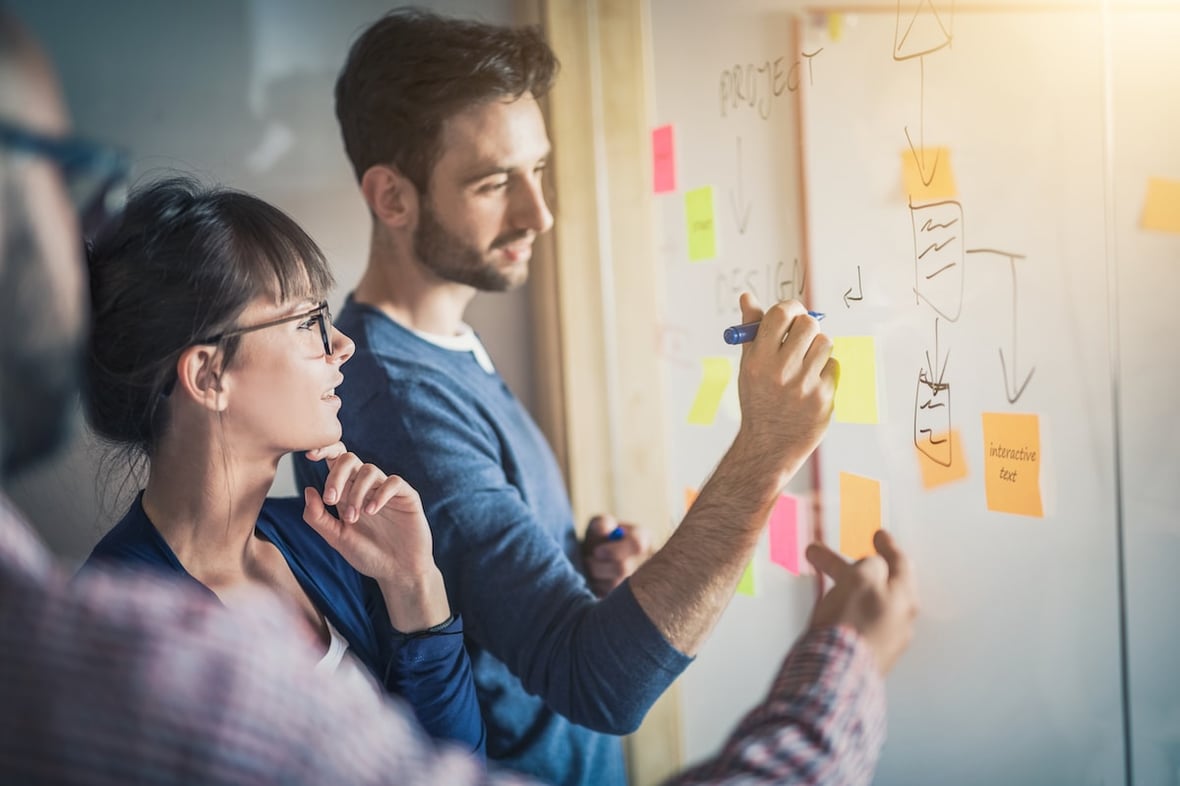 3 Must-Have Strategies For Building Out a Topic Cluster
July 20, 2018
---
By Ken Mafli
What Is a Topic Cluster?
Defined by HubSpot: A topic cluster is a content program that enables "deeper coverage across a range of core topic areas, while creating an efficient information architecture in the process."
In 2016, HubSpot developed an SEO strategy that they named topic clusters. Simply put, a topic cluster is a group of pages (typically blog posts) that each focus on a subset of a particular topic and interlink with themselves and a pillar page (a 10x piece of content that explores the topic in full).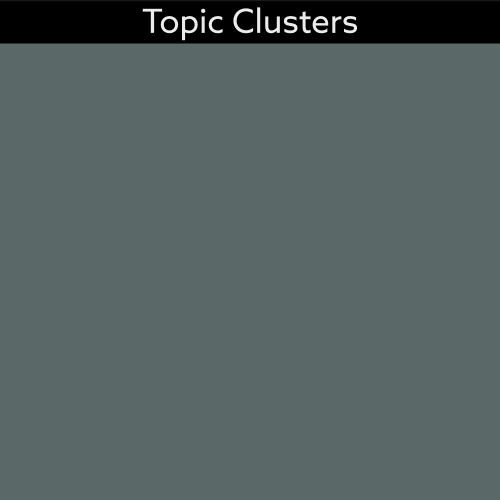 While long-time SEO strategists may recognize features of the methodology, such as skyscraper pages (i.e., pillar pages) or link clustering (i.e., topic clusters), HubSpot has created a strategy worth more than the sum of its parts.
The genius of the strategy is that, when done properly, it creates a dense network of engaging content that offers a better user experience and a more compelling reason for search engines to rank your pages higher.
Why? Instead of creating one-off blog posts about specific keywords, you create a pillar page that is head-and-shoulders above the competition in terms of explanatory power, with more fully explored subjects (along with more images, graphics, videos, and so on) and surround it with a cluster of inter-linking pages that each explore a subset of that topic further.

This produces a rich environment for the user to find answers to their questions and explore a topic beyond just one specific keyword. The pillar page also allows Google to clearly understand what your cluster is about and rank each page for search queries more closely matched to their topic.
In order to succeed with a topic cluster, however, there are some essentials that you must have in place. Follow along as we explore some of the key components of a topic cluster strategy.


Overall Keyword Strategy
Topic clusters focus on broader topics, but that doesn't mean you don't need to do your keyword homework. At its core, keyword research is finding out how users ask Google about a particular topic. Getting the vernacular right means you are speaking in a way the user understands.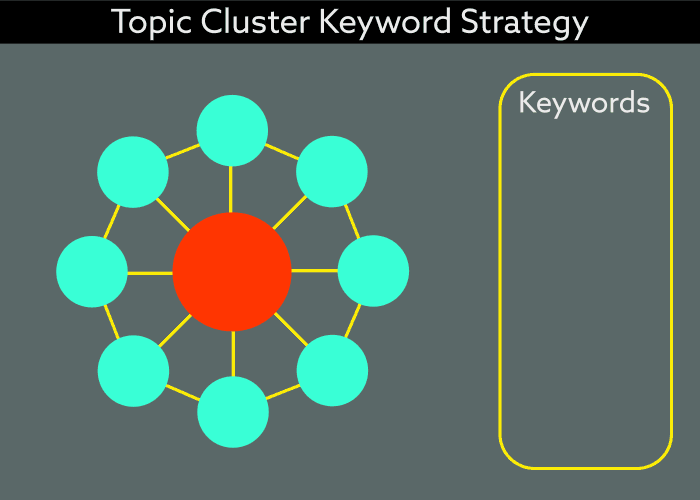 First, in a spreadsheet, type out the keywords that best describe the topic you are working on. Use this as an exploratory exercise. You will not use all of these, but this is a way to get your ideas out of your brain.
Next, explore your competition. In a browser's search bar, search some of the keywords you jotted down. Note the top four or five ranked pages. Find out how they describe their pages in the meta description. What keywords do they use? Do they use specific phrasing? Can you improve upon their work? Add your findings to your list.
From there, continue researching potential keywords in Google. What pops up in Google's autocomplete as you type in the keywords? What are the related search suggestions? Adding keywords straight from Google will help, because the keywords will already be closely matched to keywords you are interested in.
Next, fire up your favorite keyword tool such as Moz, SEMRush, or AdWords (to name a few). Enter your keywords and see what other suggestions come up. Are there keyword suggestions that frame questions the user would likely ask in a better way? These will come in handy as you develop your content strategy. Are there keyword suggestions that could help you explore your topic further? Add your findings to the list.
From here you should have a sense of what keywords work and which need to be removed. You should also have a sense of what keywords should be grouped together as part of a subset of the overall topic. These can form the basis of your cluster pages and subheaders on the pillar page.
Once you have your keyword list mapped out, add items like the monthly search volume and difficulty score. These will help you decide if a keyword is worth going after or should be left for another day.
A handy Chrome extension for this is Keywords Everywhere.
As an example, let's say you are going after the overall topic of "red spinning widgets," but you see that it has a monthly search volume of just 1,000. Because you know that you will likely get 10 percent of that traffic if you rank well for your topic cluster, you conclude 1,000 is just too low for the amount you will do to garner that traffic. Instead, you decide to make "red spinning widgets" a sub-topic and make "red widgets" (5,000 monthly searches) your main topic.


Overall Content Strategy
Now that you have your keywords mapped out, it's time to start developing your content strategy. First, let's start with your core topic. Type your broad keyword that will be used for the pillar page into Google. Note the top four to five webpages in the organic search results. Click on each page and determine the word count of the article or blog post.
A great Chrome extension to use is Word Counter Plus.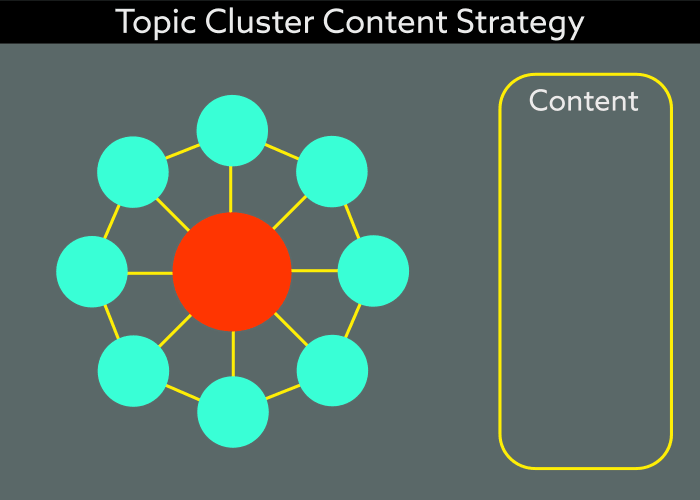 Once you determined the length of each page, find the average. Because you are trying outperform your rivals in explaining the topic, you will want to at least hit the average word count, if not go above the highest count. Please note, word count does not equal content excellence, but the person who takes their time to fully cover a topic in 2,000 words will likely be more comprehensive than the person who does it in 1,000 words. Additionally, larger word volume will give you more opportunity to send the correct signals to Google as to what your content is about.
Next, note the average to high number of creative elements used, such as images, graphics, gifs, and videos. How is your competition using these creative elements? Note what they are doing right. Are they using the correct medium for the content? If not, what would you do differently? This is where you can shine. Many times, people get so focused on writing the content that they forget users absorb information in different ways. Some people are visual learners; some are auditory learners; others are kinetic learners. Use as many mediums as you can to fully illustrate your points.
Finally, what kind of user experience does your competition offer? Is the webpage clunky and cluttered? Is it clean with well-designed navigation aids? This is another area where you can shine. Take time to make your page feel effortless to navigate. Use imagery and animation to help visitors go further through the page. Make them want to crawl inside the screen and inhabit the page. The highest compliment you will ever receive building a pillar page is when you see individual user dwell times reach over one hour. I have seen it on pages I have built and it was definitive proof that what I built was worthwhile and appreciated by the community I served.
Once you have completed your analysis for your pillar page, repeat the process for your topic clusters. While you do not need to go all out for each supporting blog post you write, it is still good to keep in mind what your competition is doing. Are a lot of your competition including video on their webpages? If so, would you benefit from doing the same?
As a final note on content strategy, make sure you optimize for voice search like Siri and Alexa. Because most voice search is done in the form of a question, make sure you are always asking: What questions does the user need answered? Make sure you include those questions in your content with an answer of less than fifty words directly below it (which I shamelessly did at the top of this post).


Overall Promotion Strategy
Promotion tends to not get the credit it is due. The truth is, you can build the best piece of content out there, but if no one knows about it, it does you no good. With every good piece of content there should be a promotion battle plan.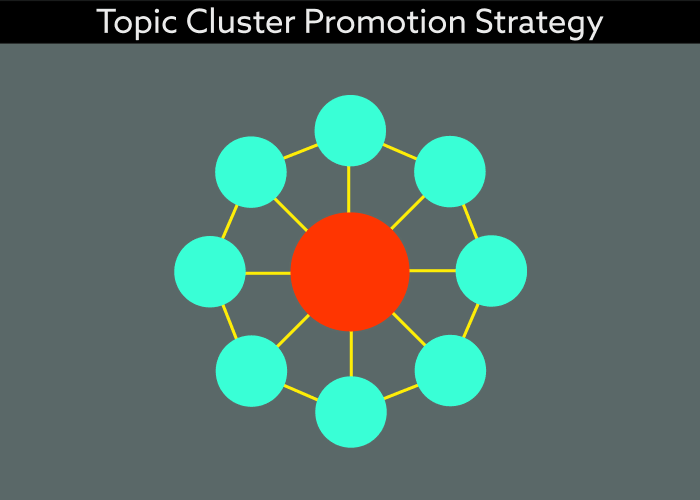 First, start with linking. Backlinks tell Google that other people find your content useful and that it is worthy of being ranked high in search results. Research each of your competition's linking profiles by using services such as Moz, SEMRush, Majestic, and Ahrefs. Find out:
The number of domains that link to each of your competitors' pages
The average domain authority for the backlinks
Once you have this information, find the average for your total competitors. All of this will give you an idea of the linking profile you need in order to rank in the first four to five positions of Google. As an example, let's say you find that the average number of domains linking to your competitors' pages is 10 with an average backlink domain authority of 30. This means that you would likely want to shoot for around 10-15 backlinks with an average domain authority of 30 or higher.
There are many ways to go after links, but in my book, the best ways are ones in which you extend the inbound model by building mutually beneficial networks and offering exceptional content. One practical way is guest posting. By offering quality content to websites with strong domain authority that accept guest authors, you are extending your reach to new audiences and getting much needed backlinks.
A second way to extend your reach to new audiences is through syndication. Syndication is taking content you have already written and republishing it on another website. If done properly with "rel canonical" links, you will not incur a duplicate penalty and you will have link juice flowing to your topic cluster. With that being said, syndicate only where it makes sense, use only a select few posts, and only syndicate content that has proven to have appeal on your own website. You are doing this to project your brand to new audiences, so only put your best foot forward.
Finally, make sure you socialize. Talk up your content on Facebook, Twitter, LinkedIn, and Google Plus. Find blogs that talk specifically about your topic and leave a thoughtful comment with a link back to your content. (Don't be spammy—only add a comment if you can meaningfully add to the conversation.) Go on Quora and see what questions you can answer. Again, answer the questions in detail and only answer if you can give an authoritative answer.
With these three strategies in mind, you should be well on your way to building a topic cluster. As with all inbound methodologies, the topic cluster is about adding value and growing your network. If you have the mindset of being head-and-shoulders above your competition in terms of adding value, your community will thank you for it and reward you with their visits, form submissions, and eventually—purchases.
Originally published on May 10, 2018. Content was updated July 20, 2018.

About the author
Ken Mafli was formerly a Marketing Consultant. He is a guru of the Inbound methodology but also uses paid search, social media, and PR to achieve overall goals. Read more articles by Ken Mafli.
Subscribe to get our new blogs delivered right to your inbox
Other insights you might like