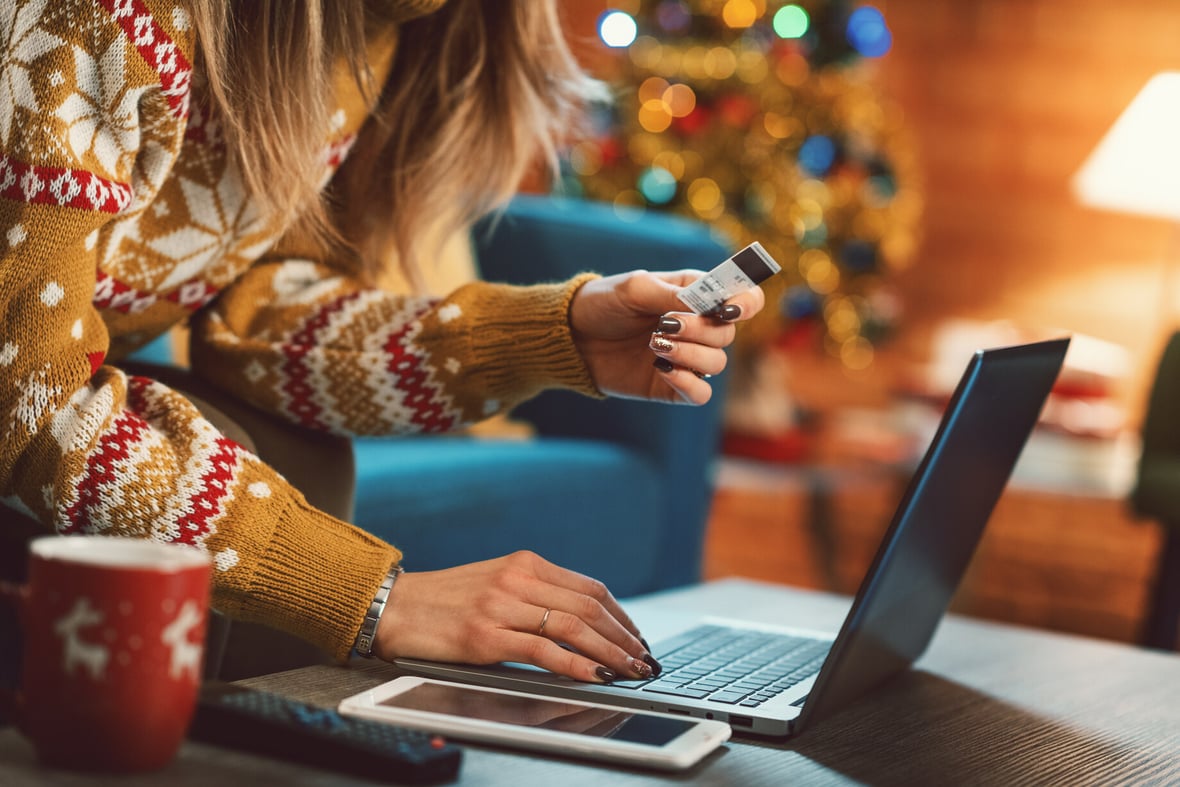 Believe it or not, Q4 2023 is right around the corner. The clock is ticking, and the countdown to Black Friday and Cyber Monday (BFCM) for both shoppers and retailers is on. It's a great time to capitalize on major shopping trends and maximize revenue potential.
Prepare your business for e-comm's busiest day of the year with these Black Friday marketing ideas from SmartBug Media's® e-commerce experts.
8 Strategic Black Friday Marketing Ideas for Your E-Commerce Business
BFCM weekend comes only once a year, so you must make your Black Friday marketing strategies count. These eight Black Friday marketing ideas and tips can set the stage for a successful holiday season for your business.
1. Create Irresistible Deals
Provide your customers with compelling deals that are hard to resist. Consider offering steep discounts, limited-time deals, buy-one-get-one (BOGO) offers, bundle deals, or free shipping promotions to entice customers. Highlight the savings customers will gain by shopping on your website, and implement dynamic pricing strategies to maximize conversions while maintaining profitability.
2. Offer Exclusive VIP Access
Reward your loyal customers by granting them exclusive VIP access to your Black Friday deals. These types of offers make your loyal customers feel valued. There are several ways to identify your VIP customers, including the amount of money spent in a period of time and the number of orders placed in a period of time.
Send personalized emails and SMS messages with exclusive discount codes for your loyal customer base. This not only encourages customer retention but also nurtures a sense of appreciation and loyalty.
3. Craft Attention-Grabbing Email and SMS Campaigns
Harness the power of email marketing and SMS to reach your customer base and inform them about your Black Friday deals. If you have a solid foundation built for email and SMS marketing—including automated journeys, segmentation, lead generation, and a campaign strategy—email and SMS can drive 30-40 percent of your total business revenue, having a large impact on BFCM success!
Design eye-catching email campaigns with attention-grabbing subject lines to increase email open rates. Be sure to include captivating visuals, persuasive product descriptions, and prominent call-to-action buttons leading to your website. Personalize email and SMS campaigns based on customer preferences and purchase history. You can send targeted messages such as testimonials and UGC based on product interest, product recommendations based on browsing activity, or cross-sell suggestions based on similar products. And finally, use automated workflows to send targeted follow-ups and abandoned cart reminders.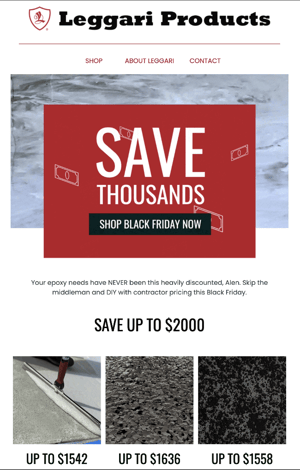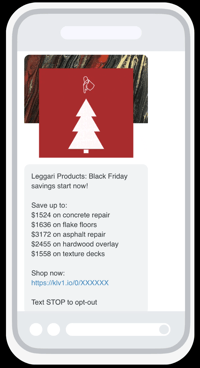 4. Generate Leads Before the Holidays
Customer acquisition costs can be high during the holiday season. Make sure to focus on lead generation starting in October and into the weeks leading up to the holidays to increase interest, acquire new customers, and retarget people who have already entered your funnel, letting them know your Black Friday sale has started.
There are several ways to build your audience before the holidays. Grow your email and SMS subscriber lists using a pop-up or some sort of sign-up form and offering a discount at sign-up or promising subscribers early-bird access to your holiday sale. You can also grow your subscriber list by offering exclusive offers for SMS subscribers only or exclusive content like cookbooks, style guides, or money-saving tips. Grow your paid media retargeting audience by running robust campaigns in September and October on paid social and paid search.


5. Implement Countdown Timers
Create a sense of urgency by adding countdown timers on your website and in your email marketing campaigns. Countdown timers remind customers that the deals are time-limited, encouraging them to take action before the clock runs out. This technique helps drive immediate purchases and increase conversion rates.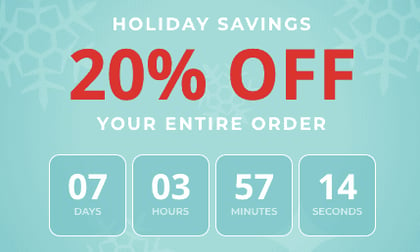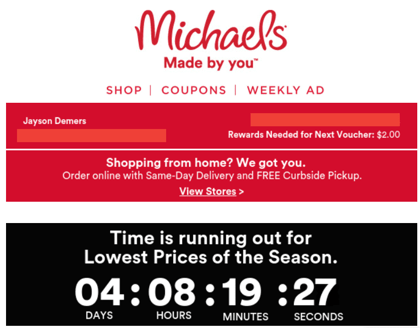 6. Optimize Your Website for a Seamless Experience
You can expect your e-commerce website traffic to increase during Black Friday. Make sure the site—as well as your mobile app—can handle the increased traffic by optimizing its performance for speed and UX. You can do this by caching data effectively, reducing the number of HTTP requests, optimizing image sizes, and limiting the use of external scripts.
Also, simplify the checkout process to minimize cart abandonment rates. Implement a responsive and intuitive design that provides a seamless shopping experience across different devices. Don't forget to include clear and relevant product descriptions, customer reviews, and ratings to aid purchase decisions.

7. Optimize Your Automations to Enhance Customer Journey
Before the holiday rush, there are a few automations you should have up and running. You can even elevate and customize these automations to provide a great customer experience and maximize holiday returns.
Three key automations you should have in place and can elevate during the holiday season are: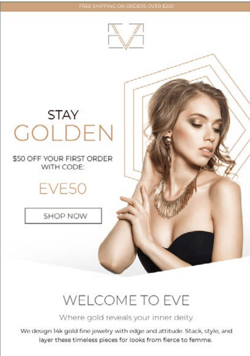 Browse abandonment automation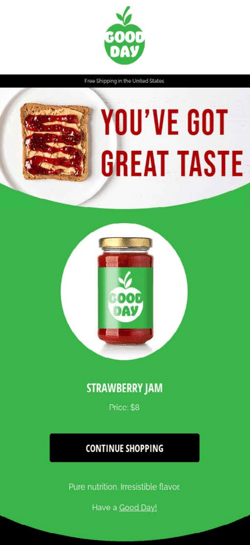 Cart abandonment automation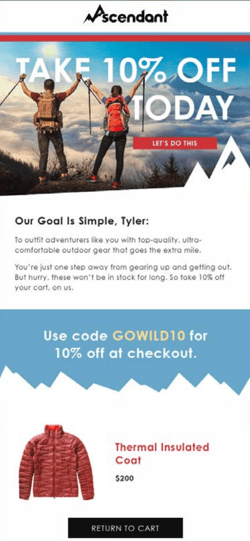 By monitoring customer behavior on your website, you can identify those who browsed products or added items to their cart but didn't complete their purchases. Send follow-up emails with personalized offers or discounts to entice them to return and complete their transaction. Also, ensure your transactional automations are in place to provide customers with information on their orders.
8. Leverage Social Media
And, our last strategy for our Black Friday marketing ideas might not be as groundbreaking but it sure those help get your BFCM efforts make an impact. Use social media to maximize your reach and engage with your audience during Black Friday. Create captivating visuals like memes, GIFs, or videos showcasing your best deals. Run targeted ads on platforms where your target audience is most active, and encourage user-generated content (UGC) by running contests or asking customers to share their favorite products using a specific hashtag.

Planning for a Fantastic Friday
Black Friday is your opportunity to boost sales and engage customers. Craft compelling deals, leverage email and SMS marketing, optimize your website, and engage with your audience to drive more conversions and create a memorable shopping experience with these Black Friday marketing ideas, and have your best BFCM yet!
Subscribe to get our new blogs delivered right to your inbox
Other insights you might like