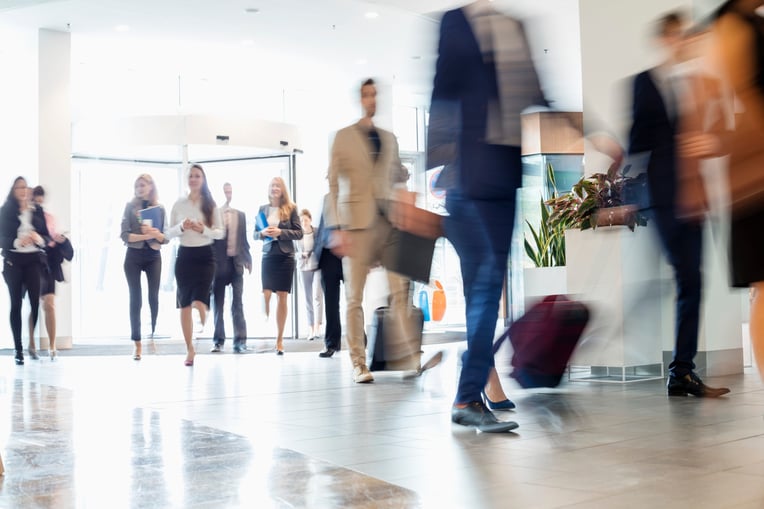 Stepping through the black curtain at Boston's Conference and Exhibition Center on a Monday to look down on the nearly empty Club INBOUND floor was a powerful experience for this first-timer. Scanning my eyes across the pristine booths, the glowing lights, the hologram fountain, I took a minute to really soak in the energy that was waiting to be unleashed below. This was the calm before the storm, and it was all more than I had expected.
Now that the dust has cleared and INBOUND17 is over, I've had a chance to take a step back and inventory what the experience meant to me, and to hopefully help guide future first-timers as they navigate INBOUND's many opportunities for personal and professional growth.
Be Ready with Your Pitch
INBOUND is absolutely jam-packed with people all vying for a minute of your time or you theirs. It can be a bit overwhelming. One thing I learned early on is that you need a few "elevator pitches" in your back pocket to quickly communicate who you are and who you work for. Conversations at the show are for the most part brief, so getting your point across quickly is invaluable. Beyond that, have your cards on hand to swap, and maybe even a little swag—these things help you to be remembered. I also found that as the conference wore on, conversations either got shorter or longer as I developed the ability to sniff out who was worth chatting to versus who wasn't.
Session Strategy
Going to sessions is also one of the main benefits of attending INBOUND. These sessions occur throughout the conference and give attendees the opportunity to seek out knowledge from some of the top minds in inbound marketing. If I were to give one piece of advice to people as they sign up for these sessions, it would be to avoid going the comfortable route. I can tell you from experience that signing up for a session because you know all about the topic will likely lead to some boredom on your part.
Don't get me wrong, you should check out sessions on things that you are interested in, but go out on a limb a bit. Be aspirational. Find sessions that cover topics related to your career and what you eventually want to get out of your job. For me, there were plenty of leadership and coaching sessions that I thoroughly enjoyed because that's where I'd like to be, not where I currently am. Also, make sure that you take some good notes, and if you're attending the conference with coworkers, spread out and compile your notes on multiple sessions to increase the amount of knowledge you can glean.
Beyond the breakout sessions, there are also some top-notch keynote speakers that I definitely recommend making the time to go see. At this year's INBOUND, Michelle Obama was the opening keynote on Tuesday, and the atmosphere was incredible. It was almost like going to a concert. Ultimately, these are the only speakers that you can tell your friends who aren't in marketers about, and they bring some fresh perspectives worth listening to, so don't miss out.
Enjoy the Experience
The conference can be a little overwhelming, so make sure you take some time to just wander around. Try the free food trucks that surround the convention center. I even took a few hours one day to get some work done—it felt great to just hide out in a quiet corner for a while and work. Taking a breather helps ensure that later in the day, when you're talking to the 300th person in an afternoon, you still have the energy to be a good representative for your brand.
Overall, my takeaway from the conference was that inbound marketing is alive and well. This year, 21,000 people attended the conference, and the excitement and passion flowing through the doors every morning made it clear to me that inbound marketing is something that will continue to play an ever larger part in companies' plans well into the foreseeable future.