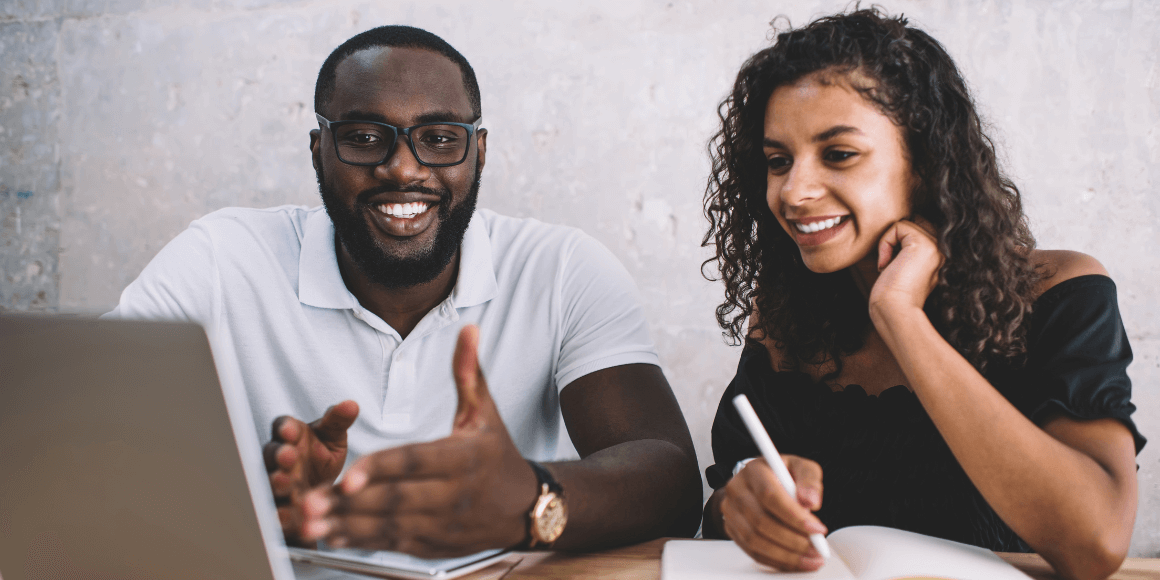 6 Ways a Company Can Foster Employee Development and Career Paths
July 8, 2022
---
Over the past few years, we have seen a shift in how vocal workers have become about their expectations of employers. The Great Resignation wasn't the start of this shift, but it definitely heightened the need for work environments that align with employees' values, goals, and lifestyles.
Although employers might think they are offering great employee development opportunities, the reality is quite different. According to a Pew Research Center survey, out of the workers who quit their jobs in 2021, 63 percent cited no opportunities for advancement as a reason for leaving.
So if your employees aren't receiving the type of career advancement they hoped for, how can you change that?
The learning never ends here at SmartBug®, and because we pride ourselves on investing in our people, we have a few tips to share on how to create professional development opportunities for employees.
1. Make a Great First Impression During Onboarding
One of the first areas to improve employee development is during the onboarding process. Although you might have hired someone for their overall skills and experience, each job has its own distinct lingo, tools, and processes. By providing a well-thought-out onboarding experience, you can equip employees early with the right skills and knowledge while also getting them excited about their potential growth.
At SmartBug, our onboarding process is a mix of live training, reading, and practical exercises. We design a schedule based on the new employee's position and experience so everyone can start off on the right foot. We also have our tenured employees train new hires, which helps nurture relationships and support our thriving remote work culture.
2. Provide Ongoing Training Opportunities
Once you've onboarded your new employees, the learning shouldn't stop there. The world is constantly changing, which means so are the skills and know-how needed to stay ahead.
In 2021, the SmartBug team launched a remote training calendar that provides small group training sessions on a variety of topics. Team members can choose which sessions to attend, giving them the chance to fill knowledge gaps and engage in interactive learning.
When creating a training calendar for your organization, make sure your sessions address the needs of your employees and align with the goals of your organization.
3. Create Development Plans Specific to Each Individual
Employees aren't only at a company to support corporate objectives; they're also there to advance their own personal and professional goals. Instead of ignoring these goals, use this information as an opportunity to create a mutually beneficial relationship for both the organization and its people.
By understanding someone's goals and motivations, your company can better align the person with the company. SmartBug utilizes individual development plans to help employees visualize how their growth can be achieved and how that growth contributes to the company's success. These plans are designed to be flexible as well as visible, so both the employee and their manager can track the progress toward milestones.
4. Support Employees Through Mentorship
Creating a mentorship program is a great way to broaden perspectives, grow future leaders, develop new skills, and create an open and inviting culture. Mentorship is beneficial for anyone looking for support and insight from those with more knowledge in a particular field.
When thinking about an internal mentorship program, consider how you can involve employees at all levels to participate. For example, at SmartBug, we make the program information available through internal announcements and provide a brief sign-up form that allows us to best pair mentors and mentees.
Mentorship programs are not a one-size-fits-all situation. There are many different ways to structure them, but by following some best practices, you can ensure your company's program has the right support and structure it needs to last in the long run.
5. Encourage Shadowing Within and Across Departments
Not everyone will need a formal mentor or want to participate in a group training session. That's why job shadowing is a great development method that gives those who are curious about other roles a chance to see how it's done.
While new SmartBugs have job shadowing built into their onboarding, existing employees are encouraged to participate in shadowing as well. Whether they want to learn more about the day-to-day of our paid media team, how to use a specific feature in HubSpot, or just want to be better at organizing their day, there are plenty of SmartBugs willing to show the way.
6. Support Learning Outside of the Office
Today, information is more accessible than ever, providing people the chance to learn beyond traditional methods. Now that education is more democratized, people aren't beholden to one source to receive the information they need.
At SmartBug, we truly value the growth of our employees and recognize that not everything can be learned on the job. That's why we provide a yearly training and development allowance so our fellow 'Bugs can partake in opportunities that support their career goals.
Giving your employees the opportunity to seek education outside of the company shows your commitment to their growth while also helping employees to develop a well-rounded knowledge base.
Strategic Employee Development Creates an Environment Where People Thrive
The demand for supportive work environments isn't going anywhere. As people continue to prioritize themselves in the workplace, employers will have to rethink how they approach employee development.
Fostering a culture of learning shouldn't be done in a vacuum. Speak with individual contributors, managers, executives, and other stakeholders to create an employee development program that makes sense for employees and the organization.
Looking to work at a company committed to employee growth and development? Check out our open positions—that's right, we're hiring!

About the author
Enjoli Johnson is a Marketing Specialist based in Tampa, FL. She has over 5 years of experience in marketing focusing on social media, email, and marketing automation. Outside of work, Enjoli enjoys sharing belly laughs with friends and family, visiting local bookstores, and binge-watching a good show on Netflix. Read more articles by Enjoli Johnson.
Subscribe to get our new blogs delivered right to your inbox
Other insights you might like