By Mike Wolfe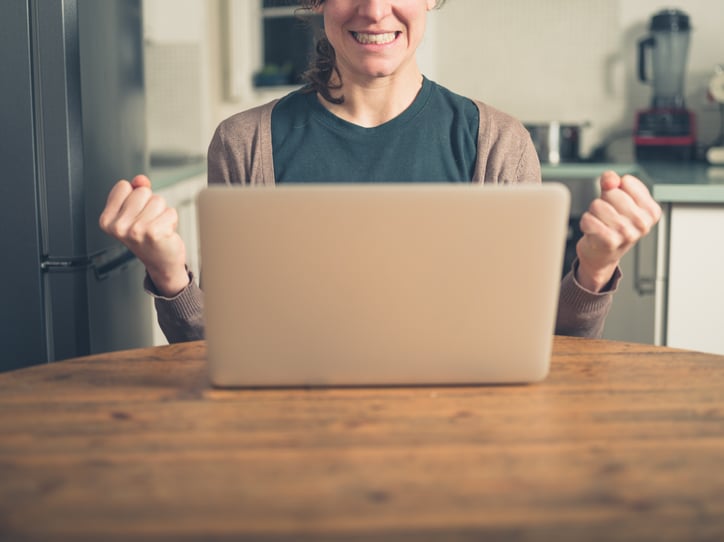 If you are an inbound marketer in the B2B space, you understand how much time and energy go into planning and executing your marketing campaigns. Success not only requires a solid inbound strategy, but it also requires knowledge of the latest marketing, content, and design best practices.
Lucky for us, there are tons of marketing resources out there for B2B marketers who are looking for ways to improve performance and move the needle for their company or organization.
In my attempt to create the last B2B marketing resources list you'll ever need to read, here are 50 (that's right, 50) inbound marketing resources any B2B marketer can benefit from subscribing to in 2017 and beyond:
Resources for Inbound and Content Marketing Best Practices
First, let's start with the top resources for learning (or brushing up on) general inbound marketing methodology concepts, ideas, and best practices. These resources cover a wide variety of topics that will keep you moving in the right direction.
1. HubSpot
https://blog.hubspot.com/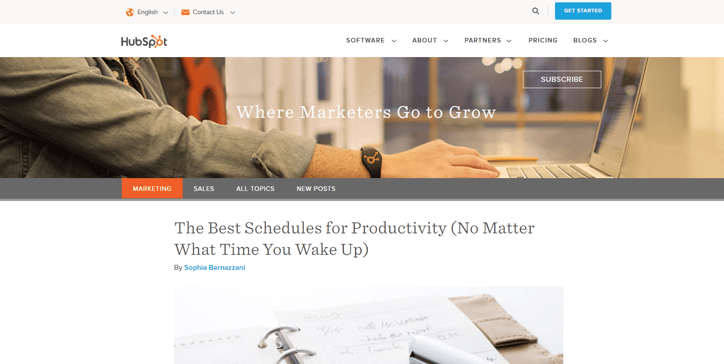 HubSpot blog subscribers are delivered a "daily dose of inbound" that keeps them at the forefront of inbound marketing trends and best practices. In addition to blog articles and content, HubSpot also offers an amazing inbound marketing training curriculum.
Must-read articles:
2. Inbound.org
https://inbound.org/channels/originals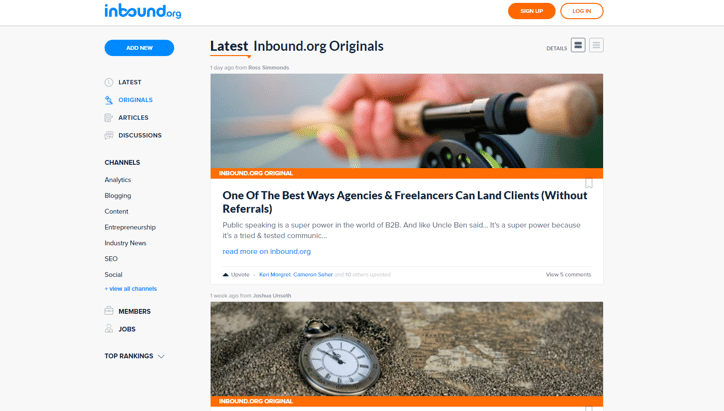 Inbound.org is an online community where inbound marketers go to connect, interact, comment, and learn. With contributors coming from all over the web, there is always something new to read, and the topic list is practically endless—covering everything under the inbound marketing sun.
Must-read articles:
3. SmartBug Media
www.smartbugmedia.com/blog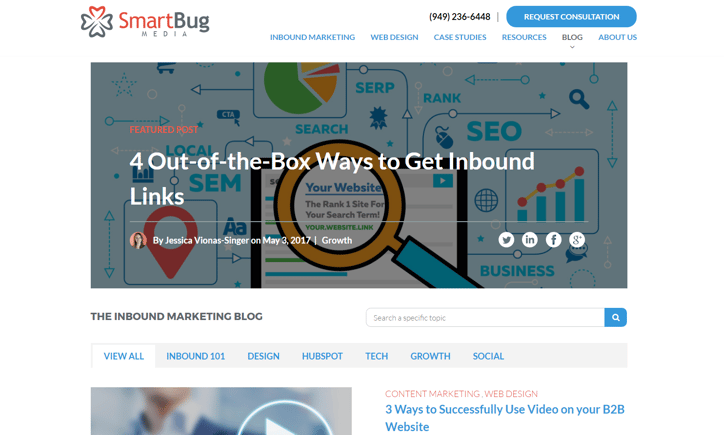 Granted, I may be a little biased by mentioning The Inbound Marketing Blog by SmartBug Media here, but with contributions from some of the most intelligent and hardworking marketers and creatives I know, I couldn't leave it off my list. New articles are posted daily on topics like Inbound 101, Design, HubSpot, Tech, Growth, and Social, and there's also a weekly wrap-up of what's going on in the world of inbound—proving to be a valuable resource for any B2B marketer.
Must-read articles:
4. Seth Godin
http://sethgodin.typepad.com/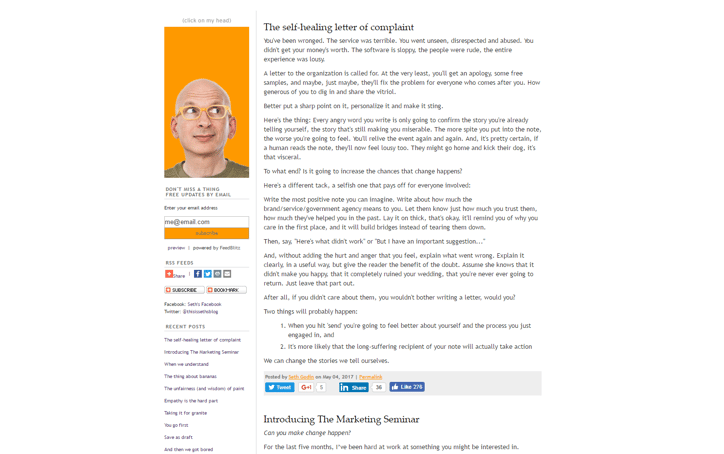 I doubt there are many marketers out there who don't know who Seth Godin is, but in case you don't, he's a best-selling author, entrepreneur, and marketer who often writes and speaks publicly about how messages and ideas spread in today's busy world. Every day, he shares his thoughts in pithy, quick-hitting blog posts.
Must-read articles:
5. Content Marketing Institute
http://contentmarketinginstitute.com/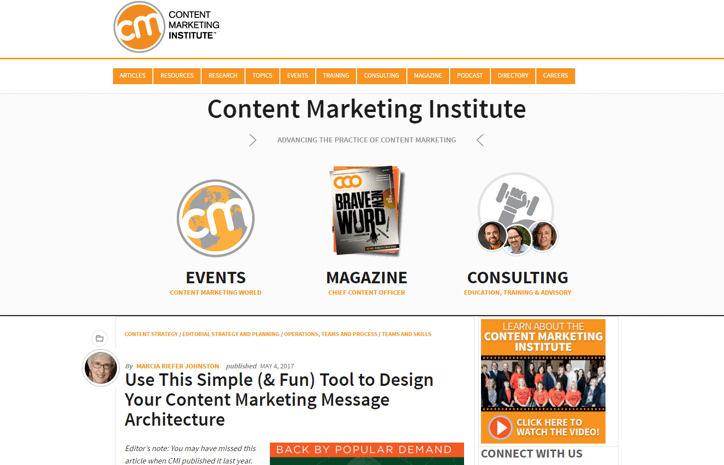 The mission of the Content Marketing Institute is to advance the practice of content marketing, through online education and print, as well as in person. Subscribers get how-to marketing advice for their content strategy, B2B content marketing case studies, research, and more.
Must-read articles:
More Resources for Inbound and Content Marketing Best Practices:
6. Smart Insights – Actionable Marketing Advice
7. Marketo's Blog
8. Pardot's Blog
9. Act-On's Marketing Action Blog
10. DigitalMarketer
Resources for Content Writing
Once you have your inbound strategy down, the next step is to create or fine-tune your content. These resources will help you improve your writing skills and have you delivering amazing content that your personas will love to read.
11. Copyblogger
http://www.copyblogger.com/blog/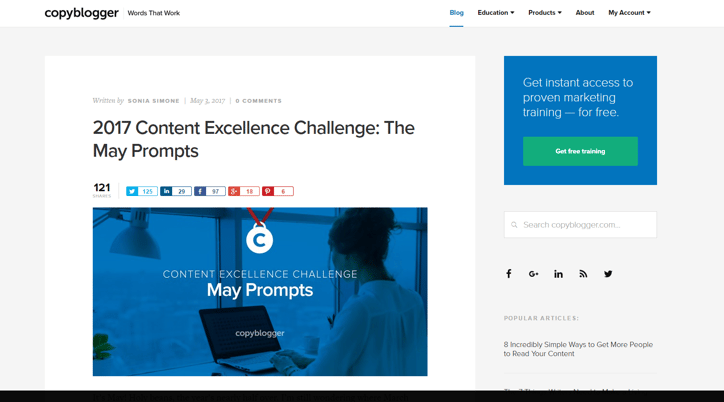 Copyblogger and Copyblogger FM provide a wealth of information for content writers. Tune in to their blog or podcast for tips that will help you master your content marketing.
Must-read articles:
12. ProBlogger
https://problogger.com/blog/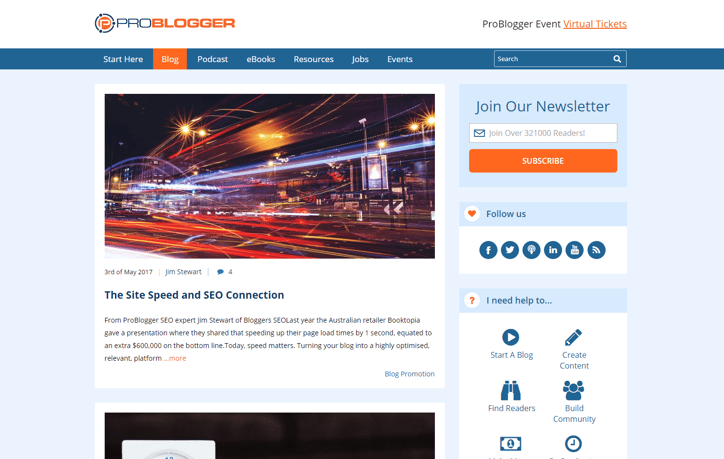 ProBlogger is another great resource for tips on starting a blog, creating content, finding readers, and building a community on your website.
Must-read articles:
More Resources for Content Writing:
13. Grammar Girl
14. Better Writing Tips
15. Writing Forward
Resources for Branding and Design
As you create content for your audience, you need to consider design principles that will not only help your content stand out but will also solidify your brand. The following resources can help B2B marketers do just that.
16. Canva
https://designschool.canva.com/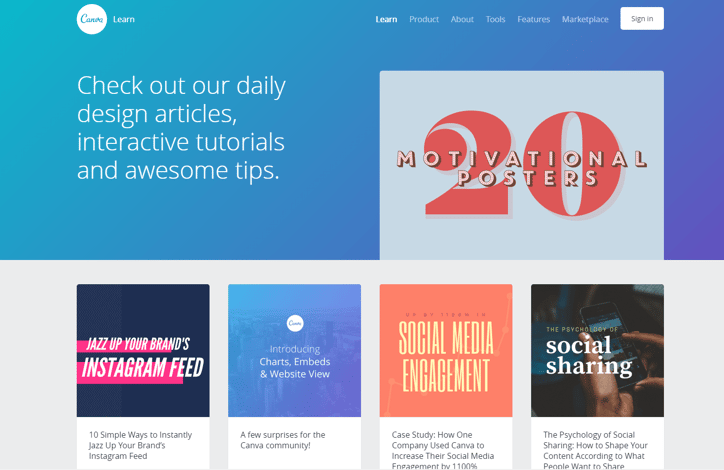 Canva's Design School has everything you need to learn basic design skills for delivering your content. Its daily articles, interactive tutorials, and awesome tips are mostly tailored for beginners.
Must-read articles:
17. You the Designer
http://www.ucreative.com/articles/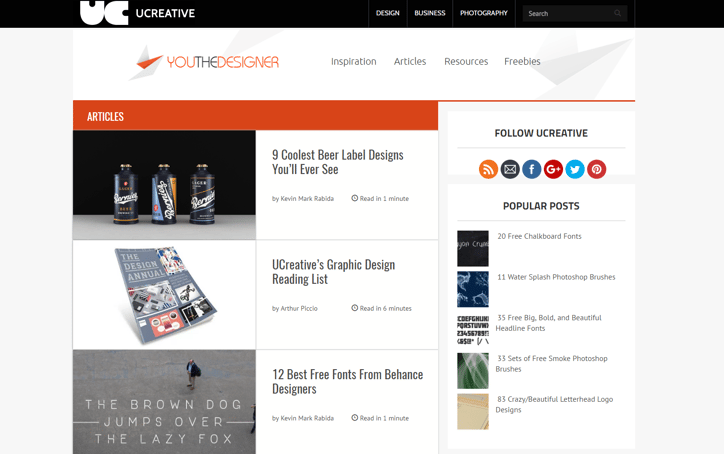 You the Designer is a graphic design lifestyle blog that delivers cutting-edge design trends, tips, tutorials, and inspirations. The blog is written for designers, but a lot of the content can be very useful to B2B marketers who don't have in-house design resources.
Must-read articles:
More Resources for Branding and Design:
18. The Design Blog
19. Brandfolder
20. Behance
Resources for Content Promotion
Once your content is created and pulled together with awesome eye-catching design, it's time to promote it. These resources provide great tips on how to optimize your channels for promotion and deliver content to your audience.
21. Social Media Examiner
http://www.socialmediaexaminer.com/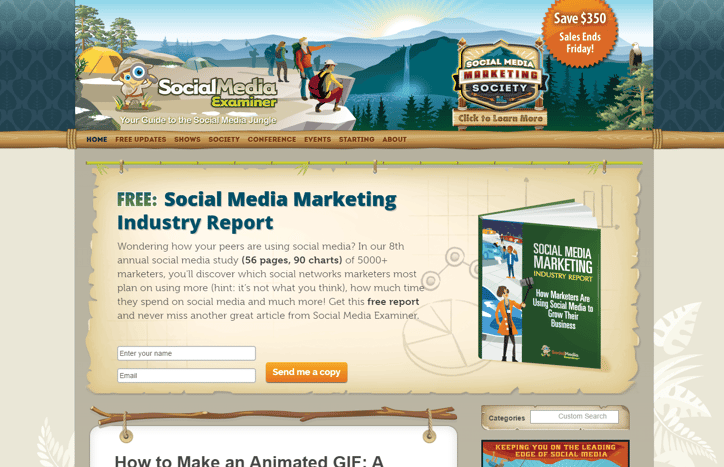 Social Media Examiner helps inbound marketers discover how to best use social media marketing to connect with customers and, in turn, drive traffic back to their website. It stays on top of the latest social media platform updates and how they will affect marketers.
Must-read articles:
22. Social Media Today
http://www.socialmediatoday.com/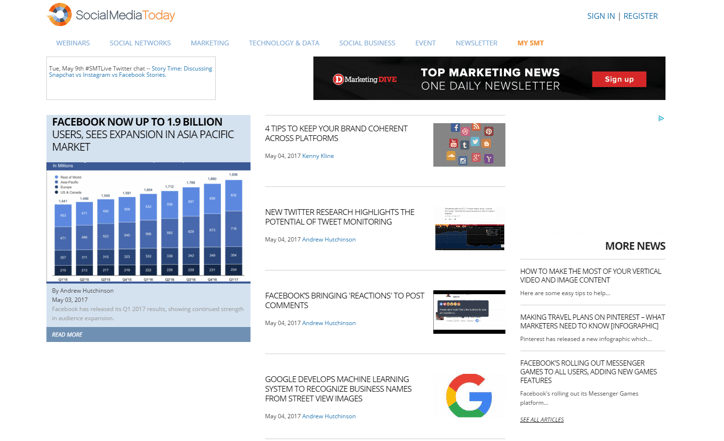 Social Media Today brings together the news, trends, and best practices of enterprise social and digital marketing. There is something new and insightful to read every day.
Must-read articles:
23. Oktopost
http://www.oktopost.com/blog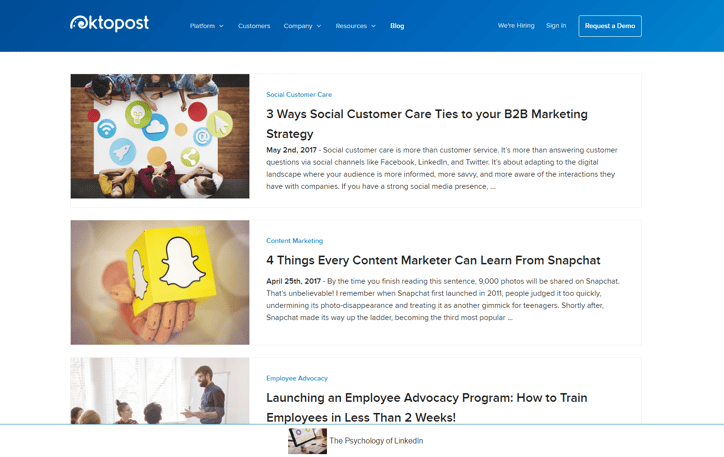 Oktopost is a B2B social media management platform, so naturally its blog is written to the B2B audience. Some posts are quite a bit longer than others, but each article gives you an estimated read time so that you know how long it will take to read.
Must-read articles:
More Resources for Content Promotion:
24. Mailchimp
25. AWeber
26. Mailigen
Resources for Online Advertising and PPC
When executing your inbound marketing strategy, sometimes a little paid promotion is needed to get things started. These resources for online advertising and PPC tips and best practices can help.
27. Google's Inside AdWords
https://adwords.googleblog.com/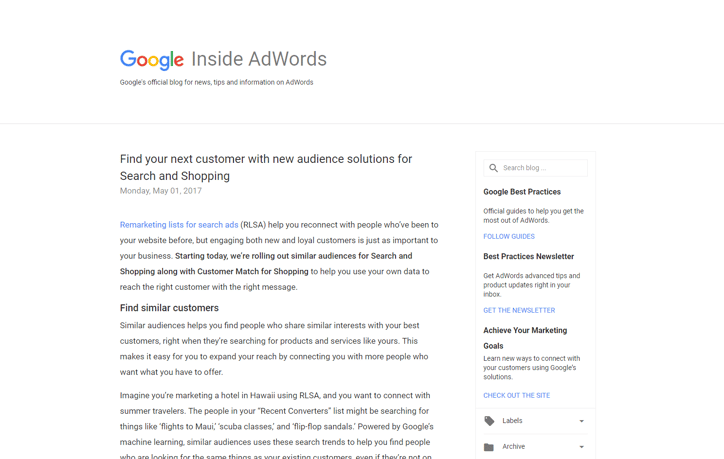 Google's official blog for news, tips, and information on AdWords is filled with insight that will guide your AdWords PPC strategy. The blog also provides best practices guides and newsletters that you can subscribe to.
Must-read articles:
28. AdFreak
http://www.adweek.com/category/adfreak/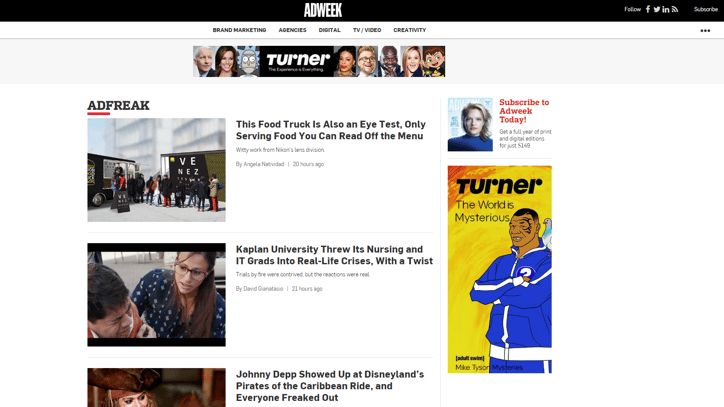 Looking for some advertising inspiration? AdFreak collects and shares the latest and most creative ads, from just about any industry, that are making an impact or creating some buzz. Most of the articles are quick-hitting, and not every article contains insights that will help you improve your brand or your marketing efforts, but sometimes all it takes is a couple of good campaign examples to spark some of your own outside-of-the-box ideas for promoting your content.
Must-read articles:
More Resources for Online Advertising and PPC:
29. PPC Hero
30. WordStream
Resources for Search Marketing/SEO
Want to spend less on paid promotion? It helps when your content and targeted keywords are ranking high in search engine results and you're able to bring a steady stream of new organic traffic every month. These SEO resources can help you plan and fine-tune your content to optimize for search.
31. Search Engine Land
http://searchengineland.com/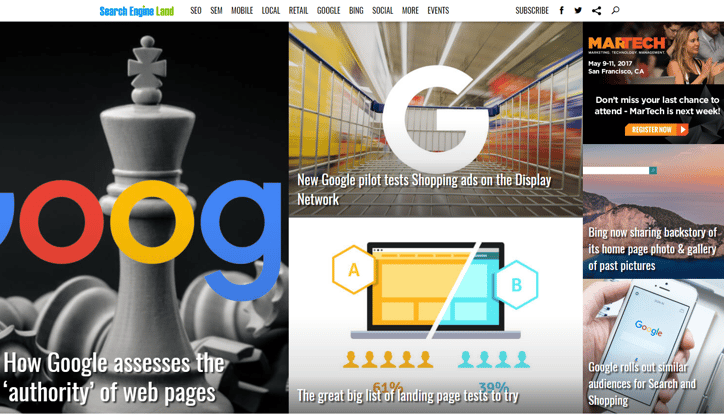 Search Engine Land covers SEO topics and news for readers with all levels of SEO expertise. Its daily news recap reports everything important that happened in search each day from sources all across the web. That alone makes it worth subscribing to.
Must-read articles:
32. Search Engine Watch
https://searchenginewatch.com/category/seo/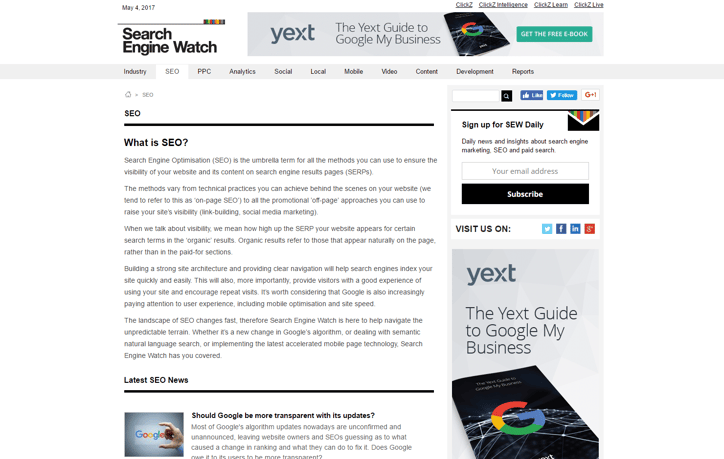 Search Engine Watch gathers the latest SEO news, tips, and study results for anyone looking to stay at the forefront of search, PPC, and analytics trends.
Must-read articles:
33. The Moz Blog
https://moz.com/blog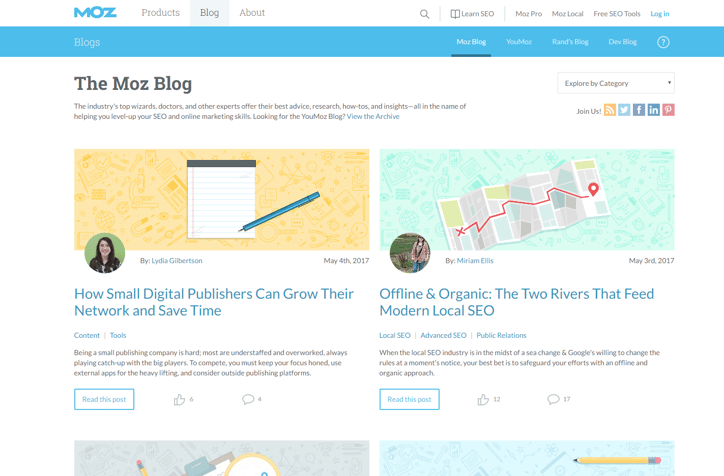 The Moz blog is home to tons of advice, research, how-tos, and insights that will help your SEO efforts and online marketing skills. In the blog, there's a recurring Daily SEO Fix video series that provides quick fixes to your keyword strategies. The articles are well-written, and the videos make learning about SEO even funner than you thought.
Must-read articles:
More Resources for Search Marketing/SEO:
34. Search Engine Journal
35. Yoast SEO Blog
36. SEMrush
37. SEO Book
38. Backlinko
Resources for Website Optimization (Analytics and Testing)
So you've created awesome, attention-grabbing content for your personas, promoted it on several channels, and improved your keyword ranking in search engines, and now you have tons of traffic coming to your site, right? Awesome. Now it's time to optimize your website and landing pages for higher conversion. These resources will help you identify and measure the data that counts in order to increase conversion rates and generate more leads.
39. Google Analytics Blog
https://analytics.googleblog.com/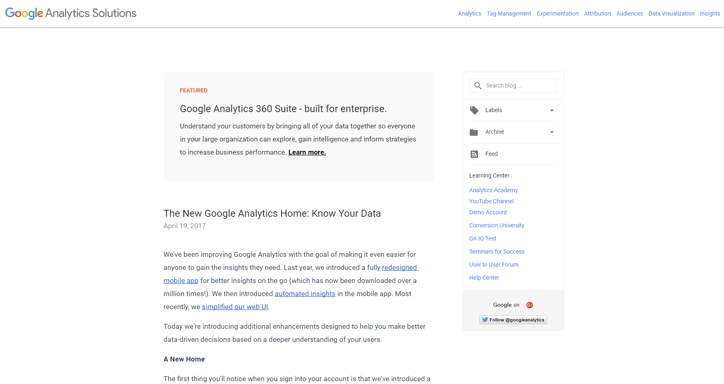 The Google Analytics blog features topics on analytics, tag management, experimentation, and attribution. While a lot of the articles are simply trying to "sell" you on Google products, you'll also get the latest Google Analytics updates and how to use the tool to learn about the behavior of your site visitors.
Must-read articles:
40. Kissmetrics
https://blog.kissmetrics.com/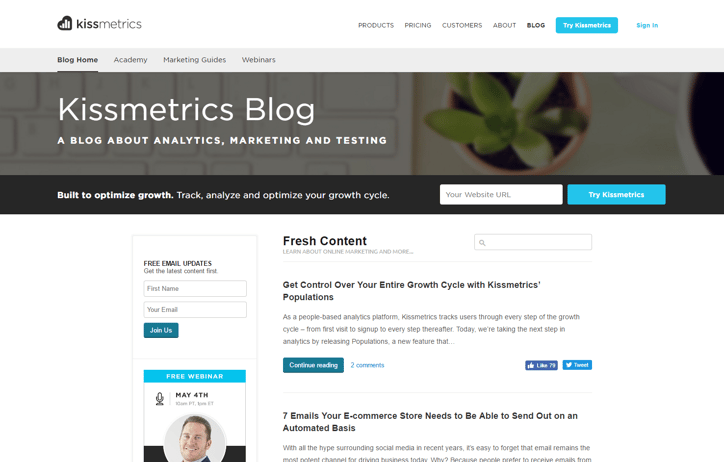 Kissmetrics posts blog articles about analytics, marketing, and testing. Its Academy has great instructional articles, and it offers plenty of marketing guides if you use the Kissmetrics software, but for those who don't, there are still several helpful articles.
Must-read articles:
41. Unbounce
https://unbounce.com/blog/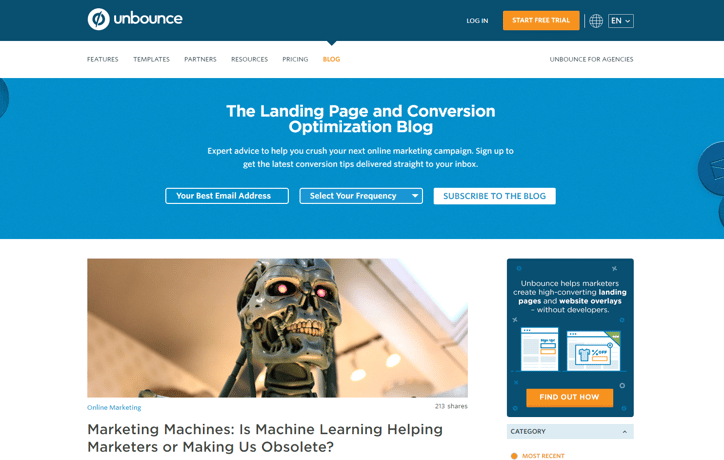 The Unbounce blog is all about landing page and conversion optimization. It often talks about conversion benchmarks and lessons learned from various types of A/B testing. Articles are broken up with lots of visuals that keep you engaged with the content—not that they need to, because the information presented is really interesting.
Must-read articles:
42. Online-Behavior
http://online-behavior.com/analytics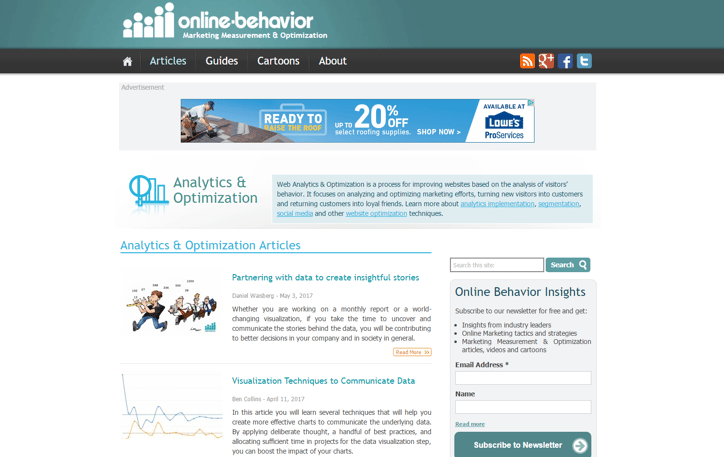 Online-Behavior provides articles and guides on marketing measurement and optimization. If you're somewhat new to Google Analytics, the majority of articles here will help you get the most out of the tool.
Must-read articles:
43. QuickSprout
https://www.quicksprout.com/blog/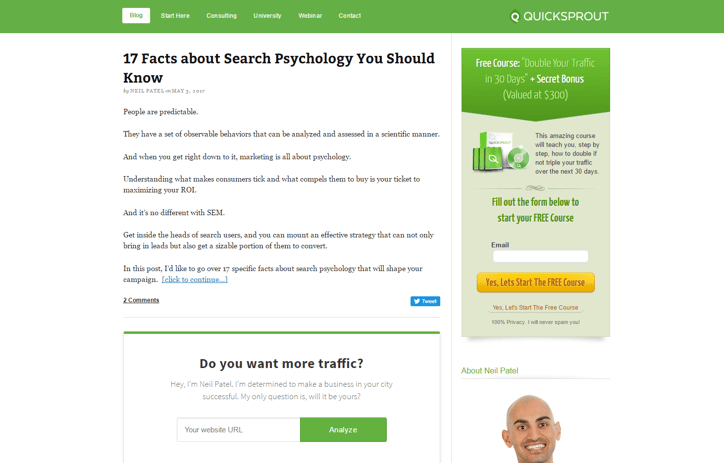 Neil Patel, another thought leader of today's marketing best practices, puts together a lot of content (most of which is videos) on topics related to driving traffic to your website and optimizing your site for conversion.
Must-read articles:
44. The Nielsen Norman Group
https://www.nngroup.com/articles/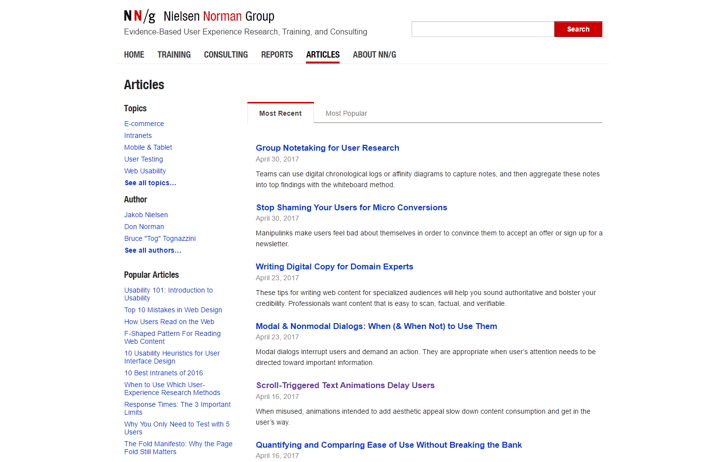 The Nielsen Norman Group is a great resource for evidence-based user experience research, training, and consulting. It provides UX training seminars and valuable reports (for a fee), but it also produces several articles each week on web usability and user testing topics. Each article begins with a quick summary, which is nice if you're just looking for the main points or takeaways.
Must-read articles:
45. Studio by UXPin
https://www.uxpin.com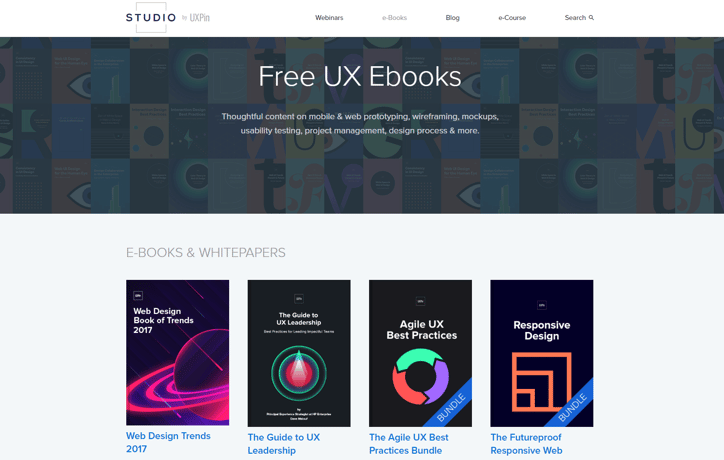 UXPin produces tons of free UX ebooks on design trends, usability testing, and several other topics that can help when it comes to optimizing your website and landing pages.
Must-read ebooks:
46. GoodUI
http://goodui.org/blog/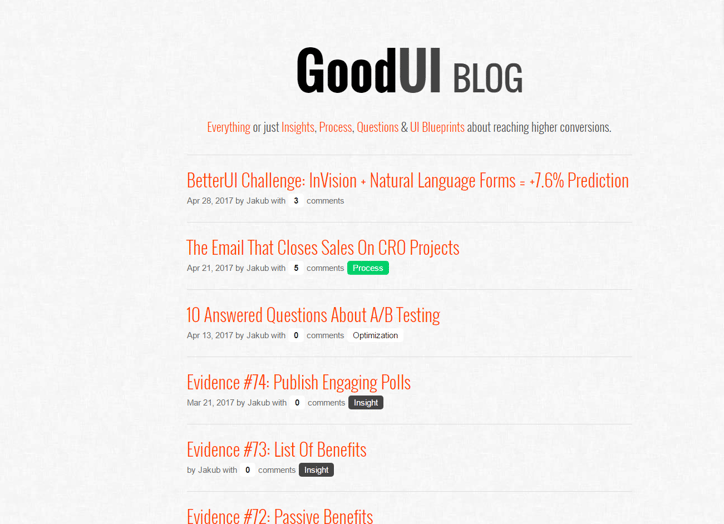 The GoodUI blog produces lots of articles about user interface insights, processes, questions, and blueprints that help readers improve their conversion testing. The writers also share results of their own conversion tests in short videos that give you great ideas to try yourself.
Must-read articles:
More Resources for Website Optimization:
47. NeilPatel.com
48. The Daily Egg
49. Adobe's Digital Marketing Blog
50. Visual Website Optimizer Blog
So there you have it. Fifty resources that every B2B marketer should subscribe to in 2017. By now, I'm sure you've realized that there is a lot of overlap in the topics mentioned, but the end goals for each of these resources are all the same: to help you generate more website leads, increase your marketing ROI, and grow your company. If this is your ultimate goal, be sure to check out The Busy Marketer's Guide to Generating More Leads Online.
Do you know of some other great resources for B2B marketers that I didn't include in the list? Put them in the comments below!