5 Steps to Twitter Dominance in Inbound Marketing
January 20, 2014
---
By Dolly Howard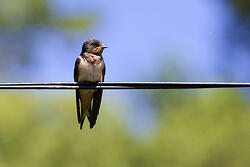 To date, there are 230 million active users on Twitter posting an average of 500 million tweets a day. That's a lot people and a lot of opportunities to connect with your potential leads.
With 36 percent of all marketers finding a customer via Twitter in 2013, it's time to join in the fun. Use these 5 steps to incorporate Twitter into your inbound marketing plan and increase your reach:
Step 1: Know the Basics
Twitter is best used for sending short messages, links, images, and videos. The message (tweet) can be up to 140 characters long and is sent to subscribers (followers).
Each Twitter user has a unique username of an @ sign followed by a username. For example, SmartBug Media's username is @SmartBugMedia. We're the only ones who have it. And if you follow us, then each time we tweet, it will display in your Twitter account's stream.
Twitter is all about connecting. Posting boring information with no interaction with your followers will not help you dominate Twitter. You connect with your followers by using shorthand in your tweets:
@Reply – response to a tweet from another user
@Mention – tweet that mentions another username, but is not a reply to a tweet
DM – private direct message to another user who follows you
RT – tweet created by one user and shared (retweeted) by another
#Hashtag – tags that categorize a tweet
Step 2: Gain Followers
Now that we have the basics of Twitter, we need to get some followers. You can gain followers in two ways:
Follow them and in return, they may follow you.
Promote your Twitter account information on your website, blog, and practically anywhere you communicate with customers with social follow tools, social sharing buttons, and timeline widgets.
A great Twitter feature for your followers is lists. Like segmenting your lists for an automated email or workflow, you can separate your followers into companies, personal contacts, leads, etc. By utilizing the lists feature, you can better target your buyer personas, and ensure that you're sharing the right content with the right audience.
Step 3: Offer Great Content
What can you tweet? Well, just about anything that interacts and provides the right information to the right followers.
Promote Your Content
Tweeting website pages, blog postings, and landing pages is a great way to increase your reach and attract visitors to your website.
Just published an awesome eBook? Tweet it! Include a short quote or description, the link, and make sure to use a #hashtagor2or3. If a follower retweets it or mentions you, take advantage of that conversation, and respond from your Twitter account.
Tweet Something Special
Twitter isn't just to put out your information, it's also used to provide your followers with something special. Use it as a small way to say thank you for being a rockin' follower by providing discounts, promotions, and flash sales. Track these promotions using a special discount code.
Connect with Your Followers
Twitter is a great avenue to connect with your followers beyond a business/customer relationship. Let them get a glimpse into how your company works. Some easy ways to do this are with behind-the-scenes videos and photos. If you're launching a new product, give followers a sneak peek with a photo of it.
Twitter is in real-time. Take advantage of that by hosting Q&A sessions, interviews, and chats. You can do this by using a #uniquehashtag for your event that followers can tweet.
Step 4: Tweet Often
A Twitter account with no tweets is a sad, sad bird. Keep your followers engaged by tweeting consistently and responding in a timely manor. If you don't have time to tweet often, you can always pre-schedule with Twitter management tools like HubSpot and HootSuite.
And just don't tweet about yourself. Use the cocktail party rule when posting on any social media outlet: don't talk about yourself the entire the time, ask questions, and remember to share information about others.
Step 5: Track Your Reach
Like with all marketing campaigns, we want to know what's working and what's not. Monitor your reach and track your website visits on a regular basis to ensure that you're growing each month. If a video tweet gets more clicks than a picture tweet, then consider adding more videos to your campaign. Same thing goes for the timing of tweets, if a day or time works better than others, note that in your publishing schedule.
Twitter can be a pretty powerful tool to attract website visitors and engage your followers. How do you use Twitter to dominate your inbound marketing plan?

About the author
Dolly Howard was formerly Director of Marketing for SmartBug Media. Previously she worked as a senior marketing consultant leading SmartBug Media clients in strategy for lead conversion improvement and total marketing ROI. As a past HubSpot employee, Dolly is excited to share her knowledge and help enterprise companies grow their business. Read more articles by Dolly Howard.
Subscribe to get our new blogs delivered right to your inbox
Other insights you might like