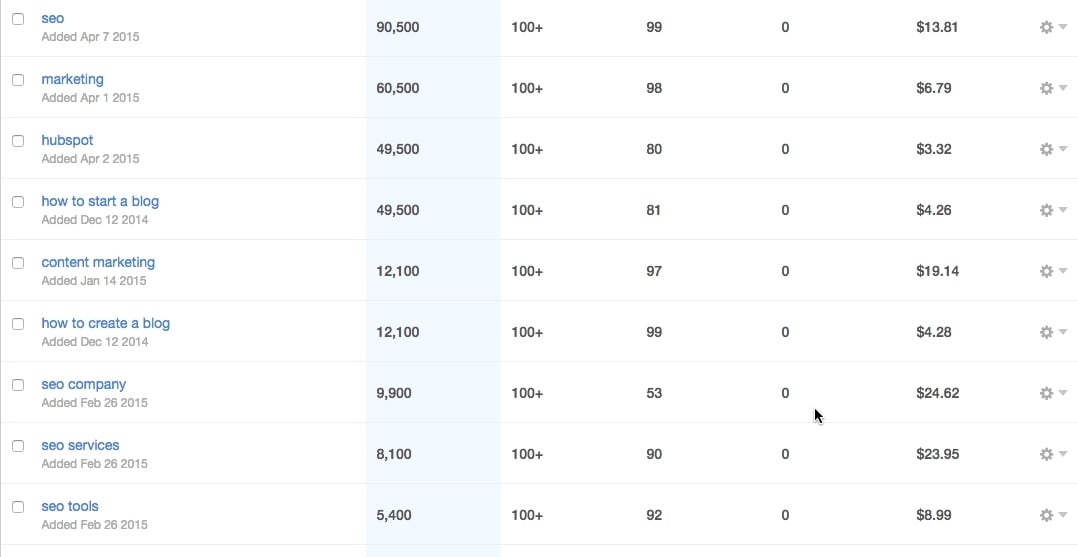 4 Insights We Learn from HubSpot's Keyword Tool
April 9, 2015
---
By Andrew Macey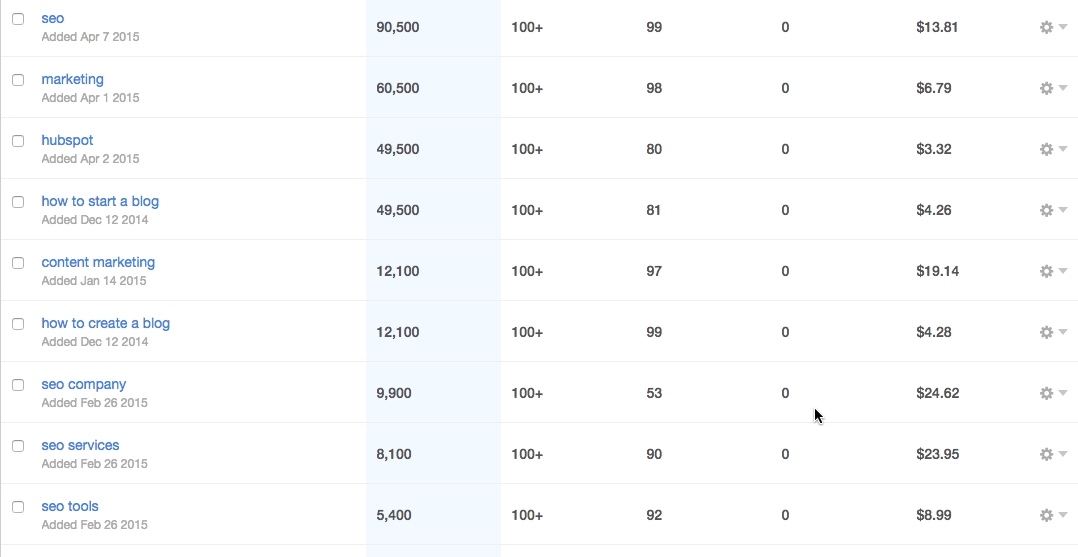 There is a lot we can learn from HubSpot's Keywords Tool. Being a central repository for all of your keywords, this tool provides you with important data such as monthly search volume, difficulty, and rank. This information is pretty straightforward, and is easily digestible. There are, however, a handful of insights you can learn from this tool that are just below the surface. This blog will walk through some helpful, new ways to look at the keywords tool and offer some additional guidance on keyword strategies moving forward.
A Deeper Dive into Keywords
At first glance, the keywords tool is a pretty standard data table. When working in this application, you can adjust the columns to display the information most valuable to you. The standard view usually shows rank, monthly search volume, and difficulty. What many HubSpot users do not know is that there are additional keyword lists available, with preset criteria. To access these, simply click the "All Keywords" drop-down at the top, and notice four new lists available. Each one of these displays your keywords in such a way that you can't help but learn something new.
Low Hanging Fruit: The "ranking opportunities" option in this dropdown is designed to show you keyword opportunities that are within reach. As you can see in the lower-right corner, the criteria is: 1) rank is greater than 10, 2) rank is less than 70, and 3) difficulty is less than 70. To explain this in more detail, this is a list of keywords that you are ranking between pages 2 and 8 in Google with a difficulty score of less than 70. These keywords can be seen as great ranking opportunities that are within reach. Each month, make sure to look at this list and identify which keywords we want to improve on and incorporate those into your monthly blogging calendar.

Conversion Path Ideas: The second drop-down item is "conversion opportunities". This list is made to give you ideas of where you can improve conversion paths stemming from particular keywords. The criteria for this set of keywords are 1) visits are greater than 10, 2) searches are greater than 1,000, and 3) contacts are equal to 0. The thinking behind this is that these keywords are driving visits to your site; however have not lead to conversions this month. The best way to remedy this issue would be to add some new CTAs to these particular pages or create a new landing page or premium content offer around this phrase. Clearly you are getting quality traffic from this phrase; it's just a matter of converting that traffic into leads.

Getting More Specific: Next on this list is the "long tail opportunities" option. This list is designed to scare you away from going after these specific keywords, and instead, going more long-tail. The criteria here, as you can imagine is 1) rank is equal to 100+, 2) difficulty is greater than 70, and 3) searches are greater than 10,000. We can see here that you are beyond the 10th page in the search results, the keywords are extremely difficult, and there are more than 10,000 searches each month. Clearly, these are not the keywords you should be focusing your efforts on. Instead, let's use these to develop more specific, long-tail keywords, that have a lower difficulty and are more within reach. If you ever feel stuck in your keyword brainstorming, try consulting this list and see if any new ideas spark.

Offensive and Defensive Strategy: The final member of this list is the "competitors" tab. This is a great tool for keeping a keen eye on competitors and how they are ranking for your high-priority keywords. What this tool does is show you a table of keywords where your competitors are ranking less than 100. On this screen you are given your and your competitors' current ranking, the difference between them, as well as the monthly search volume. This is a very helpful tool when looking to either overtake your competitors for particular keywords or hold your ground if you are currently ranking well. This can be described as either an offensive or defensive keyword strategy. Make sure to look at this page often. Make note of keywords where the difference in rank is closing in, and focus your blogging strategy accordingly.
Keywords are an aspect of inbound marketing that should be revisited often. Whether rethinking your blogging strategy or conducting an SEO audit on existing pages, be sure to focus on the keywords with the best opportunities. Use this tool to keep track of all of your company's keywords, paying special attention to the additional lists mentioned in this blog.
What other ways have you used this tool to influence your blogging strategy?

About the author
Andrew Macey was formerly the Director of Sales at SmartBug and is a HubSpot alumni. He has more than 5 years experience in inbound marketing and is a graduate of the University of Vermont. Read more articles by Andrew Macey.
Subscribe to get our new blogs delivered right to your inbox
Other insights you might like