AeroFlexx
---
Structure Meets Flexibility in Liquids Packaging
Background
Liquids packaging company AeroFlexx found some success with its old website but knew that website was lacking in some areas. Its distinctly R&D vibe wasn't particularly effective for sales, so the brand was looking to make a change.

Enter SmartBug Media®. AeroFlexx approached SmartBug with the goal to transform its website into the business tool it should be, showcasing the company's expertise in the liquids packaging industry.

The change was a tall order. The new website needed to help the sales team identify qualified leads to move through the conversion funnel, which meant positioning AeroFlexx as an innovative and high-growth company, using that backbone of expertise to increase website traffic.

From a fresh slogan to an emphasis on sustainability, the new website provides visitors an inside view into the company's values, honing in on the right types of prospects to target. Thanks to helpful features such as animations, diagrams, and competitor comparisons, prospective customers can quickly see the benefits of selecting AeroFlexx for their business.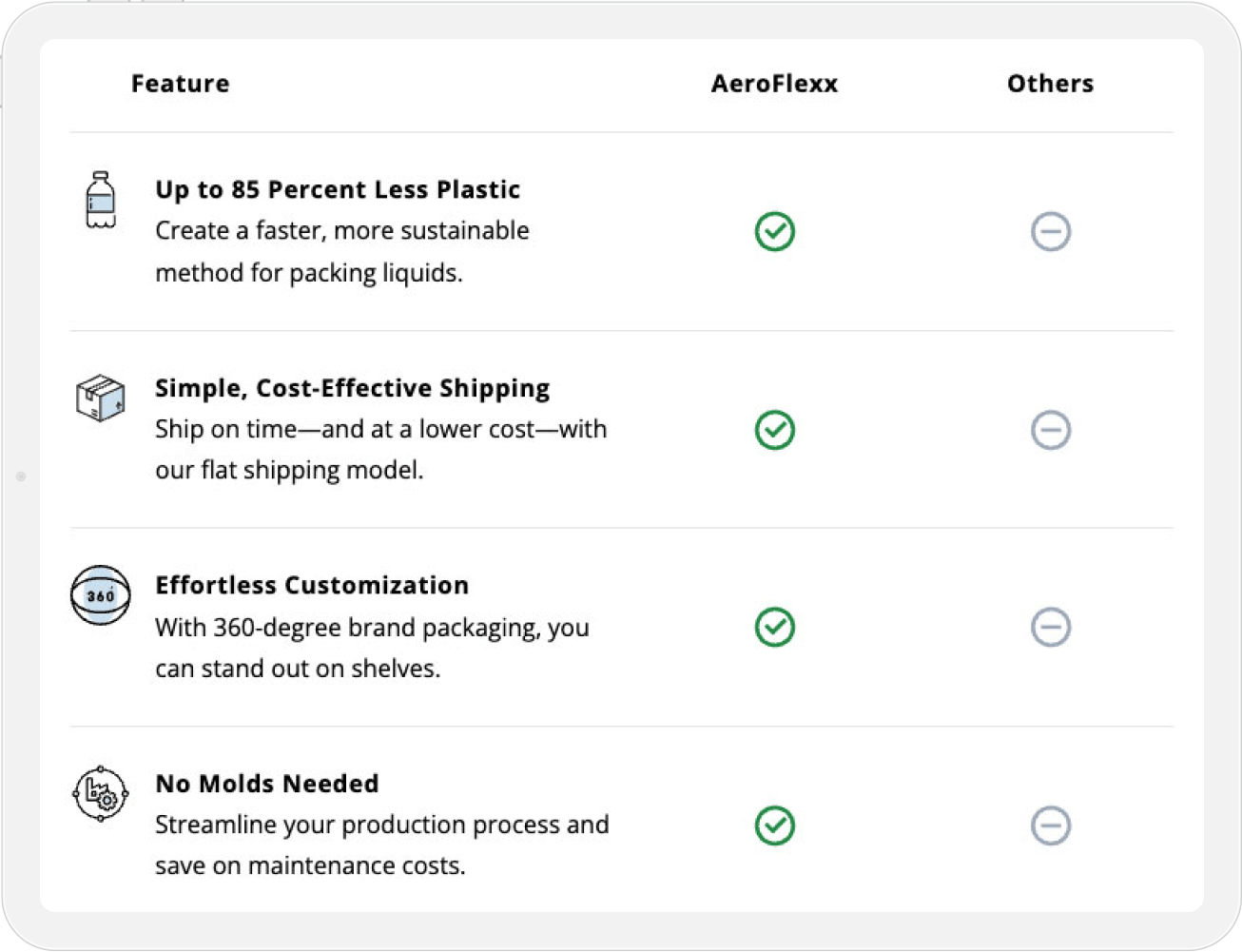 Solutions-Based Homepage Hero Animation
AeroFlexx serves a diverse range of industries with liquids packaging, an essential point of emphasis for the new website. The hero animation is a simple yet effective visual, the package design changing as users hover over each individual industry vertical.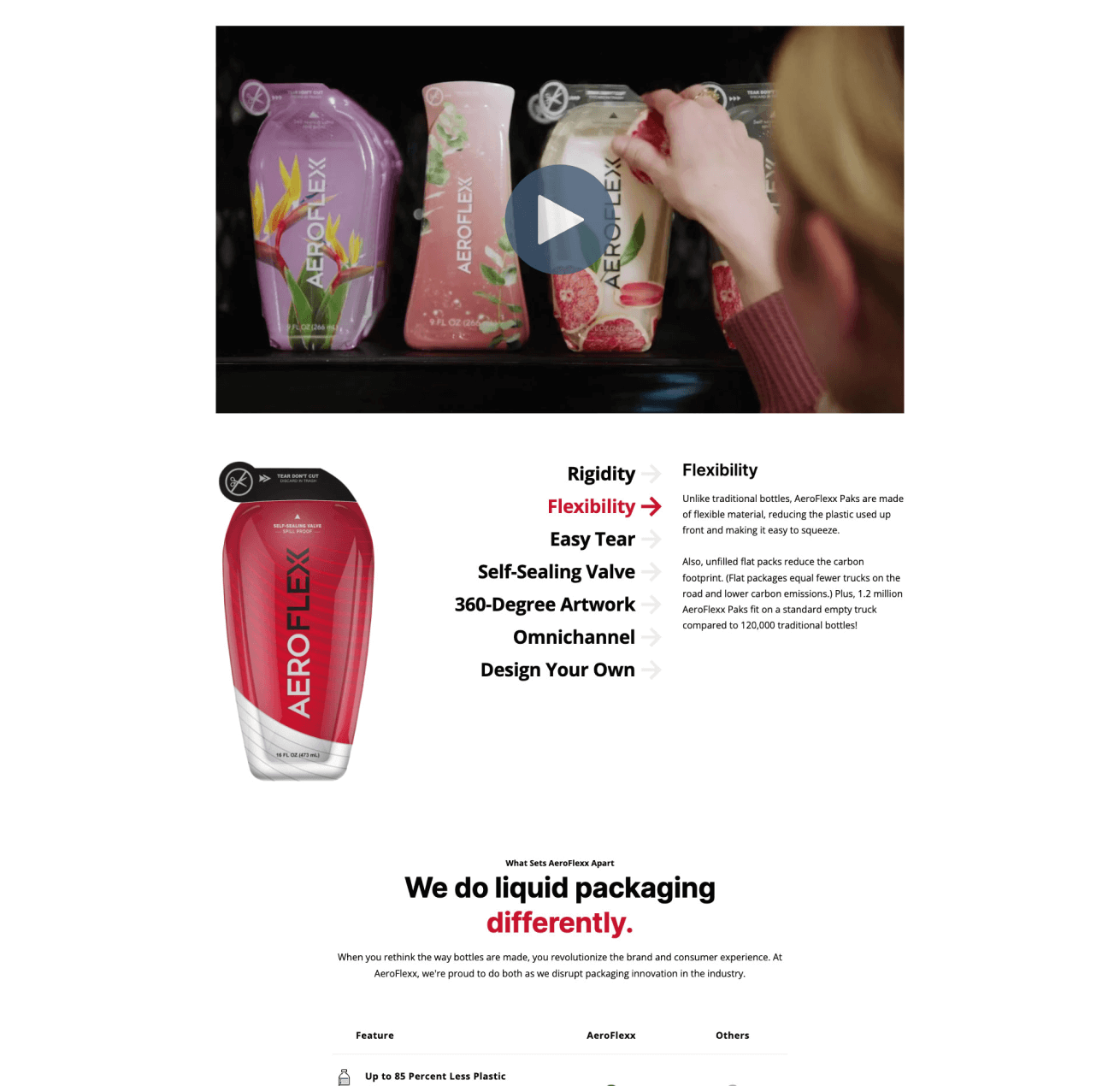 Helpful Comparison Table
AeroFlexx or the other guys? A comparison table integrates relevant icons and showcases the benefits AeroFlexx packaging offers that other liquids packaging companies do not.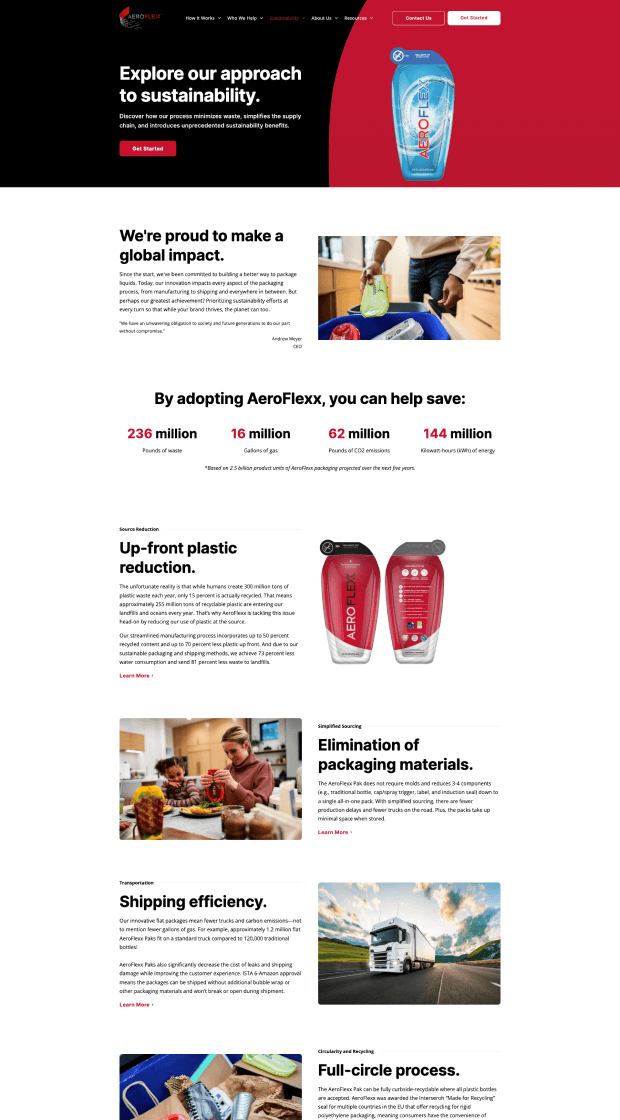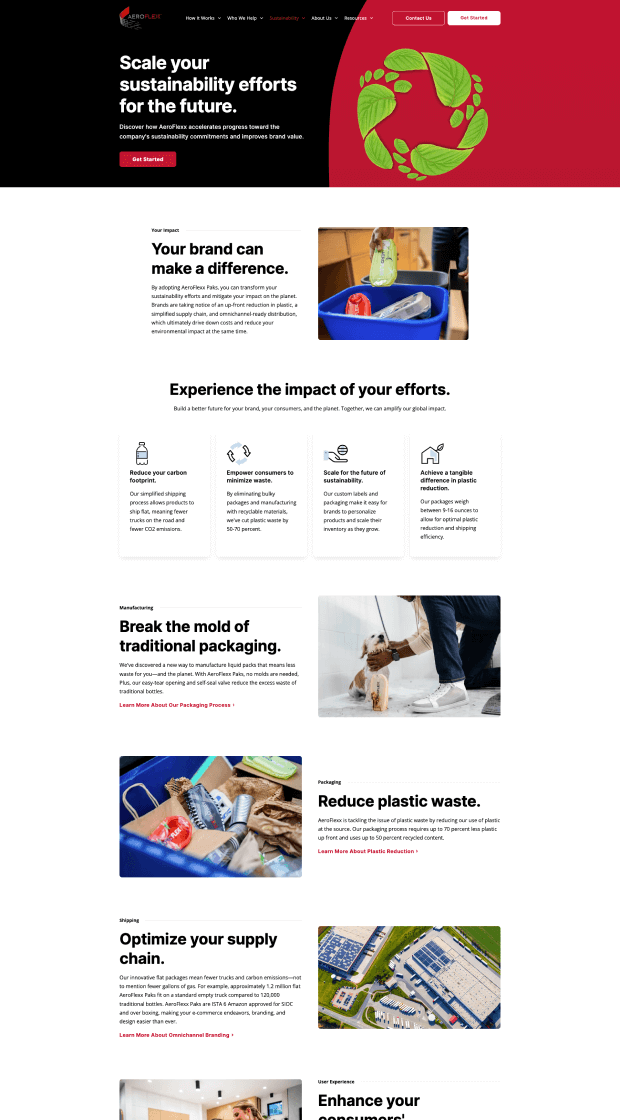 Detailed Design Diagram
Seeing is believing, so AeroFlexx offers a closer look at its packaging design. An interactive diagram provides an overview of the brand's standard packaging, with an image that changes as the user navigates. This visually highlights individual features such as rigidity, flexibility, easy-tear seal, and more.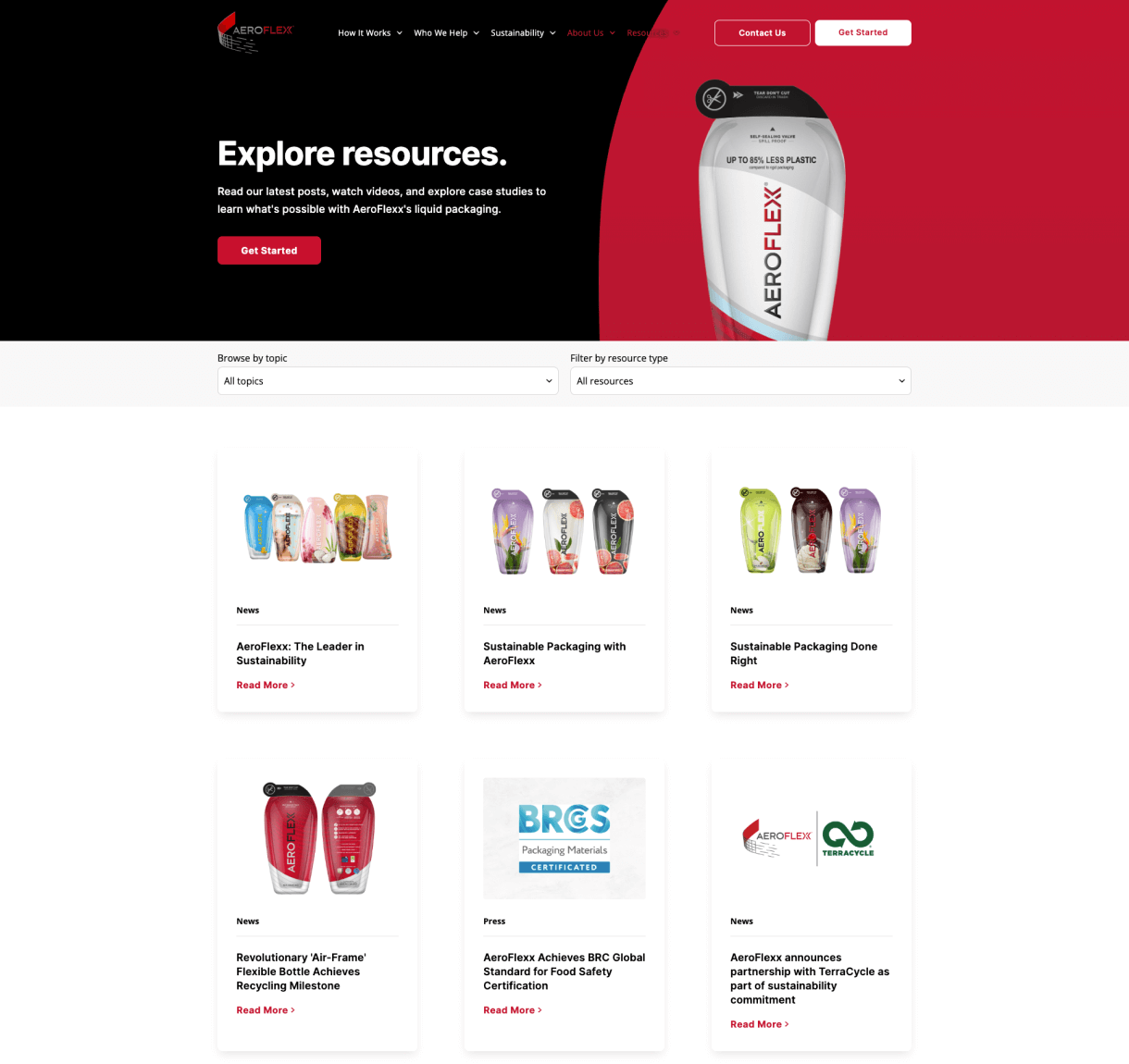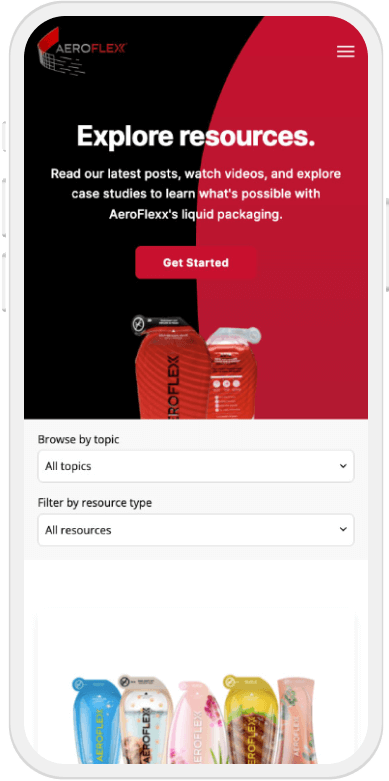 Thoughtful Sustainability Pages
The new website incorporates the brand's commitment to sustainability, with pages dedicated both to how AeroFlexx packaging drives sustainability efforts and how customers can be part of this movement. Supporting content emphasizes core benefits such as reduced waste, gas, CO2 emissions, and energy, as well as a simplified supply chain, omnichannel distribution, and lower costs.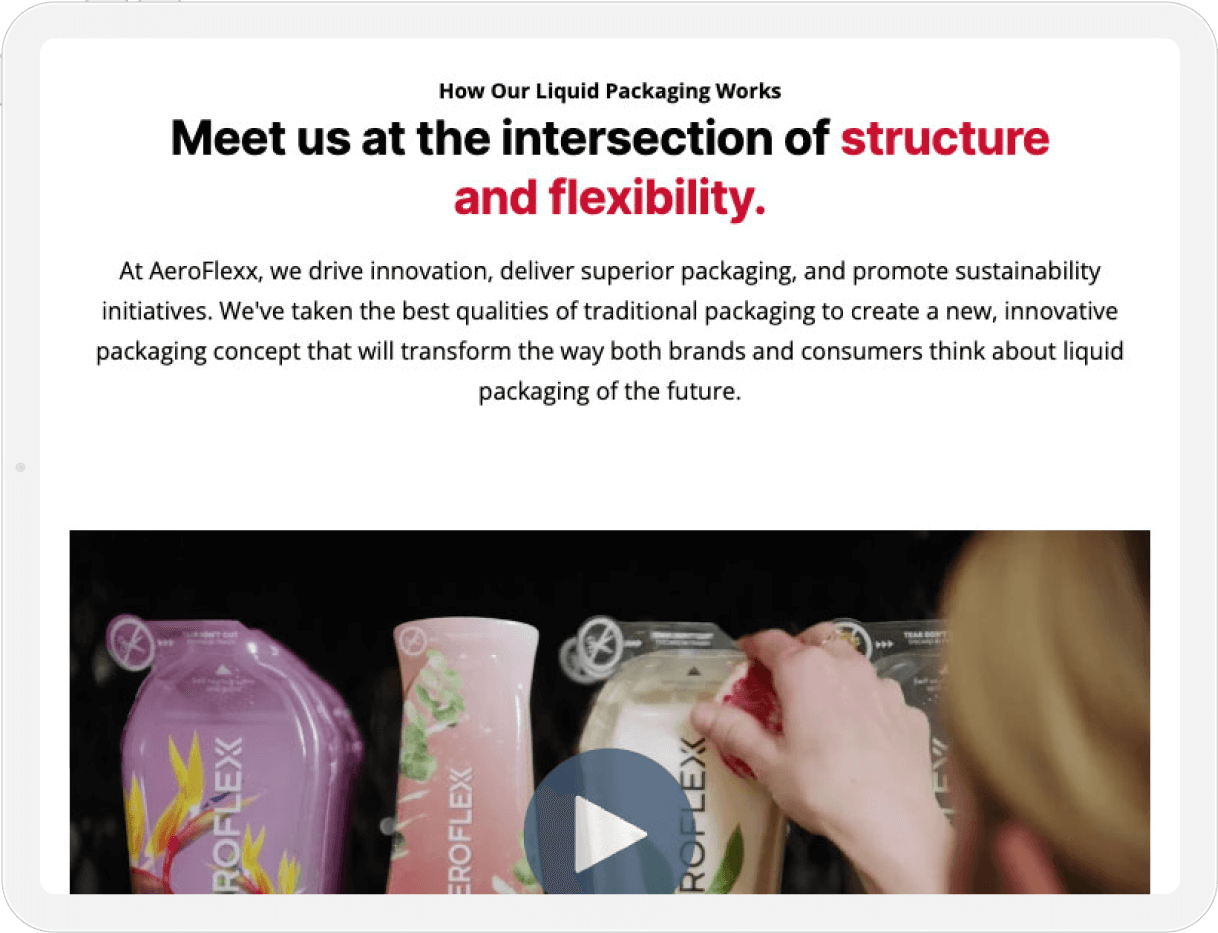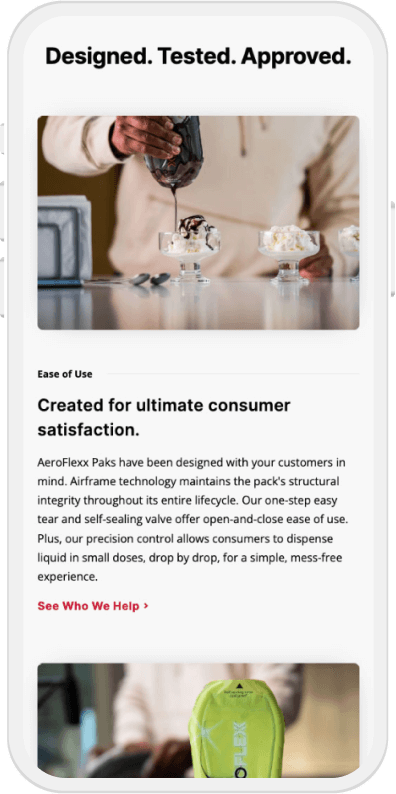 Robust Resource Library
The new resource library dedicates a space for all written and creative assets to live in one place, making it easy for users to find information. Inside, they can browse by topic for several types of content such as videos, infographics, e-books, and blog posts.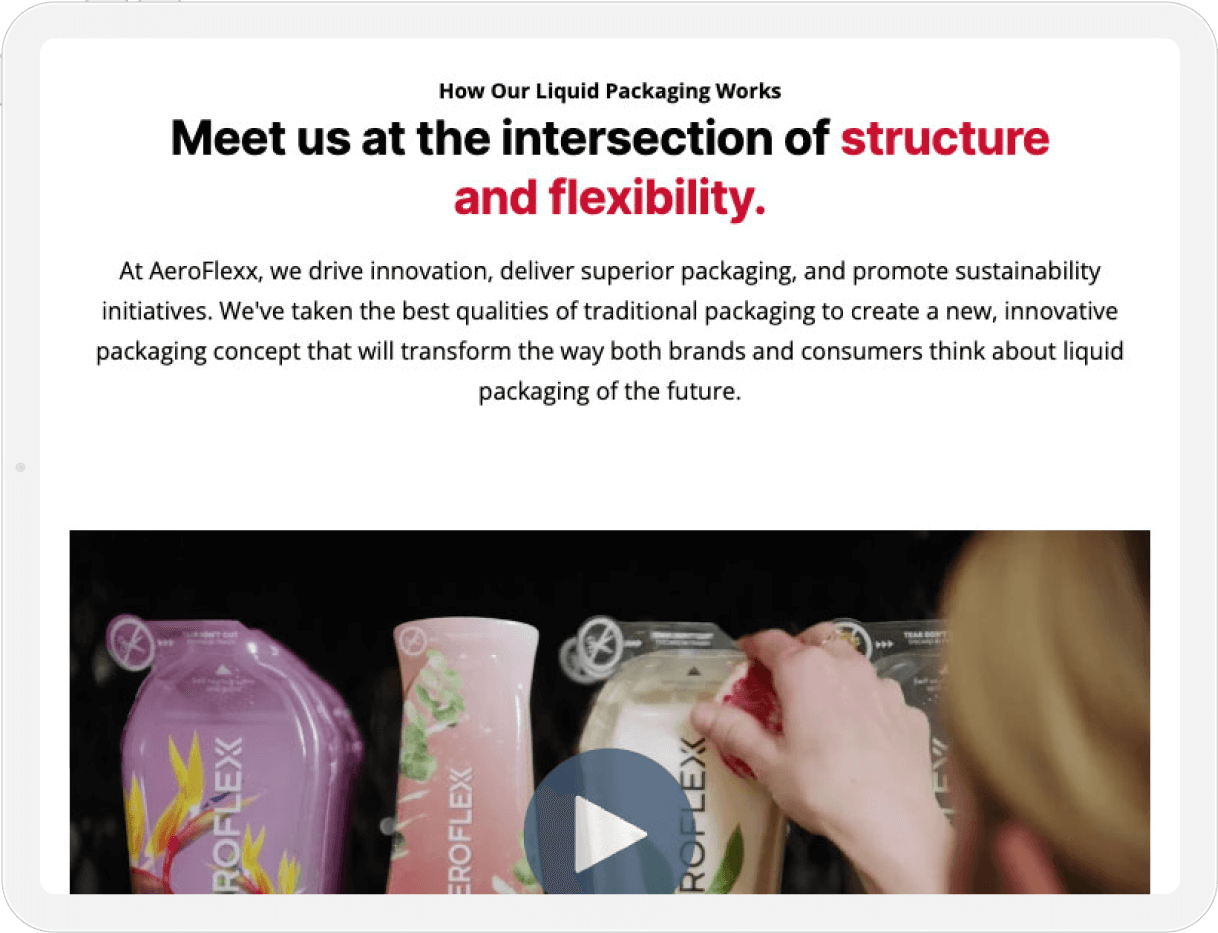 Purpose-Driven Slogan
AeroFlexx needed a slogan to communicate the heart of its business across the brand and its marketing. "Meet us at the intersection of structure and flexibility" shines a light on its commitment to innovation and quality products—all with sustainability in mind.