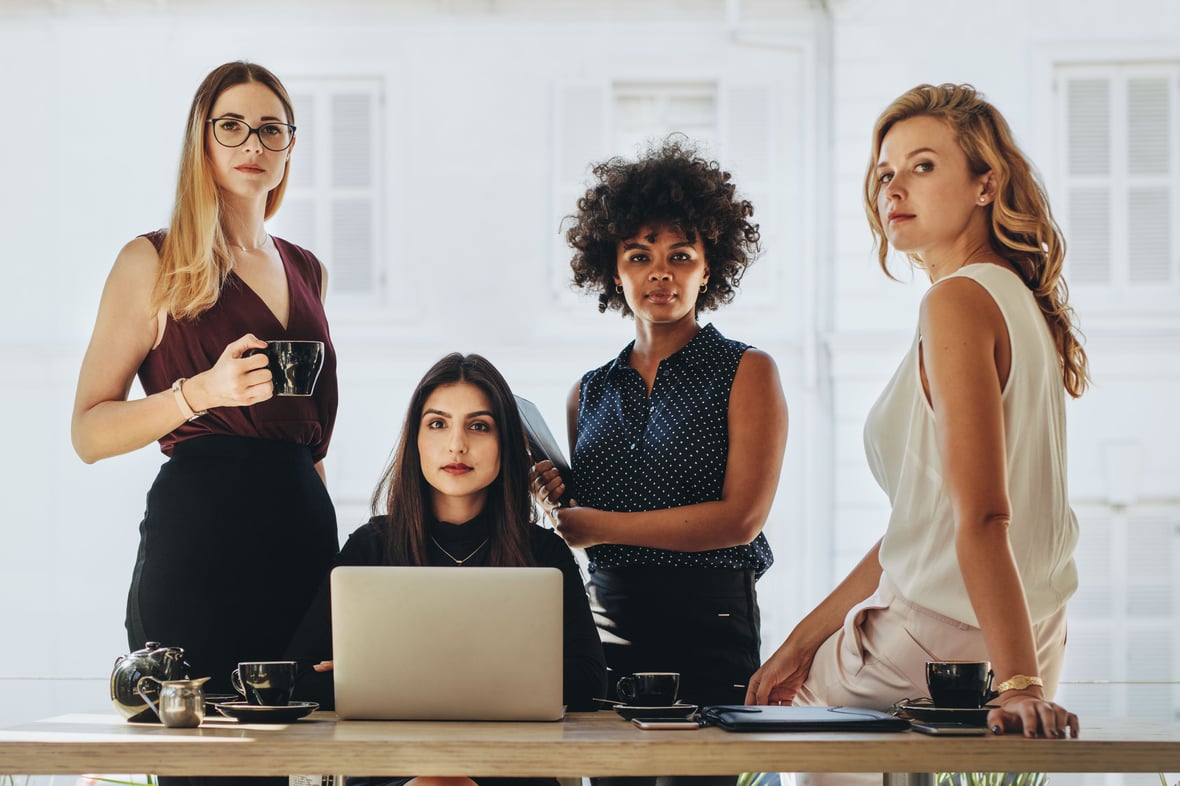 Top Resources for Women in the Workplace
December 23, 2021
---
By Ale Melara
As women, we often struggle to find gender equality in almost every aspect of our lives. Although we may be past the days when we weren't allowed to vote, we still grapple with gender inequality in the workplace.
In 2020, women earned 84 percent of what men earned, according to an analysis of median hourly earnings of both full- and part-time workers. It would take an extra 42 days of work for women to earn what men did in 2020. In addition, according to the latest Women in the Workplace report from McKinsey, despite small gains in the pipeline women are still underrepresented in the corporate ladder.


Despite the constant struggle for equality, women have found ways to make our voices heard through different initiatives that range from in-person events to online communities. We have our own virtual community at SmartBug® called #LadyBugs, where we share articles and resources—or even vent when we need to.
Last week, our #LadyBug members shared some of their favorite resources that are by women and for women, including podcasts, newsletters, and websites. I've compiled them all in this article.
Here are four of our favorite resources every woman needs in her inbox.
1. The Career Contessa
The Career Contessa is a women-run blog and newsletter that focuses on helping women feel fulfilled and happy in their careers. Advice includes everything from resume updates to professional development in your current role. There's something here for every woman trying to rock it at work!
Main themes often include:
Work-life balance
Career success
Career fit and money
"I love having a woman's perspective in these articles. The Career Contessa's team offers such solid advice because they have experience with working women with big goals in corporate America."

—Julia Tiedt, SmartBug Director of Marketing Strategy
Subscribe to The Career Contessa newsletter or listen to their podcast.
2. Ellevest
Ellevest is committed to empowering women with financial knowledge to make the best choices for themselves and their families. Covering topics from building wealth to career advancement, the Ellevest newsletter shares articles that are real, actionable, and quippy. Ellevest also hosts weekly virtual events.
Main themes often include:
Money management
Savings, investing, and retirement
Career advancement
Breaking the glass ceiling
"In a world where the majority of money is controlled by men, Ellevest inspires women to take control of their finances, educate themselves, and to start investing today."

—Jessica Vionas-Singer, SmartBug Senior Director of Client Success
Follow their social posts on Instagram, or subscribe to their newsletter What the Elle.
3. The Female Lead #CloseTheEntitlementGap
The Female Lead is an educational charity dedicated to confronting the factors that limit women's choices and fulfillment, and amplifying their voices in order to drive change and improve economic outcomes.
They focus on sharing women's voices and stories that for so long have been ignored and undervalued. Admittedly, this mission is a bit bigger than your average newsletter. The group behind The Female Lead has done extensive research, authored books, published videos, and produced podcasts. You can enroll in their leadership course, and you can see the effect of a number of different courses and events aimed at empowering millions of girls in over 18,000 schools and universities in the U.K. and U.S.
Main themes often include:
Self and relationships
Work and money
Society
Core values and themes such as "feed your passions," "stay curious," "dare to be different," "ask for help," and "find strength in setbacks"
"So much of what The Female Lead stands for inspires me on a daily basis. I look to this brand for motivation and drive on a personal level, to help me be the best leader I can be for my team, family, and friends. I also recognize the force they have in society to create important, historical change. The Female Lead is a force to be reckoned with. It's so much bigger than the tangibles like their newsletter and Instagram. The force behind The Female Lead are the millions of female voices they give light to."

—Hannah Shain, SmartBug Director of Marketing
Follow them on Instagram, subscribe to their newsletter, or listen to their podcast, The Making Of ….
4. Betches
This one is just for fun. Betches is a female-founded and led media and entertainment brand that provides a space for all women to get real about life—funny, honest, and unfiltered.
"My absolute favorite way to unwind from a long day or stressful week is with a big glass of red wine and a bowl of popcorn. And of course the trashiest, most ridiculous reality TV show I can find for that week.

Betches came to me after years of being a huge fan of The Bachelor/Bachelorette franchise. If you watch this show, you must subscribe to The Betches' weekly column "The Best Bachelor(ette) Recap You'll Ever Read." You're in for a good (like belly-aching good) laugh, which sometimes is all we need to make for a great week."

—Hannah Shain, SmartBug Director of Marketing
Tune in on their Instagram, subscribe to their newsletter, or listen to their podcasts.
Feeling Inspired? Here's What's Next.
With technology and the ongoing rise of women-led online communities, we have the possibility to do more and be more.
Our #LadyBugs are constantly staying up to date with the latest insights about anything and everything related to women's careers, especially in the marketing space. If you'd like our help finding resources or tips, don't hesitate to reach out.
Also, SmartBug is hiring and looking for strong women to join our team—especially women who are ready to empower each other and help each other grow, personally and professionally. Check out our open positions.

About the author
Ale Melara is a Sr. Content Marketing Manager based out of El Salvador, Central America. Ale is our very first LATAM employee. She's worked remotely for the past 5 years and she's had different roles in sales and marketing. In her free time, she works on creating educational videos around digital marketing for her "Inbound Nomad" social accounts where she promotes traveling the world while being a full-time marketer. Read more articles by Ale Melara.
Subscribe to get our new blogs delivered right to your inbox
Other insights you might like