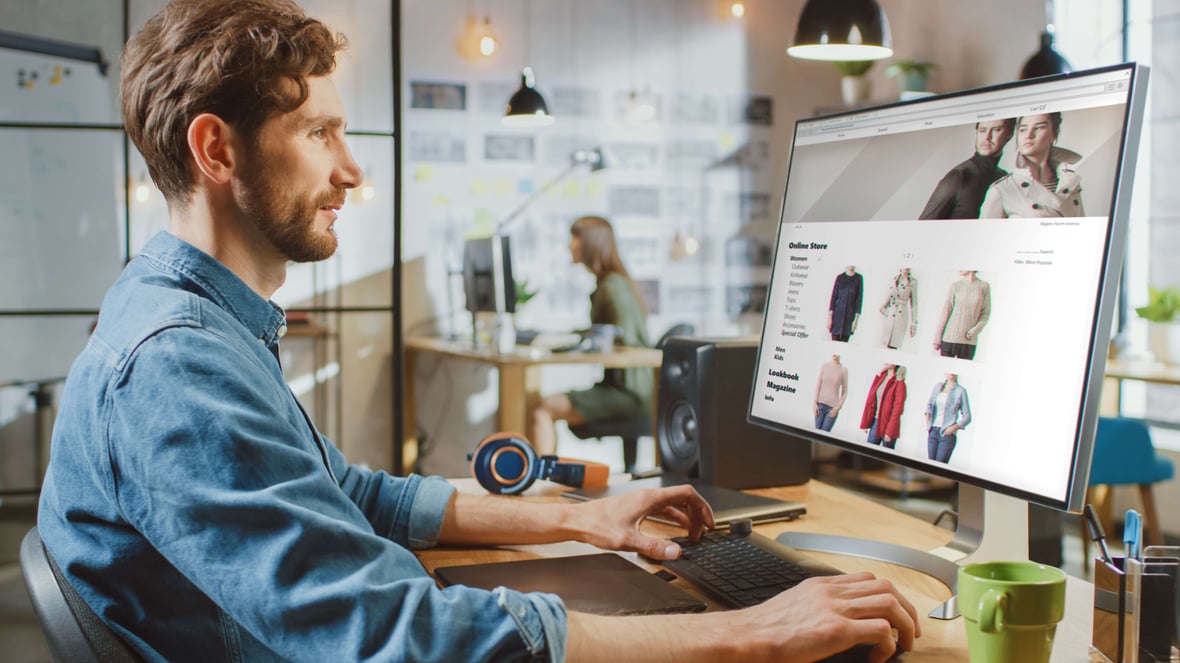 By Kira Renee
Whether you're starting from scratch or looking to refresh your existing store, custom Shopify themes are an essential component of building a successful online shopping experience. With the right Shopify theme, you can create a seamless, intuitive customer journey that translates into increased sales and higher customer retention rates.
What Is a Custom Shopify Theme?
A Shopify theme is the backbone of your store's online presence. It encompasses everything that defines your store's look and feel, from the layout and design all the way down to the content and apps you use. Essentially, it's everything your customer sees when visiting your store.
To stand out in a crowded marketplace, you'll want to create a unique, professional theme that perfectly represents your brand and sets you apart from your competitors. This means customizing the front end of your store with coding, content, and apps that showcase your products and make it easy for customers to navigate and make purchases.
Pros & Cons: Pre-Built Shopify Theme vs. Custom Shopify Theme
A premade theme offers the convenience of being quick and easy to set up, and there are various options to choose from. However, it also has its limitations in terms of customization and uniqueness. A custom Shopify theme, in contrast, offers the freedom to fully express your brand's personality and tailor the website to your specific needs. Of course, this comes at a higher cost and longer development time.
Ultimately, the decision comes down to your business goals and budget. Consider your brand's image and unique needs, and weigh the pros and cons of both options before making a decision. Not sure what those pros and cons are? We've got you!
Pre-Built Shopify Theme Pros
👍 You can get started quickly.
With a premade theme, all you need to do is install the theme and start adding your products. This is a great option if you're just getting started with Shopify or if you don't have the time or budget to invest in a custom design.
👍 You can save money.
Custom designs can be very expensive, and if you're on a tight budget, a premade theme can be a great option. Additionally, many premade themes come with a variety of features and options that you would otherwise have to pay for if you were to go with a custom design.
👍 You have a wide selection to choose from.
When it comes to premade Shopify themes, you have a wide selection to choose from. There are literally thousands of themes available, so no matter what type of store you're looking to create, you should be able to find a theme that fits your needs. Plus, if you're not satisfied with your current theme, it's easy to switch to another one without losing any of your data or settings.
Pre-Built Shopify Theme Cons
👎 You get limited customization options.
Although you will be able to change some of the colors and fonts, you won't be able to make major changes to the overall design or layout of the theme. This can be problematic if you want your store to have a unique look and feel to match your branding. It also limits your ability to optimize design for user experience or conversion rate optimization.
👎 The themes can be outdated.
Another downside of using a premade Shopify theme is that many of them are outdated and no longer reflect the latest trends in e-commerce design. This old-fashioned vibe can make your store look dated and could turn off potential customers, especially if it doesn't match your brand.
👎 Poorly coded themes can cause problems.
Finally, it's important to note that poorly coded premade Shopify themes can cause a number of problems for your store, including slow loading times, security vulnerabilities, and compatibility issues. Be sure to do your research before selecting a theme to ensure that it is well-coded and compatible with Shopify's platform.
Custom Shopify Theme Pros
👍 Stand out from the competition.
With so many stores using Shopify, it's important to find ways to make yours stand out; otherwise, you run the risk of your store looking like everyone else's. A custom theme can help you set yourself apart by giving your store a unique look and feel that's consistent with your branding.
👍 Custom themes are fully optimizable.
The goal of any online store is to make sales, and a custom theme can be designed with that goal in mind. By optimizing your store for conversion, you can increase your chances of making sales and generating revenue.
👍 You get more features and functionality.
When you use a custom Shopify theme, you can add more features and functionality to your store than you would be able to with a premade theme. With a custom theme, you can add any type of functionality you want, including social media integration, customer reviews, and more.
👍 Your branding will be cohesive.
If you want to use a premade Shopify theme but want to make sure it matches your brand, you'll likely have to go through a lot of trial and error to get it right. With a custom theme, you have complete control. When you choose a custom theme, you'll work with a designer to ensure your theme perfectly reflects your brand identity.
👍 Custom themes offer better SEO.
If you want to make sure your store is as search engine-friendly as possible, you'll want to use a custom Shopify theme created with SEO in mind. This way, you can be sure your store is optimized for search engines from the start—and without you having to put in extra effort.
Custom Shopify Theme Cons
👎 You'll pay more up front.
Custom Shopify themes require more of an initial investment than premade themes do, which could be an obstacle for businesses on a budget. Of course, it's important to consider the above pros compared to the pre-built theme pros and decide what will meet your brand's needs now and in the long term.
Am I a Good Fit for a Custom Shopify Theme?
When it comes to building an online store, choosing the right theme can make all the difference in delivering a seamless and aesthetically pleasing shopping experience for your customers. As you've read, both options have their merits. However, in our experience working with many clients, we've observed that a custom Shopify theme is often the best choice. Custom Shopify themes provide a wealth of benefits that can significantly impact your store's performance and conversion rates. The personalized design, performance optimization, and SEO benefits make it an ideal choice for those looking to maximize their online store's potential.
That said, we understand that some businesses may be operating under tight deadlines or budget constraints. In such cases, a pre-built Shopify theme may be the most viable option. Pre-built themes can still offer a decent level of customization, as noted above, and they are generally more affordable and quicker to deploy than custom themes.
For those who want the best of both worlds—a custom Shopify theme with a faster turnaround time—our team can work with you on the design in phases. This approach allows you to launch your site with essential features in place while we continue to refine and enhance the design based on your feedback and evolving needs. This way, you can reap the benefits of a custom theme without compromising on your timeline.
Regardless of your choice, our team of Shopify experts is here to guide you through the process every step of the way. If you want to learn more about partnering with our SmartBug team to create a beautiful Shopify store, book a call with us!

About the author
Kira Renee Kira is our E-Commerce Product Marketing Manager at SmartBug. She believes in a people-first and data-driven marketing approach. Previously working with many reputable e-comm brands, building their online brand presence and teaching companies how to enhance their marketing strategy to be customer-centric. When she's not creating a stellar marketing strategy, you can find her enjoying a crisp sour beer surrounded by her hundreds of plants and receiving cuddles from her Labradoodle. Read more articles by Kira Renee.
Subscribe to get our new blogs delivered right to your inbox
Other insights you might like