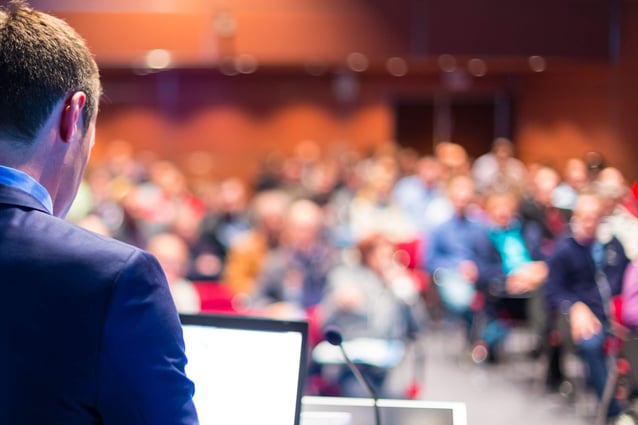 In a perfect world you'd rent out a jet and bring all of your employees to every inbound marketing conference that piques your interest. But, unfortunately that is not a realistic approach.
In order to help you narrow down who on your marketing team should be attending these conferences, we've put together a list of things you should look for when choosing which employees should be chosen to attend on behalf of your company.
Key Decision Makers and Team Leads
This one seems like an obvious choice ... those from your team who are key strategists for your organization or are team leaders will get a lot out of attending inbound marketing conferences. At these conferences they can get useful ideas and new skills to implement within your company that can be beneficial to your bottom line. They have the senior-level skills to absorb all of the information learned and will pass it on to the rest of your staff in a clear and concise way.
Be sure to send them off with a clear list of business goals and expectations you have for them when attending the inbound marketing conference. You want to make sure you are all on the same page; otherwise, attendance can be a waste of time and money for all of those involved.
Top-Performing Junior/Mid-Level Marketing Employees
Bringing one or two junior to mid-level employees to an inbound marketing conference will provide them with a great opportunity to sharpen their inbound marketing skills. Choose employees from this group who are high performers and are dedicated to the job. This is a great way to show them that all of their hard work isn't going unnoticed.
If you do choose to bring a junior/mid-level employee along with your key decision makers, not only is this a great way to form a deeper connection with your colleagues, it is also an effective way to divide and conquer the conference. Before they depart, have them look through the conference agenda so they can separate out who goes to what seminar or class. Get the most for your time and money by having them attend most sessions separately.
Additional Tips to Make the Most out of Inbound Marketing Conferences
Now that you have a general idea of who to send to these inbound marketing conferences from within your company, try to follow these tips:
Rotate who goes each year.
Make sure the same people from your team aren't going every year. Spread the wealth and get fresh eyes and ears in these inbound marketing conferences. New perspectives are always a good thing, and your employees will thank you for your fair approach.
Present and inform the employees who stayed back.
Regardless of who attends, make sure they take many, many notes and recordings if possible. Then after they return and are settled in from the conference, have them report back to the company their learnings and ideas for improvement. Depending on how lengthy the conference was this can be broken down into a few presentations. In order for them to be best prepared for this, let them know this is a requirement before they attend. The goal is that everyone from your company can learn what those who were chosen to attend the conference did. Inbound marketing knowledge is power.
How does your organization make the choice on who gets to attend inbound marketing conferences each year? We would love to hear from you!