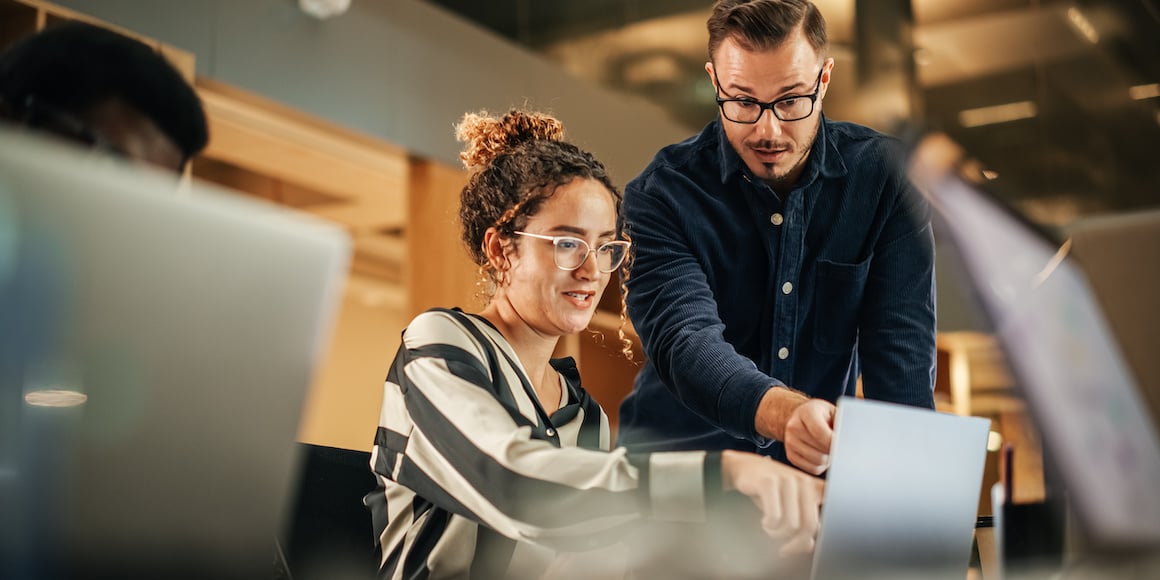 At one point or another, every marketer, agency, business owner, and inbound enthusiast has asked this question: "How much of my organic search traffic should really be converting into leads?"

This question has good reasoning behind it: Organic visit-to-lead conversion rate is a great benchmark of inbound success, not to mention that leads obtained from inbound activities (such as organic leads) are generally known to have much higher closing or conversion rates than their outbound counterparts.
So what is a "good" visit-to-lead conversion rate for organic search traffic? Before we look at the numbers, let's make sure we're on the same page with the definitions of the important terms around organic traffic and what they mean for conversion.

What Is Organic Search?
Organic search results are the listings that display on a search engine results page (SERP). These are unpaid search results that do not include pay-per-click advertising, and they are influenced by three main factors as described in Search Engine Journal:
Relevancy: How relevant the site content is to specific search keywords
Discoverability: How easy it is for the site to be crawled and indexed by search engines
Authority: How trustworthy a site is (this could be based on brand awareness, legitimate backlinks, and more)

Organic Search Leads to Organic Traffic
Organic traffic is the outcome of organic search results and occurs when visitors click through to your website after searching for a keyword you're currently ranking for. Upon searching for that term on a search engine like Google or Bing, users who click on a link that appears on that SERP and then visit your website are considered instances of "organic traffic."

Organic Search vs. Paid Search
What is the difference between organic search and paid search? It boils down to one main difference: cost.
Paid search requires initial and ongoing maintenance costs and is usually benchmarked by cost per click, or amount spent per website visit.
If paid advertising provides immediate results, organic search strategy is the long game—organic traffic is known to be more effective for return on investment (ROI) in the long run.

Other Types of Traffic
Don't forget about the other types of traffic besides organic and paid search:
Direct: Traffic source is unknown
Email: Traffic source is from email marketing
Social: Traffic source is from social media
HubSpot's Web Traffic & Analytics Report found that a breakdown of website traffic sources for 2022 was as follows:
Direct: 22%
Organic Search: 17%
Social: 16%
Email: 14%
Display Ads: 12%
Paid Search 9%
Referral 9%
Other 1%
Organic search is often the first source of a website visit and is a significant driver of moving traffic down the conversion funnel at each stage of the buyer's journey. So how do organic search strategies provide return on investment (ROI)? Let's get into conversion.

Organic Search Lead Conversion
The term "lead" can actually refer to three different things: sales qualified leads, marketing qualified leads, and plain old leads. These last leads may be people who have filled out a non-specific form on your website a while back but haven't been very active recently. For our purposes, a lead is anyone who has provided their email address on a website form, at the very least.
A conversion rate focuses on a visit-to-lead ratio, or the percentage of website visitors who fill out a form and convert into, or become, a lead.
When it comes to conversion rate statistics, it's important to keep in mind that specific conversion rates can vary considerably year over year depending on a number of factors, including the following:
Industry
Website size
Your site's appearances in search engine results
The number of landing pages
And more ...
So what's the general number we're looking for? The answer is hard to pin down—it's actually subjective. Back in 2013, the percentage of organic search that should be converting into leads was a huge 16 percent.
Fast-forward a decade later, and that percentage has dropped drastically. It still varies by organization and by industry, but the current benchmarks hover on average anywhere from 2-5 percent.
Breaking this down by industry, one study found the following organic traffic conversion rates (form fills) had an average conversion rate of 5 percent across industries. Here's a snapshot of the some of the average conversion rates:
Professional Services: 12.3%
Industrial: 8.5%
B2B Services: 7%
B2B Tech: 1%
B2B eCommerce: 3.5%
Travel: 3.5%
If your numbers aren't much similar to the averages listed above, don't be surprised. Many factors can influence average organic traffic conversion rates. Let's explore a few of the most common factors that affect these conversions.
Factors That Influence Organic Traffic Conversion Rates

1. Your Location on the Search Engine Results Page
Potential customers are likely searching for products or solutions like yours, but whether or not they find your specific site (and become a lead) depends on where you appear in search engine results.
Research from Smart Insights found that on Google, 30 percent of organic clicks go to the No. 1 position, 17 percent of organic clicks go to the No. 2 position, and 12 percent of organic clicks go to the No. 3 position. Numbers continue to fall off the farther you get from the top three spots on the results page—so if you're not listed on the first or second page for a specific keyword, chances are you won't see big traffic or leads numbers for that term.


2. Your Industry
Certain industries see lower average conversion rates for various reasons. For example, products or services with a long sales cycle that are targeted to a very niche market or have very high price points may see lower conversions from organic traffic.
However, some of these reductions in conversion rates can be offset by our next factor in visit-to-lead conversion rate.


3. The Quality of Your Content
Successful inbound marketing—visits, leads, customers, and so on—isn't just about having content. It's about having the right content that answers your personas' questions, speaks to their interests, and guides them through their own, specific buyer's journey.
If you want your content to increase your organic visit-to-lead conversion rate, there are three things that must be true:
First, it must be optimized for the right keywords so it can be found via organic search.
Second, it must speak to the specific needs and interests of that user. This means it should answer the questions they have at the beginning of their buying process and ideally at the awareness stage.
Third, it must include a CTA for a follow-up offer that is directly related to the piece of content and would be of interest to someone who wanted to learn more about this topic.


4. The Number of Website Pages You Have
The more website pages you have, the more likely your site will be found via organic search.
Blogging is one of the best ways to increase the number of pages your site shows and to get rankings for those pages. Because each post you write becomes its own webpage, a regular blogging schedule can easily translate into exponential growth for your site's internet footprint.
According to HubSpot, companies that blog 15 or more times per month get 5x more traffic than those that don't blog; companies that increase from blogging 1-2 times per month to 9-15 times per month get double the leads.

5. The Number of Landing Pages You Have
It should be no surprise that having more landing pages makes it more likely that your website visitors—regardless of where they originate—will convert from visitors to leads. In fact, companies often see a 55 percent increase in leads when increasing landing pages from 10 to 15. If your lead conversions are down, check out this article for some quick tips to increase them.
Many factors contribute to a website's organic search traffic conversion rate, but a strong marketing strategy and content plan is one of the best ways to help you continue to grow your lead conversion.
Don't forget to continue to audit and evaluate your organic search strategies quarter over quarter to see what's working—and what's not—t0 best drive business growth.
This post was originally written on June 10, 2016, and has been updated since.

About the author
Christopher Hutchens was formerly an E-commerce Marketing Strategist at SmartBug Media based in Salt Lake City. Originally from Chicago, Chris graduated from Mizzou and worked in Columbia, Missouri as an interactive project manager for five years before coming to SmartBug. Outside of work, Chris loves to travel, snowboard, and play/watch basketball. Read more articles by Christopher Hutchens.
Subscribe to get our new blogs delivered right to your inbox
Other insights you might like