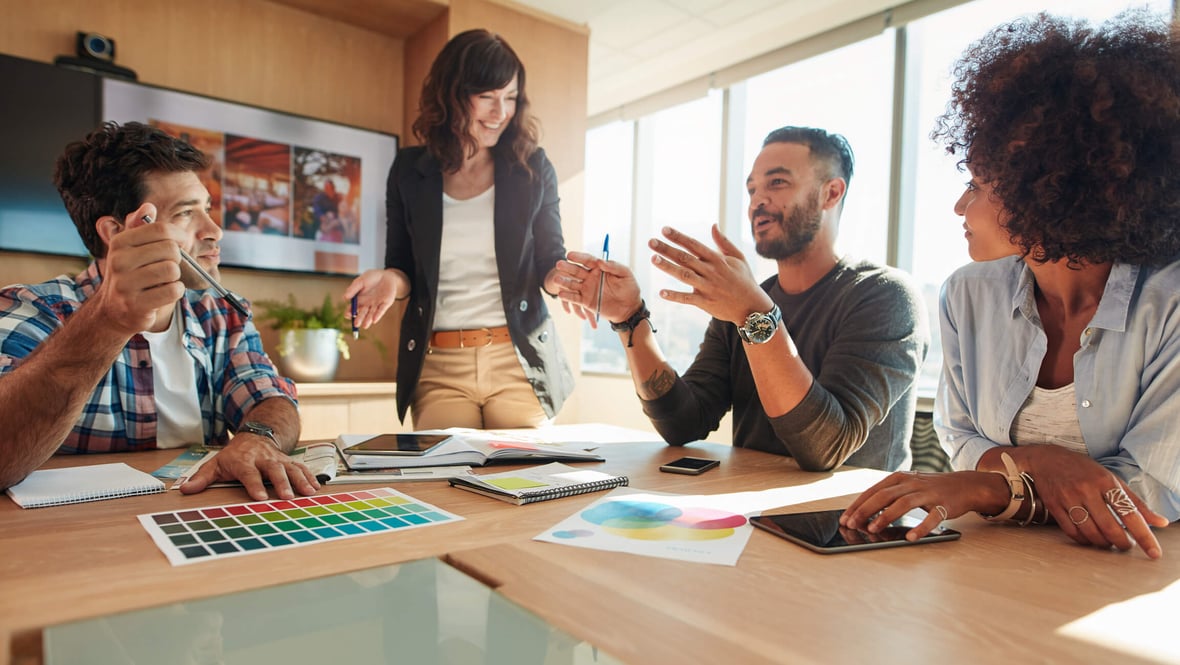 What Is Velocity Scripting? & How Can Marketers Use It?
February 17, 2021
---
You know your marketing content needs to grab a lead's attention, but do you have the right tools to craft an ultra-personalized experience? That's where Velocity scripting can take your marketing efforts to the next level.
With Velocity scripting, you can create dynamic content within your Marketo assets that reaches beyond simple segmentation and drives those one-on-one experiences that inspire action.
Wondering what this script is all about? In this article, I map out what Velocity scripting is, and how your marketing team can use it to create dynamic content that converts leads.


What is Velocity scripting?
Velocity scripting is a scripting language that marketers can use to craft dynamic content. The language is rooted in Java and lets you control HTML content. At a high level, Velocity scripting works in two ways:
You can use it to generate source code.
You can integrate it with other systems.
Velocity scripting in Marketo will pull field values directly from your Marketo Database and let you feed those details into your dynamic marketing content. That way, the language acts as your token in your block of content.
Who is Velocity scripting for?
You may be wondering, "Why can't I just use Marketo's Dynamic Content feature to create personalized messages?" The answer: You can!
Velocity scripting provides an HTML-based alternative to this popular feature. That means you have more control over your tokens. The most common instance where you'll want Velocity scripting as an alternative to the Dynamic Content feature is when you need to go beyond "either/or" scenarios.
For instance, let's say you run a pet care company that offers products for a range of pets. Your lead owns cats and dogs, so they express interest in multiple topics. Beyond that, you give them the option to explore multiple product areas, such as healthy diet tips, pet grooming advice, and adoption best practices. With simple segmentation, it may be difficult to send that lead a personalized follow-up email, because creating segments for each topic and product area might be time consuming or overly complicated.
Here's where Velocity scripting saves the day.
By setting up some basic Velocity script, you can send follow-up details to the lead about the topics they expressed interest in. That way, they're getting the personalized experience they want without being hit with extra info they don't care about.


How can marketers use Velocity scripting?
When it comes to Velocity scripting in Marketo, Script Tokens let you build personalized messages. As a marketer, it gives you the freedom to control the personalization tokens you drop into your content. Here are a few instances where Velocity scripting is especially useful for marketers:


Send Dynamic Emails
Velocity scripting lets you weave personalization tokens into HTML emails. That way, you can pull values straight from your Marketo database and feed them into your marketing messages. This can dramatically lift your conversion rates. In fact, 80 percent of consumers say personalized experiences make them more likely to buy from a business.
Now, you could use segmentation to give leads a personalized experience, but Velocity scripting provides a work-around for those instances when you don't have segments set up. For instance, if you want to promote content after a webinar, it may be inconvenient to create a whole separate segment for those who attended and those who didn't.
Velocity scripting lets you drop that dynamic content into your emails and landing pages without having to muddy your system with extra segments.


Create Promo Codes
Velocity scripting also is an easy way to create promotional codes to attract more leads and convert more sales. This scripting opens the door to random number generators that you can use to build out those promotions that catch your potential client's eye.


Tailor Orders to Your Customer
To drive more repeat business and higher reviews, you'll want to spark positive interactions at every stage of the Buyer's Journey. That means delighting the customer even after they've made a purchase.
Velocity scripting helps you do this by giving you more control over transactional emails. This feature lets you create dynamic emails that include personalized order and product content. The advantage? You can give individuals a unique experience without creating messages one by one.
For instance, let's say you are a marketer for a postal company. You could have hundreds of orders for a similar product, but need to create a unique tracking number or delivery date for each user. With some simple coding, you can build that personal experience into your emails.


Become a Marketo marketing master.
Utilizing Velocity scripting within your Marketo assets is just one way to help you capture more leads, simplify work for your marketing team, and drive sales higher. To get the most out of your Marketo efforts, you need to dig into your team's current Marketo setup, spot any gaps in your marketing strategy, and adjust.
Ready to become a Marketo marketing pro? Try out our Marketo Audit Tool to identify any holes in your Marketo plan, see what you're doing well, and discover exactly how you can get more ROI out of the platform.
About the author
Danielle Langenderfer was formerly a Marketing Automation Manager based in Cleveland, OH. Dani provided Marketo expertise and support in everything from implementation through to strategy and execution. Outside of work, you can find Dani playing with her daughter, crafting, or cooking/baking. Read more articles by Danielle Langenderfer.
Subscribe to get our new blogs delivered right to your inbox
Other insights you might like