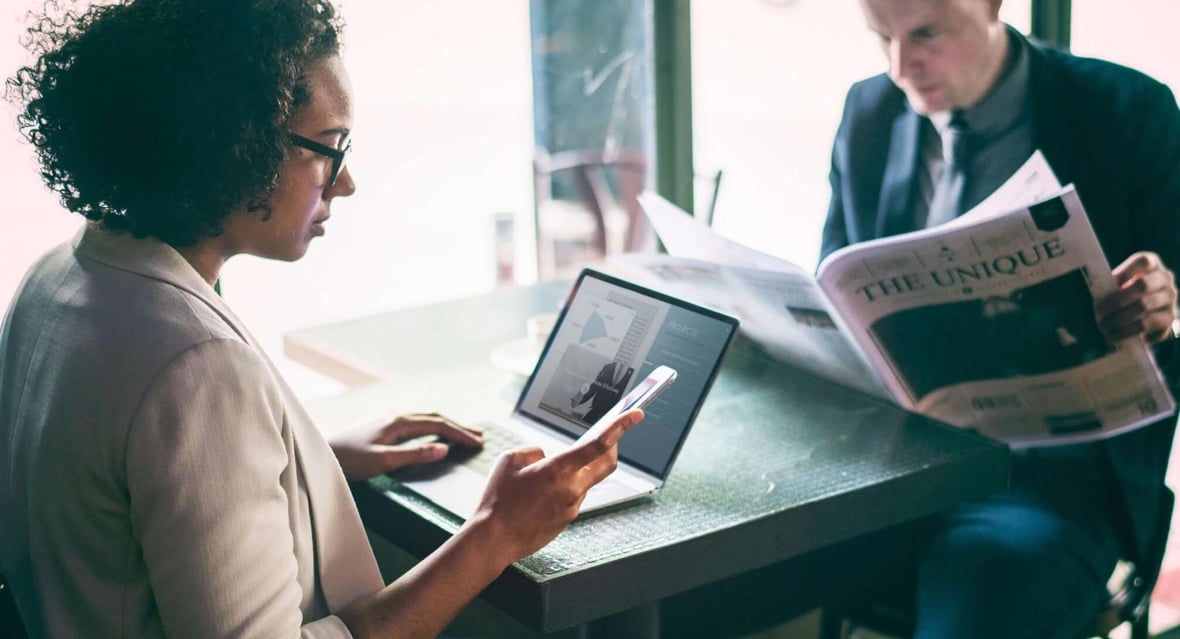 By Drew Cohen
Having personally worked with distributors in a variety of industries, I have a great appreciation for the business model and, specifically, how user-facing content can be of great value to those that work in this field. Your distributors may sell to other distributors, or they may sell to end users. Regardless of the ideal customer profile, even those that sell to other distributors are still marketing to people, and people are users.
Would you rather listen to this blog instead of reading it? Just click play below.
User-facing content answers questions and helps solve problems for end users of a particular product or service, but it also is a great way to gain trust from distributors (if they are the main customer). As with any content marketing initiative, it's critical to analyze the Buyer's Journey, but when your customer is actually a distributor, user-facing content can sometimes be forgotten—resulting in a missed opportunity for your organization.


What Is User-Facing Content?
Before we dive in any further, it is important to clearly understand what we mean when discussing user-facing content in this context. User-facing content is material that is built for the audience that ultimately uses or consumes your product or service.
Let's use a fictional large distributor of power tools as an example: Bob's Power Tools Distribution. Bob's ideal customer profile is smaller distributors that take his products and ultimately supply the end user.
You may be thinking, Why would Bob's want to create user-facing content if they sell to other distributors? The answer: Because end users are everywhere! They work at distributors, they work at manufacturing companies, retail stores, and so on. End users can be catalysts that stumble across content on the web, share it with friends or colleagues, and then reach out to open lines of communication with Bob's.
If Bob's only created content is for distributors about why distributors should work with them, the monthly search volume on those target keywords would likely not be substantial enough to gain significant traction. However, if Bob's puts more of a focus on end users and creates content aimed at solving problems, that search volume is likely much higher and will produce greater results.
Distributors Can Open a New Content Distribution Channel
With the state of marketing in 2019, establishing a strong organic footprint is critical. If Bob's is producing four to six blog posts per month, a strong strategy can be to aim some of that content at distributors (most likely more consideration stage content) and focus the remaining blog posts on end users.
Think about it: Who is most likely to Google a question about power tools? Those who use the product. Just because Bob's customers sell to end users doesn't mean that Bob's customers aren't consistently looking for information about tools. Customers of Bob's customer also are prime candidates to search for content. The flow could look something like this:
1. Bob's Power Tools Distribution creates a blog post entitled "5 Unique Features [Insert Power Tool Name] Has to Fuel Your Next Project."
2. Bob's Customer X (a distributor) sees the content and shares it on their various social networks.
Potential outcome: Additional users visit the Bob's blog and subscribe for more frequent updates.
Potential outcome: Additional users ask Customer X for information about the product discussed in the blog post, resulting in more orders for Bob's.
3. End user who is not affiliated with Customer X sees the content after a Google search of the product.
Potential outcome: End user contacts Bob's directly to inquire about purchasing the power tool. If Bob's can sell directly to the consumer, they will do so. If not, they can pass the prospect on to one of their distributors to complete the sale.
Potential outcome: End user reads the blog post and clicks on a CTA to search for distributors in their area, resulting in a Bob's customer acquiring a new, warm lead.
As you can see, these outcomes are the result of Bob's Power Tools Distribution simply producing content that casts a wider net. This doesn't mean they should neglect producing content for their distributors. Producing a mix of content can allow Bob's to monitor and adjust as the data begins to tell a story.


The Power of Conversation: End User → Distributor
Content starts conversations—both offline and online. If your organization is producing high-quality content with a sustainable, long-term strategy in mind, it is likely that the content you produce for your end user audience will ultimately land you additional impressions from your target audience of distributors. End users talk with friends, family, and colleagues about things they read online (e.g., blogs, e-books, white papers, infographics, and so on). By being part of those conversations with the high-quality content that you produce, you greatly increase your chances of having your ideal customer profile land on your website.

About the author
Drew Cohen was formerly the Senior Director of Revenue Operations at SmartBug. Drew developed strategies for organizations in both B2C and B2B verticals. He has unique experience in private-equity owned organizations, early-stage technology startups, sports & entertainment and healthcare. When not marketing, you can find Drew yelling at his television during any Philadelphia team's sporting event. Read more articles by Drew Cohen.
Subscribe to get our new blogs delivered right to your inbox
Other insights you might like