Top Inbound Marketing Blogs in 2015
December 24, 2015
---
By Carly Ries

This is the time of year when I start putting together my new years resolutions, and inevitably on that list every year is to stay current with all inbound marketing trends (and to travel the world, of course). I've been successful with keeping up with these trends thus far, but I owe that to the incredibly engaging and informative blogs that I follow. Below are my top 15 favorite inbound marketing blogs of 2015.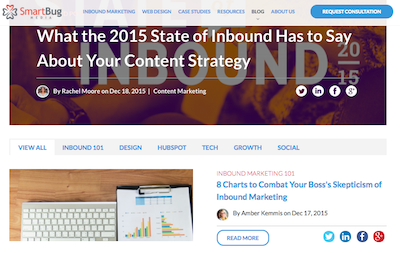 I'd be remiss If I didn't put SmartBug as the number one spot, but hear me out, I'd probably put it here even if I didn't work for the company. The authors of this blog are all inbound consultants within the agency, who eat, breathe, and sleep inbound on a daily basis, and we put our collective knowledge on the blog for you. Blog topics include:
Inbound

Design

HubSpot

Tech

Growth

Social
I could go on. One of my favorite parts of subscribing to this blog is that each week, an inbound recap email gets sent out giving you the latest on inbound marketing news and trends from the past week. It's a great recap that fills me in on those weeks I just don't have a lot of time to skim the internet. If any of the above topics interest you, I'd highly recommend subscribing to this blog.
How can we go through a list of inbound marketing blogs and not mention HubSpot? The fact that their blog has 400,000 subscribers and 2 million monthly visits should indicate that this is a blog you don't want to miss. To ensure you get your "daily dose of inbound," HubSpot has three blogs: Marketing, Sales, and Agency. Whether you subscribe to all three, or just one, you'll be sure to get valuable information sent directly to your inbox.
If you're familiar with online marketing or SEO, chances are you are aware of Moz and refer to its website frequently. Instead of constantly having that tab open in your window, why not subscribe to their blog and always be in the loop? In this blog, experts from all walks of life share their insights, best practices, and how-tos to help you improve your SEO and online marketing skills.
When you read Neil Patel's personal blog, you'll quickly understand why he has 100,000 monthly visitors. As the former KISSMetrics co-founder, it's no wonder he's so insightful and writes meaningful posts that are useful and actionable around topics that surround online marketing.
The name says it all. Darren Rowse, the man behind ProBlogger, is one of the most well-known professional bloggers out there. If you're new to blogging, or want to brush up on your skills, this is the site for you.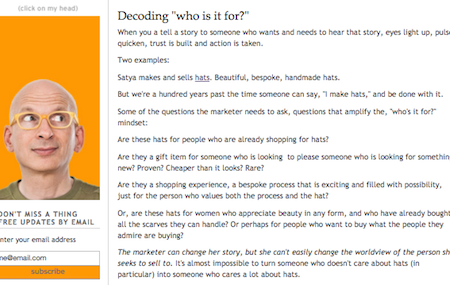 Seth Godin, also known as the godfather of content marketing, has a perfect blog for busy marketers who don't have time to sit down and read a ton of content. His posts are short and insightful, and the knowledge he passes on to his readers are sure to make them better inbound marketers. This blog is proof that you don't need the fanciest of blogs in order to have a successful blog, as long as the content is good.
Search Engine Land is a solid resource for people looking for news and information within search marketing. This is a great resource for audiences of all skill levels.
So many of us follow VentureBeat to stay current on tech news, but did you know they also have an extremely informative marketing blog? It touches on all aspects of marketing, giving you a full view of the industry, not just inbound. The site posts multiple times each day, so you'll always have something to dive into.
This was one of the first inbound blogs I subscribed to, and I still follow it on a regular basis. The coolest part about Copyblogger? They not only write about content creation, they're living proof content marketing works because its how they built their company from the ground up. Bottom line, If you want a one-stop-shop to improve your content creation skills, this is the place to be.
After reading Jay Baer's book, Youtility, I became an instant fan of his and quickly became a follower of his blog. This blog provides forward-thinking information from some of the industry's top thought leaders. The goal of Convince and Convert is to make digital marketing and content experiences remarkable, and to help you do so as well.
Amy is a social media strategy consultant that truly knows what she's talking about. If you're new to social media marketing, and don't know where to start, this site is a great resource for taking the stress out of social. In addition to her blog, I highly recommend you check out her podcast as well.
Leading marketing thought leader, Guy Kawasaki, never fails to impress with the knowledge he provides his audience. He's always on top of industry trends and keeps his content fun and engaging. It's no wonder this guy has over 100 million Twitter followers. Read his blog and you'll see why.
The people at Search Engine Watch are continuously producing valuable content that surrounds PPC, SEO, analytics, social, mobile...the list goes on. If you need help being found in search engines, it's time you visit this site.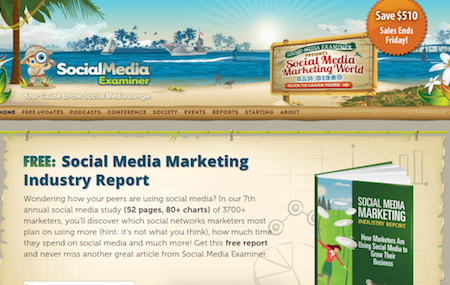 Perhaps it's the unique web design on this blog that keeps you engaged, but more likely than not, it's the amount of valuable social media information that you won't be able to get enough of. This blog is filled with insight from some of the industry's top thought leaders and is not to be missed.
Just when you think you've read everything there is to read on this blog, they'll go and publish more content for you to continue to consume. If you're one of those people that likes to read about marketing news every morning with your cup of coffee, this is a great daily read for you. The content is interesting and innovative and revolves around topics that all marketers should care about.
What blogs would you add to this list?

About the author
Carly Ries was formerly a Senior Inbound Marketing Consultant for SmartBug Media. With over 7 years of marketing and account management experience, Carly helps clients develop and implement inbound marketing strategies to grow leads, conversion, and revenue. Read more articles by Carly Ries.
Subscribe to get our new blogs delivered right to your inbox
Other insights you might like