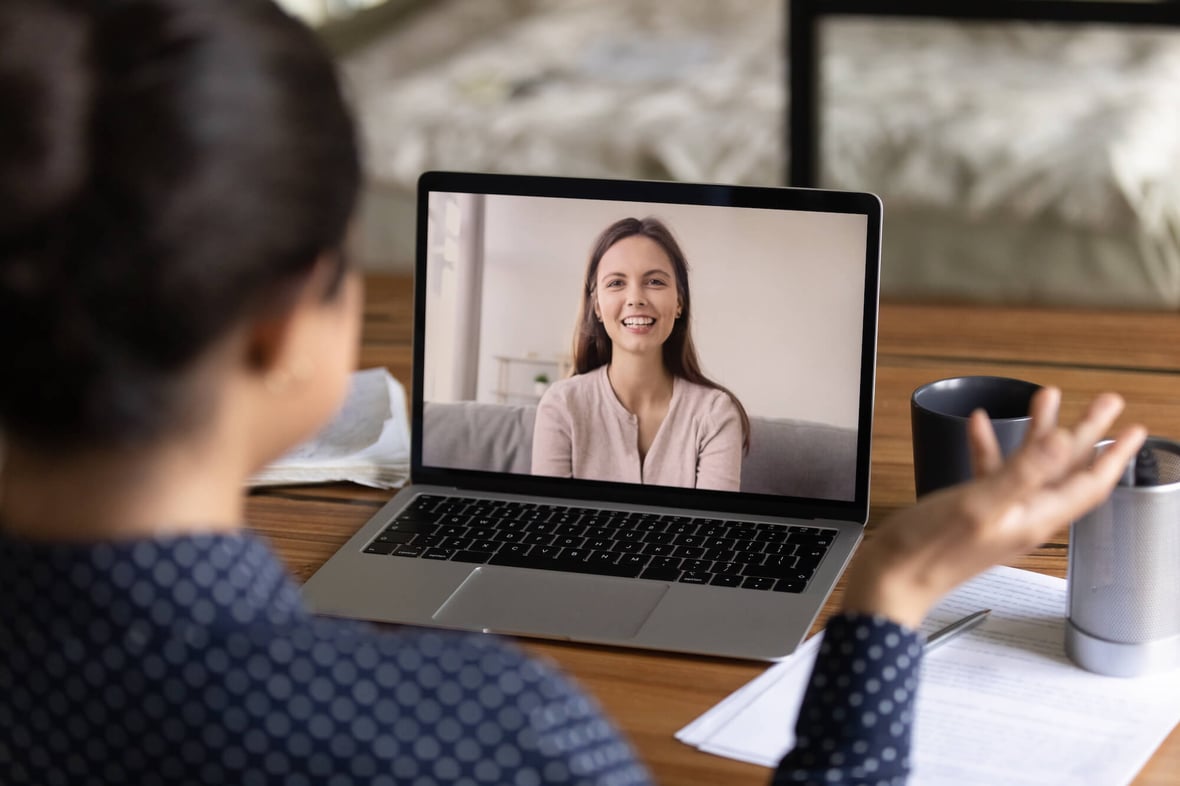 8 Tips to Prepare for a Virtual Job Interview
May 17, 2022
---
Preparing for a job interview is already nerve-racking for most, but now that we've found ourselves in this new world of remote work and virtual interviewing, it can add even more stress to your interview process. After all, what do you wear for a virtual job interview? Or what happens if your technology fails?
Although there is nothing wrong with having some nervousness going into any interview, there are certainly ways that you can reduce those nerves while preparing for your next virtual job interview. And because SmartBug® has been remote since before remote work was cool, we have plenty of tips and tricks to prepare you for your next virtual job interview.


Prepare Yourself for the Interview
First, you'll want to make sure to prep yourself! What do I mean by that? Well, there are four ways to prepare yourself for your next interview.
💡 Pro tip: These ideas can be used for your next virtual or in-person interview.
1. Do your research on the company.
First and foremost, it is important to know the company that you are interviewing with. Years ago, I worked for an agency that had a very similar name to a certain aluminum foil product, and I wish I was kidding when I told you that (more than once) we had people applying for jobs thinking that they'd be aluminum foil-adjacent. After that, I always ask interviewees, "What do you know about [SmartBug]?" or "Why do you want to work for [SmartBug]?" If they can't give me an answer that proves they've done their due diligence, then I know they aren't going to be a good fit. Details matter!
2. Do your research on the position.
Next, after researching the company and ensuring it is a good fit for you, carefully comb the job description.
Take the time to review the job requirements and responsibilities, and start a list noting your relevant job experience and achievements in relation to what the company is looking for. Going through the formal process of sitting down to look up—and jot down—your big wins in correlation to the company's needs can go a long way in easing your nerves and setting yourself up for a successful conversation with your interviewer.
Your interviewer is most interested in what you can bring to the company, and what better way to let them know than through your experience and past wins.
3. Be prepared to answer and ask questions.
When you are preparing for an interview, it is important to practice your answers to common interview questions. Don't just think about the answers, but also practice saying them out loud. If you're worried about being embarrassed because you get caught talking to yourself, then wait until you're driving in the car alone or taking a shower—both are good places to practice speaking your answers out loud.
You'll also want to prepare a list of questions to ask your interviewer. Normally, many interviewers will leave time at the end of the interview to answer questions. Having questions prepared goes a long way in showing you have an interest in both the company and the position.
Although questions you may want to ask will vary, some of my favorite questions to answer as an interviewer are:
What does training (or continuing education) look like with your company?
What are the goals that I'm expected to achieve in the first X days or months?
Can you talk me through the company culture? What is it like to work exclusively with a remote team?
Additional questions may also come up as your interview progresses, and that's fine too. However, preparing your questions beforehand can take a bit of pressure off of you when the interviewer eventually asks, "Do you have any questions about the job/position/company?"
4. Consider your appearance.
Just because you are interviewing remotely doesn't mean that you can slack off when it comes to your appearance. And I'm not talking about just wearing a suit jacket ... it's more than just your clothes. Your appearance also encompasses your posture, body language, and movements.
Your body language should convey that you are present, listening, and interested in the conversation. This means you should try to:
Smile
Maintain eye contact
Avoid fidgeting
Stay in one spot
Use head nods to show that you're listening
Sit up straight in your chair
You should definitely ensure that you are dressing appropriately, which means dressing professionally but comfortably. The last thing you want to be doing is fidgeting with your clothes because you aren't comfortable.
During a video interview, you also want to take into consideration the color and pattern of your clothes. Small, busy, or striped patterns can be very distracting on video, especially if your video streaming quality isn't 100 percent. Solid colors are the best choice for a video or Zoom interview.
Lastly, give yourself 10-15 minutes before your interview to calm your nerves. I like to use this time before the interview to ensure that my technology is in place before taking 5-10 minutes to meditate.


Prepare Your Space for the Interview
Just as it's important to ensure that you are ready for the interview, you'll want to take time before the interview to ensure that your space is ready. When I am interviewing someone for a remote position, I'm also trying to gauge how well they would work in a remote environment. Here are some pointers for adjusting to a remote working environment.
I mentioned in the last section that you should give yourself 10-15 minutes to prepare right before you log in for the interview; however, the following four steps should be done in the day or hours before your scheduled interview. Then you can use the time you've set aside immediately before to just focus on getting everything turned on and tuned in.
5. Prepare and test your technology.
I would argue that the most important thing you can do before a remote job interview is to ensure that your technology is ready. This means checking:
The necessary applications are downloaded and up to date
Your webcam is working correctly and situated at eye level
Everything you need is charged, including your wireless mouse, wireless keyboard, laptop, and so on
Your internet connection is reliable—for instance, will you be interviewing in an area where you get consistent, fast Wi-Fi?
Your profile on Zoom/Google Meet/Teams, because the last thing you need is to log into your interview only to realize that your kid (or coworker) last

used your personal account with a cat filter

!
6. Declutter your physical space.
Decluttering and tidying your physical space is not only a great way to ensure that the interviewers focus on you and not something in your background, but it also helps the interviewee proceed distraction-free. Picking up the clutter and clearing off your desk can help you minimize unconscious fidgeting, which can make you seem uninterested or excessively nervous.
💡 Pro tip: Don't have anything in your background you don't want someone to ask about.
7. Consider your physical location.
Beyond ensuring that your physical space is clean and decluttered, you should also consider other elements of your location.
We know your background isn't full of clutter or distracting because we took care of that in the previous tip. However, does your background look professional overall?
Use a neutral backdrop and not a virtual background.
Check the lighting. Make sure that your main source of light isn't coming from behind you, which can cause your interviewer to not be able to see your face.
Consider the background noise. Are you sharing a wall with the playroom? It might be best to make a plan to send the kids and dogs away or have an extra pair of hands on duty to keep things quiet so your focus can be on your job interview.


8. Declutter your technological space.
Decluttering should go beyond your physical space. It should also encompass distractions in your tech space.
I find that this is often overlooked, but taking the time to check off the following tasks usually goes a long way in helping you focus on the actual person you are talking to and keeping your mind from wandering when you get added to that neighborhood text chain.
Put your computer in "do not disturb" mode.
Close any unused programs or unnecessary browser tabs.
Silence your cell phone and other device notifications.
Hide your video feed so you can focus on looking at the interviewer and not at that one rogue hair that's out of place.


The Best Ways to Prepare for Your Virtual Job Interview
The eight tips above will go a long way in helping you prepare for your next interview; however, there is no substitute for being yourself. Most interviewers are looking for you to come prepared, be engaged, and showcase how you'd make a great addition to their team.
Best of luck with your interview!
P.S. Looking for the best remote work opportunities? Check the SmartBug careers page—that's right, we are hiring!
About the author
Tabitha Young Tabitha is a Director of Client Strategy at SmartBug Media. She is well-versed in implementing marketing strategies for many industries including SaaS, healthcare, consumer services, automotive, and more. Outside of work, you'll find Tabitha traveling with her husband, taking her 2 corgis on adventures, and researching a Costa Rican retirement plan. Read more articles by Tabitha Young.
Subscribe to get our new blogs delivered right to your inbox
Other insights you might like