11 Tips for Your Initial Website Build
March 22, 2016
---
By Carly Ries
The idea of developing a website can seem complicated, overwhelming, and stressful...but it doesn't need to be! Whether you're a new company designing your first website, or a company who is ready for a redesign, read on. Here are 11 tips for your initial website build.
1. Leave your idea of traditional web design in the past.
Chances are, everything you thought you knew about the web design process is now wrong. If you've done a website in the past, it was likely filled with risk and frustration...we've all been there. Traditional web design is expensive, a huge time and resource commitment, and rarely does it launch on time and under budget, not to mention, if things go wrong you're likely the one who looks bad.
With traditional web design, there's no guarantee the new site will bring in the results you want it to. You spend months putting it together and then just hope it performs well. That's just not right! There shouldn't be any guessing when it comes to your website's potential performance.
2. Get on board with growth-driven design.
It's time you take a new approach to the web design process; one that doesn't give you the frustrations of your traditional web design, but instead, provides results and ROI through an agile process referred to as growth driven design (GDD). This approach shortens launch time and focuses on learning and constant improvement of your site. GDD mixes web design with marketing and focuses on website iterations rather than doing everything to your site all at once (unlike traditional web design where sites are typically updated every few years). GDD focuses on making improvements to your site more frequently based off testing, research, and continuous learning based off visitor behavior. GDD is closely tied to sales and marketing objectives. Its agile model allows you to make site updates as sales and marketing plans change. Here's how to get started.

3. Set goals and have a vision.
Before you get started, you have to know where you're going and you needs to establish SMART goals, meaning goals that are specific, measurable, attainable, realistic and timely. What are your performance goals you're trying to achieve with the website? Where do you need improvement? These are just a couple of the many questions you should be asking yourself to put your vision together.
4. Develop your buyer persona(s).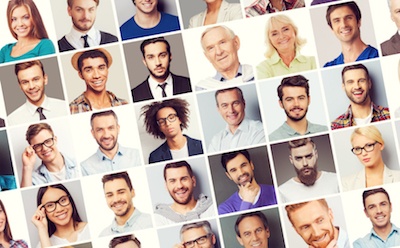 GDD centers around the user, so you want to ensure you are providing the information your visitors want and need. To do this, you needs to develop buyer personas. HubSpot defines buyer personas as a "semi-fictional representation of your ideal customer based on market research and real data about your existing customers." In a nutshell, your persona is who you want to attract to your website. You need to know their challenges and goals. The more you know about your visitors, the more you can make educated improvements to your site to assist them. Understanding your personas should be the foundation of your website. Personas will help you make informed decisions about offers to develop, information to include on your site, what devices your personas use to view your site, and so on.
5. Conduct an audit of your current site (if you have one).
If you already have a site, it's important to set up benchmark analytics that you can compare against once you launch your new site. Additionally, you need to do this analysis to see where the gaps are within your current site so that you can address those as you develop your new site.
6. Develop a wishlist.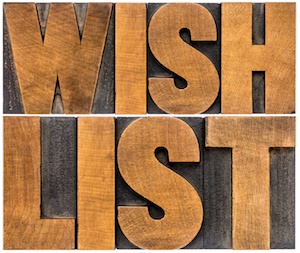 This is the fun part! Now that you've done some background research, take what you've learned and brainstorm ideas with your team of what you'd like to include on your site. Get creative, think of what you would want to have on your site if money, time and development skills weren't an issue. Ask yourselves what you'd want the design to look like, what tools and content you'd like to have, what the functionality of the site should be, ideal pages and sections you should include, and so on. Note, you will not add all of these to the initial site launch, but it's good to keep all of these ideas in your back pocket.
This list should evolve and be added to over time as you prioritize your efforts. You will likely only use 20% of this list for your initial launch.
7. Develop your must-have list.
As mentioned, you will only use about a fifth of your wishlist to launch the site, and this will be a list of your must-haves. Take a look at your wishlist and decide which 20% of the list will provide 80% of the value for your visitors (known as the 80/20 analysis).
To truly be effective, for each item on your must-have list you should be able to answer the following questions:
What is the expected impact of this item?
How much effort will it take to get this done? What needs to be done to this item to consider this it complete?
How will you measure the success of this item?
8. Don't forget about SEO
.
Optimizing your site for search is critical if you want to increase your odds of getting found through organic efforts. A few things to keep in mind for the SEO of your site include:
Mapping redirects (if this is for a redesign and not your first site)
Submitting a sitemap
Telling search engines you've left domains (use Change of Address tool in Google Webmaster Tools)
Using content formats that search engines can easily crawl (allow search engines to crawl your site but don't let them crawl internal or staging pages)
Implement keyword research and optimization
Make it easy for people to share your content
9. Follow a development process.
Before you begin development, have a clear map for the site as a whole as well as your individual pages. The strategies involved shouldn't just include design and architecture basics, but also a distinct plan of how each page will address your personas and help you to achieve your goals. To ensure you complete every step of the website process, I've listed the must-do reminders below:
Messaging & Content (remember to include keyword research and SEO strategies as you develop the copy)
User Experience (UX) & Site Architecture
Inbound Marketing Strategy Alignment
Wireframes
Designs
Development
Quality Assurance and Testing
Additionally, don't forget to set up qualitative and quantitative data before launching the site that surround your goals, assumptions and hypotheses around each of your must-haves. This will be important knowledge to have about your visitors once the site is live.
10. Launch the first phase of your site!
Traditionally, the launch of a website is the final phase of the site, but the opposite is true for growth-driven design. The initial launch of GDD is referred to as the "Launch Pad Website," and it is where your efforts will kick off.
Note to all of you perfectionists out there...this launch will not be perfect, and it's not supposed to be. It is meant to launch quickly and serve as a starting point that you can improve upon over time.
11. Improve your site continuously.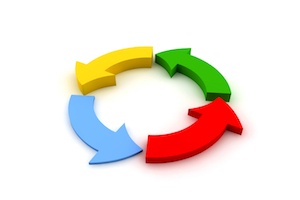 Your continuous improvements should follow a cycle that includes four phases, all of which should revolve around your personas and how to provide value for those personas. These phases include:
Plan: In this phase you'll identify the most impactful items at the moment and will implement them. This phase includes a review of:

Your website's performance vs. your goals for the website to help identify opportunities
Data and research to help identify new items to add to your wishlist
Marketing and sales outreach to gain insight from these teams on performance since the last cycle

Develop: Once your new "must-haves" are defined, you and your team will begin implementing them one by one. Each of these items will be an experiment to see how it impacts the performance of your website. This should be done in association with a marketing campaign so that you can drive traffic to these items and get the data you need to analyze them.
Learn: Once your experiments have had time to run, it's time to analyze their performance. During this step, it's important to document your findings with the team of what's working and what's not as key learnings you can move forward with.
Transfer: Once the experiments have run and the results have been gathered, it's important to share that knowledge across other areas of your organization.
Once the cycle is complete, repeat it! The more you repeat the cycle, the more of an impact your website will have on its visitors.
Have you applied the growth-driven design process to your site? What tips have worked for you that you would add to this list?

About the author
Carly Ries was formerly a Senior Inbound Marketing Consultant for SmartBug Media. With over 7 years of marketing and account management experience, Carly helps clients develop and implement inbound marketing strategies to grow leads, conversion, and revenue. Read more articles by Carly Ries.
Subscribe to get our new blogs delivered right to your inbox
Other insights you might like