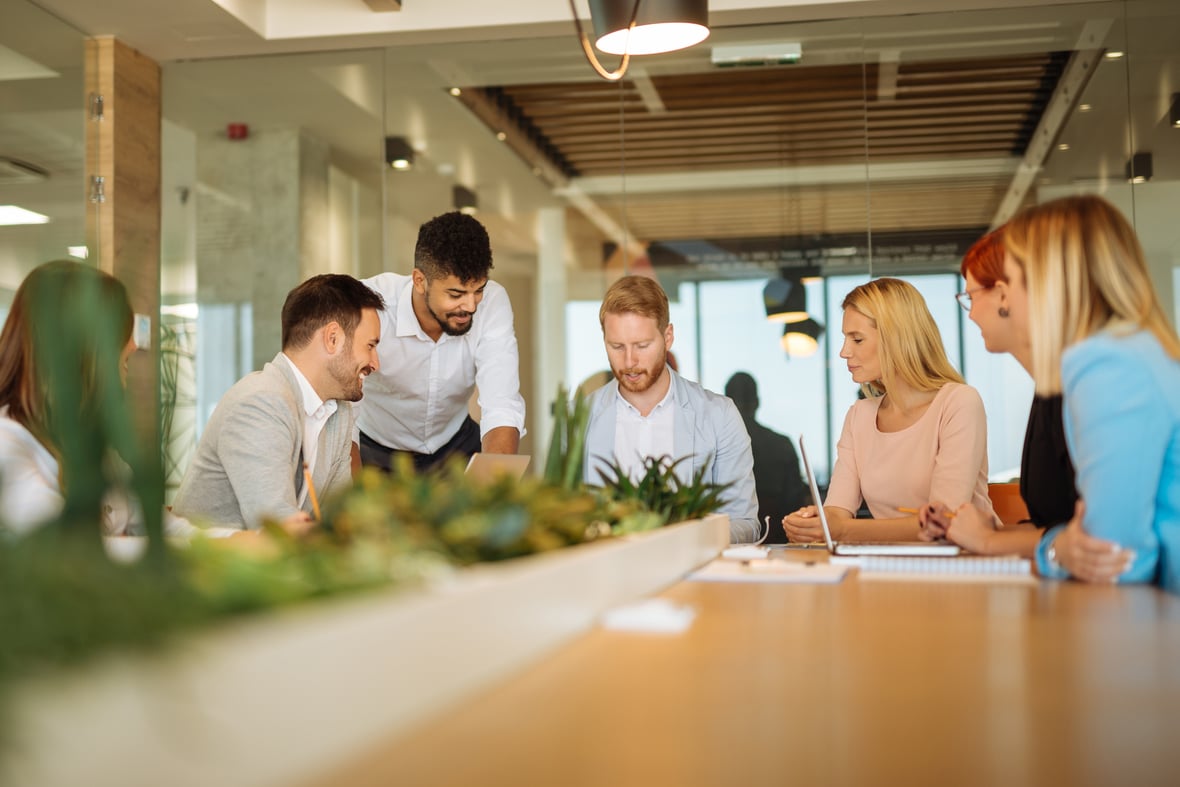 4 Easy Ways to Simplify Your Marketing Project Management
April 26, 2019
---
By Aaron Riddle
If you've been doing marketing in a professional capacity for any bit of time (three months, 20+ years—you get the idea), you've probably dealt with the case of misaligned resources, expectations from stakeholders, and a whole bunch of tasks and deliverables to complete with not enough time in the day. Although things will always fall through the cracks from time to time, there are easy ways to simplify your organization's marketing project management tactics.


Would you rather listen to this blog instead of reading it? Just click play below.
1. Take a Look Back at Your Goals
Nothing helps get you, your team, and your stakeholders on the same page more than revisiting and re-aligning your goals in marketing across the organization. Lacking a common goal for everyone to pursue can lead to missed expectations and team members working on items that may or may not be necessary.
Take a look at your current goals. Whether they are for the quarter or for the year and beyond, ask yourself these questions:
Are your goals SMART (specific, measurable, achievable, relevant, and time-based)?
Do you know how your marketing goals contribute to your overall company goals? If the answer is no, consider re-aligning them.
What key performance indicators (KPIs) are needed to measure the performance/success of these goals?
Don't have any goals defined? Not a problem! There's no better place to start than on a clean slate. Take a look at these resources to get things started:
2. Re-Define Your Marketing KPIs and Reporting
Once your goals have been established, take a look at the KPIs you've just tweaked to fit your goals. With those KPIs properly aligned to your goals, you can ensure that your team knows what they need to accomplish and track, keeping your team all on the same page.
KPIs are irrelevant if you can't report on them properly. Have you ever been in situations where you were planning to report on an item for an upcoming call, only to find out that it was never tracked? Or the report to collect that data would take too much time to put together?
With all of your newly defined KPIs, now is the time to ensure that you have all of the reports set up to properly measure your performance. There are many tools (coming up later in the post) that can easily do this with little to no setup.


3. Begin to Think Further than the Current Week's Deliverables and Tasks.
With your KPIs, reporting, and goals set in stone, now's the time to take it a step further with the tasks/deliverables that will support those KPIs and goals. If your tasks and deliverables aren't contributing to the common goals of the organization, they could result on resources working on tasks not related to your current goals.
On top of mismanaged resources, if your team is always fighting fires and working on tasks that come up that same week, there's a lot of ad hoc project management happening and things will likely fall through the cracks.
Take a look at your newly defined KPIs and ask yourself the following questions:
Do your current tasks/deliverables support the growth of these KPIs?
Are your KPIs set up to support realistic timelines?
Begin to think about more than the current week's tasks and deliverables that are in front of you. Start to think at least 30 days out (and ideally 90 days, if you are looking at quarterly goals) to better align your resources and team to the goals and KPIs in front of you. Take this type of exercise into your next end-of-quarter or end-of-year meeting to help align your team's resources, tasks, and deliverables to your KPIs and goals.


4. Enlist Tools to Help Get the Job Done
Although the last three points were a bit higher level, there also need to be changes to your internal process to keep everything moving. Nothing helps you out more than having the right tools at your disposal to get the job done. Here are a few of our favorite tools, along with how SmartBug has used them to support managing marketing campaigns and deliverables:

About the author
Aaron Riddle was formerly a Digital Project Manager at SmartBug Media. He has more than 9 years of marketing and project management experience helping organizations succeed in their digital marketing goals and objectives ranging from not for profits to large technology-based groups and businesses. Read more articles by Aaron Riddle.
Subscribe to get our new blogs delivered right to your inbox
Other insights you might like