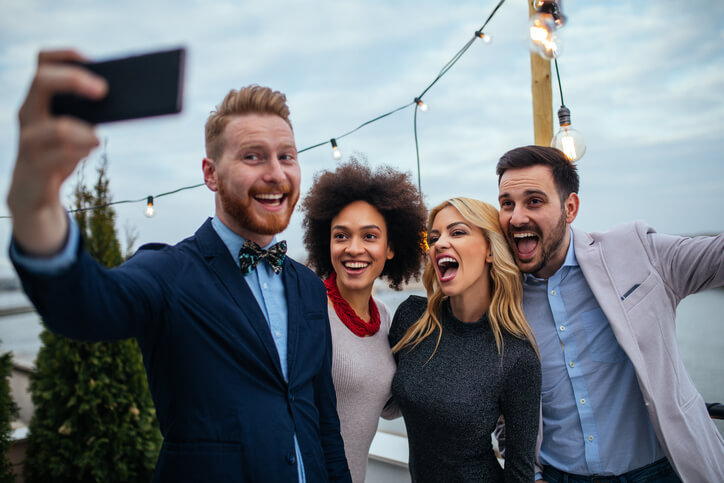 Should Your Business Use Snapchat Stories and Instagram Stories?
June 13, 2018
---
By Sofia Pompeo
One of the biggest debates right now in the social media world is whether Snapchat Stories or Instagram Stories is better. For personal use, it's ultimately a matter of which platform the user prefers. Some people choose one over the other solely because of which one their friends use more often.
When you add your business to the mix, though, it can get tricky. A short and sweet answer to the question, "Should Your Business Use Snapchat Stories and Instagram Stories?" would be to only use either of them if you can provide value to your buyer personas on these platforms. Just because most businesses pick one over the other doesn't mean it will be the same for you and your business. Choose the platform (or platforms) that best suits YOUR business's needs. Are our target audience and customers utilizing the platform? How will we measure success? Do we want analytics to measure our performance? How do we engage with our target audience using the features of each platform? These are just some questions you and your colleagues need to ask yourselves when deciding if/how you are going to use each social media platform.
Snapchat Stories or Instagram Stories? Why Should You Use Them?
About 158 million people are using Snapchat every day, and Instagram now has up to 800 million users, with 500 million using the app every day. As you can see from the statistics, lots of people are taking advantage of these social media platforms and their features. Using them is a direct, simple, and fast way to reach your audience and customers. As an example, I always closely watch for my favorite brands to post on their Snapchat Stories or Instagram Stories because sometimes they announce promotions or have someone famous take over the account for the day. Sometimes they simply post things that interest me. Stories are a great way to grab users and pull them in with interesting content—in a relatively short amount of time.
Differences to Note
While both Snapchat and Instagram offer Stories, each has different features. The apps actually feed off of each other in a sense because not too long after one adds something new, the other comes out with a very similar feature. Recently there have been updates in each app that enhance the Stories features.. Here are some key differences I've found regarding each app:
The statistics mentioned above show that more people use Instagram daily, BUT more millennials use Snapchat.
Snapchat Stories tend to be on the unfiltered and "raw" side, while Instagram Stories tend to be more curated, high-res, and polished.
Instagram Stories allows you to create Boomerang videos, which are extremely popular.
You can go "Live" on your Instagram Stories, which means people who follow you may get notified when you begin a live video, and they can tune in to see what you are doing right then and there.
Each platform has unique filters and stickers that you can apply, BUT on Snapchat, you can "Create Your Own" filters and lenses—for a price.
Snapchat only offers one paintbrush feature, whereas Instagram gives you four different brush texture options.
If someone is following you on Instagram, they automatically can see your Stories. If you want people to see your Snapchat Stories, you will need to promote your account so people can add you, and then they will be able to see your Stories.
Instagram Stories offers more search options, which can be great for business purposes. This makes it a lot easier for people to search exactly what they are looking for (e.g., a brand, business, or person).
If you're marketing on your Instagram Stories, the app offers "Instagram Insights" that provide basic statistics on all of your marketing efforts.
So Which Should You Use for Your Business?
Again, you should only use these features if you can provide value to your buyer personas. It really comes down to your business being strategic and picking the one that best suits your needs and goals. You know who your target audience is, so start there. For example, if your target audience is in the range of 18 to 25 years old, it may be in your best interest to start with Snapchat Stories. Make sure to do your research first, and then make a decision about the direction you want to go.
Once you've decided to utilize one of these platforms and its Stories feature, make sure you have a strategy. Sure, going into this with an open mind is great, but if you have no direction whatsoever, it will be very easy for you to get lost and lose track of what your goals really are. Sit down with your team, and come up with a specific plan for how you want to achieve a particular goal. You could incorporate these Stories into a current social media campaign you have running or create totally separate campaigns.
Remember to always be professional, but also have FUN with it! Create engaging content and ideas so your audience and customers will never want to miss your Stories. Soon you'll be on your way to becoming a Stories pro!

About the author
Sofia Pompeo is an Account Manager for SmartBug. She has had previous experience providing marketing solutions for clients in different industries, developing and executing social media content, and implementing inbound marketing campaigns. She really enjoys utilizing every aspect of HubSpot. Read more articles by Sofia Pompeo.
Subscribe to get our new blogs delivered right to your inbox
Other insights you might like