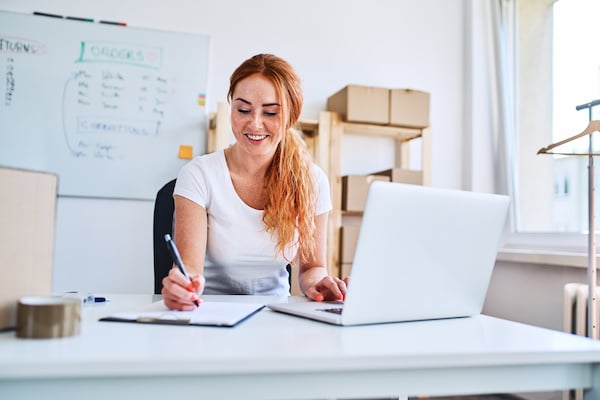 Whoever said email marketing was dead clearly didn't know how to make money from it.
Email is vital for brands in a digital world. It has become their main method not only to keep in touch with their customers but also to convert new customers and increase their lifetime value (LTV)—especially when Americans spend more than five hours a day in their inbox.
First things first: Most email platforms have the ability to create flows, but what exactly is an email marketing automation flow and why is it different from an email campaign?
Flows vs. Campaigns
An email flow is an automated sequence of emails that trigger upon users' actions. Let's say a customer added a product to their cart, but something happened to distract them and they didn't complete the purchase. A flow allows us to send a reminder directly to their inbox in a timely manner
According to Shopify, up to 77 percent of online shopping carts are abandoned. You should be looking at a 2-4 hour period for sending a reminder after cart abandonment so you still have a chance of that customer ever returning to your site.
On the other hand, an email campaign is a single email sent at a specific time. It's a one-shot at your customers' inbox. This could be based on personalization; for instance, let's say you have a list of people who subscribed to your newsletter to get better marketing insights. You could send a weekly digest with the top marketing stories that could help their business.
Although both flows and campaigns are personalized based on customer behavior, the main difference is that flows are automatically triggered and campaigns are manually triggered.
How Flows Impact Your Business
With more than 333 billion emails being sent and received each day, how do you stay on top of your competitors? Timing and personalization.
Why? Because brands that use segmented campaigns noted as much as a 760 percent increase in revenue. But how do you know which time and personalization tokens you should use in your e-commerce marketing strategy?
The answer is really a mix of creative and data-driven decisions.
Users will engage with your site and take actions on most of your pages—which could be site visits, add-to carts, or even checkouts initiated—but what really matters is understanding the actions behind the trends.
Maybe it doesn't make sense to create a whole new campaign for only a small percentage of people who view a product page, but it would make sense to create an ongoing automated flow for the people who are closer to conversions, such as the people who initiated a checkout but didn't finish their purchase.
Once you have trends identified, how do you drive attention to your sent emails if users' inboxes are usually drowned in promotions? As a marketer, this is the fun part—let's get creative!
You can do A/B testing on subject and preview lines to drive open rates, and you can use personalization tokens on your body copy to make sure your email stays relevant. There are many things you can do to improve your metrics; just remember, even though you want to test everything, focus first on the things that will have a short-term impact on your campaigns.
Ready to learn how our e-comm marketers can help you? Get in touch!
Top Revenue-Driving Email Flows
There certainly are a lot of email flows and email marketing templates you can create for your business, but which ones are really quick wins that drive revenue?
1. Welcome Series
This flow is particularly effective for attracting new customers. You can add a pop-up on your website for a free gift or even a discount, and when people subscribe they will fall into your Welcome Series Flow.
This is a four-step flow where:
The first email is the promised discount or gift.
The second one talks about the brand and its history.
The third one gives social proof or reviews from people using your product.
The fourth email provides a reminder that if they haven't used their coupon, it's their last chance to redeem it.
2. Abandoned Checkout
This is commonly used for people who started checkout but didn't complete their purchase. Here you can use personalization tokens to call the user by their name and even show them the products they left on their cart.
3. Abandoned Cart
This is similar to the abandoned checkout flow, but it's a step before. With a custom code on your website, you can send an email to a person who added products to their cart but didn't make it to the checkout. Be sure to use personalization tokens on the products displayed!
4. Browse Abandonment
This is where trends come into place. Let's say you have one customer who has viewed the same product page more than five times in a short period of time—that behavior clearly displays some interest, right?
Use this opportunity to send them an automated email message containing the product they looked at and display some of the benefits of that specific product. Just remember, this isn't the decision stage yet, so be sure to use fun and friendly copy here.
5. Post-Purchase
You could think that once a customer has purchased from you, it's over—but that's just a small part of their whole journey!
Imagine when you buy something online; you're excited for it to arrive, right? Your customers are more than numbers. They're humans, too, so make them excited. Praise their decision, talk them through the care of their new product, and get them really excited for its arrival. When it arrives, the hype continues—and who knows? They might even post a review or a story on social media!
6. Cross-Sale
LTV is everything in an e-commerce business. You cannot simply rely on new customers all the time, so if you're aware of repurchase times and which products complement each other, you can easily aim to promote a cross-sale. With personalized recommendations, customers are sure to keep coming back!
Need Some Inspo?
I get it: Creativity doesn't come easily every day. Sometimes you need a little push.
Luckily, we have the perfect medicine for writer's block. If you want some copy or design inspo, you could try Milled or ReallyGoodEmails, where they host top-performing emails from many different brands and verticals!
Wanna take it a little further? Try some SMS campaigns!
Which Email Platform Is Best for You?
There's really no "good" or "bad" answer here, but there are a few things you should consider before choosing an email service provider, such as:
How much data can it pull from my store so I can personalize my emails?
Does it have integrations with paid social platforms such as Facebook Ads, for native retargeting?
Does it integrate seamlessly with my store? Maybe you're using Shopify or HubSpot, for example.
Is the user interface easy to understand?
Does it have predictive analytics such as LTV for customers?
There are many options out there, but few are created specifically for an e-commerce environment. I personally recommend Klaviyo's Email Marketing Platform, because it checks all the boxes for a fully automated email software that easily drives 20 percent or more of your monthly revenue.
Need a Hand?
Email marketing is not easy, but certainly once you "get it," it can be a powerful tool to scale your e-commerce business.
Here at SmartBug®, we're a Klaviyo Master Elite partner. That means you can count on us to help get you results for your business no matter the stage you're at.
About the author
Gabriel Garza Marketing Specialist @ SmartBug Media with +5 years in Digital Marketing with experience in Paid Media, DTC, BTC, and Email Retention Strategies. Marketer & Software Engineer. Read more articles by Gabriel Garza.
Subscribe to get our new blogs delivered right to your inbox
Other insights you might like