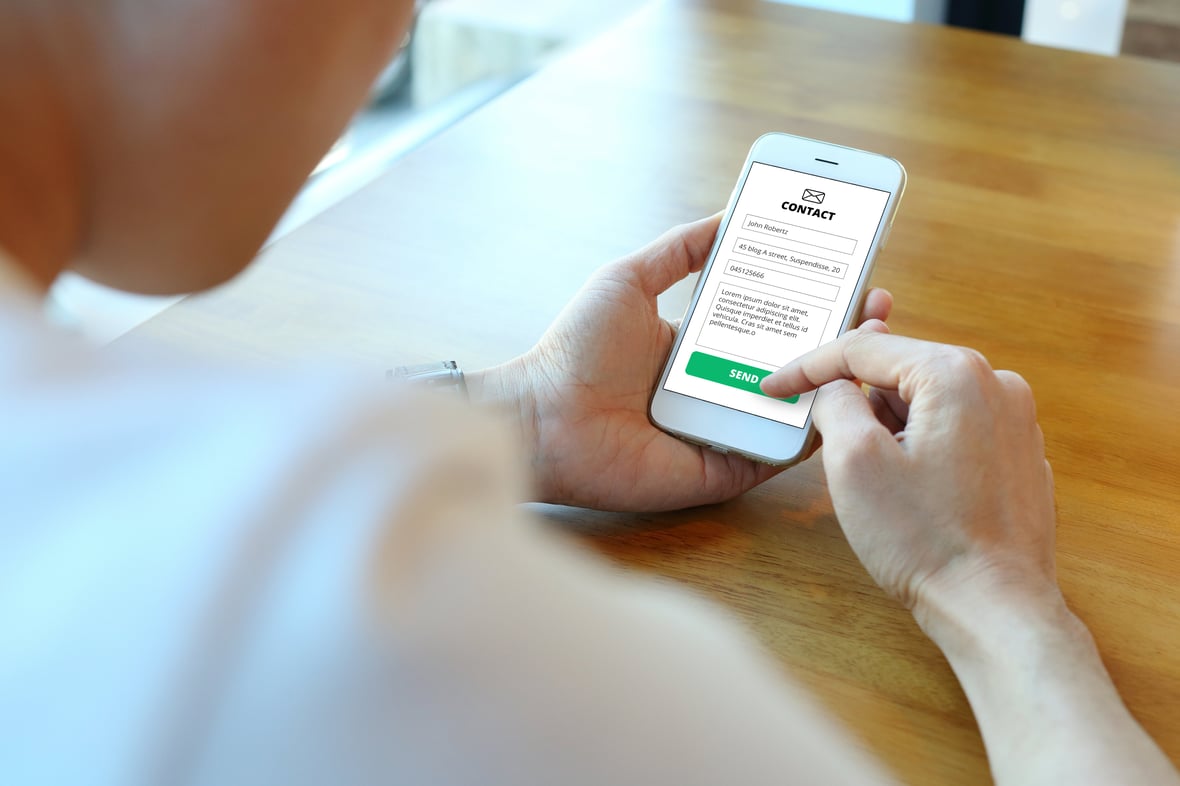 How to Optimize Your Contact Us Page for Conversions
October 12, 2022
---
By Kira Renee
When was the last time you dove into your "Contact Us" page to freshen it up or optimize it for better performance?
I run into many clients who think of their "Contact Us" page as something you set up once and never have to touch again. The truth is, you could get away with that and have decent conversions. But without routinely checking your "Contact Us" page analytics and finding ways to improve, you could eventually see your conversion rate plateau—or even decrease.
Your contact page is arguably one of the most important pages on your website. Whereas most website pages are one-way conversations, the contact page opens the door to two-way communication by inviting visitors to initiate a conversation. So how can we encourage that conversation and increase our conversion rate with quality leads?
Best Practices for Contact Page Conversions
The first place to start is auditing your "Contact Us" page to make sure you are up to standards on best practices.
Placement and Design
Here are some aesthetic considerations to keep in mind as you revisit your contact page.
Form Layout
How your form is displayed can greatly impact your conversion rate. You want your contact form to be simple to understand and easy to use. An older study supported by Google showed that conversion rates tend to be higher when an input field matches the expected length of the answer. Another eye-tracking study found that visitors tend to complete forms that are designed with fewer visual distractions.
Understanding how the visual layout affects people's experience and behavior can help us optimize our forms to be easier and more enjoyable to complete. The most important factor is using intentional field inputs for length and character type. For example, instead of using a blank text box with a 25-character limit, use numerical fields of only 10 characters when asking for a phone number.
Page Placement
Your contact page should be accessible from every page on your website. The placement will vary depending on the website, but "Contact Us" should ideally live as a static button on the navigational menu. That way, a visitor could be reading a blog or browsing your services, and they are only two clicks away from initiating a conversation.

Pro tip: For the best conversion rate, mitigate the number of clicks it takes to convert. The fewer clicks, the faster it is to convert.
Button Label and Color
Once your visitor has filled out the form, we want to ensure they click "submit." Your CTA button design can help make that happen.
How?
First off, you want to design your form so that the button is naturally seen as the next step. You also want your button to be a contrasting color so it's not easy to overlook. In other words, don't make your button the same color as your form or hide it away in the corner where it may get easily missed. There is no right or wrong button color; that said, multiple studies such as HubSpot's button color A/B test and OptinMonster's color conversion research report that red is the highest-performing color for CTA buttons.
The label on your button can also be more creative than "Submit." In fact, adding a personal and branded feel to the contact page will give your visitor a warmer welcome, which may make them feel more comfortable submitting a contact form. Be sure your button label is clear and aligns with the CTA.
At SmartBug Media®, we use a bright teal blue button that says "Let's Talk." As you fill out the form, the button is aligned to organically be seen as the last step. It pops out on the page with a bright color over a neutral background and a hover effect to invite the visitor to click on the button.
User Experience
Alongside the visual layout and aesthetic of your "Contact Us" page, user experience (UX) is equally important when optimizing for conversions. Here are a few steps to follow to ensure your contact page provides the best possible user experience.
1. Make it responsive.
The most important UX optimization for your contact form is making it responsive on mobile devices. Forty-eight percent of website visits come from mobile, and 50 percent of B2B inquiries are placed on mobile. If your contact form is not responsive on mobile and creates a clunky experience for your website visitor, they are more likely to bounce off your website—meaning you could potentially be losing out on half of your leads if your mobile page is confusing or challenging to get through.
2. Limit the number of fields.
Earlier, we discussed the importance of making your forms quick and easy to complete by mitigating the number of clicks it takes to submit. Another way you can speed up the process is by limiting the number of fields on your form, only asking for vital information.
Forms can be a great way to collect first-party information about your contacts, but there is a time and place for asking more detailed questions. Your contact page shouldn't feel like a questionnaire; it should just ask for the info you need to have a meaningful conversation with your contact.
This can also be important for individuals who are wary about giving out their data and personal information. If you don't need a phone number, don't ask! If you can get away with collecting less information up front without it affecting the sales process, it's an easy way to get your conversion rate up.
3. Don't use CAPTCHA.
CAPTCHA is a program designed to distinguish humans from computers. Usually, CAPTCHA tests involve pictures or word problems of sorts. But this could also be an annoyance to your website visitors, and we want to break down any barrier that may cause your visitors to bounce.
Instead of using a type of CAPTCHA game, I recommend using an invisible reCAPTCHA on your form. The invisible reCAPTCHA won't require you to check a box, and the users won't see the field at all. But it will still work in the background to let in humans and block spam.
4. Clearly display error messages.
The most frustrating experience when filling out a form is when you finally click the submit button, and you get bounced right back into the form, but now there's a message telling you to fix the error(s) in your form ... and you're not sure what or where the error is.
Every form will be different and may require certain fields over others, and some even require a certain format for those fields. It's important to communicate that with the user, so they fully understand their error and how to fix it. Clearly identify the field that needs to be corrected with a red asterisk and directions on what to do.
5. Tell your visitors what to expect.
Your visitor has successfully found your contact page, filled out the form, and clicked the submit button. Now what?
At this point, your contact will be eager to hear back. As soon as they submit their form, the user should see a message that thanks them and lets them know what to expect next. Will they receive a phone call within a few hours? Will they get an automated email? Be clear to your contact about what it is they can expect from you.
Optimizing the user experience of your contact form is a necessary step to ensure your visitor's journey is an enjoyable one. These are just some fundamental tips to keep in mind when optimizing your form—there are many other UX techniques and best practices you can utilize to enhance your "Contact Us" page experience for the user.
Still Struggling with Low Conversion Rates?
As you can see, there are many ways you can enhance your contact page, but simply making a change to this page doesn't always mean you will immediately see a huge increase in conversions. Reviewing your contact page form and optimizing it when needed will help you stay on top of any changes that may affect your conversion rate, but you still need powerful inbound marketing to drive that traffic to your website.
Luckily, we have a team of dedicated inbound marketing experts that can help! Reach out to work with the pros and take your inbound marketing to the next level.

About the author
Kira Renee Kira is our E-Commerce Product Marketing Manager at SmartBug. She believes in a people-first and data-driven marketing approach. Previously working with many reputable e-comm brands, building their online brand presence and teaching companies how to enhance their marketing strategy to be customer-centric. When she's not creating a stellar marketing strategy, you can find her enjoying a crisp sour beer surrounded by her hundreds of plants and receiving cuddles from her Labradoodle. Read more articles by Kira Renee.
Subscribe to get our new blogs delivered right to your inbox
Other insights you might like