By Julia Bye
Did you know there is a marketing technology that allows you to send an email when each individual contact on your list is most likely to be sitting at their computer looking at their inbox? Or a tool that allows you to send snail mail and see when it is delivered and who engages with it?
When considering how to spend your marketing technology stack budget, the potential tools for your team are limitless. It seems like there is a software for everything, and usually more than one option to consider in the buying process.
So, how do you evaluate which platforms are right for you and your team? Here are four things to consider when buying new technologies for your marketing tech stack.

Does it integrate?
I remember when I first discovered HubSpot. I was working as an in-house marketer, executing all of my strategies within their own systems—social media, landing pages, email, and so forth. It took me a considerable amount of time to accomplish short to-do lists and measure a simple campaign because I was always bouncing between tools. It was also really difficult to determine whether my campaign efforts were successful because of siloed data.
HubSpot fixed a lot of these issues through the evolution of its own tools, however. As marketing and technology have gotten smarter, there are even more platforms to use alongside HubSpot to make us marketers even smarter and more efficient.
Here's a quick visual of all the partners currently integrated with HubSpot: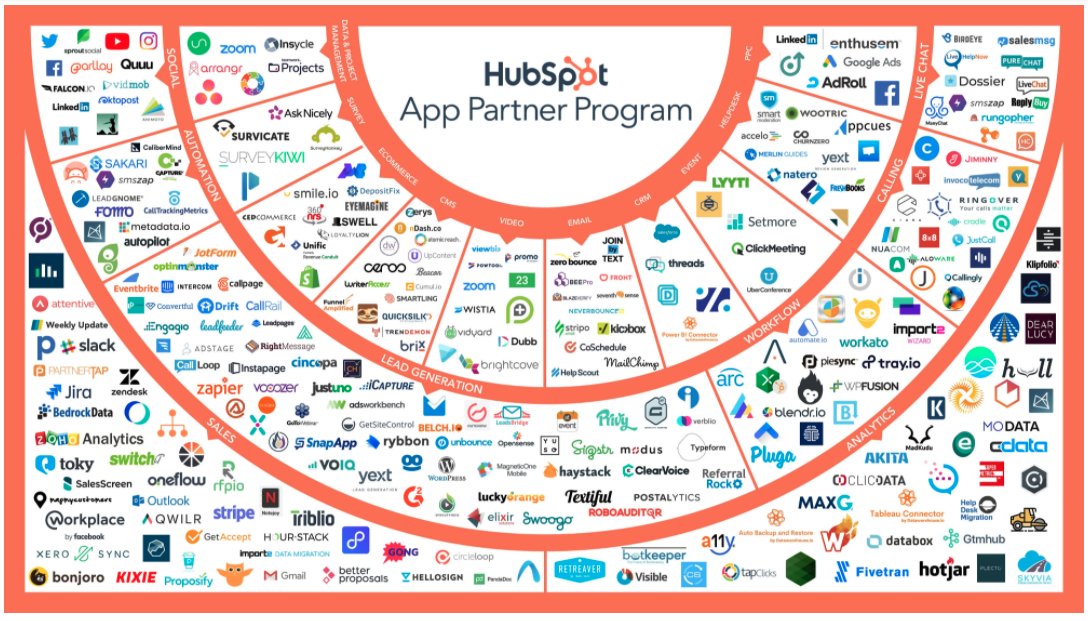 When thinking about the marketing technology stack that is right for your organization, you will want to consider how it talks to your other software. The last thing you want to do is create data silos between your systems that will not save you any time.
When considering a new software for your MarTech stack, consider these integration factors:
Does it

fully integrate with HubSpot

or your marketing platform?
Is that marketing integration free, or is there an associated cost?
What data does the integration communicate? Is it a two-way or one-way integration?
If it doesn't integrate, is there a third-party integration site like

Zapier

that can connect the two platforms?
What is your team's expertise and goals?
With all the technologies available, it's easy to feel like a kid in a candy store when picking out your marketing technology stack. But not every amazing marketing software out there is right for you and your team.
For instance, you may love the functionality of Terminus or another account-based marketing (ABM) software, but maybe your team isn't built to support an ABM strategy because you are already stretched too thin or your business has an issue with sales and marketing alignment. It's better to fix these issues before buying the software, instead of hoping the software will fix the issues.
Always consider your marketing and sales goals and how each tool will help you achieve them. If leadership asks you about a marketing technology, would you be able to discuss the "why" behind it and prove return on investment (ROI)?


How adaptable is your team?
No matter how much technology we have at our fingertips, at the end of the day, we are all human. We avoid change if there is a process we are comfortable with—this couldn't be more true for onboarding new marketing technologies.
If you are going to invest budget in a new platform, you want your team to use it. To ensure that your investment will be well spent, I recommend including your team in the decision-making process. Make sure to answer questions like these:
Do they prefer the interface of one versus another?
Do they find one more intuitive than another?
Will you need to change your internal processes by adapting this platform?
Getting your team's opinion also gets their buy-in, so when you are onboarding the platform, they are excited about it versus dreading yet another tool they need to learn.


Will it scale with your business?
There are a variety of different price structures for marketing technologies. Some are a monthly subscription, and some are based on limits like the number of contacts or actions you are allowed to take in a given month. You will want to consider these pricing structures when comparing MarTech platforms. With growth, would each tool become more expensive? Is that okay?
I will leave you with one last bit of advice. When building, evaluating, and adding to your marketing technology stack, keep an organized spreadsheet of everything in your library. The worst thing to discover is that you have been paying for a technology that nobody is using because they didn't know it was there.
Need help starting? Understand existing tools, avoid overlapping softwares, and find holes in your current MarTech stack with our MarTech Stack Audit Template.