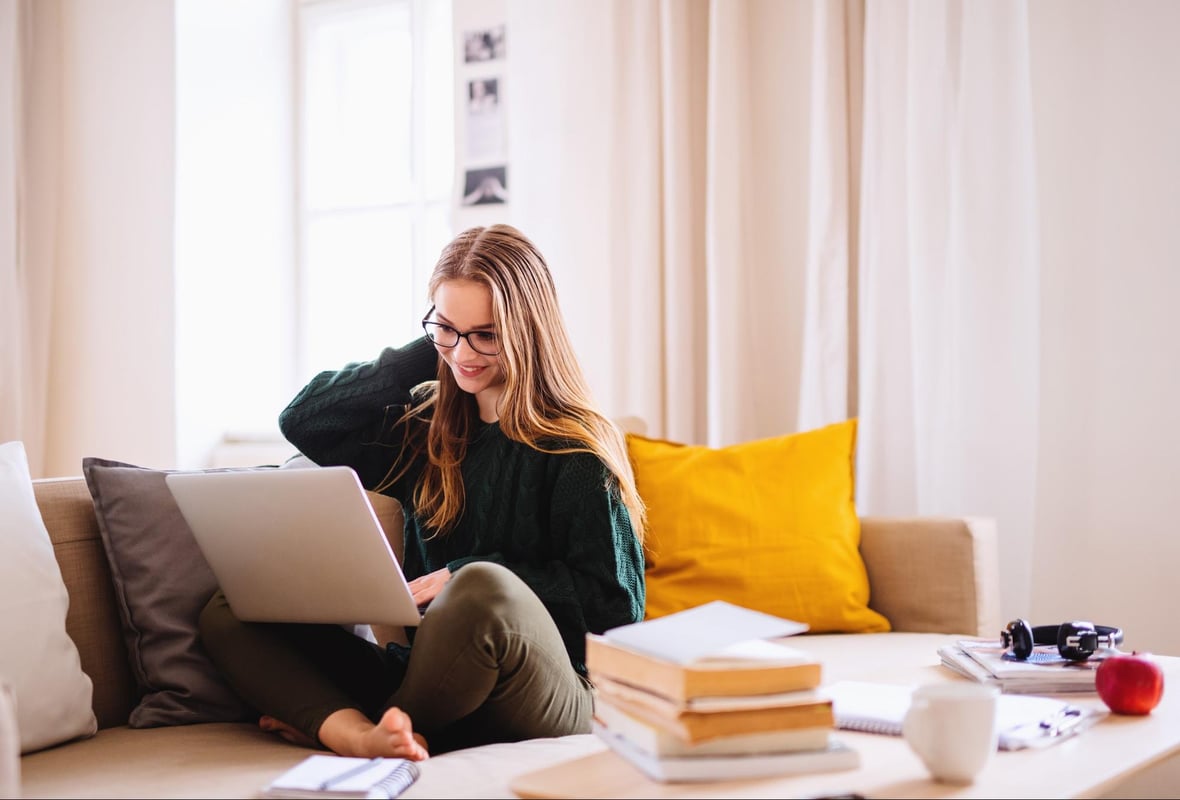 4 Ways to Maximize HubSpot for a SaaS Business Model
December 10, 2020
---
By Kristen Deyo
SaaS marketing is not for the faint of heart. SaaS organizations are laser-focused on their ability to drive high volumes of sustainable growth in a short amount of time ... or else (*cue dramatic music*). In fact, it is estimated that even SaaS companies with an annual growth rate of 20 percent have only an 8 percent chance of surviving. Thus, hyper-growth is a prerequisite for survival.
However, starting a SaaS company is not the same as scaling a SaaS company. The hallmark of SaaS is the ability to identify the growth channels that are going to drive real results—fast. It requires powerful martech to propel the kind of growth needed to rise above the competitive noise. Building strong momentum to sustain your SaaS organization through growth and expansion is paramount.
How do SaaS organizations achieve this type of growth, particularly when their competitors have ten times the budget and brand equity? The answer: by leveraging powerful martech that empowers you to use inbound to its full potential. You need a platform that can help you move quickly, optimize as you go, and give you the revenue attribution metrics needed to determine where and how to pivot to stay nimble. Yes, I am talking about HubSpot.
What Makes SaaS Unique?
If you've read anything I've written about SaaS, I'm probably sounding like a broken record, but SaaS marketing is challenging. In fact, there isn't another type of marketing that's similar.
Not only that, but it's also seriously competitive. SaaS marketers have to also be data scientists, constantly refining and optimizing every last effort just to get on the map, let alone cut through the competitive noise and make an impact. Yet the potential impact for SaaS organizations who get it right is monumental. In fact, it is estimated that 85 percent of small organizations will invest in SaaS this year, bringing the total size of the public SaaS market in 2020 to $157 billion.
Widespread change and adoption in technology, coupled with the reliance on digital, have made businesses look to SaaS in order to streamline operations, increase efficiency, and reduce costs—and this shows no signs of slowing down. By end of 2021 , more than 73 percent of organizations indicate nearly all their apps will be SaaS.


Why HubSpot for SaaS?
"HubSpot helps SaaS companies attract higher quality traffic, convert that traffic into more qualified leads or trial users, and nurture those leads to customers." I've seen firsthand how HubSpot can help empower SaaS companies, small or global, to grow their bottom line in the most effective—and cost efficient—way possible.
HubSpot says it best: "Simplicity and sophistication are the hallmark of innovative marketing software." It's true. HubSpot obsesses over their technology and has built a truly powerful platform, one that doesn't require an entire IT team to figure out. It really is built for SaaS marketers.
Here are four ways to maximize your investment in HubSpot for a SaaS business model and achieve growth.


1. Outrank Competitors and Attract the Right People
For 89 percent of SaaS businesses, new customer acquisition is the top growth activity. This means getting your SaaS business at the top of search engines and driving qualified people to your website. Driving top-of-funnel growth means keeping several key things in mind:


Content marketing is queen
Inbound is fueled by content, and nothing is going to help get your SaaS business at the top of search engines better than investing in great content. By great content, I mean content that is helpful, optimized for search, and guides personas through their Buyer's Journey (awareness, consideration, and decision stages).
Remember, Google's mission is simple: helping searchers find the information they need and are looking for. How you see yourself and how Google sees you can be vastly different, hence the importance of doing proper keyword research and building content for search.

All things SEO: technical, on-page, and off-page
Writing killer content is one strategy to attract visitors. More critically, you should be ensuring that content is optimized for search, so it gets in front of people who might not know your brand, but whose pain points you can solve with your SaaS offering. Here are a few best practices to get you started:
Run your website through a technical audit to see if there are ways to improve the indexability, searchability and rankability of your website. Tools like

HubSpot's website grader

,

SEMrush site audit

, or

Woorank

are all places to start.
Focus on non-branded keywords in your editorial and content planning to ensure that you're getting in front of personas who might not be familiar enough with your company to do a branded search. Here's a

great blog post

to get you started.
Use

HubSpot's traffic report

to determine your most trafficked pages with the highest bounce rates and/or lowest conversions, and focus on those for some on-page SEO.
Never underestimate the power of off-page SEO. Part of scaling quickly is relying on the brand equity and backlinks from highly reputable sites. One quick win is to start with third party listing sites (think G2, Capterra, Gartner, TrustRadius, and so forth). Ensuring your profiles are up-to-date, accurate, and pointing to meaningful areas of your website can help drive more qualified traffic to you. Remember, organic and referral traffic convert better than other traffic sources, so it's worth focusing on.
If you're looking for more great tips to get started, a fellow SmartBug, Sandy, wrote this killer blog post on quick SEO fixes for website optimization that comes with its very own worksheet!

The power of customer stories
Customer stories offer SaaS companies a great opportunity to show that your products and/or services deliver real results. In fact, in a study by Hawkeye, 71 percent of buyers in the awareness stage and 77 percent in the evaluation stage cited testimonials and case studies as the most influential types of content when making purchasing decisions.
If you're looking for ways to make the most of your customer stories, I wrote a blog post jam-packed with nine powerful ways to use customer stories in your marketing efforts.


How HubSpot helps
HubSpot has powerful SEO and content tools that can help your SaaS organization in the following ways:
Discover and rank for the topics that matter to you and your customers
Get topic suggestions based on relevance, competition, and popularity, as well as access to monthly search data so you can estimate how ranking for specific topics will translate to organic traffic gains
Create clusters of web pages and blog content around each of your core topics
Easily designate canonical URLs to focus your search authority on your most influential pages
The best part? HubSpot offers robust, detailed reports so that you can track performance in one convenient dashboard. From here, you can watch your traffic increase over time as you build search authority and find opportunities to improve and refine your efforts.


2. Get Personas to Raise Their Hand
It's one thing to drive qualified traffic to your website, but now we want them to raise their hand and say they're interested in what you have to offer. Here are some strategies to ensure that you're creating content that helps people convert:


Create the digital path of least resistance
This seems straightforward, but in my experience it's anything but. There are so many low-hanging-fruit opportunities to convert more of your traffic, and it starts with creating a path of least resistance for visitors. This means making it clear what you want them to do by providing a logical next step—always. Every page needs to be built with the question "What do we want visitors to do next?" in mind.
One way that I like to understand whether or not the next step is clear is by looking at a behavior flow of visitors to see how you're funneling traffic through your site. Typically, the vast majority of your website traffic will enter on your homepage, and a certain percentage of that will drop off, and a different percentage will make it to the next step.
Ideally, their first interaction should align with your goals. For example, if your goal is to have visitors sign up for a free trial and schedule a demo, they should be hitting that trial or demo page by their first interaction (i.e., their next page visit after the initial landing page). If your visitors do not end up there on their first interaction, then their second interaction should pick up the slack. If they still don't, that's a really good sign that you need to adjust their digital path.
Here are some quick-win strategies you can easily implement using HubSpot to boost conversions and turn visitors into leads or trial users on your website:
Add a pop-up form or lead flow to your site (HubSpot can add these to your website even if its not hosted with their CMS)
Remove unnecessary form fields and use

progressive fields

Add testimonials, reviews, and logos to create credibility
Remove distractions or friction points that could inhibit conversion
Make trial and demo sign ups easy and seamless
Strengthen and test your call-to-action (CTA) copy across your website
Leverage

live chat

to your website
Use A/B testing for headlines, CTAs, and other landing page copy
Use

smart content

to personalize the experience
How HubSpot helps
All of the quick-win strategies above are not only made possible with HubSpot, but it also makes them easy and straightforward. Many of these are equipped with their own reporting features so that you can keep track of performance and make optimizations and data-driven decisions more easily.


3. Shorten the Sales Cycle and Improve Close Rates
One of the most powerful features of HubSpot is email marketing and the ability to create robust automation using workflows. HubSpot gives SaaS marketers the power to effectively manage leads, ensure they are getting the content they need, and enable them to trigger automation based on levels or engagement or behavior.


The power of lead nurturing
It's estimated that between 40-60 percent of free trial users will never come back to your software after signing up. It isn't enough to hope they become a customer; you have to ensure you're educating them and giving them every reason to be a customer. Lead nurturing can help ensure that you're staying top of mind, being helpful, and using their level of engagement or behavior to trigger content and touch points that are going to help them while they're testing the waters with your solution. In fact, according to Aberdeen, targeting users with content relevant to their position along the buying process yields 73 percent higher conversion rates.


Getting (more qualified) leads to sales faster with lead routing
You can manage your funnel effectively and improve close rates by clearly aligning sales and marketing. This means ensuring that sales works the most qualified leads, and marketing manages those who are not yet ready to talk to sales. In fact, companies with strong marketing and sales alignment achieve a 20 percent growth rate compared to those that don't.
Response time for SaaS is crucial. It's important to ensure that leads or trial users are getting the right content at the right time. With the ability to leverage power engagement and behavior metrics, HubSpot makes it easy to trigger workflows, personalize content, and route leads to the appropriate members of your team. This will ensure nothing slips through the cracks and opportunities are not lost.


How HubSpot helps
One cornerstone of inbound is "smarketing" (sales + marketing alignment), and HubSpot has worked at great lengths to create a platform that keeps sales and marketing on the same page. HubSpot helps remove friction from the sales process and ensures a seamless handoff between sales and marketing through automation and CRM sync tools.


4. Boost Retention and Up/Cross Sell Opportunities
While the majority of SaaS companies are focussed on new acquisition, it does not mean other forms of revenue are not a priority. In fact, "existing customer renewals are the top growth strategy for 59 percent of SaaS businesses, followed by upselling and add-on sales, which are in the focus for 46 percent of businesses."
Creating a unified space with complete visibility into your customers helps ensure that not only are you keeping them engaged with relevant content, but that you're also providing product and/or service recommendations to help them grow their business. With a powerful, consolidated view, you can also reduce churn by delighting customers with personalized communications.
If you're looking for ways to increase upsell and cross-sell opportunities, check out this blog post!
SaaS marketing is in a lane of its own, and while it's plagued with complexity and nuance, the potential for infinite rewards and growth makes it both exhilarating and worthwhile. The key for SaaS organizations is leveraging the martech tools and platforms that are going to help you cut through the noise and scale more quickly.
About the author
Kristen Deyo was formerly a Director of Marketing Strategy at SmartBug based in Kingston, Ontario, Canada. She has 8+ years experience developing strategies for primarily B2B SaaS/technology companies and hyper-growth startups. She holds degrees from Queen's University (Cha'Gheill!) and the St. Lawrence School of Business. When not digitally plugged in, you can find her enjoying a good happy hour or planning her next adventure. Read more articles by Kristen Deyo.
Subscribe to get our new blogs delivered right to your inbox
Other insights you might like