By Andrew Macey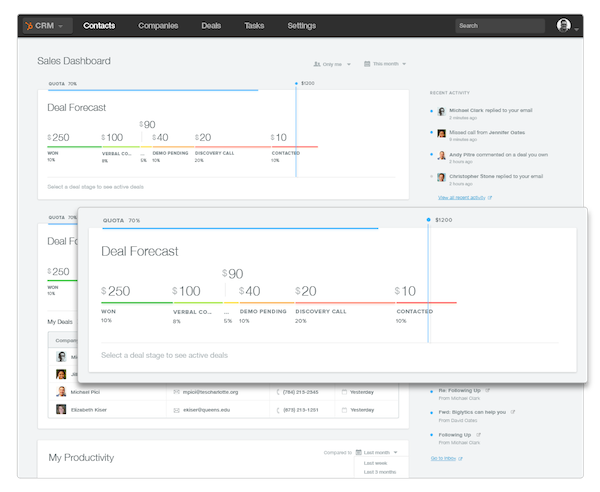 Today at HubSpot's annual INBOUND Conference, CEO Brian Halligan announced the launch of a brand new product – a Customer Relationship Management tool (CRM). There has been much speculation in the past about HubSpot building a CRM into their current Inbound Marketing platform, however today this became a reality. As HubSpot continues to improve and build out their core marketing platform, they have been hard at work putting together a suite of tools for Inbound Sales including the new CRM.
Just as HubSpot started as a small-business marketing platform, the new CRM will also begin focusing on that same market. The idea behind this new tool is to provide customers who do not currently have a CRM, with an integrated platform from which to conduct their sales. They've made it clear that this isn't a direct replacement for large-scale platforms such as Salesforce.com, however the tool will likely grow as their core product did to accommodate larger customers.
How the HubSpot CRM Works
It's also important to note that although this is a HubSpot-built tool, it operates as a separate software, yet sharing useful information between the two. When working within HubSpot's marketing platform, you will be able to toggle between the two systems, making it a very clean interface to work in. Users within an organization can have access to have one or both systems, with specifically customized user roles, to allow certain administrative privileges in each. Thus, giving both the sales and marketing teams within an organization an environment to work in, while still sharing valuable information between the two.
Access to information is a key factor in this new product. All contact information from the marketing product will be available in the synced lead record in the CRM. This will provide sales with the most up-to-date contact and behavioral information, with which they can use to drive better sales conversations. Having these two products integrated alleviates the need for API-based connections with other CRM systems. Conversely, information from the CRM will also sync back to the marketing product to use for segmentation, lead nurturing, and reporting as well. One major benefit of CRM integration with the core marketing platform has been access to Closed-Loop Reporting. Connecting one's marketing database with their sales and customer database allows the marketer to create and run reports based on closed business. This is important when analyzing the effectiveness of certain marketing campaigns and attributing customers to previous marketing efforts.
In addition to sharing information between the two products, HubSpot's CRM will also provide the sales team with social media information. This will be available both at the individual contact level as well as the company level within the tool. For individual contacts, HubSpot's CRM will provide social media profile information, such as twitter handle and profile picture. This information can be very useful to sales reps that are using social as a way to engage with new leads and prepare for conversations. On a larger scale, social information for the organization will be available as well. This would be information related to the company pages rather than individual contacts.
How Much Does the HubSpot CRM Cost?
When launching any new product, the burning question is always cost. As opposed to HubSpot's core product, which is a subscription-based product, with tiered pricing based on the size of a customer's database, this CRM will be free for all HubSpot customers. There is no restriction to this based on the current level of HubSpot a company subscribes to. One important thing to note is that the two systems will share the contact limit of the overall account. Therefore, if contacts are being generated in the marketing platform, while other contacts are being manually added or uploaded into the CRM, they will combine as your overall contact limit.
HubSpot's new CRM is a fantastic tool for any business that currently does not have a CRM. The integration with HubSpot's marketing platform as well as the additional social information give any sales team a real competitive edge as well as providing in-depth sales data for helpful closed-loop reporting. For any business starting to look into a CRM system, look no further than HubSpot's new CRM