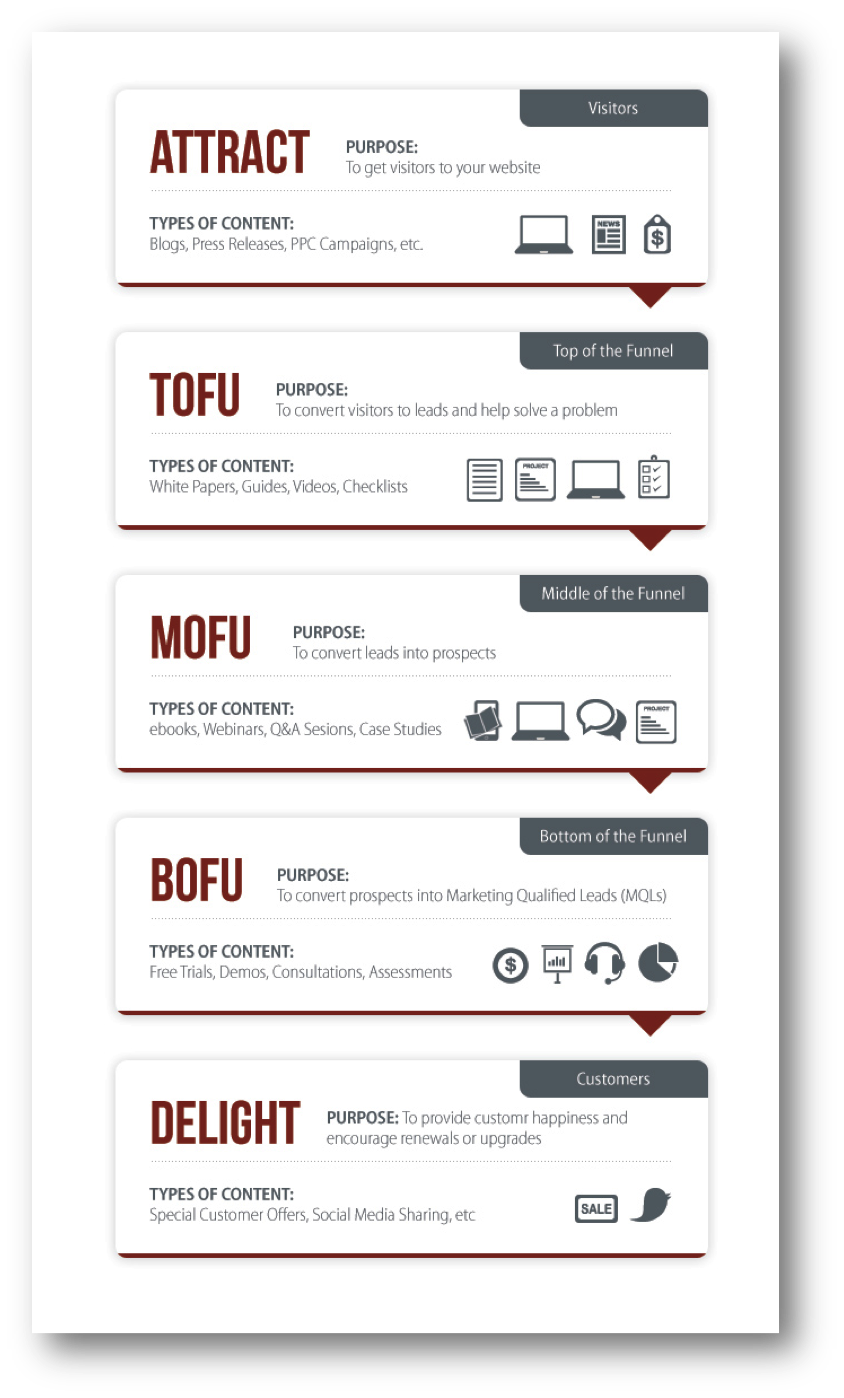 How to Use The 5 Lead Stages to Map Your Lead Nurturing Content
December 27, 2013
---
By Dolly Howard
By now you are probably familiar with what lead nurturing is and the importance of including it into your inbound marketing strategy. You have content that is persona-centric and you're ready to get your workflows turned on and sent out. The next step is to segment your library of content into stages of the buying cycle.
Lead stage segmentation is a very important step in your strategy because it ensures your leads get pertinent information about your industry at the right time. For example, if you know it takes your leads approximately three weeks to make a purchase decision, you would send them middle-of-the-funnel content sooner than a company who has a 6 month sales cycle. Make sense? If not, don't worry. By the end of this post you will have a better understanding of how this works.
What are the 5 Lead Stages of the Buying Cycle?
First, you should know what each stage of the buying cycle is and how they relate to your leads. The stages of the buying cycle are segmented into five parts. The buying cycle follows your leads through the buying decision process. The lead stages are the following:
Attract – Your lead has a problem; they search for a solution but isn't quite sure what they're looking for yet. You come up in the search engine thanks to your great blogging skills.
Top of the Funnel (TOFU) – Leads land on your website and through TOFU content marketing (like white papers) have found a solution to their problem.
Middle of the Funnel (MOFU)– Now that your lead knows what he or she needs, they begin to struggle with which company suits their needs best. You can encourage your lead to pick you through MOFU offers.
Bottom of the Funnel (BOFU) – Ok, your lead has decided you're the best fit, but now needs to know why they should buy from you today. You can answer this question with BOFU marketing offers.
Delight - Your lead converted into a paying customer! Now you have to keep him or her engaged with special offers, social media shares, and great customer service so when it's time to renew, it's obvious they should.
Which Content Belongs in Each Lead Stage?
Now that you know what the leads stages are, it should be easier to tell which pieces of content fit into which stage. If you're having trouble, reevaluate your content. Does it really help to educate your lead based on their stage in the buying cycle? It should. Use the following guidelines to help you establish what content should be included in which stage of the buying cycle:
Attract: Send emails that include blog posts, social media CTAs, and other noncommital offers are best in this stage


TOFU: Try ebooks, white papers, introductory webinars and other offers that help to educate the consumer on your industry


MOFU: Case studies, trail offers, video product demos, announcements of awards and recognitions, and any other content that helps to set your company apart from the competition will work well in this stage


BOFU: Customer testimonials, consultations, advanced webinars and other content that ensures the lead they are making the right decision by purchasing your product or service is your best bet in this stage of the buying cycle


Delight: Your lead nurturing campaigns shouldn't end with a sell. Use workflows to upsell your customers, send additonal discounts and offers for upgrades. You can also send them accalades you've gained since their last purchase to remind them of your fabulousness.
A Quick Infographic to Help Determine Content By Lead Stage
How have you segmented your lead nurturing campaigns? Share with us in the comments what has or has not worked for you in your lead nurturing strategy.
About the author
Dolly Howard was formerly Director of Marketing for SmartBug Media. Previously she worked as a senior marketing consultant leading SmartBug Media clients in strategy for lead conversion improvement and total marketing ROI. As a past HubSpot employee, Dolly is excited to share her knowledge and help enterprise companies grow their business. Read more articles by Dolly Howard.
Subscribe to get our new blogs delivered right to your inbox
Other insights you might like