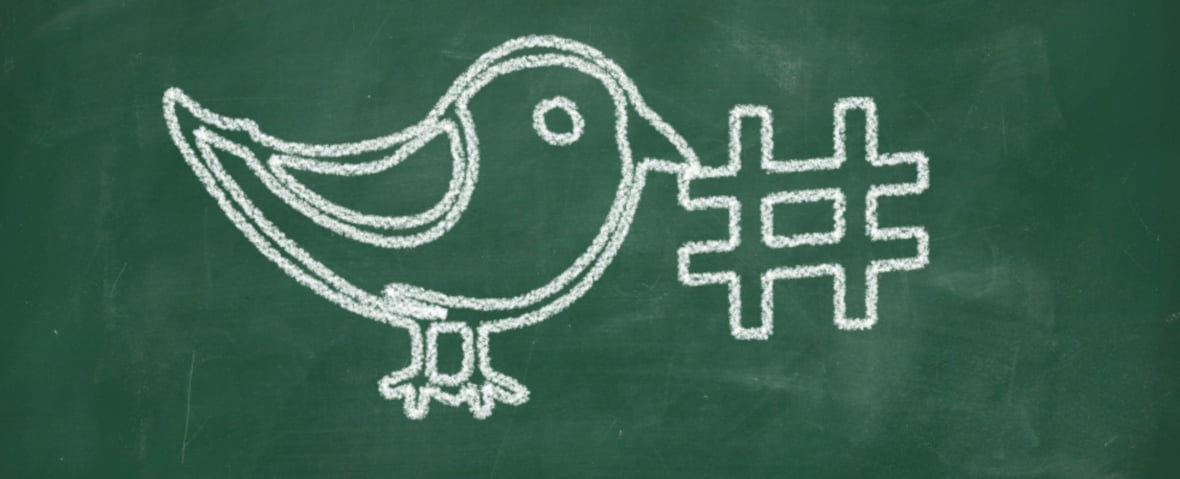 How to Choose the Right Hashtags When Promoting Blog Content
May 4, 2017
---
Writing and promoting blog posts is an essential part of any inbound marketing strategy. Without content, you won't attract visits from search. And without promoting, you won't gain the traction you need for your post to shine. But how do you promote the content after all? How do you determine the messaging to use for social and who to target?
This post will walk through how to choose the right hashtags when promoting your blog content.
You Just Finished Your Blog Post. Now What?
Before promoting your content, you need to find out who the major players and thought leaders are in your industry, and incorporate some of the hashtags that are frequently used. Using hashtags that resonate to specific industries and audiences is how you make sure the right eyeballs are seeing your content. After all, you never know who in your industry might find your article helpful and give you a share or retweet.
Finding Specific or Alternative Hashtags
When promoting a piece of content, you need to look for trending hashtags in your industry. Tools like www.hashtagify.me and www.tagboard.com show you popular industry hashtags, related hashtags, how many people are using a given hashtag, and more. They're great tools for identifying keywords and hashtags that you may have never even thought about, and it can be powerful to see the search volume of a given hashtag.
Just doing a quick search on www.hashtagify.me for "Inbound," you can see how the tool shows related hashtags to use.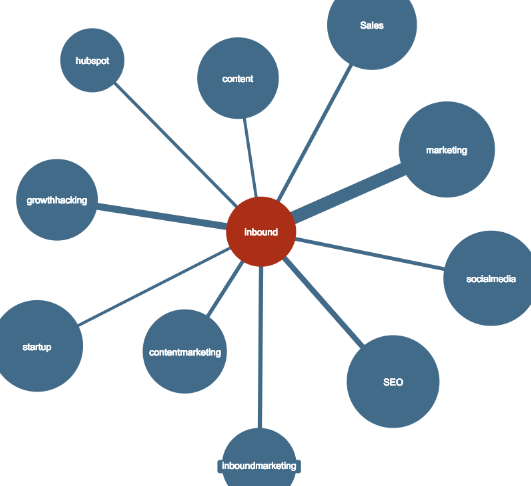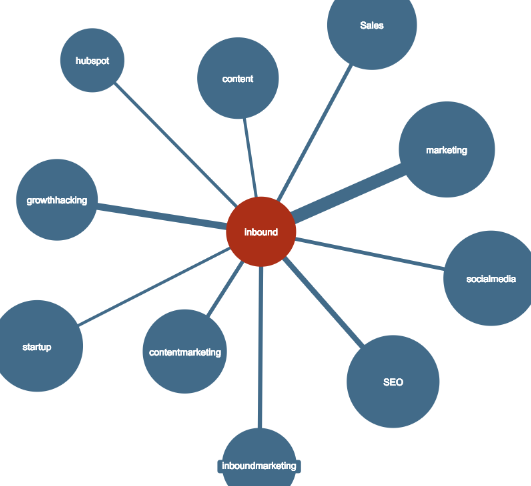 Use Hashtags That Can Be Used Across Multiple Social Platforms
Pinterest, Instagram, Google+, and Twitter all allow for hashtags. When promoting your content, think about what hashtags can be used across platforms. Hashtags were created as a way to expand reach and create awareness to new audiences, and similar to a brand's slogan or tagline, social promotion should include consistent hashtags on every platform. Using a consistent hashtag across multiple platforms helps boost recognition of a particular topic, campaign, or blog post; more awareness is created when someone sees the same hashtag on their Twitter, Google, and Instagram feeds.
Use Twitter's Tailored Trends
Twitter's tailored trends feature shows you a list of topics and hashtags based on your Twitter following and location. Though its use can be limited, it's a fantastic way to see what your audience is interested in by giving you a list of trending topics. Tailored trends gives you the option to change your location too, so you can use the insights for other locations or communities your business may be in.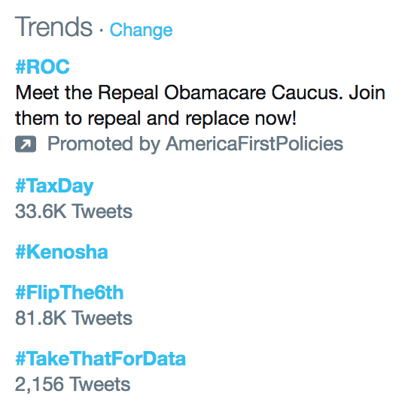 Brainstorming Session
It's old-fashioned, and it still works. When determining what hashtags to use for your new blog post or latest piece of premium content, try writing down on a notepad all the words and phrases that come to your head. Don't even think about it, just start writing. The key is to get as many ideas out as possible and then focus on what's relevant to your post.
As we mentioned earlier, it's important to make sure you're using industry-relevant hashtags, but brainstorming can be a great way for you or your team to think of fun, new hashtags that your brand could use for future posts. For example, if you write a blog that posts every Wednesday, you could use the hashtag #WorkshopWednesday so that over time people learn to associate this with your brand. Creating brand associations in the form of hashtags can be powerful.
Using new hashtags can be fun, but don't just create a new hashtag because you think it will gain traction if you create your own. Always incorporate industry-relevant hashtags and if you want to try a new hashtag, try pairing it with an industry-related keyword so that you're tapping into the audience you want. Marketing is about testing and trying new things, but you want to make sure you're not straying very far from the eyeballs you're trying to capture.
Conclusion
Finding and using hashtags is far from an exact science. At the end of the day, be sure you're getting in front of the people in your industry and are using hashtags that make sense—but feel free to experiment and brainstorm new hashtags too. It's important to use at least one relevant industry hashtag when promoting your blog post, but have fun with it and see what works with your audience and followers.

About the author
Christopher Hutchens was formerly an E-commerce Marketing Strategist at SmartBug Media based in Salt Lake City. Originally from Chicago, Chris graduated from Mizzou and worked in Columbia, Missouri as an interactive project manager for five years before coming to SmartBug. Outside of work, Chris loves to travel, snowboard, and play/watch basketball. Read more articles by Christopher Hutchens.
Subscribe to get our new blogs delivered right to your inbox
Other insights you might like