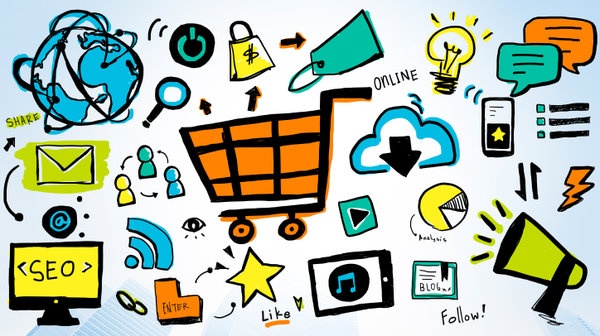 According to the Nielsen Norman Group, visitors to your site will stay less than 59 seconds before leaving if you don't capture their attention. That's a lot of pressure, but if you are doing your job as an inbound marketer, capturing the attention of your visitors won't be such a difficult thing to do.
Moving visitors to your site through the sales funnel is the ultimate goal of inbound marketing. Making sure that those who visit your site can find useful blogs no matter where they are in the buyer's journey is important because not only will it help move them along the sales funnel but if they can't find what they are looking for quickly they will leave and find it somewhere else.
What is the sales funnel?
The sales funnel is comprised of the different stages a person typically goes through before buying a product or service. Below is a visual from HubSpot that shows the difference between top of the funnel, middle of the funnel, and bottom of the funnel.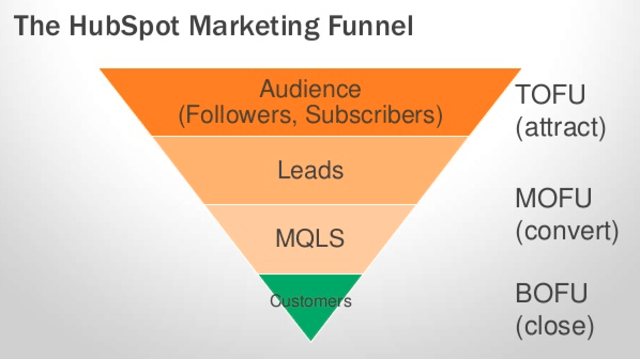 Blogging for Top of the Funnel (TOFU)
Blogging effectively for the top of the funnel audience involves a lot of awareness stage content. At the awareness stage, visitors want to learn more about the problem; sometimes they might not even know they have a problem yet. The goal of your awareness stage blog posts should be to help your audience become aware of this problem and help them understand how it relates to their current situation.
There is a lot of "How to," "Improve," and "Prevent" content in this stage. An example of an awareness stage blog post title would be, "How to Plan a Corporate Retreat That Everyone Will Love." Again, the focus here is to educate and inform. These posts should be simple and easy to understand. The CTA at the bottom of awareness blog posts should include a relevant ebook to the topic that you're blogging about.
Blogging for Middle of the Funnel (MOFU)
Blogging effectively for the middle of the funnel involves consideration stage content. At the consideration stage, leads want to find solutions to their problems. CTAs for consideration-type content should be a comparison guide or helpful tool that will push them to making a purchase decision.
An example of a consideration stage blog post title would be, "Planning Affordable Corporate Retreats in Napa Valley." These posts should have more data and be a bit more lengthy since the lead is more invested in fixing their problem or need. It's important to not just focus on your brand at this point in time. The reader is still weighing their options and looking around so if you try to make this more of a decision piece they will more than likely become disinterested.
Blogging for Bottom of the Funnel (BOFU)
Blogging effectively for the bottom of the funnel involves decision stage content. At the decision stage, these potential customers want to hear how your company can help them in fixing their problem. These blog posts should talk about your company specifically and help them validate their choice. Although these posts are about your company, still keep them customer-centric and avoid being too salesy. The CTA for decision content should be around scheduling a sales call or requesting a demo, something that will push them to purchasing your product or service.
An example of a decision stage blog post title would be, "Why the Smith Hotel in Napa Valley is Perfect for Corporate Retreats." It is helpful to include customer testimonials and visual content in this stage of the funnel.
When planning the blog posts for your company, keep the sales funnel top of mind. Providing content for all stages in the sales funnel will help increase your sales and make visitors to your site thankful that they found useful content for them.
Do you implement a blogging plan that includes content for each part of your sales funnel?