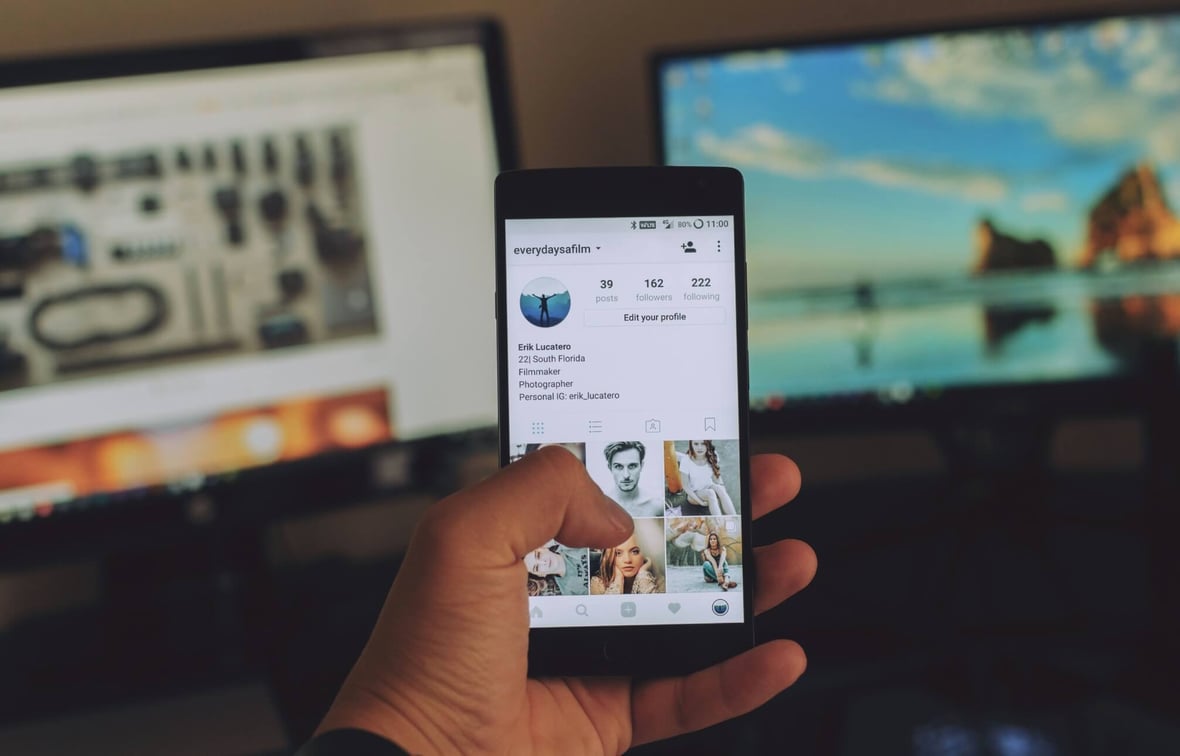 How Networking on Instagram Can Increase MQLs
December 21, 2017
---
By Drew Cohen
Since Facebook bought Instagram for $1 billion in 2012, the photo/video sharing goliath has seen its user base skyrocket. As of September 2017, Instagram now has 800 million monthly and 500 million daily active users. The fact that just about everyone has a smartphone these days, combined with the fact that people prefer photos and videos over text, makes Instagram a popular destination for business owners and marketers. Over the past several years, networking on Instagram has exploded, in large part due to big brands finally adopting the platform as a core of their marketing strategy. Marketing guru and entrepreneur Gary Vaynerchuk even called Instagram "the single biggest networking or business development opportunity of this decade." So, how can networking on Instagram really increase marketing qualified leads for you? Let's discuss.
Let's start with #hashtags
Nearly all social networks have now jumped on the hashtag train, and Instagram is no different. Hashtags have been at the core of the platform since launch, and they present an enormous opportunity for businesses. Let's use an IT solutions company as an example. It may provide services such as outsourced IT support, cloud solutions, and data backup. These all represent major opportunities to search for conversations occurring on Instagram. Using a simple Instagram search, you can reach targets ranging from business owners to department leaders. In a matter of seconds, a search for something like #ITsupport can open a gateway of opportunities. You can imagine that this hashtag is filled with people looking for help with an IT dilemma or pain point that an IT solutions company is a great fit to solve.
Don't oversell
When you have identified users that you'd like to engage with, now is the time you need to immediately offer value. Skip the fluff, skip the introductory sales filler, and get right to the meat and potatoes. If someone is looking for help with a specific piece of software, don't sell your company and all of the great value you can provide. Answer the question! If there isn't a clear-cut answer, then offer a logical strategy for tackling the problem. Lead with value, and let your expertise shine through. Leading with value leads to conversations. Conversations lead to marketing qualified leads, and MQLs lead to sales. Too many companies scour social media for someone saying "I want to buy [insert product name here]." These leads are few and far between. Instead, companies should be looking to offer value, answer questions, and position themselves as experts in their field. When people start correlating your company with solutions, that's when the magic happens.
The DM hype is real
If you've ever been rejected in your life, that experience will help you here. The goal here is NOT to spam people with direct messages—that will get you absolutely nowhere. I may sound like a broken record, but again, lead with value. If you see someone talking about something that you can offer sound advice or help with, reach out. Let them know that you have dealt with similar problems and offer possible solutions to solve them. With more businesses jumping on the DM train, it's critical to get rid of the fluff. No need for the 100-word introduction about who you are and why you're reaching out. Value first, conversation second. This doesn't mean that you fire out messages in a harsh, abrupt manner. It just means that your messages are as concise as possible. For example, saying something such as "Saw you were looking for some help with data backup. On-premise is your best bet, and if you're looking for catastrophic protection from fire or natural disaster, you will want to also look into an off-site server. Let me know if you want to chat more." Don't let yourself get frustrated with a lack of responses. It only takes one, right? And when you do get your first response, make sure you take advantage of it.
Followers or engagement
I have this discussion with clients quite a bit. Everyone gets caught up in follower counts, and while yes, that is great, engagement is what we're really after here. Would you rather have 1,000 unengaged followers, or would you rather have 100 followers who converse, interact, and share your content with their networks? The answer is simple. So use this same concept when it comes to your networking on Instagram. When you're researching hashtags, don't go for the accounts with hundreds of thousands of followers, look for the accounts that have engagement. Look through their posts, and if there's a ton of activity, this could signal a big-time opportunity. Consistently remind yourself of the big picture—this one potential MQL is important, but its network of thousands more is equally as important.
Be yourself, and start small
The easiest conversations to have are when you're comfortable and confident, and when you can be your 100% true self. Remember—Instagram is a social network. Use a conversational and casual tone, and let your personality shine through. Don't jump into sending 10,000 messages per week. Send a few DMs per day, leave a few comments, and test different hashtags. It's a process, and like anything else in business, it takes time. If you've already started to experiment with Instagram, leave us a comment below and let us know what your experience has been.
Need more exposure, reach, and brand awareness? Get help with Social Media Marketing: Feeds, Growth and Reporting.

About the author
Drew Cohen was formerly the Senior Director of Revenue Operations at SmartBug. Drew developed strategies for organizations in both B2C and B2B verticals. He has unique experience in private-equity owned organizations, early-stage technology startups, sports & entertainment and healthcare. When not marketing, you can find Drew yelling at his television during any Philadelphia team's sporting event. Read more articles by Drew Cohen.
Subscribe to get our new blogs delivered right to your inbox
Other insights you might like