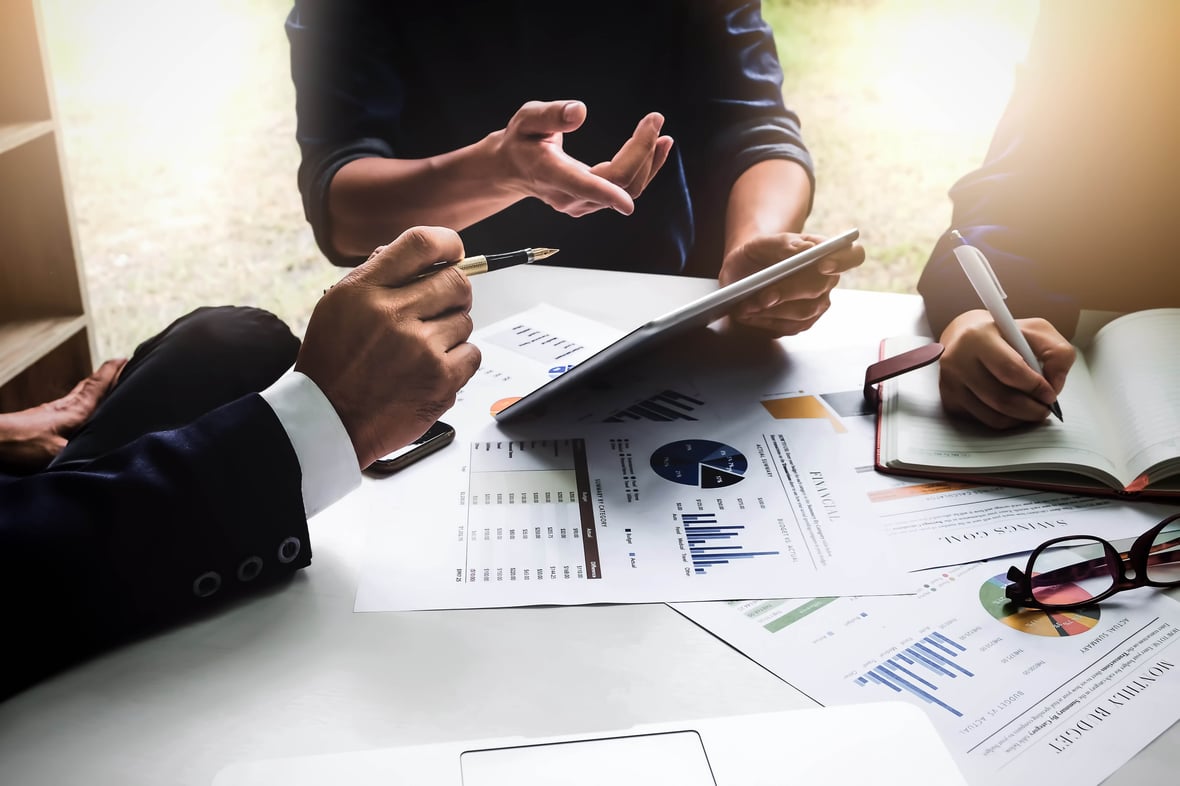 How Much Should SaaS Companies Budget for Marketing?
December 20, 2019
---
From starting up to breaking even, SaaS companies are under immense pressure to grow monthly recurring revenue quickly enough to pay back customer acquisition costs and combat churn before the funding runs dry.
But growing, and growing quickly, isn't just a goal for SaaS startups. In the fast-paced tech world, mergers, acquisitions, product launches, and aggressive competition leave all SaaS companies with an urgent need for marketing to be a more vital part of their business plans.
Whether brand management, sales alignment and empowerment, product messaging, or lead generation, SaaS companies are allocating more of their resources toward marketing than ever before.
Here Are a Few Things to Consider for Your Company's SaaS Marketing Budget
For Startups: Matching the Annual Contract Value
You've probably heard experts suggest that sales and marketing efforts should match the first-year Annual Contract Value (ACT). This idea suggests SaaS companies can get away with investing a significant amount of capital on sales and marketing in the first year of a contract if it means the following years will produce pure profit.
The most successful SaaS companies spend more than half of their ARR (annually recurring revenue) on sales and marketing, and 80-120 percent of their annual revenue during their first three years of business, according to Tomasz Tunguz, a Venture Capitalist at Redpoint. He further states that by year five, the same companies can cut their marketing budget to about 50 percent of their ARR for the rest of their business's lifespan because they laid a strong foundation up front.
With this type of investment in sales and marketing, you need to make sure you have a strategic partner that knows the field. You don't want to spend all of your revenue on a single campaign that leaves your personas scratching their heads (like South Dakota's latest campaign).
For All: The Perfectly Balanced Budget
There's no magic budgeting formula for every single SaaS company; however, there are some general rules you can follow while creating your budget.
Marketing is a variable your SaaS company can play with while you're growing. A marketing budget requires a delicate balance: If you don't spend enough on marketing, you won't create the growth needed to keep you afloat; however, if you spend too much, you could burn through your capital without leaving resources for development or user support.
To create a balanced budget, ask yourself these questions:
What are our goals for marketing at this stage in our product's development? Do we want to be the industry-leading tech to look out for, or do we want to grow fast and make enough noise to get bought out?
What are our current needs (i.e., market research, product messaging and positioning, lead generation, user education, partner and reseller marketing, press coverage, thought leadership, or brand assistance)?
Do we want to quickly grow our account sign-ups or create an ongoing lead-generating system for high value daily active users?
What does our growth plan look like? Do we want to launch more products, buy other companies, or dominate a specific niche?
Is it more effective to hire a team in-house or hire a full-service agency that has all of the resources we need?
As you can imagine, each of these questions leads you through a different aspect of budgeting. Different goals mean you need to consider different levels of investment.


Doing the Math for Your SaaS Marketing Budget
Once you have an idea of the direction you want to go, it's time to get down to the numbers.
Consider your users' LTV (lifetime value) compared to your CAC (or cost of acquiring that customer). This ratio can be used to help you determine your level of investment in marketing. (Learn more about those metrics here.)
For starters, you want to get your LTV:CAC ratio up to 3:1 so you can reach your growth goals. When you are planning your budget, keep that number in mind. This will help you solidify your budget needs based on the goals you've set for user acquisition and ROI.
This ratio is also important for reassessing your budget during or after a project. If your LTV:CAC ratio worsens, you may need to pivot your strategies to make sure you are focusing your budget on the most effective lead generation tactics.


Inbound Marketing for SaaS
SaaS CEOs are challenged to grow monthly recurring revenues quickly enough to offset (and pay back) customer acquisition costs. The good news is most of your SaaS company's marketing needs can be achieved with low-cost, inbound efforts and lead qualifications.
Only 18 percent of marketers say outbound efforts provide high-quality leads for sales, and it's typically more costly than inbound. Think about the cost and efficiency discrepancy between call centers and social media strategies: one-to-one cold calling versus timely messaging to a broad audience.
Content marketing is another great strategy to consider for all of your different audiences. From attracting new user sign-ups to integration partners to resellers, content marketing can help you build trust and authority in your exceedingly crowded space.
Looking for more? Check out these SaaS marketing strategy resources to help you plan:

About the author
Molly Rigatti was formerly an Inbound Marketing Strategist in Charlotte, NC. With the help of her mini Aussie, Remington, she is dedicated to helping businesses reach their goals through inbound marketing and sales enablement campaigns. She's helped businesses in many different industries around the country and enjoys the challenge of staying up-to-date on all things HubSpot. Read more articles by Molly Rigatti.
Subscribe to get our new blogs delivered right to your inbox
Other insights you might like