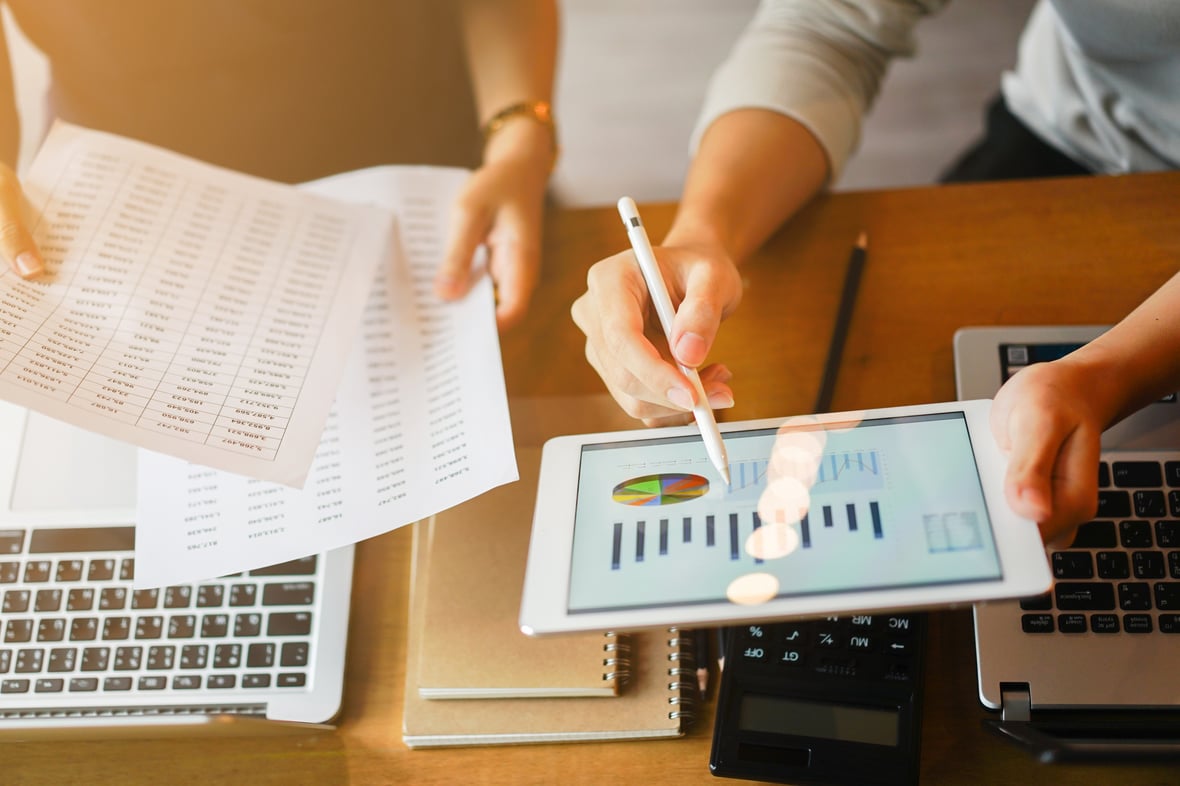 Small Business Guide to Google Smart Campaigns
May 8, 2020
---
Small business owners all know they need to be found when a searcher is looking for their products and services. I have been in paid media for over 13 years and I often get asked "what is the best way to advertise my business when I have little to no knowledge and/or budget?". Agencies typically handle medium to large companies with larger budgets to spend on paid advertising but this is not the case for small businesses.
Smaller local businesses typically do not have an agency or paid media expert on staff, this is where Google Ads Smart Campaigns come in handy.
Google Smart Campaigns were created with small business's needs in mind. Let's dive into what they are and we'll later go into more detail on how to set up your first campaign to make the best out of your available resources and budget.


What Are Smart Campaigns?
Google Smart Campaigns are not new to Google advertising.They are relatively new to the Google Ads platform (formerly Google Adwords). They are built on Google Adwords Express technology and replace the Google Adwords Express platform. They're fairly easy to set up and maintain.
Smart Campaigns are designed for small local businesses that want to run paid ads but have little to no knowledge of Google ads. These campaigns are for businesses who can't afford to hire agencies, don't have the time to learn the intricacies of running a successful Google Ads campaign, or can't afford an in-house marketing team.
Smart Campaigns are a great way for small, local businesses to launch into the paid search world. They're easy to set up, but it's critical that you set them up properly from the beginning. Here's how:


Get Started with Smart Campaigns and Create your Account
First, you must have a Google My Business account to create these campaigns. When you create your Google Ads account, make sure you use the same email address that's associated with your Google My Business account. These two platforms will work hand in hand to address ad creation, business location, and images, so using the same email address will simplify your experience.
It's also critical that you have high-quality, relevant images associated with your Google My Business account because they will be used for your ads and, thus, be shown to your potential customers. We all like to see before we buy, right? Quality, appealing images are often the deciding factor in a potential customer's choice to give you their business.
2. Create Your Smart Campaign
Once you've created your Google Ads Account, there are two options of goals for your Smart Campaign: sales and leads. As you can see below, I have chosen leads as my goal. At the bottom of the screenshot, there is another option that opens up and asks about what action you want: calls or visits. If you choose sales as a goal, there aren't any other options. I have chosen calls as my action.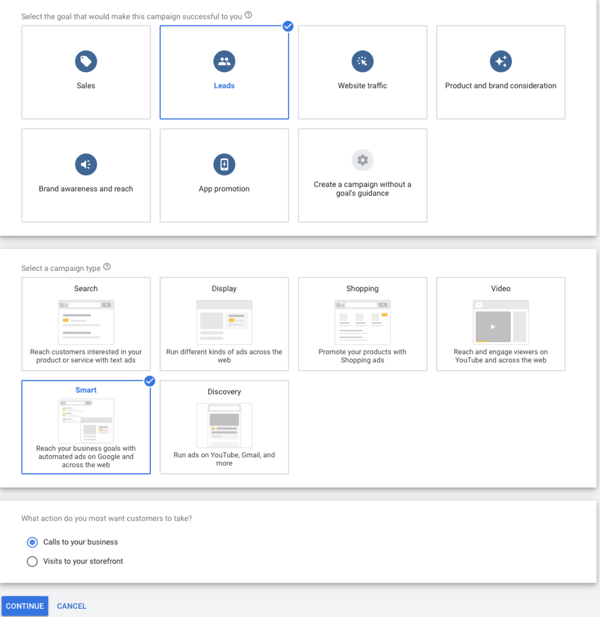 Once you hit continue, you arrive at the business and audience section. You should see your Google My Business account associated with your login. Click on your business to continue.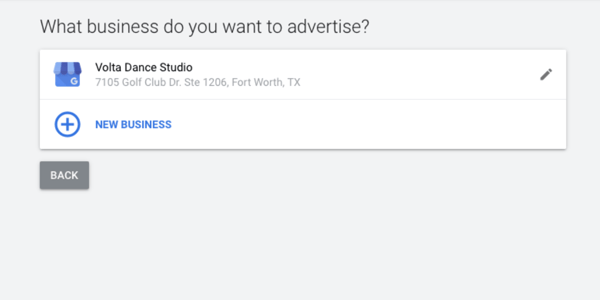 3. Set Up Geographical Targeting
You will then be guided to the "Where are your customers?" section. This is where you'll choose your target geography. You can choose between radius targeting and specific area targeting. I recommend you choose specific area targeting and try to be as precise as possible. It's best to use zip codes or city names to define the targeting. You will need to include all the areas you are willing or interested in advertising to.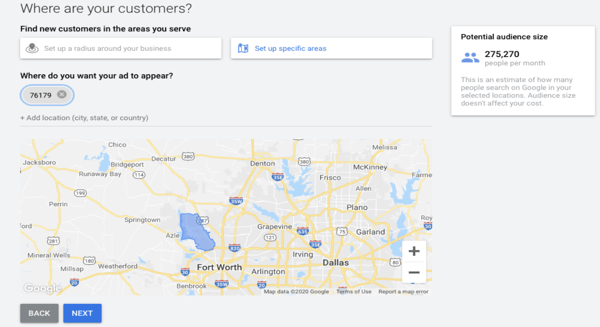 4. Choose Your Products and Services to Advertise
Once you've chosen your geography, you reach a critical step of narrowing the audience for your ads, aka the "Define your products or service" page. Here, you can select a predefined business category based on your Google My Business information or you can choose another business category. You'll see suggested products or services populate in relation to the business category that you choose. Be sure to select the choices most relevant to your products or services (you can only select 10).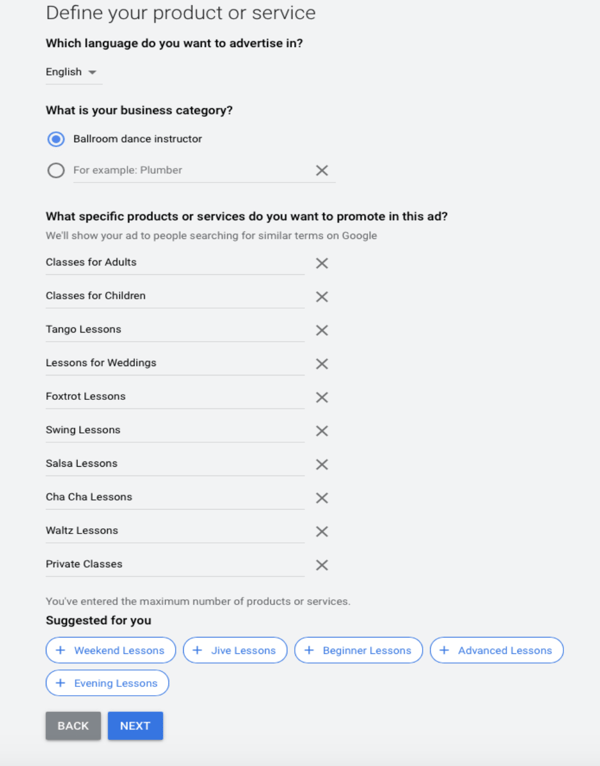 5. Create Your Ads
Once you click next, you will reach another step crucial to the account's success. This is the ad creation stage. Choose descriptions and headlines that cater to the products or services you chose in the last step. This will help ensure that your ads are relevant to those searching for products like yours. Take your time to write as many ads as you can, highlighting as many products and services as possible in each ad.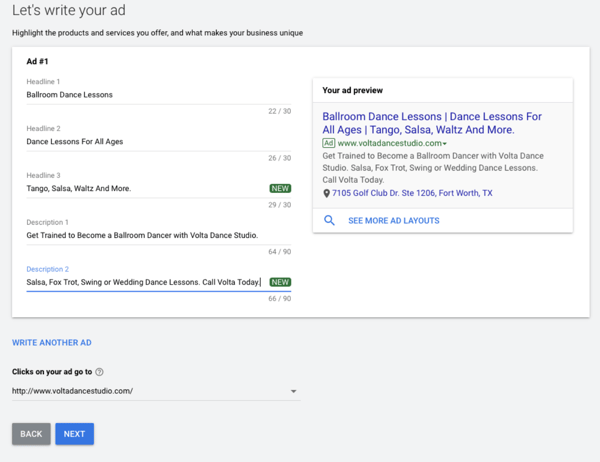 6. Verify Your Phone Number
Next is the "Get phone calls" section, where you'll make sure your phone number is correct.
Ensuring your business's phone number is correct is essential to receiving phone conversions.
You can use a tracking phone number from a call tracking provider like CallRail.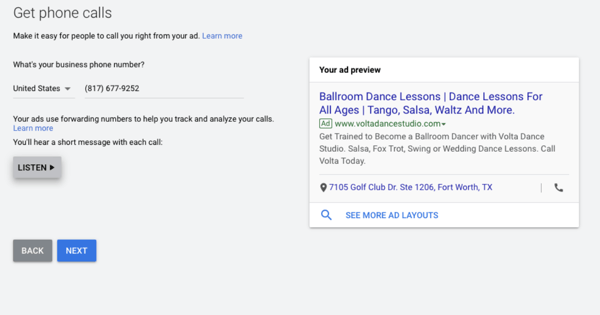 7. Budget and Review
The last part of setting up your ad is budgeting and review. Here, Google will give you pre-selected budget options and descriptions of what those recommendations could bring you as far as reach and ad clicks. You can also choose to create your own daily budget.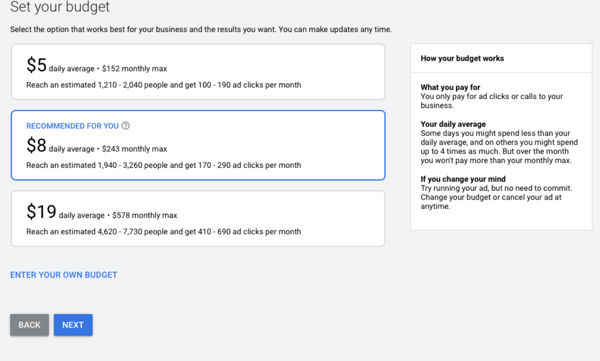 Before launching your campaign, you have a chance to review it.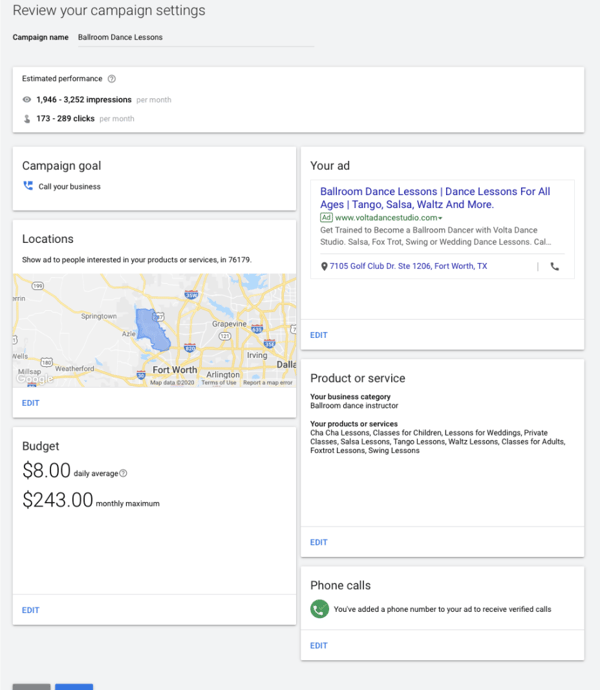 8. Next Steps After You Launch Your Campaign
Launching your campaign is just the beginning of the journey. Although Smart Campaigns are easy to set up and require way less maintenance than traditional Google Ads, there's still more to do.
Monitor your campaign's search phrases in the coming days to make sure they are relevant to your business. You can toggle phrases on and off to determine relevance. This is an optimization technique to help the success of your campaign. Before long, you'll start seeing results come in (close to real time). The dashboard makes it easy to understand who, what, where, and how many of those searchers are finding you.
Smart Campaigns enable you to reach audiences you've never reached before. They allow you to target people online without knowing Google Ads inside-out. You'll be able to assess whether Google Ads could be your next logical step. For some small businesses, Smart Campaigns continue to perform for a long time, and in other cases, those businesses jump into Google Ads.
Google Smart Campaigns are an excellent way to test out paid advertising on Google. If you have any questions or need any help with paid media, feel free to reach out to me via LinkedIn or contact SmartBug Media.
About the author
Daniel Villegas was formerly a Paid Media Senior Manager at SmartBug. He started his career by doing online advertisement with Verizon yellow pages in the early 2000's. He helped create a team of Google and Bing experts there. He quickly went to work for other agencies building paid search teams and implementing processes to maximize clients' ROI. He has over 12 years of experience in Search Engine Marketing. He has worked with and touched mostly every type of industry over his career. He has served his nation for over 16 years in the Army. He loves spending time with his family, fixing up hot rods, playing with his dogs anything outdoors, and traveling with his wife. Read more articles by Daniel Villegas.
Subscribe to get our new blogs delivered right to your inbox
Other insights you might like